The New York Lizards have doubled-down on the excitement by deciding to hold a mystery bobblehead night for their diehard fans. 
One of the most popular promotional events on any sports team's schedule is always a bobblehead giveaway. They always seem to be appealing to fans of all ages depending on whether it's a current player or a star from the past. As an avid collector, I'm always checking the local teams' promotional schedules to see what bobbleheads are going to be given out and if it's a good one, my family and I are generally there.
Last year, we arrived at Citi Field early for a Mets game to make sure we got our hands on the Noah Syndergaard "Thor" bobblehead. In year's past, we've collected others such as former Yankees Captain Derek Jeter and former Long Island Ducks pitcher Rich Hill who now plays for the Los Angeles Dodgers.
But what if you went to a game not knowing what bobblehead you are going to get?
That's exactly what's going to happen this Sunday when the New York Lizards of Major League Lacrosse host the Atlanta Blaze in a 5 p.m. ET contest at Hofstra University. The first 1,000 fans in attendance will receive one of a variety of extra bobbleheads that teams around the country had left over and sent to the Lizards.
"One of our account executives had heard about teams in other leagues running this promo night and we all agreed it was a fun idea," said Lizards CEO Jeffrey Rudnick.
Come join us for Mystery Bobblehead Night on May 6th at 5PM as we take on the @AtlantaBlaze !! ?? pic.twitter.com/W9hYGzhS12

— New York Lizards (@LizardsLacrosse) April 30, 2018
Among the bobbleheads that the Lizards received include former Yankees pitcher Roger Clemens, Mets infielder Jose Reyes, Mets outfielder Yoenis Cespedes, former Mets and Yankees outfielder Darryl Strawberry, Cleveland Cavaliers forward Tristian Thompson and Washington Wizards point guard John Wall. There's also a Rob Gronkowski bobblehead sent by the University of Arizona to honor the Patriots tight end as well as a bobblehead of former Knicks great Patrick Ewing, now the head basketball coach of Georgetown.
"With over 100 different pro and college teams sending us bobbleheads, we have a great diversity of players, celebrities, and sports represented," said Rudnick. "Almost all the teams we reached out to were very supportive. Some teams sent three bobbleheads, some sent as many as 75."
There's literally something for everybody….as long as you get lucky coming into Shuart Stadium. Fans will not be able to pick and choose what they want or ask to switch the bobblehead given to them. As parents like to say to their kids when they open up gifts …
"You get what you get and you don't get upset!"
I'll be honest though … my favorite baseball player growing up was former Yankees Captain Thurman Munson who died in a plane crash back in 1979. The Lizards received a Munson bobblehead so I'm hoping to get that one but if I don't, I'm going to search out the fans that do. While the Lizards say you can't pick out your choice of bobblehead at the gate, fans are encouraged to make a trade if you can find a willing partner.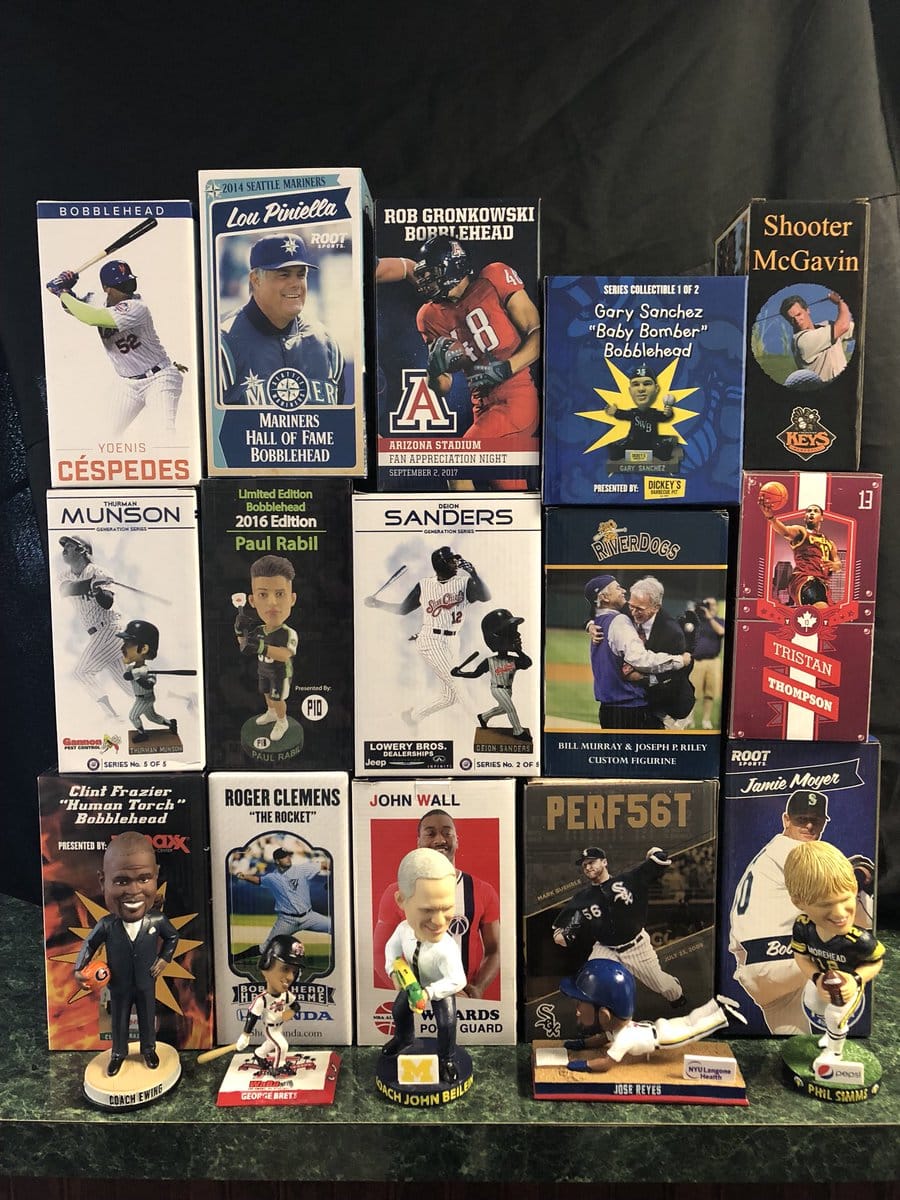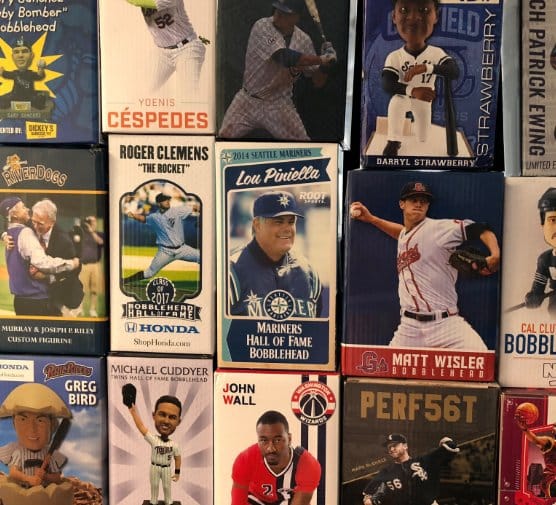 The variety of bobbleheads available is amazing and even Rudnick has his eyes on a couple!
"I think the NY Yankees minor league affiliate one of Greg Bird coming out of an eggshell is pretty cool," said Rudnick. "Also, being a big Adam Sandler fan, Shooter McGavin of Happy Gilmore fame, is a fantastic bobblehead."
I've been to a ton of promotional days and nights at sporting events over the years but this one is certainly going to be unique. As Forest Gump said in the movie…
"Life is like a box of chocolate … you never know what you're going to get."
On Sunday, Lizards fans that arrive early enough will have the same feeling. The first 1,000 will come home with a bobblehead, but who remains a mystery until they pass through the gates.