Saquon Barkley's drafting has opened the floodgates to New York Giants naysayers. It's time to deflate those arguments.
Last Thursday, Saquon Barkley added a little brightness to his typical shade of blue, exchanging his dark duds at Penn State for bright shades of the New York Giants. While Barkley's drafting, taken second overall by general manager Dave Gettleman the Giants in the 2018 NFL Draft, was mostly met with positive reviews, there are some who have given Barkley a not-so-friendly New York welcome.
For the Giant fan that has had to deal with Barkley disbelievers, we've assembled the most common myths spread about the Penn State legend. To help deal with this army, the cults of a quarterback worshippers who probably will never be fully appeased, we present, in turn, counterarguments that, though lengthy, should at least end arguments faster than a Barkley run to daylight.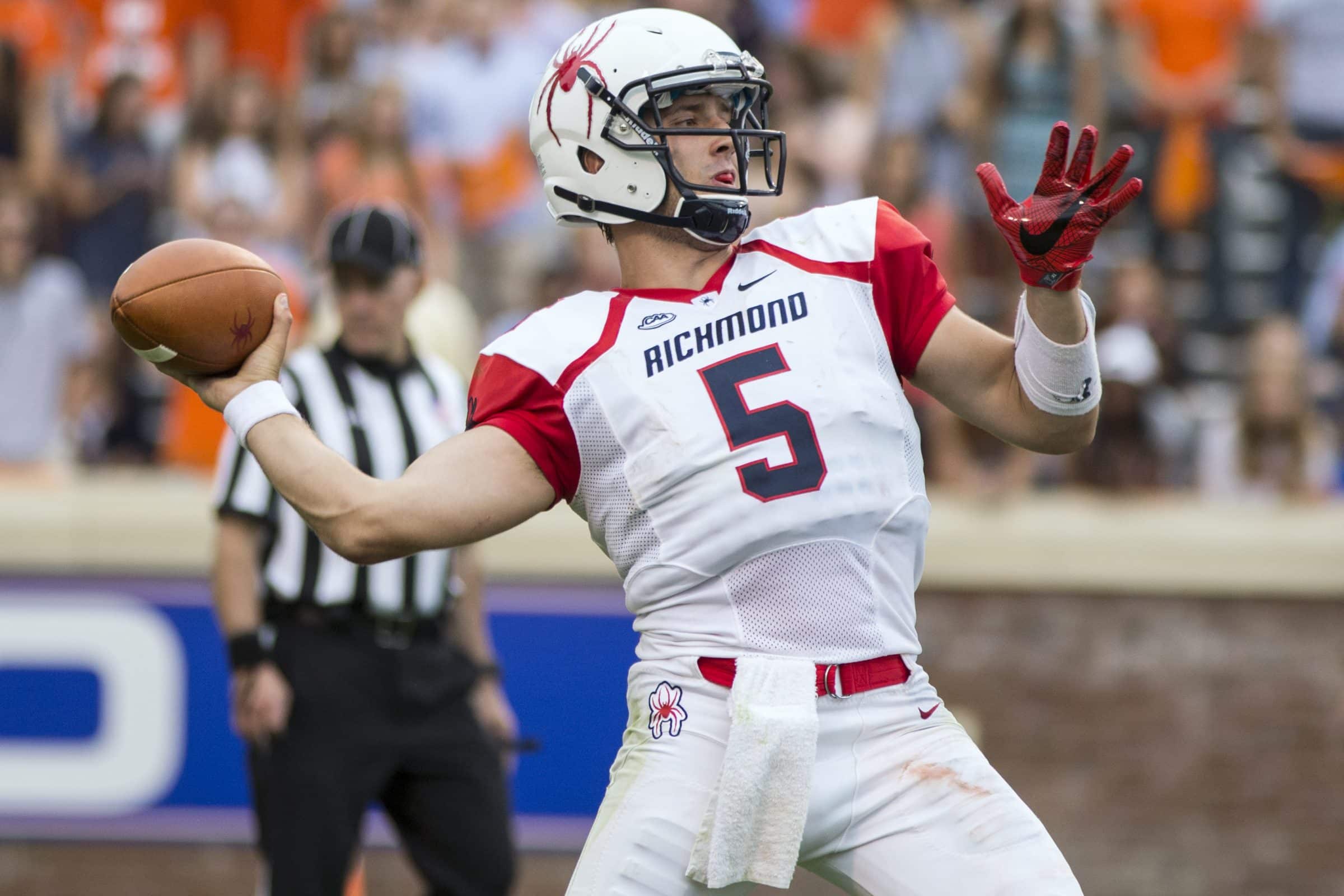 "Now the Giants don't have a future franchise quarterback!"
The Barkley selection will perhaps forever be judged by a matter completely out of his control: the performance of his fellow new MetLife Stadium co-tenant Sam Darnold, who was drafted by the New York Jets immediately after.
But passing (pun very much intended) on Darnold was the right move for the Giants. He had 22 turnovers last season alone.
This highly touted quarterback class has been one of the most polarizing groups in ages. Many are comparing this quarterback class to the class of 1983 that included John Elway and Dan Marino, but Gettleman obviously had concerns that deterred the Giants from partaking in the crowded pool. Gettleman did a solid job in the pre-draft process raising smokescreens and keeping prognosticators in the dark when it came to the Giants' selection process, but in rare insights, he warned about the dangers of selecting the wrong quarterback so high.
"When you miss on a quarterback, you really hurt the franchise for probably five years," Gettleman said in his pre-draft press conference on April 19. "It's a five-year mistake."
In some cases, five years is being generous. Darnold's drafting is part of the Jets still trying to recover from the Mark Sanchez mistake of 2009. In a non-local instance, the Raiders made JaMarcus Russell the top overall pick in 2007 and only recently recovered with the emergence of Derek Carr. It's much easier for teams to recover from a failed running back selection than it is from a failed thrower. For example, the Rams drafted Lawrence Phillips sixth overall in 1996, but wound up winning the Super Bowl four years later.
As the Giants proved two days later, they weren't forbidden from drafting quarterbacks in places other than 2018's first round. For all we know, the successor to Eli Manning could already be on the roster in the form of Davis Webb or fourth-round choice Kyle Lauletta. They got to see Webb in unofficial action leading up to the draft during a veteran minicamp that ended hours before the first round, and now have future insurance in Lauletta.
If anything, Barkley takes a portion of pressure off Manning now, and a successor, be it Webb, Lauletta, or someone not on the roster. The Giants' offense, a unit that hasn't reached 30 points in two straight seasons, becomes multi-dimensional once again under Barkley, opening up not just the run game, but a dormant play action scenario that hasn't been a true threat in ages.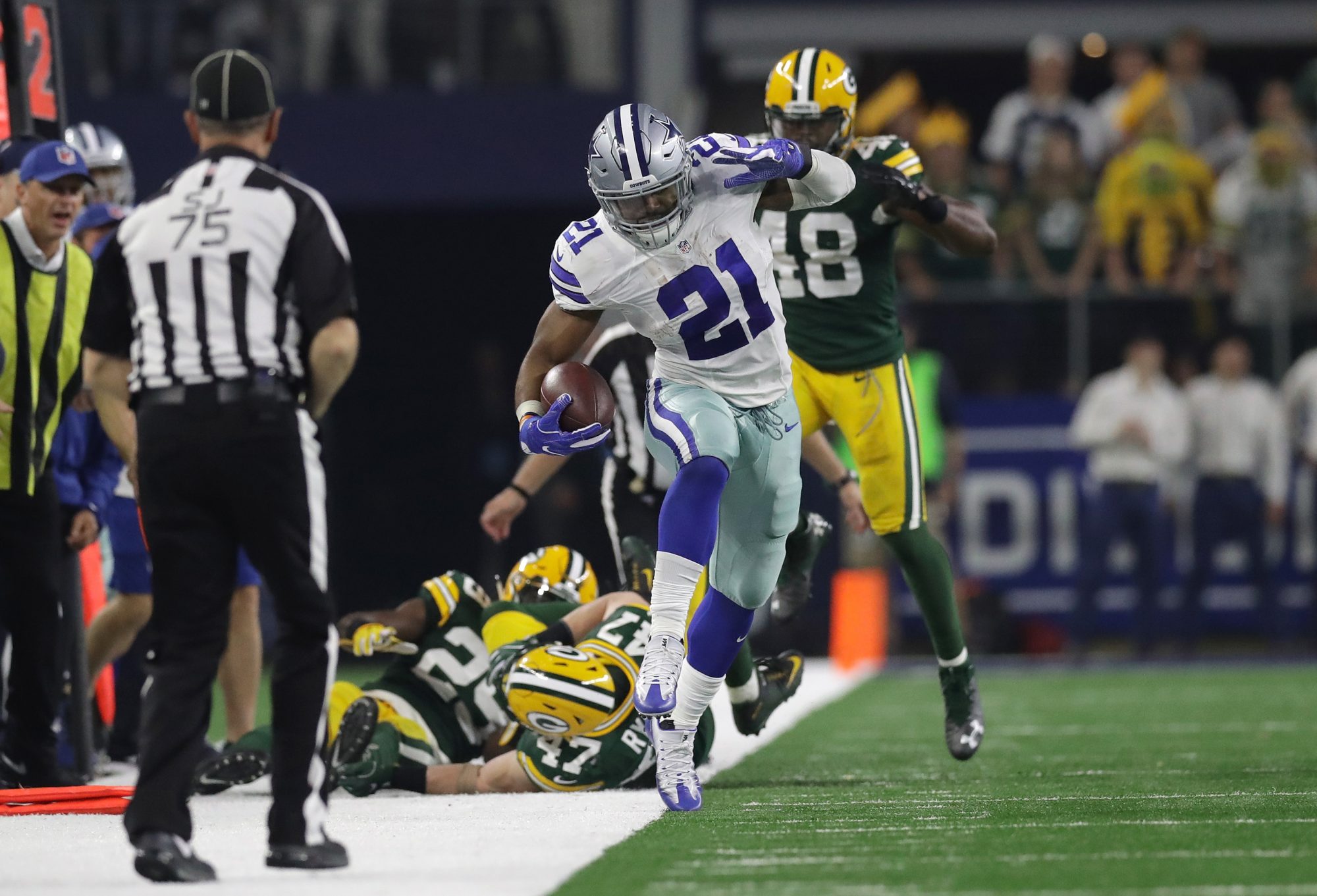 "It's dumb to draft a running back so high!"
Four or five years ago, it indeed would've been absurd to take a running back so high, as no rushers were taken in the first round in 2013 and 2014. But that might as well be ancient history with the way today's NFL operates.
Gone are the days where running back is a dying position. The rise of recent young rushers, running backs who have become their team's offensive MVP's, has given birth to a rushing revolution. The Giants can look no further than a division rival to see how important a talented running back can be to the offense, as the offense of the Dallas Cowboys has been a roller coaster over the past two seasons, better defined as the Ezekiel Elliott era.
In 2016, when the Cowboys lost star quarterback Tony Romo, the talents of Elliott guided Dallas to a 13-3 record and a division title. Injury substitution quarterback Dak Prescott had a lot to do with it too, but Elliott's impact was felt most in his absence. When Elliott was forced to finally serve a long-delayed six-game suspension over domestic violence allegations, the Cowboys' offense noticeably suffered. They went 3-3, but those losses might've cost the Cowboys a playoff spot. In a brutal November stretch, the Cowboys scored only 22 points, just two touchdowns, in a slate that dropped them from the division title discussion. The first of those losses, a 27-7 loss to the Atlanta Falcons where the Cowboys amassed just 223 yards was especially crucial, as they finished a game behind the Falcons for the final playoff spots in the NFC.
Another, more successful division rival took the importance of a run game to the next level. Many felt the Philadelphia Eagles were sunk after they lost young franchise quarterback Carson Wentz to injury in December, forcing journeyman backup Nick Foles to oversee the ensuing playoff run. Taking instant pressure off of Foles was a rushing triumvirate of LeGarrette Blount, Corey Clement, and Jay Ajayi, a group that combined speed, experience, and youth, creating an instant safety blanket for a backup quarterback.
Barkley can not only create a similar situation in New York if he joins forces with Jonathan Stewart and Wayne Gallman, but he also provides relief for an exhausted passing game. No longer does Manning have to force throws, force plays, and a part of the offensive weight is immediately removed from the quarterback's shoulders. The Giants haven't boasted a 1,000-yard rusher or finished in the upper half of the league's rushing stats since 2010. A revitalized run game takes pressure off of Manning now, and his eventual successor.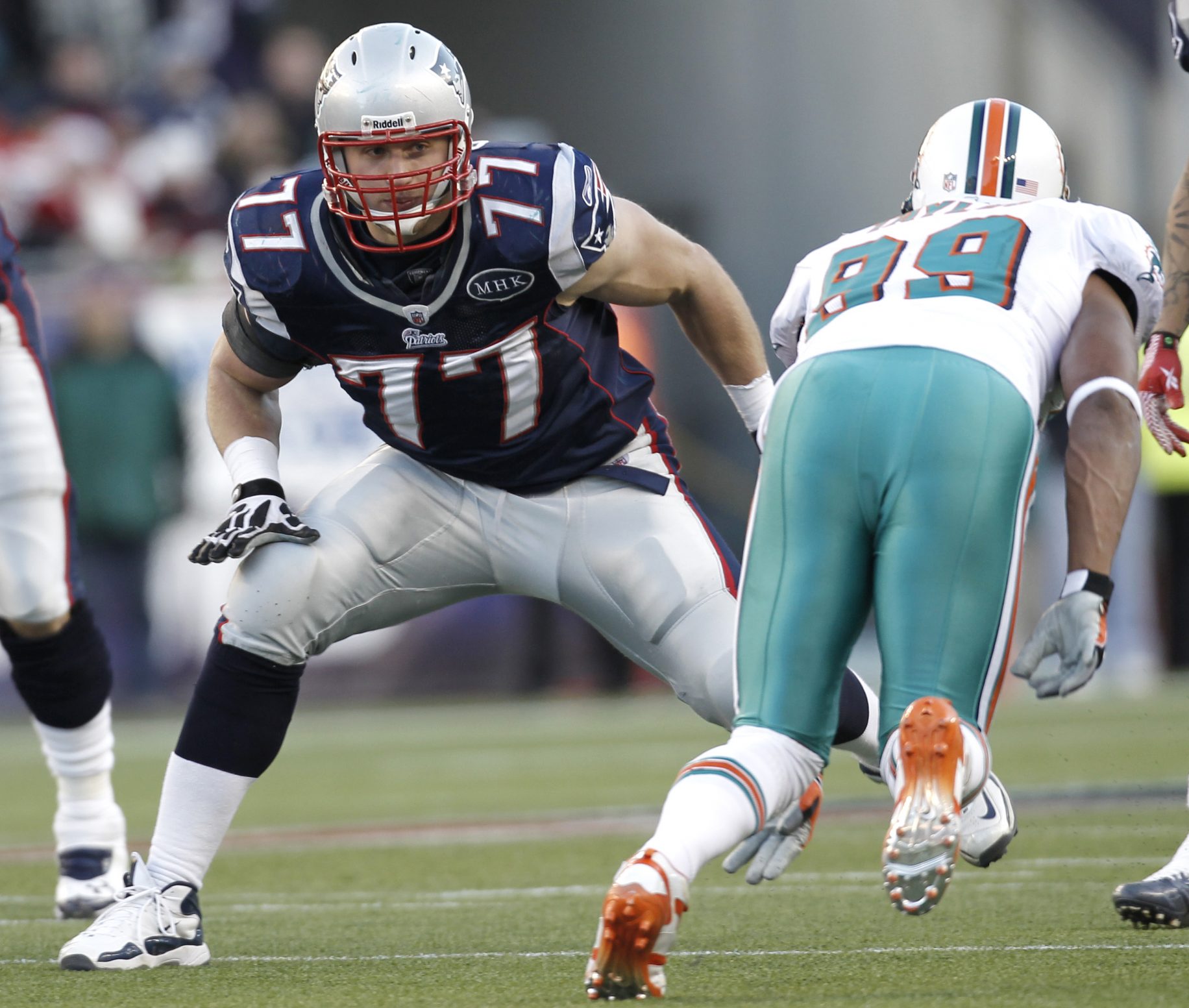 "How will he run behind that line?"
It seems like a long time ago, but blue Super Bowl dreams were contagious in the tri-state area after an 11-win season in 2016, visions that only intensified when the Giants welcomed in star receiver Brandon Marshall, drafted tight end Evan Engram, and granted defensive end Jason Pierre-Paul a massive contract extension.
Ignored, however, was the team's biggest hole—the offensive line. Ignoring free agents like tackle Andrew Whitworth, who wound up earning first-team All-Pro honors with the Los Angeles Rams, the Giants stuck with a starting wall headlined by former first-round tackle Ereck Flowers. Guard D.J. Fluker was added, but it took him weeks to get into the lineup. Sixth-round tackle Adam Bisnowaty spent all but one game on the practice squad. So while they bought themselves a fancy new car in their flashy skill signings, they ignored the mold damage in their basement.
Nonetheless, Gallman and the free agent Orleans Darkwa managed to post respectable numbers behind the unit. Darkwa posted career-high numbers, while fourth-round pick Gallman saw his carries increase throughout the year. The most prominent stat was their average carry. Among rushers with at least 100 carries, Darkwa ranked ninth in the league with a 4.4 average, while Gallman was tied for seventh among qualifying rookies with a similar 4.3 median.
With all due respect to the pair of them, they're nowhere near the level of a Saquon Barkley, and their respectable tallies came before the team commenced a blocking makeover.
Though the renovation isn't complete just yet, especially with the uncertainty of the Flowers saga looming large, the Giants' line is undoubtedly better than it was last season. Fulfilling a promise he made in his introductory statements from December, Gettleman moved quickly to improve the offensive line, handling an area the previous regime neglected. They made Nate Solder the highest-paid lineman in football in March and likewise added Patrick Omameh from the AFC finalist Jacksonville Jaguars. When first-round talent Will Hernandez, a guard from UTEP, fell to the team in the second-round, they made the no-brainer decision to take him with the 34th overall selection.
Barkley, who didn't exactly have a great wall to work with at Penn State, has new talent to work with, ones that immediately separate this line from last year's. His pure football talent, smarts, and athleticism make him a dangerous weapon nonetheless, but now he can truly work wonders behind an improved unit in front of him.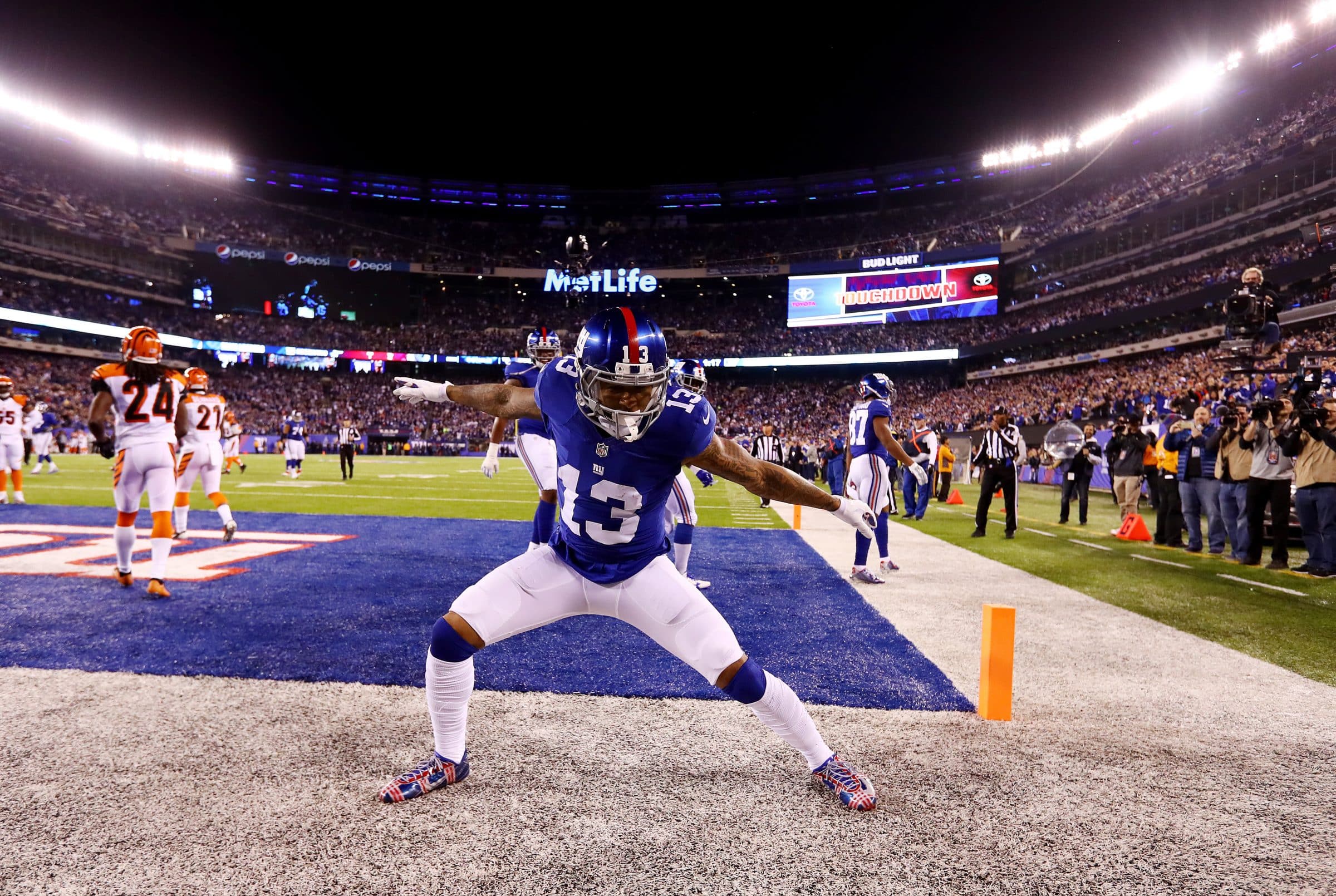 "Odell won't like that someone will be taking away touches from him!"
The Odell Beckham Jr. era has been exciting, for sure. It's featured jaw-dropping catches, show-stealing touchdown dances, drama on and off the field, and New York's most roller coaster romance since Ross and Rachel.
One thing it hasn't featured much of, however? Wins.
Including one 2016 playoff game, the Giants are just 21-27 in games Beckham has played. Some of his most memorable moments, like the famous Sunday Night Football grab against Dallas, have been overshadowed by losses. Even when the Giants were winning games, en route to 11 wins in 2016, Beckham, among others on the Giants offense, expressed frustration over being unable to blow teams out, being forced to rely on the defense in several wins. In that season, the Giants were not only unable to crack 30 points all season (in fact, they failed to reach 20 over their final six games), but all but three of their wins were decided by a touchdown or less.
"We'd love to come out and beat a team 45-14. Why not?" Beckham told Pat Leonard of the New York Daily News days after the Giants squeaked out a 21-20 win over the Cincinnati Bengals. "I'm a firm believer in that you work all week for 60 minutes of football. As an offense, you're not going to be on the field for 60 minutes. Why not make the most of the opportunity that you have now?"
If getting the ball to a new weapon means a few extra wins, Beckham won't mind sharing the wealth.
Not only does the arrival of Barkley take stress off of Manning, it takes stress off of Beckham. No longer does Manning have to depend on Beckham miracles to win games. Over his 48 career games, Beckham has been targeted at least 11 times in 26 of them. The Giants are 8-14 in such games, as defenses simply presumed the ball would be going to Beckham at some point or another. That mark lowers to 3-7 when Beckham is targeted 13 times or more.
Football is a team sport, won by collaborative team efforts. Any Giant fan would prefer to see another Super Bowl trophy in the Quest Diagnostics Training Center lobby instead of Beckham making yet another SportsCenter Top 10-worthy catch. With Barkley, as well as Hernandez, Solder, and other newcomers, the Giants are closer to that team goal than anyone could've anticipated as little as three months ago.
Follow Geoff Magliocchetti on TWITTER