Now that the 2018 NFL Draft is over and many youngsters were acquired, it's time to figure out where they fit on the New York Jets depth chart.
It's over. It's done. It was magnificent.
Well, it can only be described as magnificent from a quarterback and defensive point of view. Not selecting one single offensive lineman is a crime, but more on that on another day.
For now, we evaluate the reality of the six rookie New York Jets newcomers.
All told, Mike Maccagnan drafted three offensive players, three defensive players and also snagged another defensive player via a Day 3 draft trade. Here's the complete 2018 draft class:
The 2018 New York #Jets Draft Class.
ESNY JETS TEAM CENTER: https://t.co/mWKauXKFRf pic.twitter.com/Hadk3bzizC

— Elite Sports NY (@EliteSportsNY) April 29, 2018
Round 1, No. 3: Sam Darnold, QB-USC
Round 3, No. 72: Nathan Shepherd, DL-Fort Hays
Round 4, No. 107: Chris Herndon, TE-Miami
Round 6, No. 179: Parry Nickerson, CB-Tulane
Round 6, No. 180: Foley Fatukasi, DL-UConn
Round 6, No. 204: Trenton Cannon, RB-Virginia State
Other than the obvious issue of no offensive lineman (sorry, it's extremely annoying and obvious), not a bad word can be used to describe the six above.
Current Depth Chart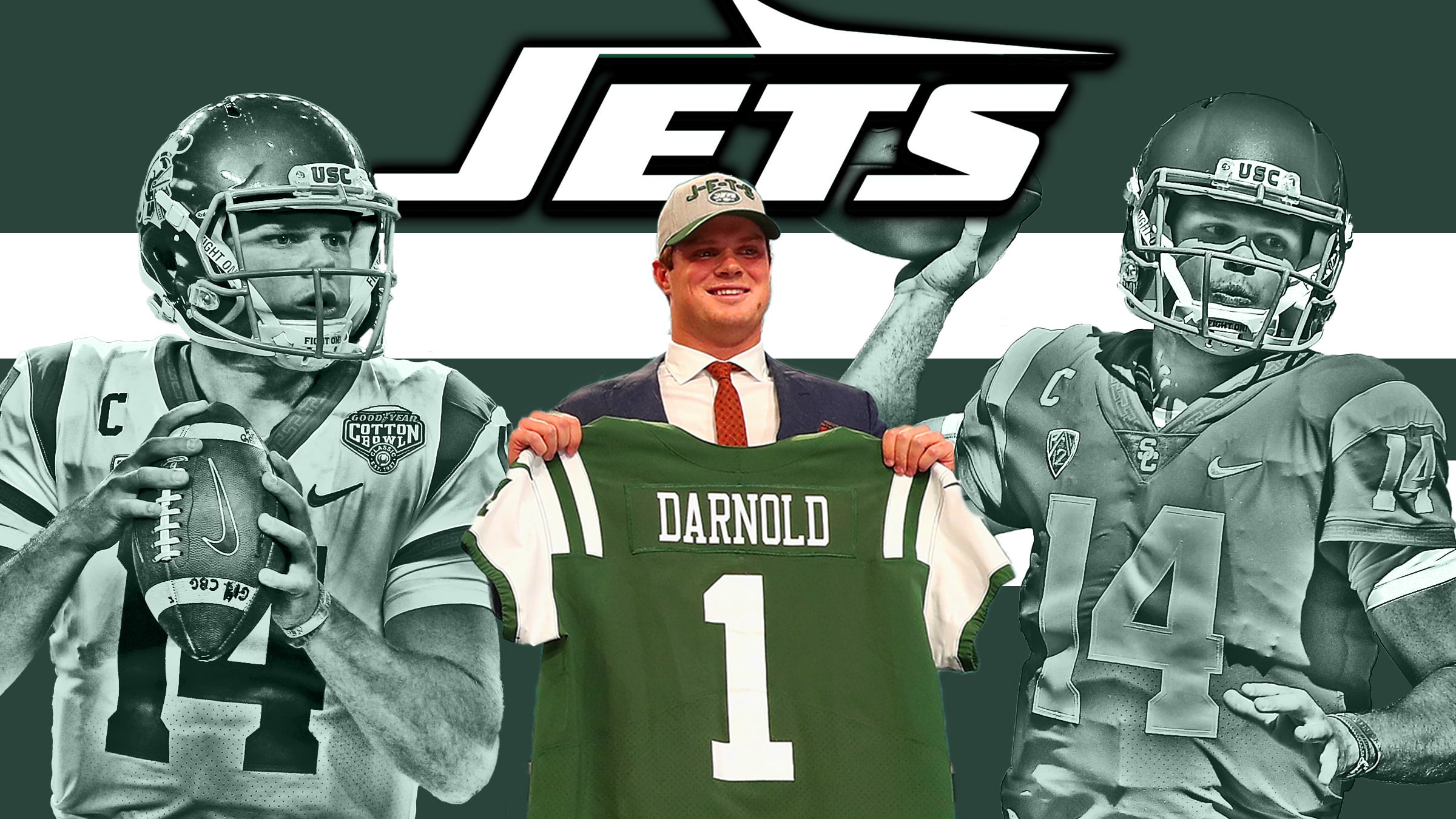 Quarterback:
Sam Darnold*
Josh McCown
Christian Hackenberg
Teddy Bridgewater
Bryce Petty
I doubt Teddy Bridgewater makes the cut. Early news out of minicamp has the kid extremely shaky health-wise and now that Sam Darnold's in tow, there's absolutely no pressure to keep the former Louisville product.
If Bridgewater's health improves, he'll slot in at No. 3 instead of Christian Hackenberg. Bryce Petty's fate is most likely another organization via trade.
Darnold's listed at No. 1 due to the idea he's by far the most talented among the bunch. I don't doubt the Jets ability to inappropriately hold the kid back and start Josh McCown at first, but eventually, we all know who the new face is.
Running Back:
Bilal Powell
Isaiah Crowell
Elijah McGuire
Trenton Cannon*
Thomas Rawls
Akeem Judge
Nothing's guaranteed for any sixth-round pick, but Trenton Cannon possesses serious abilities that fit the Jets backfield like a glove. He's more of the third-down ilk and showcases serious return-game abilities. It's something the Jets sorely lack up and down the depth chart.
Odds are, he'll beat out Thomas Rawls for the safe No. 4 spot on the 53.
Fullback:
Lawrence Thomas
No rookies here and in fact, nobody knows what the fullback position holds until training camp comes.
Wide Receiver:
Robby Anderson
Jermaine Kearse
Quincy Enunwa
Terrelle Pryor
Chad Hansen
ArDarius Stewart
Charone Peake
Andre Roberts
Lucky Whitehead
Tre McBride
Charles Johnson
No rookie wide receivers either, which is a bit of a different avenue compared to Maccagnan's first few drafts as an NFL GM. Quincy Enunwa's return makes all the difference in the world.
Tight End:
Chris Herndon*
Jordan Leggett
Clive Walford
Eric Tomlinson
Neal Sterling
Bucky Hodges
Listen, for the tight end position to actually amount to a legit group in 2018, the rookie, Chris Herndon, will have to emerge as the guy.
He was a little overshadowed by 2017 first-rounder David Njoku at Miami for much of collegiate career, but is a solid fourth-round selection. During his senior season, he caught 40 balls for 477 yards and four scores for the Hurricanes. Better yet, he's a more than capable blocker along the edge.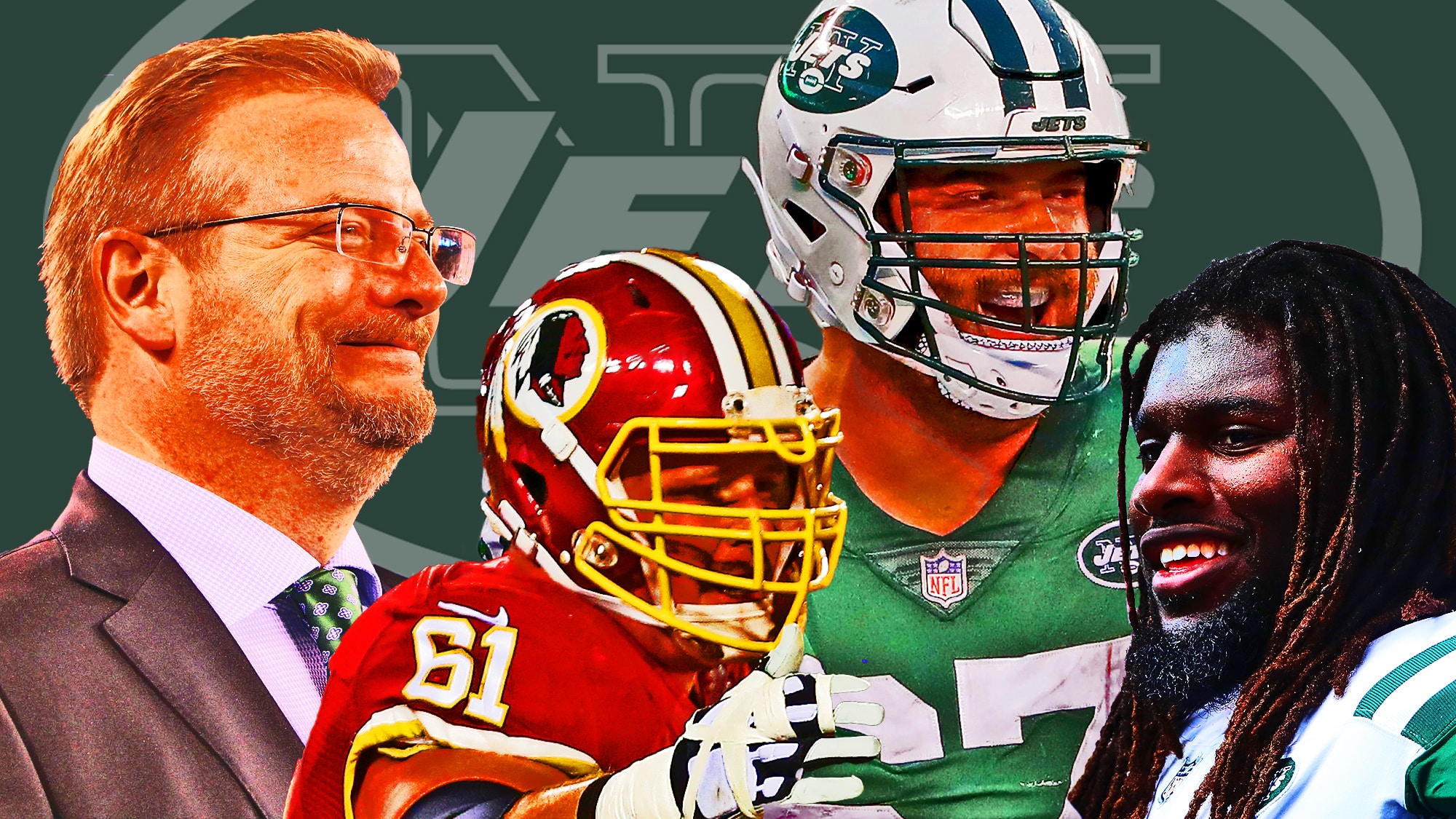 Tackle:
Kelvin Beachum (LT)
Brandon Shell (RT)
Ben Ijalana
Brett Qvale
Guard:
Brian Winters (RG)
James Carpenter (LG)
Dakota Dozier
Jonotthan Harrison
Ben Braden
Center:
Spencer Long
Travis Swanson
As previously mentioned … twice (out of frustration), no rookies were taken along the offensive line. How this could possibly happen, I'm still flabbergasted.
No NFL offense possesses the capabilities to flourish with an average to below average left tackle such as Kelvin Beachum locking it down. James Carpenter, while playing wonderfully two seasons ago, is now in a full decline. We understand Brian Winters was hurt all season in 2017, so his return should help. But unless Brandon Shell suddenly turns into Superman and Spencer Long crazily finds a magic pill to stay healthy, this line is one of the worst in the league.
It was a worry two Augusts ago, heading into last season and will be again all summer long.
Interior Defensive Line:
Leonard Williams (DE)
Steve McLendon (NT)
Nathan Shepherd (DE)*
Henry Anderson (DE)
Deon Simon (NT)
Foley Fatukasi (DE)*
Xavier Cooper (DE)
Mike Pennel (DE)
Claude Pelon (DE)
If the offensive line was labeled as an emergency heading into the NFL Draft, the interior defensive line didn't trail by much. At least the Jets took care of one side of the trenches by way of collegiate prospects.
Third-round selection Nathan Shepherd is a small-school lineman that, hopefully, represents a home run in the long run. If he can plug the opposite interior side of Leonard Williams, watch out.
Foley Fatuski is a sixth rounder and will have to battle his way come August.
In addition to rookies, Maccagnan executed a shrewd low-risk, high-reward move by acquiring former third-round DL Henry Anderson from the Indianapolis Colts for a seventh-round selection. Injuries—like many of Maccagnan's acquisitions—have been Anderson's issue at this level.
EDGE / OLB:
Jordan Jenkins
Lorenzo Mauldin
Josh Martin
Kevin Pierre-Louis
Brandon Copeland
Dylan Donahue
Freddie Bishop
Obum Gwachum
Move over offensive line. The edge spot remains empty and has been since a man named John Abraham. No incoming rookies on the edge and it's a dire situation.
Inside Linebacker:
Darron Lee
Avery Williamson
Kevin Minter
Neville Hewitt
Micah Awe
In stark contrast to the edge, inside linebacker is stout. With newcomer Avery Williamson pairing with young Darron Lee, Todd Bowles' inside-backing situation is solid. Even Kevin Minter as that third guy who can run around on special teams' units makes for a nice, deep chart at this spot.
Cornerback:
Morris Claiborne
Trumaine Johnson
Buster Skrine
Parry Nickerson*
Juston Burris
Darryl Roberts
Rashard Robinson
Kacy Rodgers II
Derrick Jones
Jeremy Clark
Xavier Coleman
Bryson Keeton
Terrell Sinkfield
Sixth-round selection Parry Nickerson out of Tulane is an absolute wild card right now. His ceiling could be as high as the nickel back, forcing Buster Skrine and his money out of the equation completely. His floor could be as low as a training camp cut.
One thing's for sure, he's built as a perfect NFL slot corner.
Safety:
Jamal Adams (SS)
Marcus Maye (FS)
Terrence Brooks
Rontez Miles
Doug Middleton
The safety position is a pretty set group thanks to the draft of a year ago.
Special Teams:
Cairo Santos (K)
Lachlan Edwards (P)
Nick Rose (K)
Thomas Hennessy (LS)