On Saturday, the New York Islanders will learn their fate for the upcoming NHL Draft.
Sometimes, it's better to be lucky than good.
The New Jersey Devils found that out last offseason, when they overcame all odds to win the first overall pick at the 2017 NHL Draft. They used that selection on Nico Hischier, who helped them go from last in the conference to a playoff spot in just one season.
The New York Islanders are hoping that they will have some of that same luck on Saturday night. Here's what to look for at the 2018 Draft Lottery in Toronto.
What's at stake:
The 15 clubs that didn't qualify for the playoffs are entered into a lottery, whose three drawings will determine the top three picks in the upcoming draft.
With one of the top three picks, the Islanders would be slotted to snag one of the top players in the draft — Rasmus Dahlin, Andrei Svechnikov and Filip Zadina among them.
With John Tavares' future status unknown, the Isles need all the help they can get this summer. Winning the lottery would be an impressive first step.
The odds:
The Islanders own two first-round picks this year: their own, and the Calgary Flames' selection, as part of the Travis Hamonic swap.
Thus, they have a combined 6.0 percent chance of getting the first selection, and a 19.6 percent chance of earning a top-three pick.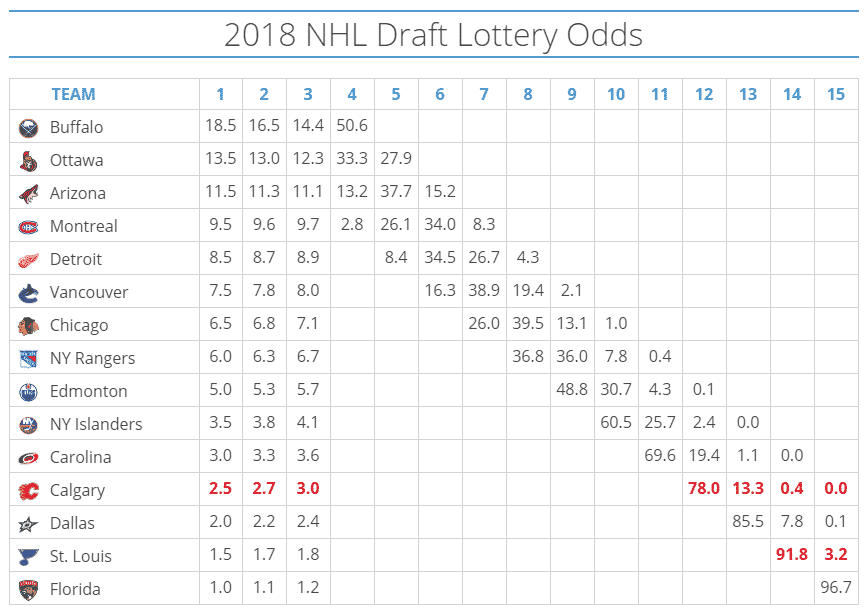 The event:
On Saturday, league officials in Toronto will set the draft order by a drawing of ping pong balls.
Representatives from all 14 teams (since the Isles hold two of the fifteen picks) will be in attendance, while fans can follow from home on the NBC Sports Network starting at 7:30 PM. Picks 15 through four will be revealed before the start of the Vegas Golden Knights-San Jose Sharks game, while the top-three selections will be announced during the second intermission of that contest.
Can the Isles snag a coveted top-three spot or will they have to wait to select some game-changing players? Saturday night will reveal what Isles fans have to look forward to next season.