Sam Darnold, Josh Rosen, Josh Allen or Baker Mayfield? The franchise generational moment of truth has finally arrived for Mike Maccagnan and the New York Jets.
We wait. For weeks, months, even years in some cases, we wait. Mock drafts, rumors and enough garbage to make you turn the radio off in disgust, we still wait. College football stats, Heisman Trophy ceremonies and inaccurate descriptions of what a spread offense is, there we are, waiting.
Then, with little warning, it arrives. The NFL Draft.
An event that's built momentum since little-known ESPN took the 1983 class is now a powerhouse industry for not only each of the 32 National Football League owners, but sports media outlets, memorabilia platforms and apparel companies alike.
Yet 10 minutes of "on the clock" is all that's provided. Ten minutes to make a decision of a lifetime.
For the 2018 New York Jets, those 10 minutes will account for a generational moment.
It really started with two landmarks items. First and foremost, Sam Darnold cemented his place in the NFL after cutting up the Penn State Nittany Lions for 453 yards, five touchdowns and an unforgettable game-winner in one of the more classic Rose Bowls of our time. Months later, Daniel Jeremiah of the NFL Network proclaimed, live on-air, that the Jets currently possessed the worst roster in the NFL.
It was "on" from there.
Sprinkle in a few over-the-hill veteran cuts such as Darrelle Revis, Davis Harris and Eric Decker and the entire football-loving world was buying into the crap narrative that had the Jets tanking. Or, more appropriately, "Sucking for Sam." (Even silly August comparisons to the winless Detroit Lions a decade ago were carelessly thrown around.) In fact, the roster was much improved compared to the 2017 version.
Though the diehard football head understood the Jets personnel wasn't playoff worthy, he/she also understood it wasn't all-time terrible, either. As it turned out, the Jets shocked folks to open the season prior to finishing 5-11.
Gone was the surefire No. 1 overall pick. Instead, familiar No. 6 was the mark, and No. 6 was fine due to the studly nature of the 2018 quarterback class. But now, thanks to relenting three big-time second-round selections via the Indianapolis Colts to move up three spots, the Jets have upped the ante even further.
That No. 3 selection means everything. There's just no way to understate the matter at hand.
Rarely has this organization been thrust into this situation.
The early stages of the franchise were not only dominant in terms of prominent status in the AFL, but the heart of the city. The New York Giants—who interestingly play a huge hand in this generational pick—had fallen on hard times. Joe Namath was captured as was the hearts of football fans everywhere thanks to Super Bowl 3, the nail in the coffin that brought both American football powerhouse leagues together.
Of course, Namath's legs had other plans than a second title in New York, but no other QB was dared dreamed about from a front office standpoint. It wasn't until 1976 that the Jets looked to make that splash.
Richard Todd out of Alabama was selected with the No. 6 pick during that 1976 draft. He enjoyed a few decent seasons, especially in 1982 while bringing New York to the AFC title game, but never lived up to his top 10 status.
The 1983 draft that allowed this even to turn so monstrous could be defined as the "one that got away." At No. 24, it was Ken O'Brien who the Jets faithful so blissfully booed at Radio City Music Hall.
Dan Marino was selected three spots later at 27.
And thus began an annual tradition. Mix the New York Jets fan, Radio City Music Hall and the loaded word of "hope" and the league, broadcast team and NFL commissioner understood the electricity in the building coming from the nuts who donned a certain shade of green.
While O'Brien received much negative buzz to kickstart his career, he and weapons Al Toon and Wesley Walker nailed down one side of the Jets roster quite effectively. This led the franchise in not seeking a QB. In fact, Toon was the 10th pick in '85.
After a mammoth second-round failure with Browning Nagle during the early 1990s, the veteran route of Boomer Esiason and Neil O'Donnell was attempted. But suddenly, just when the Big Tune, took the helm, a generational face was aligned with the green and white.
Peyton Manning was the Jets man. A can't miss stud as the top guy heading to a 0-16 squad who's starting fresh with Bill Parcells. Does it get any better than that?
Of course, Manning stayed big man on campus for one more season and Keyshawn Johnson was gobbled up in his stead. Back to the drawing board.
Chad Pennington served his duties admirably as a late first-round pick. Vinny Testaverde did his thing extremely well as that surprising vet. Still, the search continued for No. 12's ultimate replacement.
Let's go back to No. 6, as in the six-hole Mike Tannenbaum decided to aggressively trade up to in 2009 to snag Mark Sanchez. Finally, the man had been snagged. The face of the franchise is now home.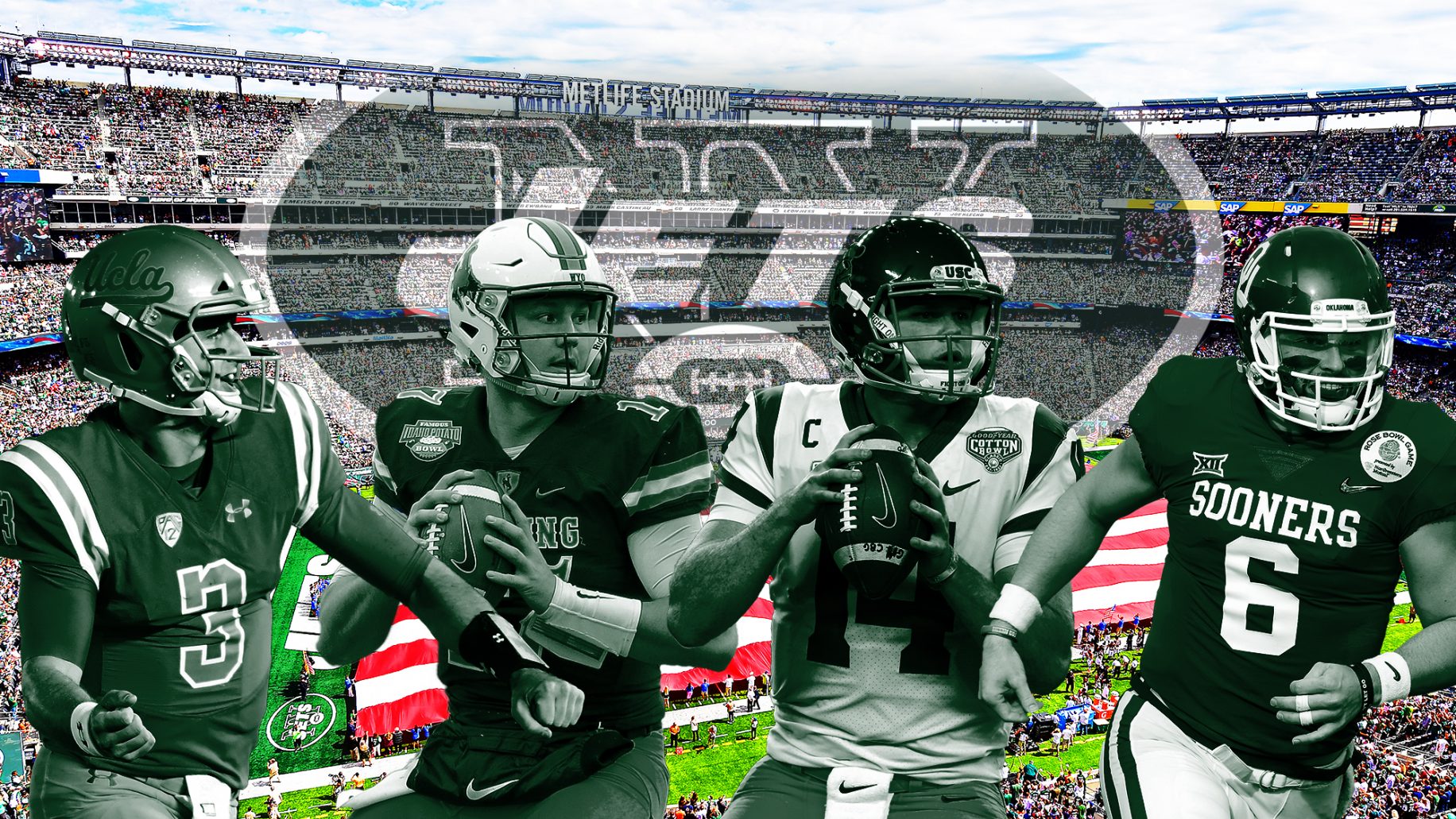 But despite back-to-back AFC title games led by a ferocious defense and a ground game that still has defensive coordinators taking medicine to get names like Thomas Jones, Brad Smith and Leon Washington out of their heads, Sanchez burned out.
Every chance the Jets had of scooping that guy, they either missed (2009), found terrible luck (1997), or were simply in the midst of a solid QB tenure (as with Todd and O'Brien). All of that gets washed away with the right selection on the night of April 26, 2018.
Isn't it funny how this is the moment of truth with a class in the same vein as that historic '83 version? Quarterbacks are plentiful. So plentiful that, even in this insane aerial-attack league that gobbles them up immediately, the franchise would have still been fine at No. 6 … probably.
It just doesn't matter now. The spot is three and the quarterback number is four. Sam Darnold, Josh Rosen, Josh Allen and Baker Mayfield—one of these three will be the face of the New York Jets come primetime on Thursday night in a Jets situation that'll either bless or sink an entire generation.
Will kids be wearing No. 6 Jets jerseys flying around like lunatics? Will the fanbase be praising USC instead of usually denouncing the three letters? Will MetLife Stadium forever keep an eye on Wyoming scores per Saturday? Will their quarterback be celebrating the same great Jewish holidays a great majority of the fanbase does? Will Mike Maccagnan and Todd Bowles emerge as a successful duo?
All of those questions and more hinge on what comes out of Roger Goodell's mouth on Thursday night for we're all patiently awaiting the result of a generational decision sure to impact an unlucky franchise's fate for many years moving forward.
Time is up, New York Jets. The fate of the next generation is on the clock.