David Gettleman and the New York Giants have officially selected Saquon Barkley with the second pick in the 2018 NFL Draft.
After months of speculation, New York Giants general manager selected the player that he feels will help the Giants the most for years to come, and that player is Saquon Barkley.
Barkley is the third running back the Giants have taken in the first round over the last 18 years. The other two were Ron Dayne in 2000 and David Wilson in 2012. The Giants are hoping they'll have better luck this time around than the previous two times they used their first-round pick on a running back.
Barkley is a far more versatile back than Dayne and Wilson were, and he is viewed by many as the best player in this draft. If he can remain healthy seems to be a lock to have a successful NFL career and a potential to end up in the Hall of Fame.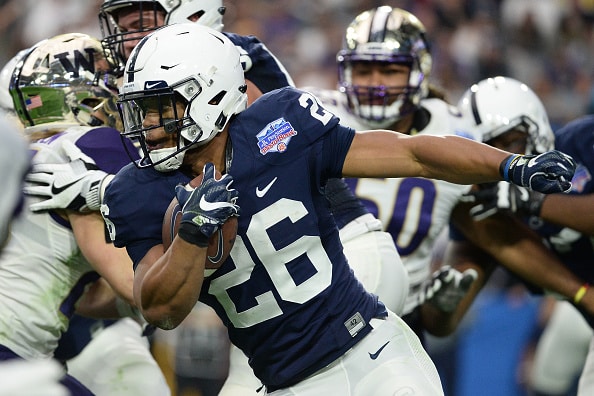 His upside and playmaking ability is why he's a perfect fit for head coach Pat Shurmur's play calling.
In his three years at Penn State, he rushed for 3,843 yards and scored 43 rushing touchdowns. He also had 102 receptions for 1,195 yards and eight receiving touchdowns.
Taking a running back with the second pick in a deep draft may seem risky, but Barkley is seen by many as the best running back prospect since Adrian Peterson in 2007.
Barkley will be pushed for the starting running back spot by second-year running back Wayne Gallman who averaged 4.3 yards per carry as a rookie, but expect Barkley to be the starter when the Giants open the season against the Jacksonville Jaguars in Week 1.