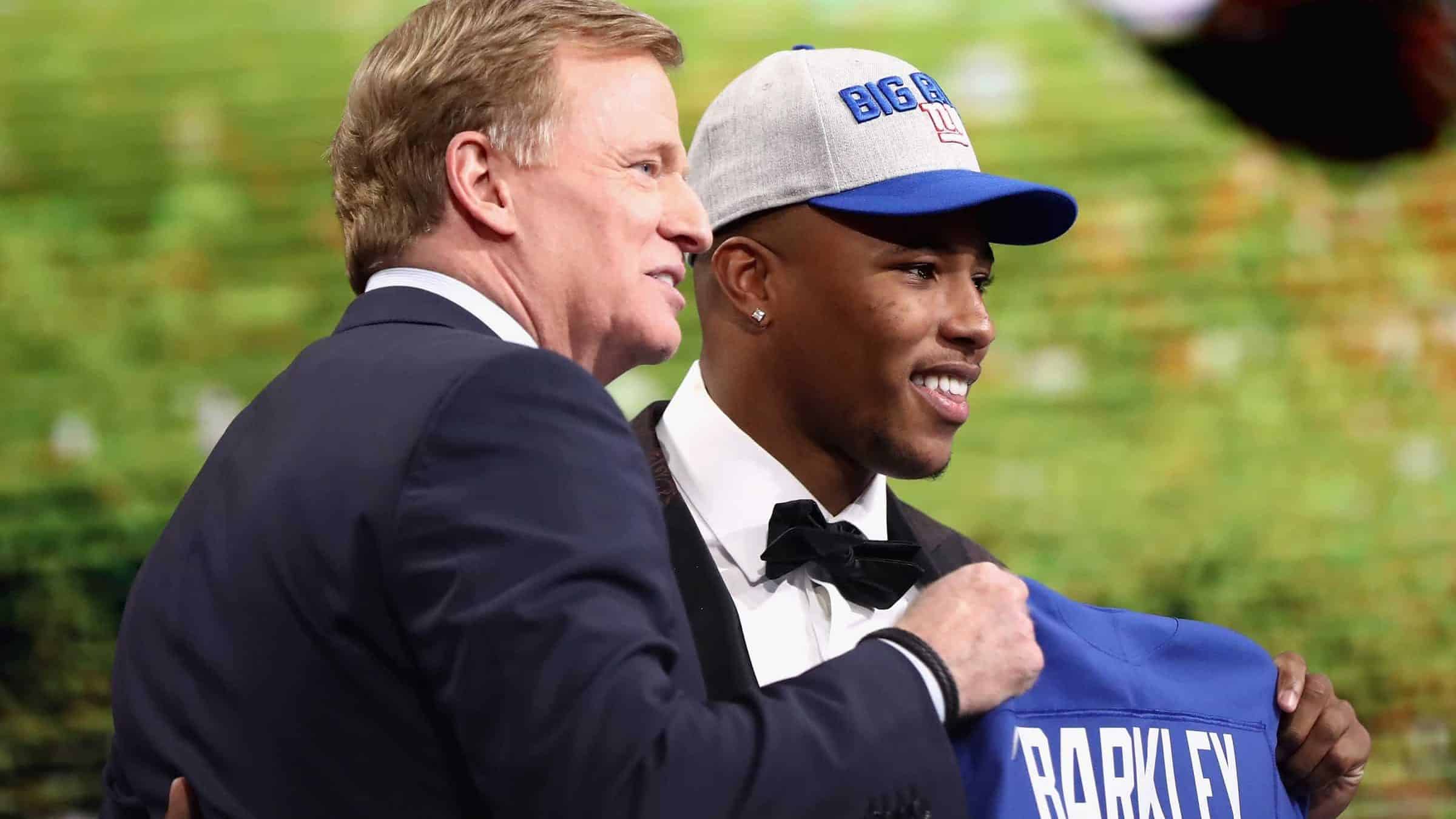 Hype videos and phenomenal buzz abound for New York Giants running back Saquon Barkley including the best reactions, especially from Odell Beckham Jr.
Eli Manning may not be on Twitter, but he's probably dancing around his living in his underwear right about now. Not only does he have a healthy Odell Beckham Jr. to work with during the 2018 NFL season, he now comes equipped with Saquon Barkley, pound-for-pound, the best player in the entire collegiate pool.
David Gettleman and the New York Giants made it official on Thursday night. Once the Cleveland Browns selected Baker Mayfield with the No. 2 pick in the NFL Draft, they immediately stopped taking phone calls from teams possibly looking to trade up, according to Ryan Dunleavy of NJ.com.
"We all had such a conviction on this kid that at the end of the day … the only reason that pick wasn't in at 9:58 was because we had to wait until the five-minute mark," Giants general manager Dave Gettleman said. "Otherwise it would have been in."

"We felt Saquon was the best player in the draft," Gettleman said. "I haven't seen a guy like this in a long time."
Coach Shurmur makes the ? to @saquon!#GiantsPride #NFLDraft pic.twitter.com/z9CrWB4RKQ

— New York Giants (@Giants) April 27, 2018
.@Saquon already has fans at the #NYGiants Draft Party! Watch Draft Night Live on MSG, https://t.co/PxnieK9dtd and App pic.twitter.com/l2Wazp4JTq

— New York Giants (@Giants) April 27, 2018
Blessed to be a member of the @Giants! Thank you for believing in me. You won't be disappointed. I'm ready to work! Already got my #NFLDraft card on #PaniniInstant. Check it out! https://t.co/IYvU7RTqjc pic.twitter.com/HrsRWGkfAu

— Saquon Barkley (@saquon) April 27, 2018
Watch: Primetime interviews Saquon Barkley! #GiantsPride #NFLdraft pic.twitter.com/TtFkTT5kX6

— New York Giants (@Giants) April 27, 2018
Saquon Barkley highlights! ???#GiantsPride #NFLDraft pic.twitter.com/Dzl8Zklj7x

— New York Giants (@Giants) April 27, 2018
Conviction for the franchise is one thing. Conviction in terms of everybody else reacting to the pick is another. Barkley's admirers came out in a hurry once the pick was made, especially Odell Beckham Jr.
Um , of course !!!!!!!

— Odell Beckham Jr (@obj) April 27, 2018
The Giants will select Saquon Barkley with the 2nd overall pick, per @AlbertBreer https://t.co/EciShMpkfj pic.twitter.com/0jppr3iVdl

— Sports Illustrated (@SInow) April 27, 2018
Saquon Barkley said he's already face-timed with Odell Beckham and received a call from Eli Manning.

— Paul Schwartz (@NYPost_Schwartz) April 27, 2018
Congrats to Penn Stater @saquon Barkley on being the 2nd overall pick to the NY Giants!!! I will be rooting for you to do really well for 14 games every year ?

— Stefen Wisniewski (@stefenwiz61) April 27, 2018
? in Happy Valley for #SAQUONBARKLEY #NFLDraft#WeAre pic.twitter.com/TRyrZthIbX

— Penn State Football (@PennStateFball) April 27, 2018
OBJ is probably the best wide receiver in the NFL- Saquon Barkley

— Jason Leach (@JasonKLeach) April 27, 2018
Yes, I like the pick. #rungame

— Nate Solder (@soldernate) April 27, 2018
Congrats to you @saquon man glad to have you part of the team…it's a blessing for sure enjoy…tomorrow is work day ?

— LANDON COLLINS (@TheHumble_21) April 27, 2018
Great pick @Giants !!! ????????

— Alec ogletree (@MROGLETREE52) April 27, 2018
Welcome to big blue @saquon I'm excited to see you work! Get ready to get this work in practice! Can't get no more free Randy!!! ?? congrats and enjoy this time bro!

— Damon Harrison Sr. (@snacks) April 27, 2018