There's been wide speculation on how Dave Gettleman will approach his first draft as New York Giants general manager. Here are three predictions as to what direction the team will go this weekend.
Following the New York Giants 3-13 season, Dave Gettleman knows he has his work cut out for him heading into his first draft as general manager.
He's already made some key additions in free agency by acquiring Nate Solder, Jonathan Stewart and William Gay, but he knows the best way to build a team is through the draft.
The way things stand as of right now, the Giants have six picks in this year's draft and four of those picks are in the top 69.
The #NFLDraft is THIS WEEK! Here's where the #NYGiants are selecting: pic.twitter.com/9sJlNU0Kof

— New York Giants (@Giants) April 23, 2018

So they have a plethora options and maneuverability to move up in the draft if they see a player they like falling. The 2018 draft is sure to be a memorable one for the Giants.
Here are three predictions for the Giants in this year's draft.
1. The Giants will take Saquon Barkley with the second pick
All signs are indicating that the Cleveland Browns will take a quarterback with the first pick in the draft. That means they'll have the opportunity to draft Penn State running back Saquon Barkley.
Barkley is by far the best running back in this year's draft, and some feel he is a lock to have a successful NFL career.
Having a running back like Barkley will help open things up for the Giants passing game as defenses will have to focus on trying to stop Barkley.
The running game has gone through a resurgence in the NFL as of late as all of the top five rushers in the NFL from the season ago helped their teams reach the playoffs. So it would make sense for the Giants to draft one of the highest graded running backs coming out of the draft over the last decade.
2. Giants will use their second-round pick and one of their third-round picks to trade back into the first round
It's difficult to project where a player may get selected because it's difficult to gauge what general managers are thinking. That's why every year we see players drop in the draft.
If a player the Giants like such as guard Will Hernandez out of Texas-El Paso falls towards the bottom of the first round, look for Gettleman to try to trade his second-round pick (34th overall) and one of his third-round picks to move back into the first to grab a player that was high on his draft board.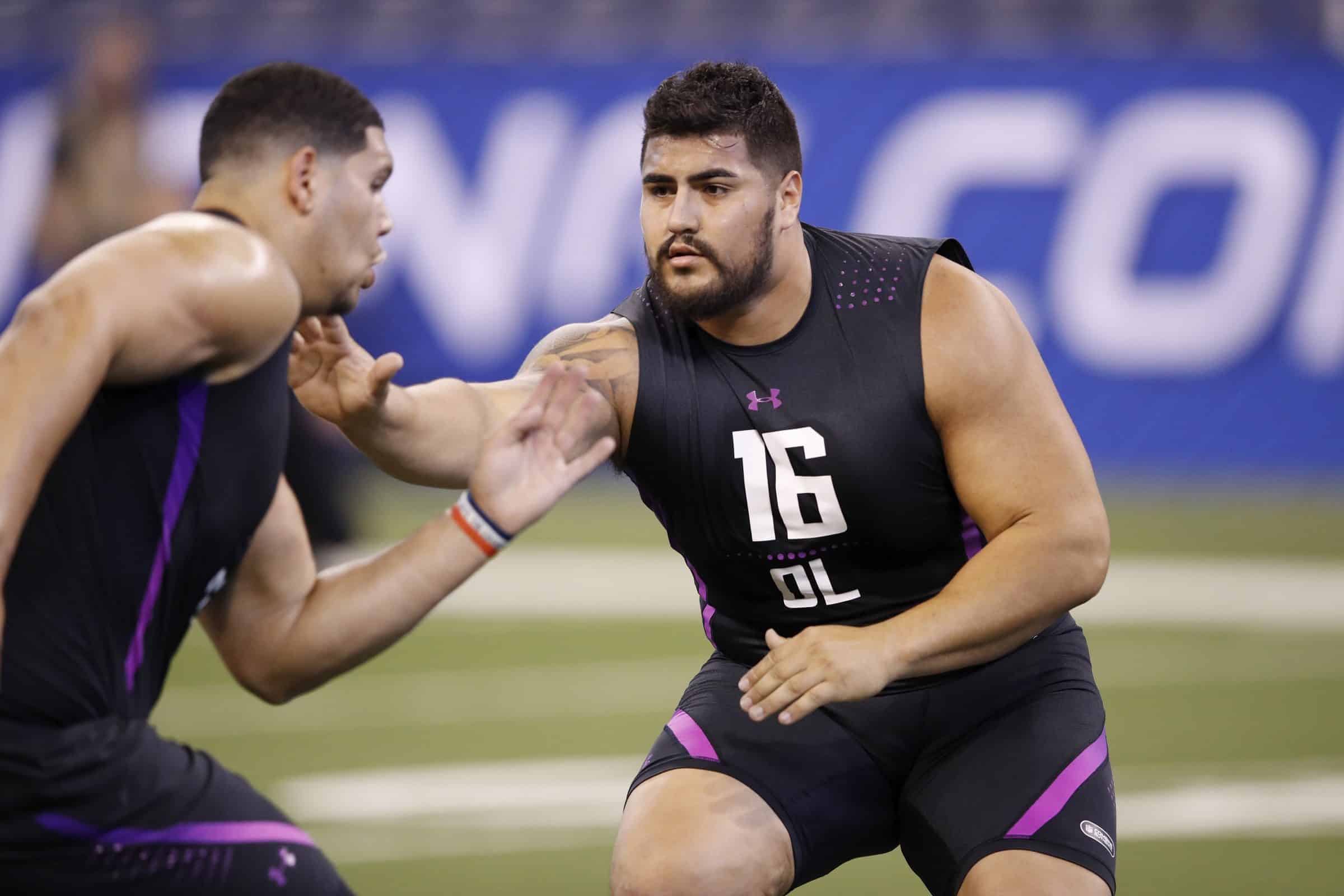 This year's draft class is deep with talent. So teams will be more willing than other years to trade away a late first-round pick in exchange for an early second-round pick and a third-round pick.
3. Giants will draft at least two offensive linemen
The Giants offensive line has been mediocre for years, that's why it was shocking to see Jerry Reese waiting until the sixth-round (200 overall) to take his first and lone lineman in last year's draft in Adam Bisnowaty.
Reese not putting an emphasis on rebuilding the offensive line is why he was fired as general manager in December.
Gettleman who is a disciple of Ernie Accorsi who was the Giants general manager from 1998-2007 believes in building a team from the inside out. He has already emphasized rebuilding the line by acquiring Solder and Patrick Omameh.
But he knows he still needs to add more linemen to compete for a starting spot and to add depth to the line. He and head coach Pat Shurmur are in agreement that everything starts with the offensive line, so you can rest assured that Gettleman will draft at least two offensive linemen in this year's draft.