The uneducated claims of spread quarterbacks succeeding in the NFL has gone on for far too long. It's time to officially educate on which type of spread offense is truly alarming when it comes to the New York Jets potentially snagging Baker Mayfield in the 2018 NFL Draft.
Just days away from the 2018 NFL Draft, the conversation has reached epic proportions. Four studly quarterbacks in the pool along with many quarterback-starved organizations lead to an incredible number of conclusions.
This is especially the case right here, in the Big Apple, as it concerns those New York Jets and their fans—the group impatiently waiting for its next Joe Namath.
After relenting three second rounders (their only shot at potentially assembling a decent offensive line), Mike Maccagnan's lifted the Jets to the three-hole, meaning, at the very worst, they'll snag the third QB off the board. According to recent rumors, they're in love with just two: Sam Darnold and Baker Mayfield.
At the beginning of draft week, two names are appearing in mocks next to the green-colored NFL team without the Super Bowl champion tagline to go along with it: the aforementioned Mayfield and Josh Rosen.
What real? What's fantasy? We'll have to wait to find out. For now, welcome to the spread offense discussion.
Darnold, Rosen and the final member of the studly four, Josh Allen, all played within a pro-style offense at the collegiate level. The 2017 Heisman Trophy winner did not. After fleeing Texas Tech after his freshman season, Baker Mayfield transferred to another team within the same Big 12 conference that's transformed into the closest thing to the Arena League over the last decade or so, the Oklahoma Sooners.
One group will scream, "Very few spread offense quarterbacks make in the NFL!" while another group lists off names of arms who have made it while coming from the very system in question.
What we're here telling you right now is pretty simple. These lists and examples are garbage. It's not about personnel groupings. It's about a mindset. It's about the true Air Raid spread and a Big 12 mindset that has quarterbacks experiencing a tough transition to the NFL and it's what makes so many so nervous about Baker Mayfield.
It isn't the spread. It's the real spread, the Big 12, the Air Raid that's concerning.
Properly Defining the Real Spread
Traditionally and on the surface, this is how many fans separate the two offenses: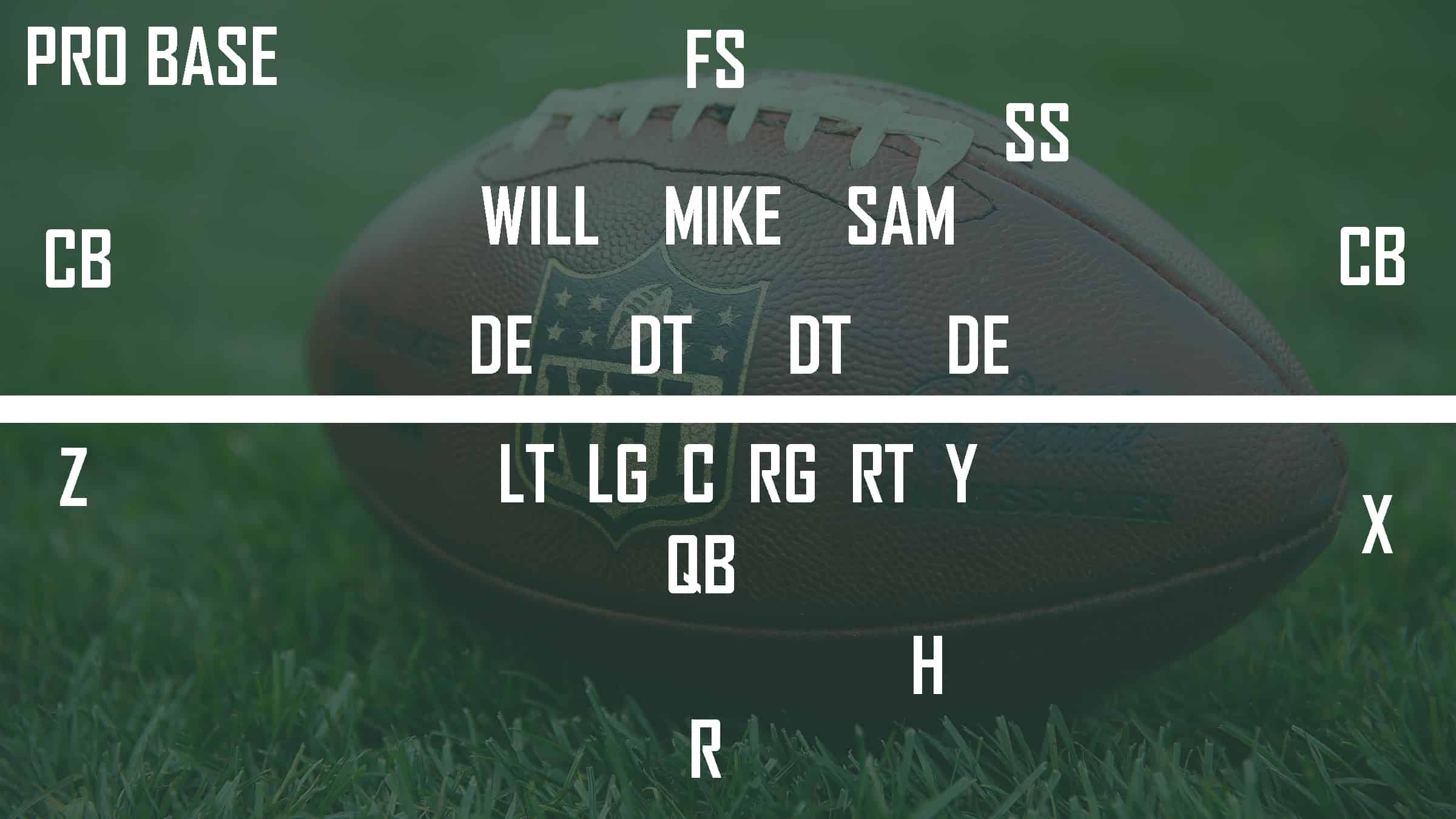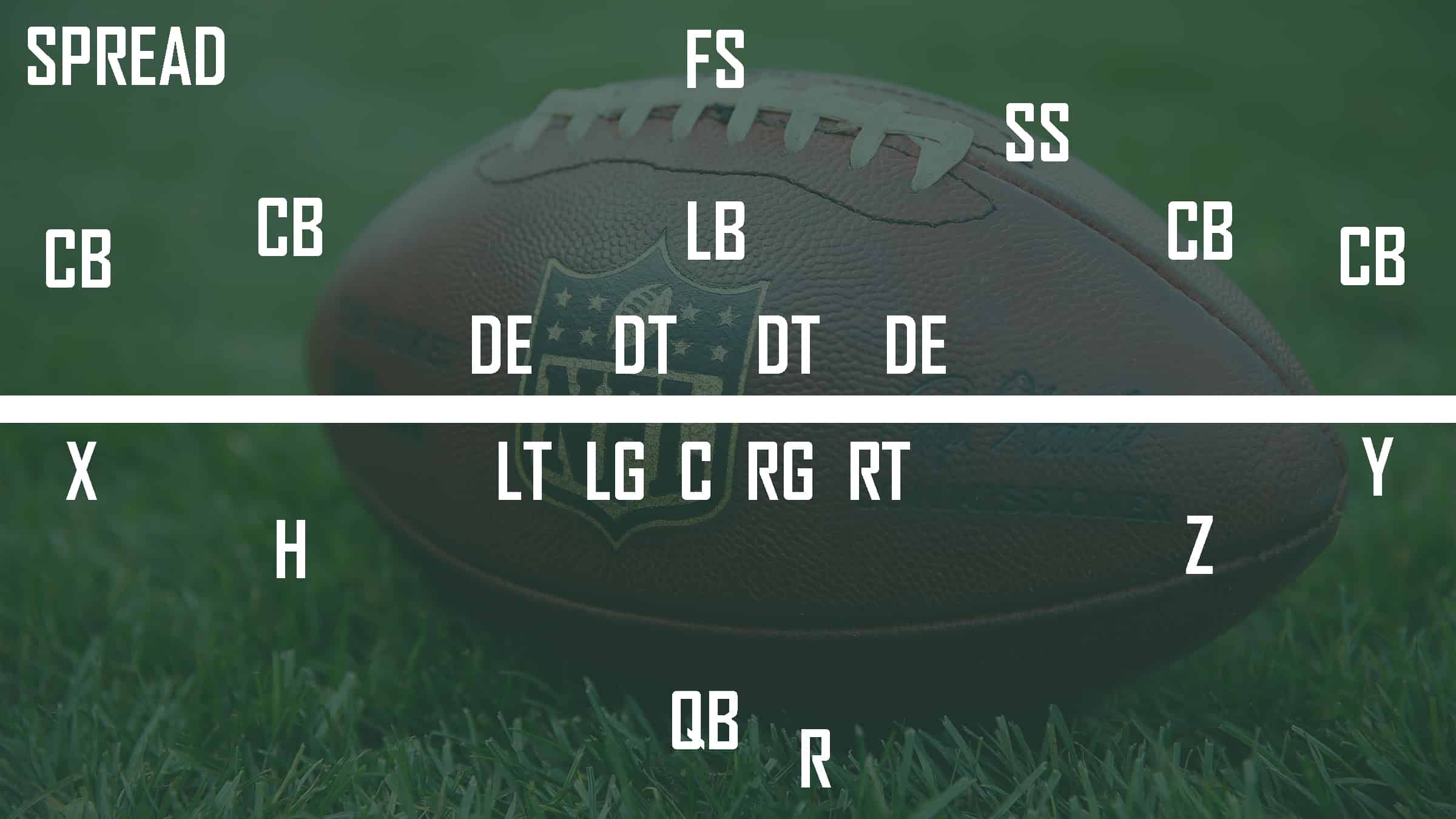 Most folks improperly define the spread offense.
What they see and/or know about it is that the personnel takes the form of its name, meaning "spread." If the offense consistently throws out four and five-receiver sets, backers of the spread-to-pro quarterbacks immediately point and say, "See, this guy's made it in the league after coming from the spread."
It's not true. The spread offense isn't simply defined based a certain personnel package of multiple receivers across the field. In fact, the spread can just as easily run a two-back system (in their own offset fashion).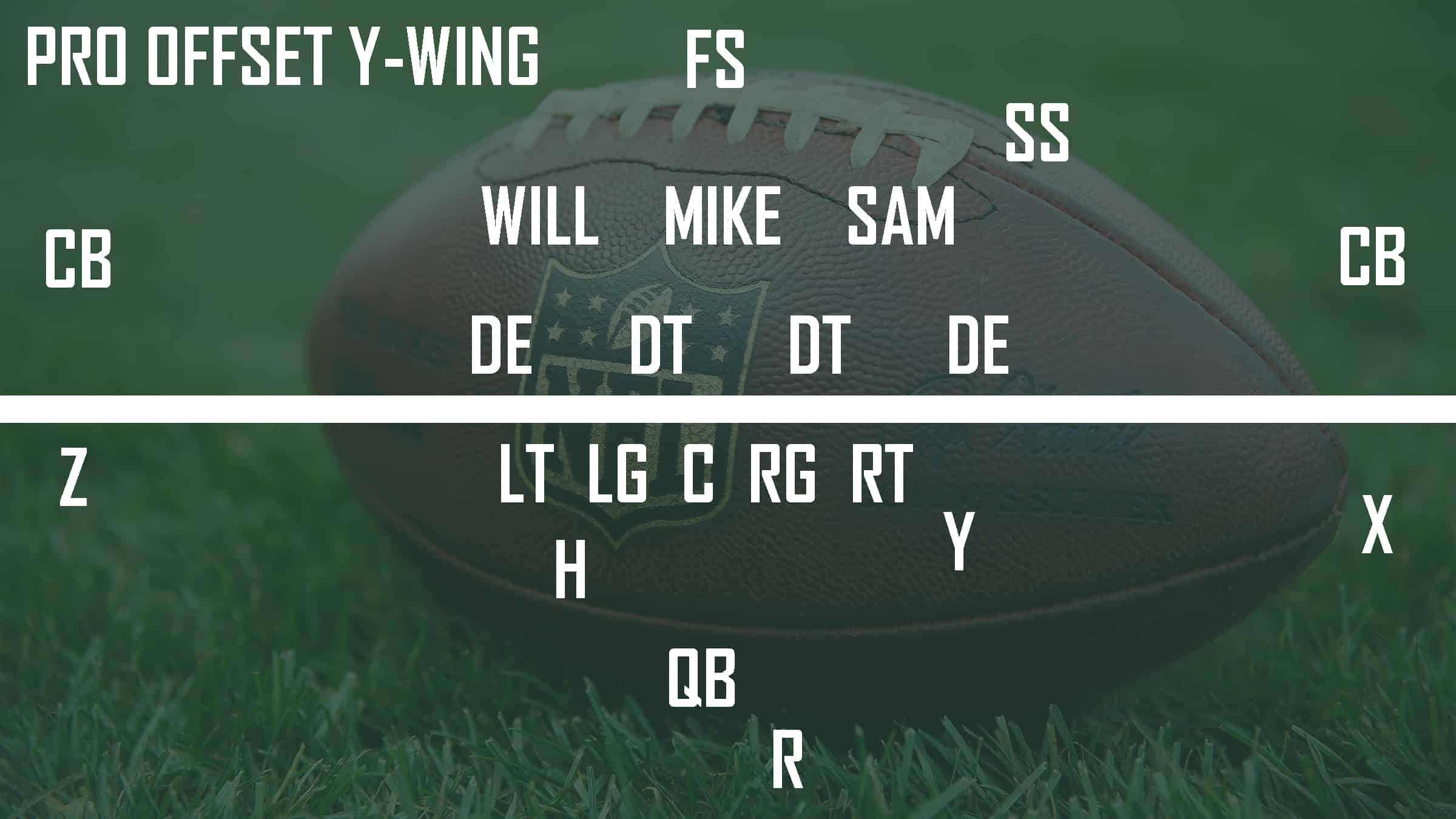 The point is this: there are many variations of the spread offense, even the above example that showcases the FB in an H-Back spot. "Spread" isn't limited to a simple 4WR set. The above is one of the more common 22-personnel varations for spread-style offenses.
During the late 1980 and early 1990s, a wild system hit the NFL that spread to over 10 percent of the league. It was called the run-and-shoot. What the run-and-shoot entailed was a strict four-wideout system with one back that called for a serious dose of down-the-field passing.
This means detailed route-trees for wideouts, an offensive line that could consistently protect seven-step drops and a quarterback who could read defenses for the longest time allowable.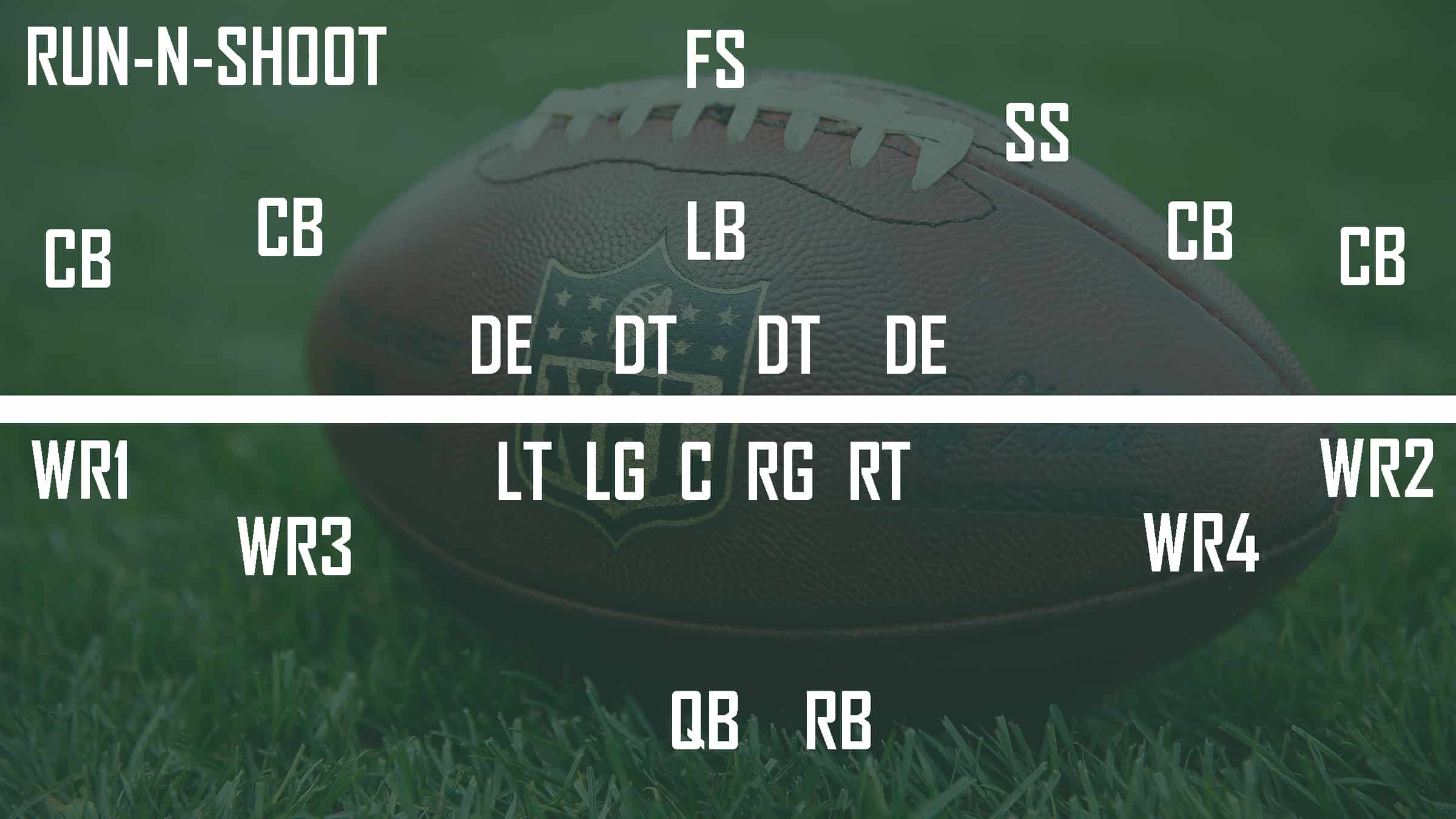 Though the personnel is identical at times, this is the exact opposite mindset of a spread offense in today's collegiate world—yet both maintain the appearance of a four wideout set.
Run and Shoot Principles:
Attack down the field with a smart QB who can properly read the defense for an extended period of time.
Many five and seven-step drops to stretch the back-end of the defense.
Many complex route trees.
On-the-fly wide receiver routes depending on varying defenses.
Power running scheme with fewer players in the box.
Eventually, the run-and-shoot faded away. This isn't totally attributed to failures of the system—as certain teams such as Houston Oilers, Atlanta Falcons and Detroit Lions enjoyed much success during the early 90s—rather a complete league transformation. Instead of offenses committing to just one personnel grouping as an entire strategy, suddenly, offenses were created with the explicit purpose to handle all personnel sets.
It's an important rule to remember: no NFL offense is pure anything. All are now hybrids with certain principles mixed in. Even spread offense principles are mixed in.
This is why the likes of true run-and-shoot backers like Kevin Gilbride still mixed in run-and-shoot principles with the Super Bowl champion New York Giants while running as many personnel sets as any other squad. It worked twice with Eli Manning at the helm, 2007 and 2011. Interestingly enough, Manning's struggled under a contrasting system, the West Coast.
And that's still exactly what we see today. Whether it's the Philadelphia Eagles or Chicago Bears, they all run base, two tights and 11 personnel (three wideouts) along with a myriad of other looks. What's different is the entire mindset or dash of principles mixed in.
Myth of Collegiate Spread
There are four-receiver sets in college football that shouldn't be labeled a "spread offense." Instead, the spread offense is a principle. It's a mindset. It's an entire scheme.
Forget four wideouts. The principles of the spread are as follows:
Use motion to manipulate the entire field.
Make the defense attempt to defend the entire field.
Throw short-timing passes to playmakers who can score.
Mix in zone/read-options via the quarterback.
Use wideouts as running threats.
Have quarterback understand his primary target pre-snap and lean on it more heavily than traditional standards.
Using offset alignments to help deliver the point of attack.
Remember Chip Kelly's offense with the Philadephia Eagles a few years back? That was a true spread offense—or, at the very least, as "spread" as it can get at the professional level. While NFL teams sprinkle in certain concepts of the new spread—like seen in Tennessee as they continuously attempt to move along Marcus Mariota's development—nobody has successfully run a true spread in the NFL.
It's important to remember that the very first true spread principle that hit the NFL—the zone-read via the Wildcat—came along, ruled for a year with the likes of Colin Kaepernick and Robert Griffin III—and then eventually died a quick death after defenses caught up.
Why Mayfield and True Spread QBs are Frightening
Why Baker Mayfield's draft uneasiness is different has very little to do with playing in an offense fielding four wideouts. Instead, it's due to the Big 12 nature of thinking.
Hal Mumme and Mike Leach really started another form of a shotgun-oriented, four-wideout set, the Air Raid offense. Forget four wideouts—as many colleges and professional teams run that personnel with pro-style principles ruling the roost—the Air Raid is a Big 12-dominant spread offense that has the QB thinking extremely different thoughts.
Unlike pro-style setups, in the Air Raid spread, the QB (pre-snap) pretty much knows where he's going with the ball. The team doesn't huddle. Instead, they get up to the line of scrimmage. They then (along with the offensive mind behind the Air Raid), scope out the defense. The QB then signals adjustments out and the offense resets.
At this very point, the quarterback knows where he's going with the ball based on the defense's pre-snap look and he looks to execute (mainly on a three-step drop).
This mentality contrasts with the five and seven-step drop principles that NFL offensive coordinators rely heavily upon, especially in critical situations. It's also what has certain Air Raid quarterbacks failing to adapt. For four years, they rarely needed to get past the primary target pre-snap. In the NFL, although shorter, three-step drops are becoming more prevalent, quarterbacks will always have to come equipped with the trait of progressing through the entire weaponry.
Part of this is why many NFL personnel-decision makers believe spread QBs could make for great West Coast offense QBs at the next level. Air Raid is West Coast on steroids: short-timing patterns that attempt to the get the ball to playmakers as quickly as possible.
Both rely upon short, three-step plays that have the QB thinking quick reactions. While, in theory, it should fit, it rarely does due to the idea the collegiate Air Raid QB isn't used to progressing through all of his weapons. He just can't thrive when five or seven-step drop-patterns are heavily used or needed.
Of course, Mayfield is a prototypical Air Raid QB. Not only did he transfer from Texas Tech (home of the Air Raid), his head coach at Oklahoma, Lincoln Riley, is a Mike Leach disciple. Riley not only played under leach as his Air Raid quarterback, he's coached within the system for nearly two decades.
Think about it like this … spread is spread while Air Raid is spread times 100. Very routinely, two Big 12 teams will play a game consisting of 180 plays from line of scrimmage, 90 for each offense. The average in the NFL lies somewhere near 60-65 plays per offense.
Names To Consider
When NFL success with the spread is brought to the attention of others, certain names come flying out as QBs who've made it after playing under the spread in college:
Colin Kaepernick
Marcus Mariota
Right off the bat, only four of the above actually played in a spread offense in college:
Alex Smith
Ryan Tannehill
Marcus Mariota
Patrick Mahomes
Smith, Tannehill, Mariota and Mahomes all come from strict spread offenses. In Smith's case, a great argument can be made he didn't play in a pure spread in Utah. In fact, that offense was more of an old-style four-wideout setup. The other three absolutely count as spread quarterbacks in the NFL.
In any event, there isn't much success there. In terms of the other names, folks spout 'em out simply due to the nature of the four wideout look.
Drew Brees is the most interesting case as he played at Purdue under head coach Joe Tiller from 1997-2000. The Big 12 Air Raid offense that has the NFL so fearful wasn't yet even mainstream. Rather, the offense Brees ran was a four wideout look with many pro-style principles firmly in place.
In the end, you may call Tiller's offense "spread" if you like. At the same time, it was missing many of the new-style spread concepts such as constant motion and zone-read opportunities. His version is not the true Air Raid/Big 12 offensive bonanza it is today.
The same exact argument can be made for Colin Kaepernick at Nevada. When it comes to the other names like Aaron Rodgers, Michael Vick, Cam Newton, Russell Wilson, Philip Rivers, Deshaun Watson and Ben Roethlisberger, folks are just plain confused. Those guys absolutely played in a system that equipped them with four-wideout looks, but it doesn't mean it was a true spread offense like the Air Raid silliness we see in the Big 12.
Final Thoughts
There are only two top-to-middle round quarterbacks who should be labeled as true spread offense guys in this specific pool. One is, obviously, Baker Mayfield. The other is Mason Rudolph of Oklahoma State.
Don't confuse the spread offense as a system that showcases a shotgun with four receivers. That's not what it is.
The spread, and specifically "true spread" that has certain people frightened about a QB's adjustment to the next level can be labeled the Air Raid offense that's completely taken over the Big 12, making it the closest thing to the Arena League we've seen since, well … the Arena League.
Instead of reading defenses in a true manner on a pro-style dropback, Air Raid QBs already know what they're going to do with the football before it's even snapped. In theory, sure, it does sound like a good thing at the NFL level. I mean all Tom Brady does is dink and dunk his way down the field with rub patterns and matchup evaluating galore.
But Tom Brady can also take his seven-step drops and deliver a 25-yard strike to his third target on a deep dig when necessary. This is what Air Raid quarterbacks like Baker Mayfield tend to struggle with at the next level.
Even most college schemes fail to 100 percent incorporate one pure scheme. But it's those offenses that fail to force the quarterback to consistently and successfully move through progressions that has him shaky when attempting to fill out the big-boy pocket of the NFL, and that's what happens concerning Big 12 quarterbacks.
Make no mistake about it: Air Raid/true spread isn't a death sentence for Mr. Mayfield, but if history is our indicator, the NFL is still searching for its first true spread offense Big 12 QB to make a major splash.
The race is now on between Patrick Mahomes, Marcus Mariota and Baker Mayfield.