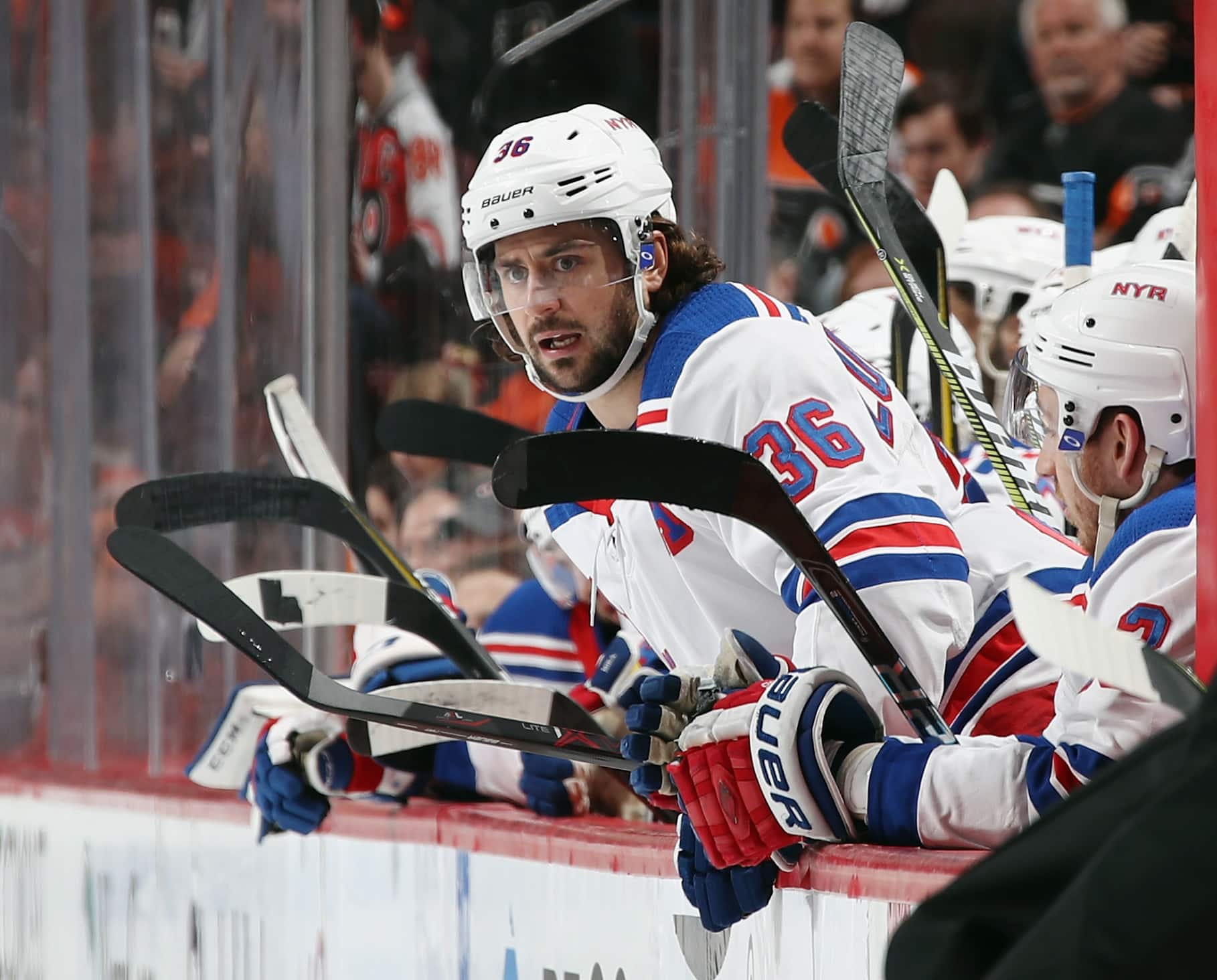 Right wing might have been the New York Rangers strongest position in 2017-18. How does their final report card look?
In a season that saw a great amount of change for the New York Rangers, perhaps the only constant was on the right wing.
We've always known that the Rangers took pride in their depth over the last few years. Throughout all of the changes though, that depth remained on the right side.
Fan favorite Mats Zuccarello headlines a group which includes Pavel Buchnevich, Jesper Fast, and Paul Carey. Those four players are a strong group of wingers to choose from, leaving the question: how did they fare this season?
Grades are determined based on impact to the team, performance, and consistency. Some players might have an incomplete due to the fact that they left us wanting more or had their opportunities taken away from them.
Mats Zuccarello
Mats Zuccarello has quietly turned into perhaps the most important Ranger forward. In 2017-18, he continued to develop into an all-around strong, reliable player.
Zuccarello finished the season with 53 points, 16 goals, and 37 assists. That was six points lower then he finished a year ago and his worst points as an everyday player since 2014-15.
This season felt different with Zuccarello. He had always been a nice complimentary player that seemed to always contribute, but this season the Rangers needed more. Instead of setting up teammates, the Rangers needed Zuccarello to think to shoot first at times.
Perhaps the rumors of the Rangers trading key players got to Zuccarello. He had mentioned it was a distraction, maybe more than the Rangers would have liked to think.
The only area of Zuccarello's game that dipped was on the defensive side of the ice. His plus/minus rating of minus 10 was by far the worst of his career. Next season that is an area for Zuccarello to focus on in order to become that complete player again.
Grade: B
Pavel Buchnevich
Pavel Buchnevich had an injury-plagued season in 2016-17, making the 2017-18 season his coming out party.
Buchnevich finished the season with 43 points: 14 goals, and 29 assists. He saw increased playing time on the power play but, still could not prove to Alain Vigneault he was worthy of fulltime top six minutes.
As the season progressed, Buchnevich would find himself buried on the fourth line. As his minutes decreased, so did his confidence and he was never the same player. With a new coach in 2018-19, maybe Buchnevich's game will develop into something bigger and better. The talent is there, he just needs consistent playing time.
The lone knock on Buchnevich's game was his defensive ability. He showed flashes where he was reliable defensively, but it still was not there for a full game.
Improving defensively and working on his consistency should allow him more playing time next year.
Grade: B+
Jesper Fast
Alain Vigneault always called Jesper Fast a coaches favorite player to coach. Why is that you might ask? Well, it's because he does all of the little things right on a consistent basis.
Fast had the best offensive season of his career in 2017-18. He scored a career-high 30 points, including a career-high in goals with 13. His 20 assists also tied his career high in that category, established back in the 2015-16 season.
The consistency of Fast's game led to Vigneault moving Fast up to the Rangers top line with Chris Kreider and Mika Zibanejad to finish the season. Fast would thrive in that role, as did his teammates. The line was one of the hottest lines in all of hockey and Fast would capitalize on it posting an eight-game point streak.
While his offense developed and flourished, his defense did not suffer one bit. He continued to be the Rangers best penalty killer while seeing the ice in crunch time to preserve leads.
His importance to the Rangers in 2017-18 cannot be stressed enough.
Grade: B+
Paul Carey
Paul Carey was a nice surprise for the Rangers last season. He is not the flashiest of players, but on a good team, he is a solid fourth line player.
Carey surprised the Rangers and became an everyday player for them. He contributed occasionally and finished 2017-18 with a career-high 14 points. He scored seven goals and seven assists in a career-high 60 games.
The 29-year-old forward served has a solid depth player. But somewhere down the road, he lost the trust of Alain Vigneault. Vigneault would go to Cody McLeod over Carey down the final stretch of the season. Even with the lack of playing time, Carey continued to work and made the most of his opportunities.
Carey had some memorable moments in 2017-18. He had a two-goal performance against the Anaheim Ducks in late December. He also scored the first goal in the Winter Classic played at Citi Field.
Grade: C+
Overall
Reflecting back on the 2017-18 season gives us the fact that the Rangers do not need much work on the right wing. If there were any questions surrounding which player would be back, that player would be Carey, who is an unrestricted free agent. This is not that big of a problem to have and one the Rangers should be grateful they don't.
The hope is that players like Buchnevich and Fast continue to grow. As they grow, the constants like Zuccarello also need to revamp their game and be better then they were last year.
There really should not be any question marks surrounding this position in 2018-19, barring any offseason deals.
Grade: B
Follow Dominick on TWITTER