The New York Rangers and Alain Vigneault have to trust Pavel Buchnevich this season to improve their chances and to allow him to properly develop.
L
ast year was an adjustment year for one of the key pieces of the New York Rangers' future,
Pavel Buchnevich
. The 21-year old Russian forward showed signs of being an elite playmaker while he slowly got used to the style of play in the NHL, which is much different from the one he saw firsthand for years while he honed his skills in the KHL.
But with the recent trade of Derek Stepan, the Rangers will need Buchnevich to take on a much bigger role in his second season and to help fill the void in playmaking and point production that Stepan will take with him to the Arizona Coyotes this season.
He will also be called upon to help the Rangers, who were fourth in the NHL in goals per game, continue their scoring ways from a year ago. But in order to do this, the Rangers and head coach Alain Vigneault must give Buchnevich that opportunity, or they will be making the same mistakes that were made last season.
Buchnevich, a third-round draft pick by the Rangers in 2013, has shown for years why many believe that the Rangers stole him in the NHL Draft four years ago. It's why the Rangers were more comfortable trading Anthony Duclair two years ago, rather than Buchnevich, to acquire Keith Yandle.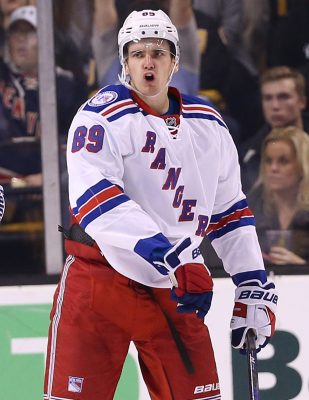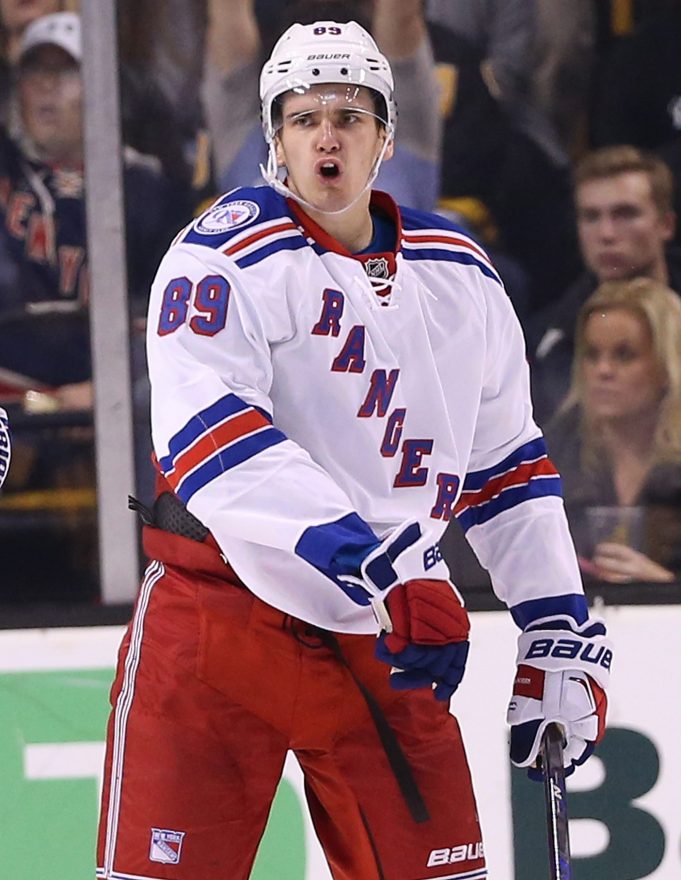 After spending three years after the draft in Russia, which saw Buchnevich win two medals, one silver, one bronze in the IIHF World Junior Championships, as well as showing off his playmaking abilities and develop his game against older competition, Buchnevich came to North America last year to a modest debut. He had 20 points in 41 games in the NHL, along with one point in five games in the Stanley Cup Playoffs.
But he showed off his deadly shot, which is not just powerful but accurate as well, as his impressive speed, something that is extremely important in this age where speed and skill are a must for NHL players In addition, he was one of the few positive possession players on the Rangers last year, as he had a 50.1 percent CF last year, thanks to his ability to keep plays going with his puck-moving and shooting skills.
It was clear why he was such a talked-about and coveted prospect.
However, there were some bumps in the road. Buchnevich battled back spasms for a good chunk of the season, and his injury woes caused him to go down to the AHL in January to regain strength after having "back and disk issues". In addition, Buchnevich didn't seem to be very comfortable in his own end and had difficulties with defending opposing players.
Lastly, the Rangers made Buchnevich a healthy scratch at times last year, as well as in the playoffs when Vigneault chose to go with grinder Tanner Glass. Now that the 2016-17 season is over and Buchnevich has a year of NHL experience to look back on, it's time for him to take the next step in his development—and time for the Rangers to give him the opportunity to do so.
In Game 2 of the Eastern Conference Semifinals, Buchnevich saw just 5:46 of ice time in a game that went to double overtime and, had the Rangers won, could have propelled the Blueshirts to a berth in the Conference Finals. Instead of Vigneault trusting Buchnevich to make in-game adjustments on his own, he decided to shorten his bench and made his own team pay in the process. He didn't see the ice in the postseason again.
The Rangers and their coaching staff have to stop with this mindset and allow their young players to succeed and fail. They need to give them proper ice-time, otherwise, they will never reach their potential. Buchnevich will make the adjustments that are needed, but if the Rangers continue to do what they did last year, their depth will suffer. The rest of the roster will tire quickly. And their on-ice production will suffer as a result.
Even though Buchnevich has some rough patches last year, he showed that he's got all the tools to become an elite player in the NHL. He can be a nightmare for opposing teams given the many different ways he can beat you.
It's on Vigneault to learn from his past mistakes and ensure that Buchnevich has every opportunity to reach his potential. Otherwise, it's going to be another long season, not only for the Russian forward but the Rangers as well.