On Saturday, the New York Red Bulls will be lighting up Red Bull Arena blue for Autism Awareness Day.
It's always a wonderful experience to attend a soccer match at Red Bull Arena, but each year the New York Red Bulls have a home game in which the meaning goes deeper than just the result on the pitch.
This Saturday, the Red Bulls will hold their fourth annual Autism Awareness Day when they host the Chicago Fire for a 3:30 p.m. ET kickoff in Harrison. The event was the creation of General Manager Marc de Grandpre four years ago after his daughter Julia was diagnosed with the disorder.
"It is an important day for the organization," said de Grandpre. "I think it's grown now to the entire club embracing it and putting a lot of effort behind it. It reinforces the importance to drive up the awareness of how prevalent this challenge is for families."
The Red Bulls are donating $3 from every ticket purchased for Saturday's game to Autism Speaks, an organization dedicated to promoting solutions across the spectrum and throughout the lifespan for the needs of individuals with autism and their families.
They accomplish these goals through advocacy and support by increasing understanding and acceptance of people with autism and also by advancing research and better interventions for the Autism spectrum disorder and related conditions.
#LightItUpBlue for Autism Awareness

?➡️ https://t.co/bIeYYZvmo7#SoccerForAll | #RBNY pic.twitter.com/3FebAOIs8Y

— New York Red Bulls (@NewYorkRedBulls) April 17, 2018
Blessed & grateful again to have donated to @VetTix for Saturdays match…If you can too that would be great…Nos vemos el Sabado… #AutismAwareness | #RBNYvCHI | #RBNY ???⚽️? pic.twitter.com/FdrxEbrroK

— Joseito Gonzalez Sr. (@GonzoStyle3) April 17, 2018
Red Bull Arena will be fully activated to support families impacted by Autism that will be attending the game. Security staff has been trained on how to work with families who have loved ones on the spectrum and there will be a dedicated entrance to the Arena at Gate C1 to ensure easy ingress for those families. There will be a dedicated quiet zone in the 1935 Club inside Red Bull Arena to provide those in the Autism community with a sensory-friendly environment.
The Red Bulls are 3-0 at home in regular season play so far this season, so it should be a fun an exciting afternoon of soccer at Red Bull Arena. However, the importance of this day is about more than just the three points at stake on the pitch. It's also about raising awareness for a disorder that continues to affect more and more families each year.
"It's up to one in sixty-eight kids who are affected by this challenge and this disease and no one knows about it and no one knows how to deal with it," said de Grandpre. "We prepare this day and we enable families to come to (Red Bull) Arena, enjoy the match, and remind families that they can experience these types of events through the Red Bulls all year long."
While this Saturday's match is dedicated to Autism awareness, the Red Bulls have made it possible for affected families to attend each and every home game on the Red Bulls schedule. Last season, the Red Bulls were the first Major League Soccer Club and one of the first professional teams in any sport in North America to open a permanent sensory room for families impacted by Autism.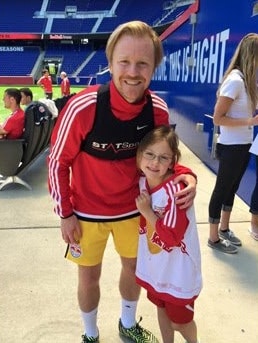 The Red Bulls teamed up with Autism Speaks to create a room that provides families with the opportunity to watch the game away from the noise and energy of the stadium. The room has dimmed lighting, lightly-colored walls, fidget toys and other activities.
"It's been a stress reliever for families because when you have a child on the spectrum you never know what may trigger the next episode," said de Grandpre. "You're walking on eggshells during the match wondering when something may trigger that episode. It's been a tremendous asset for our club and a tremendous benefit to our season ticket holders or any fan that comes to the match who has someone in their family who is on the spectrum."
There are some other special aspects to this Saturday's match at Red Bull Arena.
Limited-edition autism awareness-themed match-day posters will be given out to the first 5,000 fans.
Also, the first 1,500 fans to purchase tickets through this link will receive a limited-edition Red Bulls/Autism Speaks scarf. "Sensory Packs" including noise-canceling headphones, stress balls, along with wristbands with seating location and other information will be handed out to families impacted by Autism. Also, there will be no music played at the "BULLevard" Fan Activation Area from 12:30 to 1:30 p.m. ET.
And deGrandpre's daughter Julia will be part of an honorary coin-toss.
"Julia is doing phenomenal," said deGrandpre. "She's ten years old so she's getting bigger and bigger. She still loves her Red Bulls."
Julia's favorite player had been former Captain Dax McCarty who was traded to Chicago before last season. McCarty will be in the stadium on Saturday and it's very possible the two will exchange a friendly hug, but Julia now has a new favorite player on her beloved Red Bulls.
"She was very sad when Dax left but she's infatuated with Ben Mines now," said deGrandpre. "She went to our first USL game at (Red Bull) Arena this year and she saw Ben and knew that he had scored against Portland (in the Red Bulls home opener) and she asked for a Ben Mines jersey so Ben I guess is the apple of her eye right now."
Ben Mines and the result of the Red Bulls will be wearing limited-edition Adidas Parley jerseys made from 100 percent recycled material with each jersey using 13 bottles of recycled plastic. The jerseys will have light blue numbers and names along with a puzzle piece to be auctioned off.
From start to finish, it's going to be a special day at Red Bull Arena.
"For us, it's about the moment this Saturday," said deGrandpre. "It's very important for the organization to drive awareness for autism but it's also to remind all of the families in our local communities that we're welcoming of anyone that has some sort of disability or sensory processing disorder that may need a special environment during the match and we have that permanently at (Red Bull) Arena."
Given their fierce rivalry with NYCFC, the Red Bulls generally try to stay away from the color blue, however, this Saturday is the exception. The Red Bulls are dedicating the day to lighting it up blue for Autism awareness and it's a day that everyone, not just the families impacted, can lend a hand.