Baker Mayfield seems to be very confident. Former New York Jets star Matt Forte makes his retirement official and Lorenzo Carter makes an appearance.
Sarcastic spoiler alert here, Baker Mayfield is confident in his own abilities. I know, strike me down if you've heard that before. But this latest tidbit from an interview with Sports Illustrated's Robert Klemko seemingly puts it over the top:
COVER STORY: @bakermayfield doesn't have time for your No. 6 pick https://t.co/jPysz9QdYc pic.twitter.com/6hOVJuOvOa

— Sports Illustrated (@SInow) April 18, 2018
Here's an excerpt that seems to epitomize the Baker Mayfield way of thinking.
"Fourteen thousand, six hundred and seven passing yards later, Mayfield found himself at a Mexican restaurant in Hollywood, the Red O, huddling with an agent who was recommended by a handful of Sooners greats. Jack Mills handed him a sheet of paper detailing the compensation for each pick in the first round of last year's draft. This was January, and most of the experts were pegging Mayfield as a mid-first-round selection. ESPN analyst Todd McShay, for one, had Mayfield at No. 19, to the Chargers. (Ultimately L.A. would end up with the 17th pick.) Mayfield took the paper and in ink drew a line underneath the No. 5 selection, held by the Broncos. 'I'm not going later than this,' he said."
Well, I'll do you one better, Mayfield (yanks cap off of permanent marker as he draws a thick line under the No. 3 pick): You won't make it past the Jets. Wel,l that's what the general consensus seems to be from everyone I talk to.
Could that be a smokescreen? Could the Jets be sending false messages? I may lose my mind with this reverse psychology. To learn more about this potential ruse, I spoke with Jets Insider Joe Caporoso from TurnOnTheJets.com on Wednesday to discuss this very topic:
Our New York Jets insider Joe Caporoso (@JCaporoso) of https://t.co/PXLJUDpShH joined @BoyGreen25 on "Drive Time Sports" to talk if Baker Mayfield is a lock at 3, the Patriots looking at Josh Rosen and more right here on @TheScore1260!https://t.co/7GNoSSFs3Y

— The Score 1260 (@TheScore1260) April 18, 2018
Meanwhile, let's have a moment of silence for the last offensive linemen drafted by the Jets in the first round of the NFL Draft. In the name of the father, the son, and the holy ghost…AMEN! Yes, that's right, Nick Mangold and D'Brickashaw Ferguson, the two pillars of the Jets offensive line for years, are both sitting in rocking chairs somewhere south of the equator.
Nick & Brick. #LinemanAppreciationDay #74ever #SaluteTo60 pic.twitter.com/OB5fU7S03y

— New York Jets (@nyjets) April 18, 2018
The Jets drought of OL first round picks will obviously continue this year, but maybe next year the Jets will invest in the trenches?
Speaking of retirement, we already knew about this one, but he made it official: Matt Forte will sign a one-day contract with the Chicago Bears, the team he was most prominently tied to. Enjoy retirement Mr. Forte!
Excited to be officially retiring in that @chicagobears orange and blue. Especially with the… https://t.co/5lgJzED4B8

— Matt Forte (@MattForte22) April 18, 2018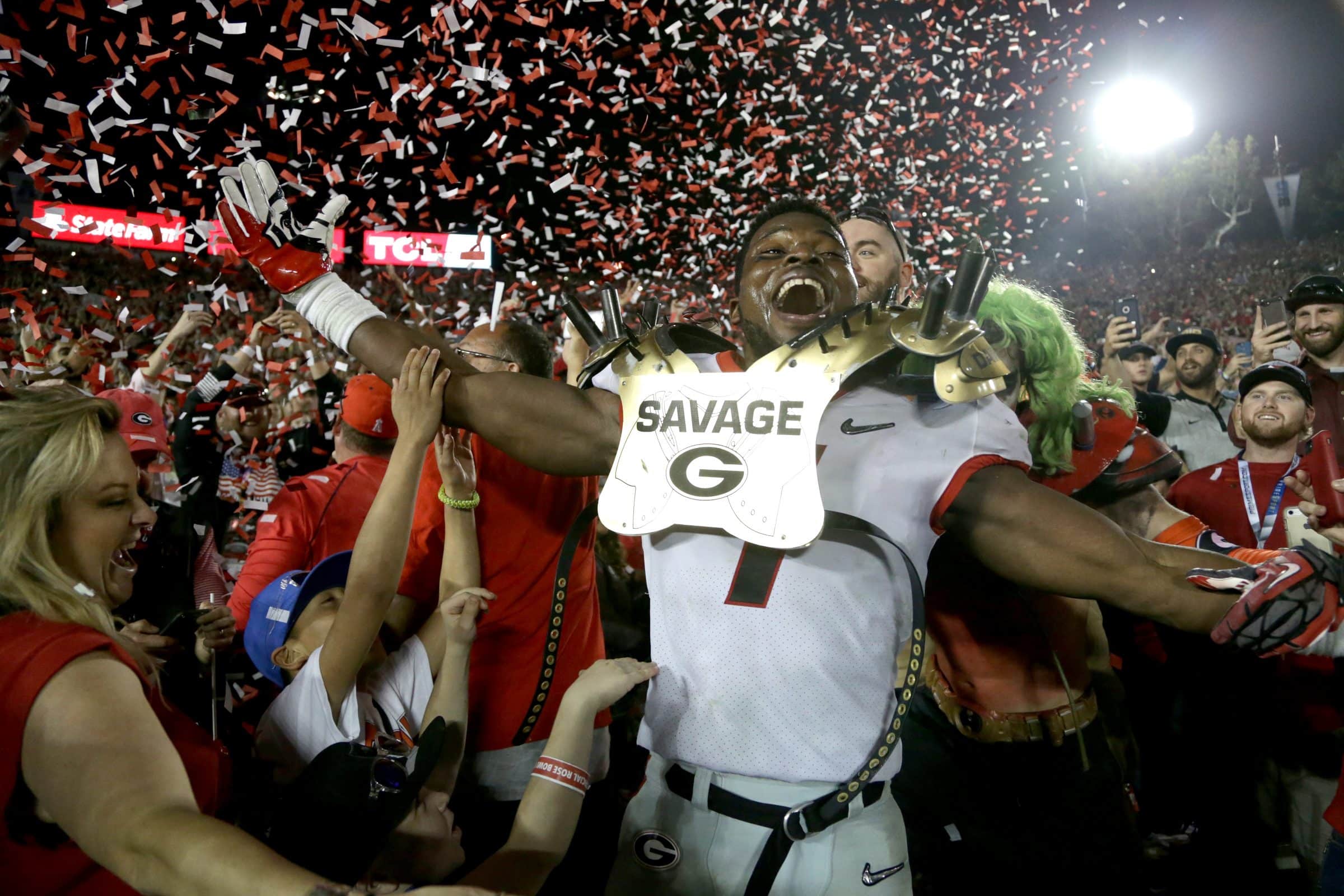 On the last day of Christmas, my true love gave to me… Lorenzo Carter?
Today is the final day for pre-draft visits. Notable ones: #Wyoming QB Josh Allen is at the #Giants; #OU QB Baker Mayfield is at #AZCardinals; #UGA LB Lorenzo Carter is at the #Jets; #WKU QB Mike White is at the #Titans; #LSU's Arden Key, at the #Cowboys Tuesday, is at #Saints.

— Ian Rapoport (@RapSheet) April 18, 2018
April 18 was the final day for pre-draft visits and the New York Jets decided to use it on Georgia pass rusher Lorenzo Carter. The Jets have some familiarity with Georgia linebackers, having drafted one a few years ago in Jordan Jenkins. Jenkins was nothing flashy, but he was and is a blue-collar worker that punches in and out every day.
Carter is a bit flashier. He has 21.5 career sacks and is a second-or-third-round prospect, depending on who you ask. This could indicate one of two things. The Jets plan on launching back up into the second round (not a terrible idea). Or they're planning on doing an ancient rain dance to hope he falls to the third round (72nd overall pick). The rain dance attempt sounds more fun.