There's only one player the New York Giants should be targeting with the second overall pick in the 2018 NFL Draft, and his name is Saquon Barkley.
It's not often than a generational talent like Saquon Barkley comes around. It's even rarer for a team like the New York Giants to have a crack at drafting him. Passing on the Penn State dynamo would be a colossal blunder by general manager Dave Gettleman.
According to Paul Schwartz of the New York Post, Gettleman doesn't plan on screwing this up.
"The Giants view Saquon Barkley as a near-perfect prospect," writes Schwartz. "They think he's a better player than Ezekiel Elliott, who went No. 4 to the Cowboys in 2016."
That helps explain why some believe Barkley has been the team's top target since Gettleman took the job.
"I thought all along this is the guy Dave wants,'' a national NFL scout who knows Gettleman from crossing paths with him on the road over the years remarked to Schwartz. "And he might get him if Cleveland is dumb enough not to take him at No. 1."
Like it or not, the Giants are built to win now. Adding Barkley to the mix, rather than a quarterback who isn't going to see the field in 2018, gives the team the best chance to do just that.
Yes, the Giants do, at some point, have to address finding a longterm replacement for quarterback Eli Manning. The two-time Super Bowl MVP is entering his age-37 season and his best football is behind him.
But that doesn't mean the Giants have to use the second overall pick in the 2018 NFL Draft to find that replacement. After all, Manning remains the starting quarterback in 2018 and could very well fill the same role in 2019, the final year of his contract.
The trio of Wayne Gallman, Paul Perkins and Jonathan Stewart doesn't make anyone say "Wow, the Giants running game is going to be stellar in 2018!" Hell, you'd be hard-pressed to convince anyone that those three running backs make for an average ground game—even behind a vastly improved offensive line.
Barkley, on the other hand, does. His presence will force opponents to respect Big Blue's running game for the first time in years. That's only going to make things easier for the team's dynamic passing game.
Wide receivers Odell Beckham Jr., Brandon Marshall and Sterling Shepard will have one less defender playing over the top to try and keep them contained. Tight end Evan Engram will find himself going up against linebackers who might be a half-step slower dropping into coverage.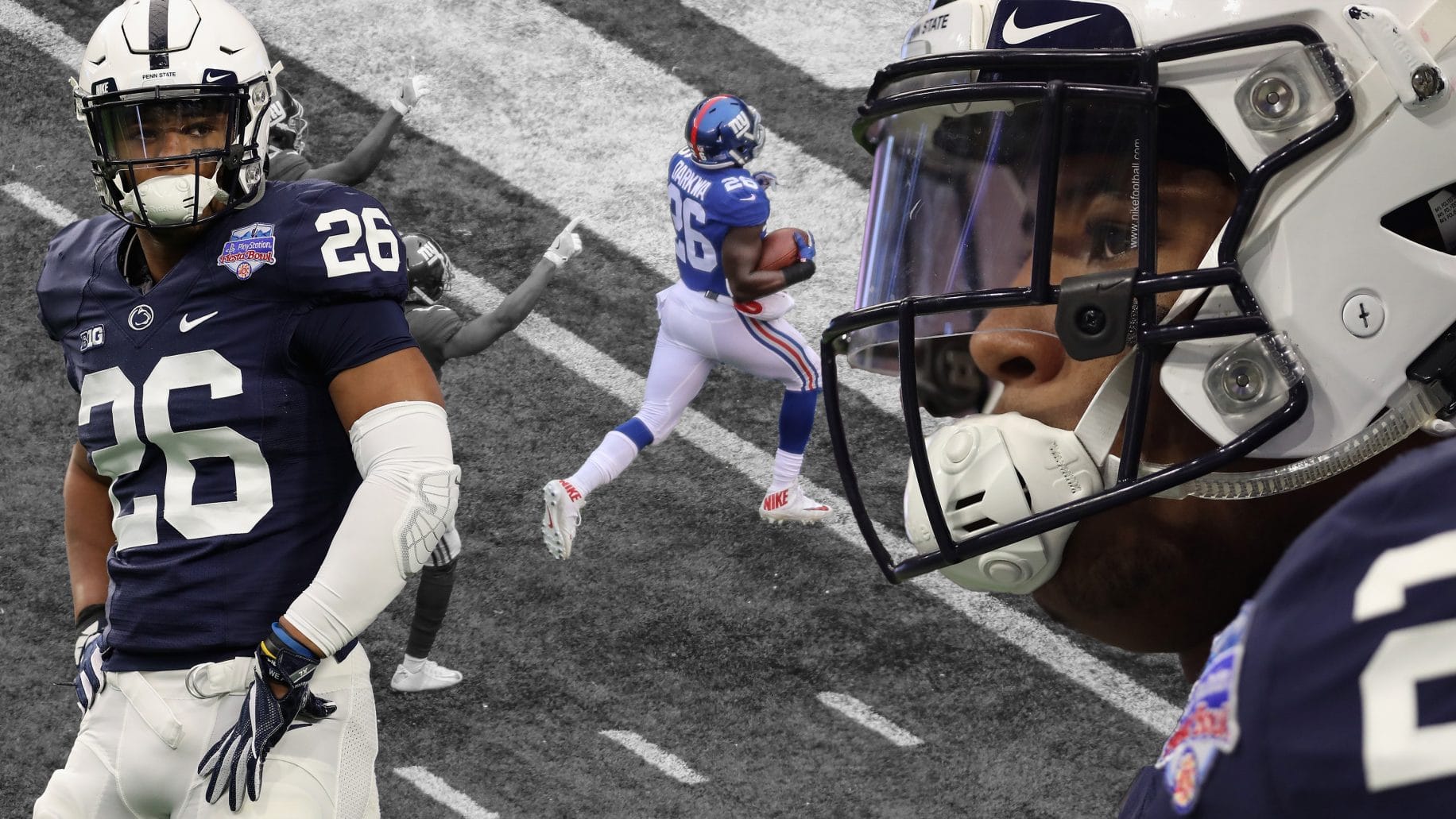 Let's not forget, of course, that Barkley is as dynamic a receiver as he is a runner. Over three years at Penn State, Barkley caught 102 passes for 1,195 yards (an 11.7 yards per catch average) and eight touchdowns.
He's the dual-threat option the Giants haven't had since the days of Tiki Barber. But a far more athletic and talented version.
Are there other running backs the Giants could take later in the draft? Absolutely. But none of them are nearly as talented—or as close to a sure thing—as Barkley is.
For a team coming off a franchise-worst season, minimizing risk with the second overall pick should be a priority. There's less risk with Barkley than with any other player in the draft.
The Giants can't afford to overthink things. Barkley is the best player in the draft and he fills an area of need. If he's on the board, he's the only player the Giants can pick at No. 2.