We continue our journey exploring the 2018 NFL Draft possibilities for the New York Jets in the fifth round. 
The "Throwback Thursday" fad seems a tad cheesy and overdone, none the less, we'll borrow from that on a Wednesday to look back at what the New York Jets have done historically in the fifth-round before we dive into the current batch of prospects in the 2018 NFL Draft.
2017
Jordan Leggett, TE, Clemson
Dylan Donahue, OLB, West Georgia
Leggett, a tight end on a CFB National Championship team with a ton of upside never got to play a snap for the Jets. While Donahue received a ton of praise from the coaching staff, he failed miserably when it came to driving to practice—or anywhere.
2016
If you remember, general manager Mike Maccagnan traded back into the fifth round to snag Shell. Hindsight is always 20-20, but it's looking like a smart trade. Shell has played in 20 games and has started 15, showcasing what could be an impressive future at right tackle.
2015
Jarvis Harrison, G, Texas A&M
This is the point during the test where you'd like to start thinking of ways to throw away your report card. Harrison was supposed to be an investment in the trenches but never panned out.
2014
Jeremiah George, LB, Iowa State
Drafting an undersized linebacker hasn't panned out, you say? It certainly hasn't for the Jets. George has bounced around the league since being drafted but is destined to be a forgettable career journeyman.
2013
Oday Aboushi, OT, Virginia
The last player we're going to take a look at has actually been a relative success. But again, not really with the Jets. He lasted a year with Gang Green before jumping over to a variety of other teams in the league as a borderline starter.
Now, on to the players who could wind up wearing green and white in the fifth round.
Jalyn Holmes, DE/DT, Ohio State
What was once the bread and butter of the Jets is no more. The lone star remaining from the vaunted "Sons of Anarchy" is Leonard Williams. So this team needs some depth up front and Holmes can provide that in spades.
He's got the ideal size (6-foot-5, 283 pounds) and I think his best fit at the next level is as a 3-4 end. Obviously, based on that defensive style, he'll have to strengthen up to make the transition. He was buried on the depth chart at Ohio State but can shine with proper coaching.
Josh Adams, RB, Notre Dame
I'm a huge Notre Dame fan because my dad was and still is, so I've seen every Notre Dame game for the past 15 years. That being said, Adams rarely goes down on first contact. Through much of this past season, he was a true Heisman contender.
He doesn't necessarily have an enormous amount of acceleration; zero-to-60 in four seconds isn't what his engine is capable of. So he's going to have to get heavier to survive a 16-game NFL schedule. But at this point in the draft, you're taking calculated risks and Adams is a player I'd take a flier on.
Jamarco Jones, OT, Ohio State
Another popular mock draft pick to the Jets in the full team mock drafts. I ain't mad at you tho! This team needs depth all along the offensive line, particularly at offensive tackle.
Currently, the Jets have four tackles on the roster and only one of them is below the age of 25. It's time for a youth movement and some promise for the future. Jones provides a blue-collar work ethic and while he doesn't have the star traits (like long arms, great feet, a nice punch, etc.), he simply gets the job done. I prefer that over flashy guys any day.
Nick Nelson, CB, Wisconsin
Here's a sad tale of today's NFL landscape. Nelson could've possibly snuck into the second round of the 2018 NFL Draft, but instead will likely fall multiple rounds because of a torn meniscus suffered at a private workout with a team.
These players are doing Pro Days, the NFL Combine, the Senior Bowl, private workouts and more. When is enough going to be enough? These guys are overworking themselves and that likely cost Nelson several millions of dollars up front. The Jets would be wise to take a gamble in the fifth round on an uber-talented player.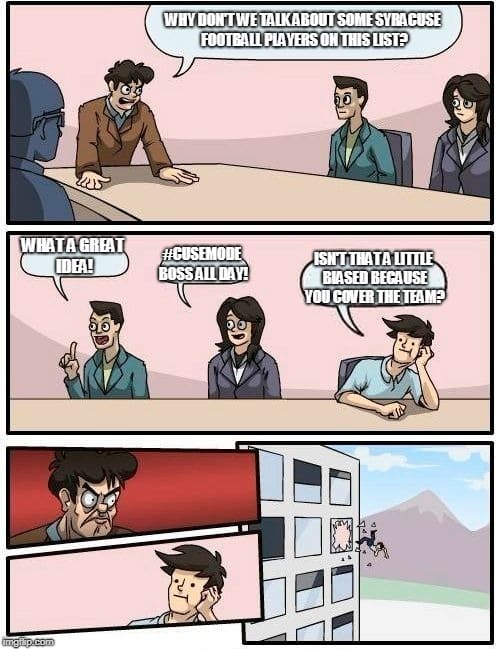 Steve Ishmael, WR, Syracuse
"My name is Paul Esden and I am the advocate for the Beast Incarnate, Steve Ishmael." Oh were you expecting me to say a different name? Well here's me making the case for a few Orange players at the end of the 2018 NFL Draft.
Ishmael is the all-time receiving yardage leader at Syracuse (a University that has produced multiple Pro Football Hall of Famer wideouts in Marvin Harrison and Art Monk). He doesn't move like a gazelle but he works best in 50-50 ball situations. Think red-zone, tough sideline grabs, and a receiver who is the opposite of a diva, more along the lines of a ferocious Steve Smith in a slightly larger frame.
Zaire Franklin, LB, Syracuse
In the illustrious history of the Syracuse football program, there have only been two players who have received the prestigious honor of being a three-time team captain: Franklin is one. The other played for the school more than 100 years ago, back in the 1890s.
Franklin has the intangibles of a quarterback, is chiseled like a Greek God and tied for the fastest 40-yard dash at the Syracuse Football Pro Day (and yes, that includes skill position players). He's a really good football player and an even better person. Whoever drafts Franklin will have a player for the next decade, believe that.
Parris Bennett, LB, Syracuse
Bennett is one of the most popular Orange players to appear on 2018 NFL Draft boards. He's a versatile scheme player who can play all across the linebacker rotation. At the end of the day, a player that can fit your scheme is a lot more attractive than trying to build your defense around a player.
That's especially true when we're talking about the fifth round of the 2018 NFL Draft. For much of his career, he was in Franklin's shadow at Syracuse. Moreso because Franklin is a rah-rah leader, while Bennett is more than comfortable letting his play do the talking.