As we approach the New York Jets decision on whom to draft with the third overall selection in the 2018 NFL Draft, we back look at some of the best draft classes in team history.
When Mike Maccagnan and Todd Bowles took over the reins as general manager and head coach of the New York Jets back in 2015, they didn't take over positions that had lasting success. Over the course of their history, the Jets have made some bad decisions when it comes to selecting competent general managers that know how to draft efficiently.
Under Maccagnan, the Jets have improved every year with their selections. Their 2017 draft has provided starters and franchise players such as safeties Jamal Adams and Marcus Maye. Wide receivers ArDarius Stewart and Chad Hansen showed promise and are players the Jets are counting on to continue to improve and be key members of their receiving core for years to come.
Elijah McGuire finished third on the team in rushing and was a key member of the Jets backfield. His speed and athleticism should keep him a big part of the Jets plans. Dylan Donahue contributed early in the season on special teams and defense before being lost for the season after blocking a punt.
Where does the Jets 2017 draft rank among the best in franchise history? Here is a look at the five best draft classes in team history.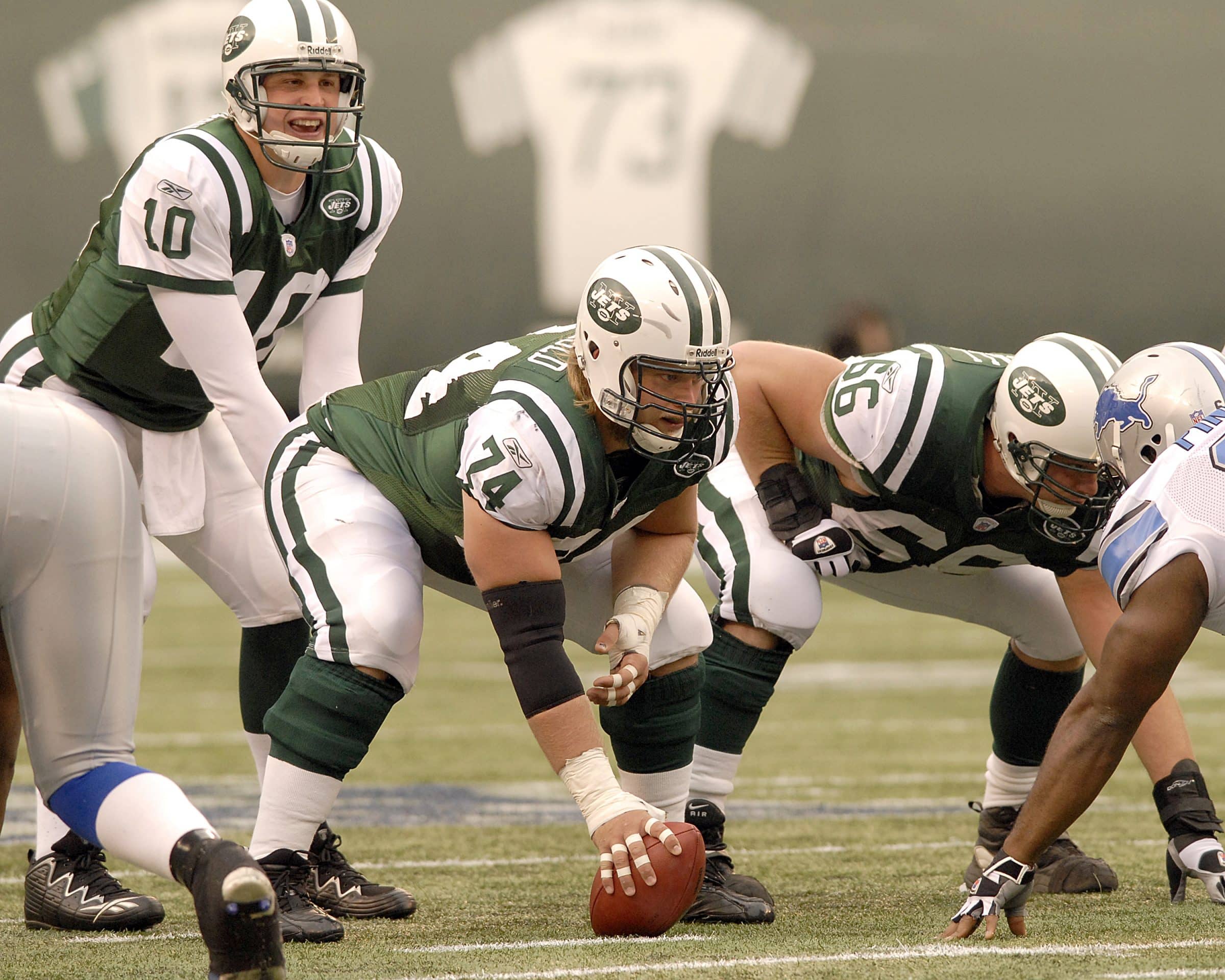 2000
The 2000 NFL Draft saw the Jets with an NFL-record four picks in the first round. The Jets used their first two selections on defensive players, taking defensive end Shaun Ellis out of Tennessee and defensive end John Abraham out of South Carolina with the 12th and 13th overall picks.
Ellis made 156 starts in his 11 seasons with the Jets, recording 72.5 sacks (second-highest total in team history) and was a two-time Pro Bowl selection (2003 and 2009). Abraham earned three Pro Bowl selections (2001, 2002, 2004) and one All-Pro selection (2001) in his six seasons as a Jet, totaling 53.5 sacks over that span.
With the 18th pick of the first round, the Jets selected quarterback Chad Pennington out of Marshall. Pennington went on to post the highest quarterback rating for any Jets quarterback (88.9) during his eight seasons behind center. Pennington started 61 games (69 total) with the Jets, going 32-29 while throwing for 82 touchdowns and over 13,700 yards.
Pennington's best season came in 2002, when he led the Jets to an 8-4 record in his 12 starts, helping the Jets win just their second division title in franchise history. With their fourth and final pick in the first round, the Jets selected tight end Anthony Becht out of West Virginia. Becht started 72 games in his five seasons as a Jet, recording 133 catches and 17 touchdowns.
Florida State wide receiver Laveranues Coles was the Jets 78th overall pick in the 3rd round. Coles had two tours of duty with the Jets, combining for 459 receptions and 37 touchdowns in his seven seasons. Coles' 1,254 receiving yards in 2002 ranks as the fourth highest in franchise history.
1979
With their first pick of the 1979 NFL Draft, the Jets selected defensive tackle Marty Lyons out of Alabama 14th overall. Lyons appeared in 147 games (135 starts) for the Jets from 1979-89, becoming one of the most consistent defensive players in team history. Lyons was a member of the "New York Sack Exchange" that saw the Jets total 66 sacks in the 1981 season, helping them reach the playoffs for the first time since 1969. Officially, Lyons finished with 29 sacks, but that does not take in the six sacks Lyons collected in the 1981 season.
Fellow Sack Exchange member Mark Gastineau was the Jets second-round choice, number 41 overall out of Arizona State. Known for his lightning speed, Gastineau terrorized opposing quarterbacks during his 10 seasons as a Jet, finishing officially with 74 sacks (does not count his unofficial 1981 total of 20).
Gastineau was one of the most disliked players in the NFL for his taunting quarterback sack dances that infuriated the opposition and his teammates as well. Despite his popularity with fans, Gastineau was just too polarizing in his time as a Jet, which is why he still has not had his number 99 retired, despite his five Pro Bowl selections and three-time All-Pro honors.
Defensive back Donald Dykes out of SE Louisiana was the Jets third-round choice in 1979. Dykes played three seasons with the Jets, making 27 starts (46 games overall) and intercepting five passes.
Fellow defensive back Johnnie Lynn out of UCLA was selected 98th overall by the Jets in the fourth round. Lynn was a staple in the defensive backfield, making 48 starts (97 games overall) for the Jets from 1979-1986, totaling 17 interceptions over that span.
Stan Blinka, a linebacker out of Sam Houston State, was the Jets fifth round pick (125th overall). Blinka started 56 straight games from 1979-1982, leading the team in tackles during his rookie season. Blinka was traded by the Jets to Denver after the 1983 season, where a knee injury ended his career prematurely.
1978
For the second straight season, the Jets drafted fourth overall and for the second straight season, they used that pick on an offensive tackle. This time the pick was Chris Ward, a two-time consensus All-American out of Ohio State. Like Marvin Powell, the Jets first-round pick in 1977, Ward was a staple on one of the best offensive lines in the NFL in the late 1970s and early 1980s, appearing in 87 games for the Jets (all starts) from 1978-83.
In the third round, the Jets drafted tight end Mickey Shuler out of Penn State. Shuler went on to become perhaps the greatest tight end in team history, appearing in 160 games for the Jets (102 starts) from 1978-1989. Shuler recorded 438 catches for 4,819 yards and 37 touchdowns in his 12 seasons as a Jet, making the Pro Bowl twice (1986 and 1988).
Defensive back Bobby Jackson was taken 140th overall in the sixth round out of Florida State. Jackson spent eight seasons with the Jets, appearing in 95 games (90 starts) while recording the ninth most interceptions in franchise history (21).
Wide receiver Derrick Gaffney was taken 197th overall in the eighth round by the Jets and spent parts of eight seasons in the green and white. Gaffney appeared in 100 games (68 starts) for the Jets from 1978-1987, recording 156 receptions for 2,613 yards and seven touchdowns.
Pat Ryan was the 281st pick and the Jets 11th round choice. Ryan, a quarterback out of Tennessee, spent 12 seasons as the Jets backup quarterback. He made 19 starts in his time with Jets, going 11-8 while throwing for 31 touchdowns and was always the perfect compliment to any starting quarterback with his mobility and strong arm. Ryan will be best remembered for relieving Ken O'Brien during a tough stretch in 1986 and leading the Jets to a 35-15 Wild Card win over the Kansas City Chiefs.
The next week in the Divisional Round at Cleveland, Ryan was injured in the second quarter after throwing a 42-yard touchdown to Wesley Walker. Without Ryan, the Jets were unable to consistently move the ball as Ken O'Brien was ineffective and the Jets fell to the Browns 23-20 in double overtime, marking one of the worst losses in franchise history. Ryan finished the 1986 postseason with four touchdown passes, zero interceptions, 340 passing yards and a 106.7 quarterback rating.
2006
Offensive tackle D'Brickashaw Ferguson from Virginia (fourth overall) and center Nick Mangold from Ohio State (29th overall) were the Jets' first-round selections. They missed just two of their combined 256 games (all starts) over that span. Ferguson was a three-time Pro Bowl selection (2009-11), while Mangold was been named to the Pro Bowl five times (2008-11, 2013) and was an All-Pro twice (2009-10).
Safety Eric Smith out of Michigan State was taken with the 97th overall pick. Smith spent seven seasons with the Jets, making 36 starts and appearing in 96 games. The Jets drafted another Smith, Brad, with the 103rd pick of the draft. A quarterback during his years at Missouri, Smith converted to wide receiver, while also returning kickoffs. Smith spent five seasons with the Jets, leading their Wildcat offense, running for 767 yards and 2 touchdowns, while recording 64 receptions for 557 yards.
Running back Leon Washington was the 117th overall pick and one of the most explosive offensive players in team history before a knee injury ended his Jets career in 2009. Washington was not re-signed and finished his Jets career with 1,782 yards rushing, 969 yards receiving, 2,916 return yards and 19 total touchdowns.
1977
The 1977 draft class was the best in team history and started rebuilding a Jets team that saw them reach the postseason four times from 1981-86, coming within a game of the Super Bowl in 1982.
In the first round, the Jets drafted offensive tackle Marvin Powell out of USC with the fourth pick. Powell played nine seasons with the Jets, making five Pro Bowls and earning All-Pro honors three times.
Wesley Walker was the Jets second-round choice, taken 33rd overall from California. Walker was perhaps the best deep threat in team history, catching 438 receptions for 71 touchdowns in his 11 seasons as a Jet. His 71 touchdowns still rank as the second most in team history, trailing only Don Maynard's 88. Walker made the Pro Bowl twice, while also earning All-Pro in 1978.
The 90th overall pick in the 1977 draft saw Scott Dierking, a fullback out of Purdue. Dierking would go on to make 50 starts for the Jets from 1977-1983, rushing for 2,900 yards and 18 touchdowns.
The Jets sixth-round pick in 1977 was perhaps the most popular player ever to don the Jets uniform, defensive tackle Joe Klecko out of Temple. Klecko made four Pro Bowls (only player to start at three different positions) while earning All-Pro honors twice in 1981 and 1985. He was also the most valuable member of the New York Sack Exchange which, to this day, has yet to be replicated.
Kevin Long, a running back out of South Carolina, was the 195th pick of the 1977 draft. Overall, Long started 33 games for the Jets from 1977-1981, finishing with 2,190 yards rushing and 25 touchdowns.
The Jets' next pick, an eighth-rounder, number 200 overall, was offensive guard Dan Alexander out of LSU. Alexander became one of the longest-tenured offensive linemen in team history, making 182 starts from 1977-1989. Only Randy Rasmussen made more with 199.
Quarterback Matt Robinson was taken with the 227th pick out of Georgia. Robinson's promising career ended abruptly when he failed to disclose a thumb injury that cost the Jets the 1979 season opener.
If the players the Jets drafted last season continue to improve and play a major part in the Jets future, 2017 will replace one of these draft classes on this list.
The success the Jets had last season with their picks have provided their fans with hope that Maccagnan can provide the team with more franchise players to make the Jets a consistent contender for years to come.