Kawhi Leonard is rumored to be on the trading block after his roller-coaster season with the Spurs. The Brooklyn Nets definitely have the pieces to get him, but who should they move to gain the two-time Defensive Player of the Year?
The Brooklyn Nets are in the midst of a long-term rebuild and, in the process, acquired and developed a bunch of young talent—which is the most sought-after asset in the NBA when trading a superstar. A superstar like Kawhi Leonard.
With the two-time All-Star rumored to be open to leaving San Antonio, per ESPN's Brian Windhorst, multiple teams are expected to make a run at the San Diego State product.
What on earth is going on with Kawhi Leonard?
"That's a simple question with a complicated answer." – @WindhorstESPN pic.twitter.com/DwjLcG5lka

— Outside The Lines (@OTLonESPN) April 2, 2018
There's also been chatter that Leonard seeks a bigger spotlight. While it isn't Madison Square Garden, the Barclays Center is a beautiful, relatively new arena and hey, Brooklyn is still New York.
Brooklyn's fans would surely love nothing more than to have a top-five NBA player as one of their own following the Nets' quick postseason exits from 2013-15.
The Nets are a unique trade partner for San Antonio in that they have a slew of young assets to offer teams and flexible ways to make sure a deal goes through, with picks and salary filler.
The Spurs are not interested in tanking or rebuilding. This is a team about to make its 21st straight playoff appearance, the longest run in NBA history. Moving Leonard will bring them a return that keeps the team competitive while building a new young core.
With LaMarcus Aldridge in his end-of-prime years and other young players quickly growing, the goal will remain to go as deep into the playoffs as possible.
Dejounte Murray is making a name for himself with his lanky paint-attacking offensive ability and pesky perimeter defense. Kyle Anderson is one of the more underrated NBA players, someone who is effective on both ends of the floor. Rudy Gay, Danny Green, and Davis Bertans are all also two-way guys that can be very effective with lower usage.
Veterans Manu Ginobili and Tony Parker are still doing their thing, though both could retire at any point. Same goes for Pau Gasol.
The Spurs need offensive production badly. With Leonard not giving them anything in 2017-18, the team's scoring has been heavily reliant on Aldridge post-up fadeaways. The Spurs are third in defensive efficiency but 17th in offense. Limited spacing has forced them to play heavy offense in the mid-range. If they lose Kawhi, they would want shooting and high-IQ youngsters to fill these invaluable holes.
The Deal
This is a deal that works for both teams—both basketball-wise and salary cap-wise.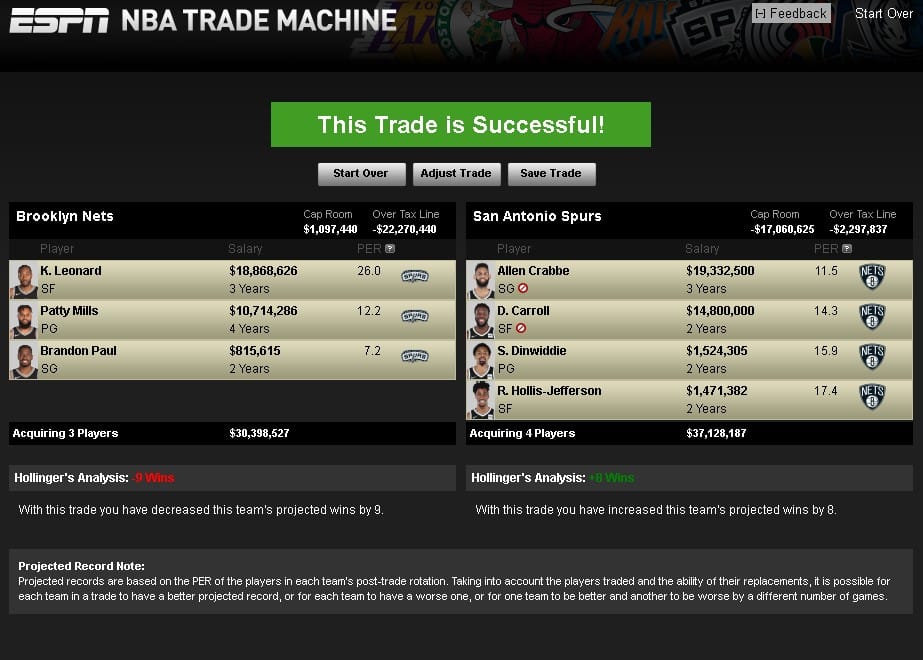 Everyone heading to San Antonio is solid defensively, while Crabbe and Carroll give the Spurs the shooting touch they so badly need. Dinwiddie isn't yet a great shooter, but it's fair to think his accuracy could increase in a different role.
RHJ could thrive in the Spurs' system of ball movement, smart plays and an emphasis on the mid-range, from where he excels. He's also adept at drawing fouls, which leads to easy points.
Aldridge would have increased space with Carroll and Crabbe able to spot up from three, which could easily boost his efficiency given his exceptional talent in the post. If anyone helps on Aldridge, he can dish to shooting options, rather than non-shooters who share the court with him currently like Anderson and Murray.
The increased space should be able to open up the offense, and arguably get San Antonio to the top-10 in Offensive Rating while keeping the team's Defensive Rating among the NBA's five best.
The Spurs rotation would look like this:
Point Guard: Dejounte Murray/Spencer Dinwiddie/Tony Parker
Shooting Guard: Danny Green/Allen Crabbe/Manu Ginobili
Small Forward: Kyle Anderson/DeMarre Carroll/Rudy Gay
Power Forward: RHJ/Davis Bertans
Center: LaMarcus Aldridge/Pau Gasol
That's actually a really solid, deep team, one that would be incredible defensively and get a big boost on the offensive end. They'd also become younger, which is imperative for a veteran-laden team like the Spurs.
Hollis-Jefferson is 23. Crabbe and Dinwiddie are both 25. All three are still growing on both sides of the ball. Carroll is 31 but remains a solid two-way player, one who would make an immediate impact on the Spurs.
This deal would allow Parker, Ginobili, and Gasol to have their honeymoon seasons while not jeopardizing the team's future. San Antonio would have the capability to offer long-term deals to all the young guys when the vets retire.
Sure, the first-round pick isn't in the lottery, but the Spurs have thrived picking in the latter half of the first round. With the 2018 NBA Draft expected to be quite deep, they'd have no problem finding a player they like.
Meanwhile, the Nets rotation would optimally look like this:
Point Guard: Caris LeVert/Jeremy Lin
Shooting Guard: D'Angelo Russell/Patty Mills
Small Forward: Kawhi Leonard/Joe Harris (if re-signed)
Power Forward: Quincy Acy (if re-signed)/Dante Cunningham (if re-signed)/Free Agent-to-be
Center: Jarrett Allen/Free Agent
The Nets rotation gives up some depth, but rotation bigs should be easy to obtain in the offseason, given the high supply and low demand at the center and power forward positions.
A starting lineup with LeVert, Leonard, and Allen would be fantastic on both sides of the ball and a magnificent core to build around for many years. Throw in Lin, Patty Mills, Russell, and Harris, and the Nets would quickly become a playoff team, spearheaded by a Kawhi, who many in the NBA universe had as this year's prediction for MVP.
The backcourt depth would be dangerous in the Eastern Conference, and the frontcourt deficiency could be hidden well if not addressed through free agency.
This trade helps both teams, both now and in the future. They would both be deep and great on each side of the ball. Moving on from Leonard would be tough for the Spurs, but Brooklyn is one of few teams that can supply them with what they need.