Reports indicate that Odell Beckham Jr. will still be playing for the New York Giants this upcoming season despite the whirlwind of rumors this offseason.
It doesn't look like Odell Beckham Jr. will be leaving the New York Giants after all. Well, for this season at least.
SNY's Ralph Vacchiano is reporting that trading Beckham is "highly unlikely," as told by a source to close to the Giants.
Trade talks surrounding the star wide receiver and the Giants began a couple of weeks ago when Giants co-owner John Mara wouldn't commit to Beckham being on the team's roster for the upcoming season.
Since then, there have been rumblings of many teams that have approached the Giants about trading for Beckham.
In his column for SNY on Friday, Vacchiano said the Los Angeles Rams were one team that did call the Giants about Beckham, but talks never got serious sources tell Vacchiano.
The Rams are now out of the Odell Beckham Jr. sweepstakes after acquiring wide receiver Brandin Cooks from the New England Patriots early this week.
Only giving up one first-round pick and a sixth-round pick was a big factor in the Rams deciding to trade for Cooks reports ESPN's Adam Schefter.
Schefter reported a couple weeks ago that the Giants wanted at least two first-round picks involved in a trade package for Beckham.
Giants have asked for at least two first-round picks in return for Odell Beckham Jr., a league source tells ESPN, even though team insists it is not shopping him.

Doesn't mean they get it, or close to it, or even trade OBJ. But they have asked for at least two first-round picks.

— Adam Schefter (@AdamSchefter) March 28, 2018
Vacchiano reports the Giants are listening to offers for Beckham, but it would have to be a "right" deal for Giants general manager Dave Gettleman to pull the trigger on a trade.
"No one can rule out the possibility that they'd be blown away with an offer they can't refuse," Vacchiano said. "But trading him – at least for now – is clearly not something they want to do."
Besides the Rams, Vacchiano reports that a team source has said several teams have called the Giants to see if they were serious about trading Beckham.
The talk of two first-round picks for Beckham have brought up teams like the Buffalo Bills and now the Patriots as potential trading destinations for Beckham. Both have two first-round picks in this year's NFL Draft and both parties are in need of a number one wide receiver in their offenses.
The Cleveland Browns are another team with two picks in the first-round in this year's draft, but there's no way a team, not even the Browns that would trade both the No. 1 overall and No. 4 overall picks for a wide receiver.
If the Browns were serious about trading for Beckham, the No. 4 overall pick would most likely be in play with the No. 33 overall pick and possibly their fourth-round selection. That would be a package the Giants would consider for Beckham, you think.
They don't have two first-round picks, but the San Francisco 49ers are another team that has been rumored to be interested in Beckham. The 49ers have been a team on the rise since they acquired Jimmy Garoppolo from the Patriots at the trade-deadline this past fall.
Acquiring Beckham could solidify the 49ers as a playoff team in 2018.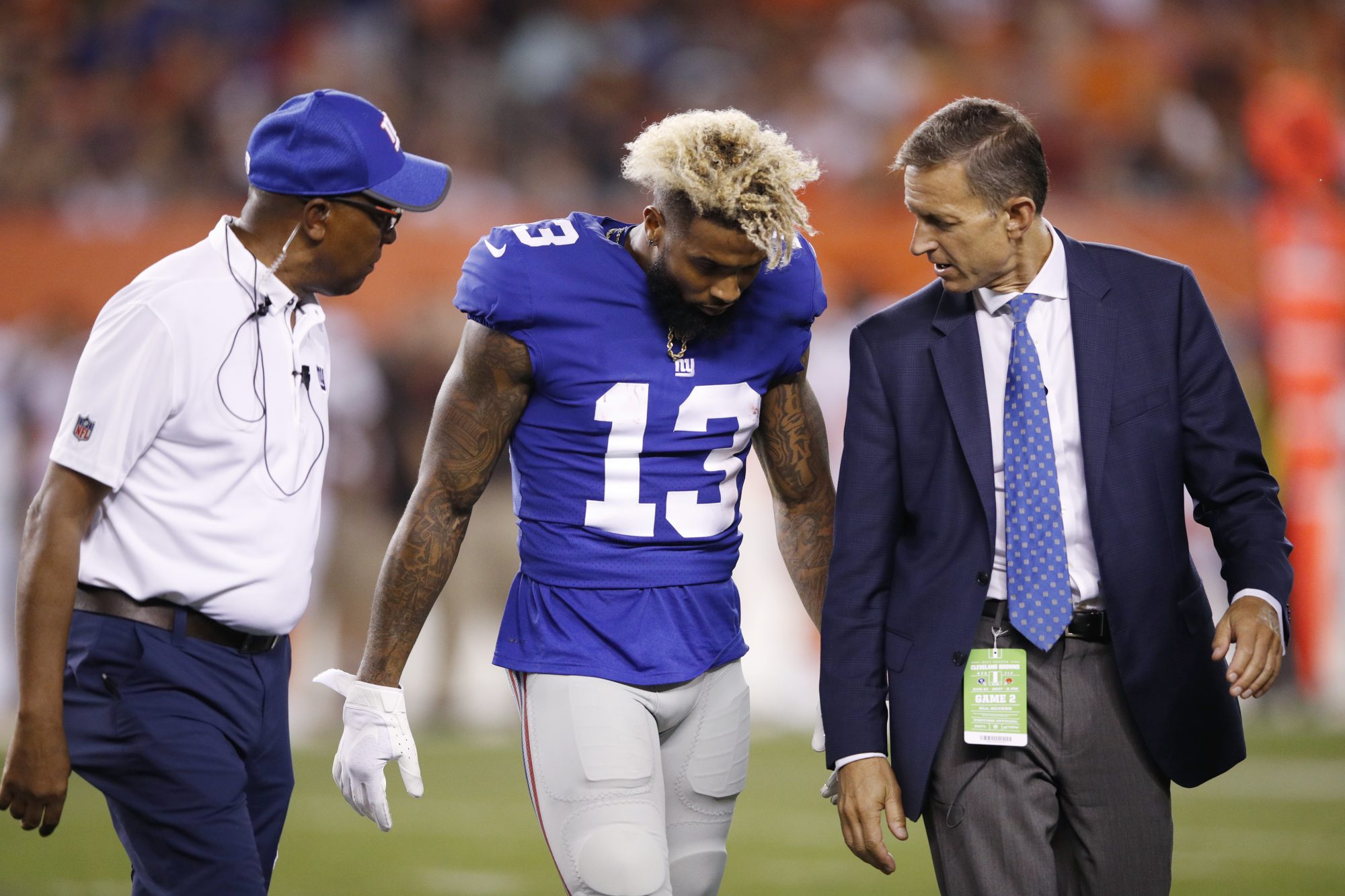 There's a lot of baggage that comes with trading for Beckham. One, he's coming off ankle surgery and only played in four games this past season. Two, the $100 million contract-extension he adamantly wants is another issue.
NFL Network's Ian Rapoport reported a couple of weeks ago that Beckham will not play this season unless he gets a contract extension.
From @gmfb: My understanding is that #Giants WR Odell Beckham Jr will not set foot on a field without a new contract extension agreed to — with the #Giants or any team. … This comes a day after owner John Mara said no one is "untouchable" in trade talks.

— Ian Rapoport (@RapSheet) March 26, 2018
We'll see if Beckham actually goes through with that, but it's an issue for the Giants and for any team that tries to acquire him.
Bottom line though, unless a team gives the Giants a deal they can't refuse, Beckham will be a Giant still in 2018.
Like Vacchiano said, the Giants don't have to trade Beckham and honestly, don't want to.
Beckham is arguably the best playmaker in all of the NFL and the Giants have seen how valuable he has been to their offense the past four seasons.
New offensive coordinator Mike Shula said Beckham is "a vital part" of the Giants offense at his opening press conference this week per Vacchiano.
The Giants also hold all the cards in the situation. They can have control of Beckham for at least the next three seasons if they decide to use the franchise tag on him twice.
Monday begins the first day of offseason workouts for the Giants and as Vacchiano reports, head coach Pat Shurmur expects Beckham to be there.
ESPN's Josina Anderson tweeted out Sunday that Beckham told her that he's planning to attend the first day of the team's offseason workouts on Monday.
#Giants WR Odell Beckham Jr tells me that he is planning to be at the #Giants facility tomorrow for the first day of the team's offseason conditioning program to "check in, workout in the gym and meet with some people." @OBJ_3 has a plane scheduled to leave later today.

— Josina Anderson (@JosinaAnderson) April 8, 2018
That's a good sign for the Giants and it's a great step in the right direction for both Beckham and the team to resolve any issues that may be lingering between the two parties.
The fact that Beckham is planning to attend the Giants' offseason workouts is another sign that he will be staying in New York this season.
There's still a lot of things the Giants and Beckham need to work out, but signs are pointing to Beckham still being apart of the New York Football Giants in 2018.
Follow Steven Bassin on TWITTER