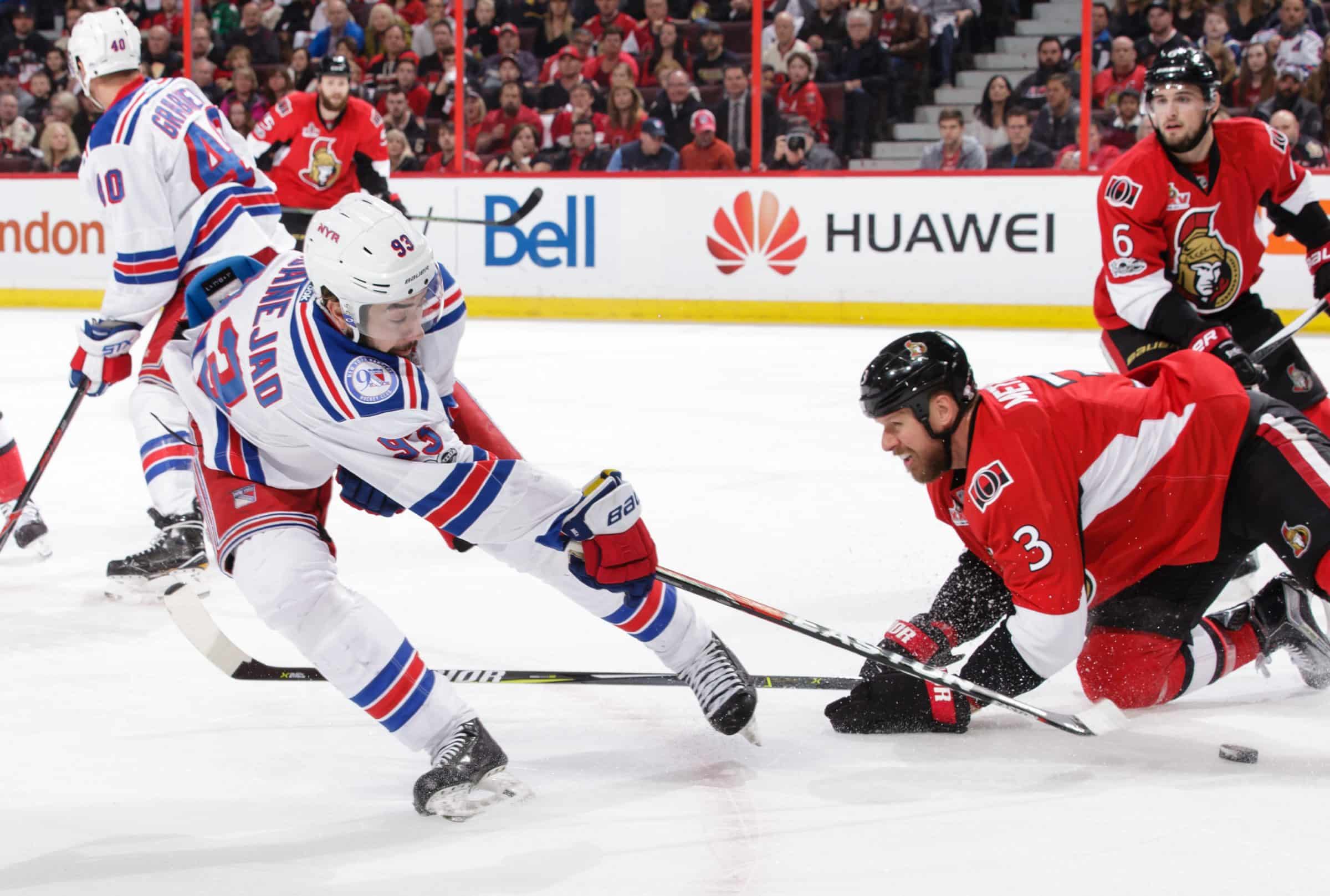 The regular season is over and the grades are in for the 2017-18 New York Rangers. Center was one position that became a strength as the season progressed.
Coming into the 2017-18 season, the center position was seen as a weakness for the New York Rangers. The team had traded their number one center, Derek Stepan, and failed to replace him, leaving question marks all throughout the lineup.
The team was relying on both Mika Zibanejad and Kevin Hayes to have big breakout seasons. Players like David Desharnais would fill in as the fourth line center while mixing and matching on the third line. With all of the questions coming into the season, it seemed impossible that the center ice position would be a strength at the end.
Grades are determined based on impact to the team, performance, and consistency. Some players might have an incomplete due to the fact that they left us wanting more or had their opportunities taken away from them.
Mika Zibanejad
Zibanejad has emerged as the number one center for this Rangers team. He really took on the challenge that former head coach Alain Vigneault had given him at the end of the 2016-17 season.
Zibanejad seemed to find open ice all season, which led to him scoring a career-high 27 goals. He really took his game to the next level all over the ice and in every facet of the game.
On the power-play, he scored a career-high 21 points. His 14 goals on the man advantage was also a career high. Not only did he produce on the power-play, he was also doing it defensively on the penalty kill. He's become one of the team's top penalty killers and defensive players despite being a minus-23 this year.
All in all, it was a great year for Mika Zibanejad.
Grade: A
Kevin Hayes
Hayes has always been a player that left the Rangers wanting more. The organization showed some good faith in him after the Stepan trade giving him minutes as the number two center. This year he did not disappoint.
Vigneault challenged Hayes to become more of a complete player this season on both sides of the ice. As the season began, Hayes was used as the shutdown center against opposing teams. Going up against the likes of Connor McDavid, Steven Stamkos, and Sidney Crosby, Hayes put his offensive game on hold.
But Hayes would start to show up offensively and would go on to score a career-high 25 goals. Even with the goals, there were times where Hayes was completely invisible at times, failing to record a shot on goal in some instances.
Hayes has proven that he can be a top-six center, but still has the Rangers wanting more.
Grade: B+
David Desharnais
Desharnais' impact on this team wasn't supposed to be a major one. But he became a top-six center at times when the Rangers really needed it.
Desharnais saw way too much time on the power-play over players like Hayes and J.T. Miller early in the season. Even with that unwarranted time with a man advantage, only seven of his 28 points came on the power play.
Desharnais is a fourth-line player that got to see minutes that other players should have seen. He did a decent job, considering what his role was supposed to be.
Grade: C-
Vladislav Namestnikov
Namestnikov was one of the main pieces in the Ryan McDonagh and J.T. Miller trade at the trade deadline. He had great numbers coming over from Tampa Bay but didn't show the Rangers enough for the team to be able to make a decision on whether he's a long-term piece of the puzzle.
Namestnikov showed flashes of the player he was in Tampa—as in the above goal—but he clearly was not comfortable in a Ranger uniform at times.
Part of the problem could have been that he was constantly moved around, never able to build chemistry with his linemates. Perhaps a new coach will be able to figure out how to best utilize his talents.
Grade: Incomplete
Other Incompletes
All three of these players saw limited action with the Rangers at some point this season.
Chytil started the year with the Rangers, was sent down to Hartford after just two games for more seasoning and was replaced by Nieves, who showed he can be a capable fourth-line center with some upside in a short stay.
Chytil proved to be a different player upon his return in March. He played with more confidence and was making more plays but still needs some seasoning before becoming an NHL regular. The same thing can be said for Lias Andersson.
Andersson showed that he isn't going to be a flashy player, but a solid, all-around two-way center at some point in his career. Like Chytil, he's not quite ready for regular ice time.
Overall
What was once a thin position for the Rangers has become an area of depth. General manager Jeff Gorton will have plenty of options as he constructs this team for the 2018-19 season.
That said, there are still a bunch of questions.
Will Namestnikov remain a center, or move to a wing? Will Ryan Spooner move back to the middle after spending time as a wing? Will Andersson and Chytil get to continue their development in the NHL, or will they be relegated back to the AHL to start the year?
No matter how you look at it though, the fact that the Rangers can ask these questions is a good problem to have.
Grade: B
Follow Dominick on TWITTER