After a roller-coaster career in New York, Geno Smith will, more than likely, never be a franchise quarterback again. But his experiences in blue and green can help him embark on a lengthy NFL career.
For better or worse, Geno Smith is going to be referenced a lot when it comes to New York football trivia in the coming years.
For example, Smith is the last New York Jets quarterback to post a perfect passer rating, one of six to reach the elusive 158.3 mark. He also holds franchise rookie records in green for most passing yards (3,046) and highest completion percentage (55.8), both set after he was unexpectedly thrust into the job as a freshman.
Giants fans, however, likely know him as the one that indirectly ended Eli Manning's famous streak, as that lone December start sounded the death knell to the Ben McAdoo/Jerry Reese era. The migration to blue was partially necessitated by a 2015 locker room showdown with an undrafted rookie linebacker in green, one that not only broke Smith's jaw but his hold on the Jets' starting quarterback position. His New York years also showcased a frustrating turnover problem, tallying 45 lost balls during his five-year stay.
So, while Smith may be name-dropped in the area's sports bars and tailgates for years to come, it probably won't be on any fond terms.
Which is a shame, really. Beneath the silliness, the sideshows, Smith handled New York in the most classy and professional way that he could.
First came the punch in 2015, the blow from the fist of I.K. Enemkpali. Reportedly dealt in a dispute over a $600 airline ticket, that punch gave rise to the "Fitz-Magic" era for the Jets. With Smith sidelined, journeyman Ryan Fitzpatrick took over Jets starting duties.
Smith, understandably, wasn't pleased about the punch, telling Kimberly Martin of Newsday that he was "extremely angry" about the confrontation that changed his career. He was the exact opposite, however, towards Fitzpatrick, the man who had taken his job. Days after the Harvard graduate performed well in the Jets' 31-10 win over Cleveland that opened the 2015 season, the tide began to turn against Smith, who could only watch as his job slipped away from him. Tempted into creating a quarterback competition, Smith chose instead to create a theme of unity in the Jets locker room.
"Whether it's my team or not, it's (owner Woody Johnson's) team. It's (head coach Todd Bowles') team. And it's a trickle-down effect," Smith told Martin. "You want to say, OK, it's Fitz's team? But that's kind of pinning me and him against each other. We're all in this thing together. It's a collective bond, and it was that way when I was projected the starter and when I got hurt it was that way. And right now it's the same way."
Smith did eventually return to the field that season, relieving an injured Fitzpatrick in a 34-20 loss to Oakland. He performed admirably, going 27-for-42 for 265 yards and two scores, but it wasn't enough for the Jets to sit Fitzpatrick, who would go on to lead the team to their first 10-win season since 2010, and set a franchise record for most touchdown passes in a single season (31).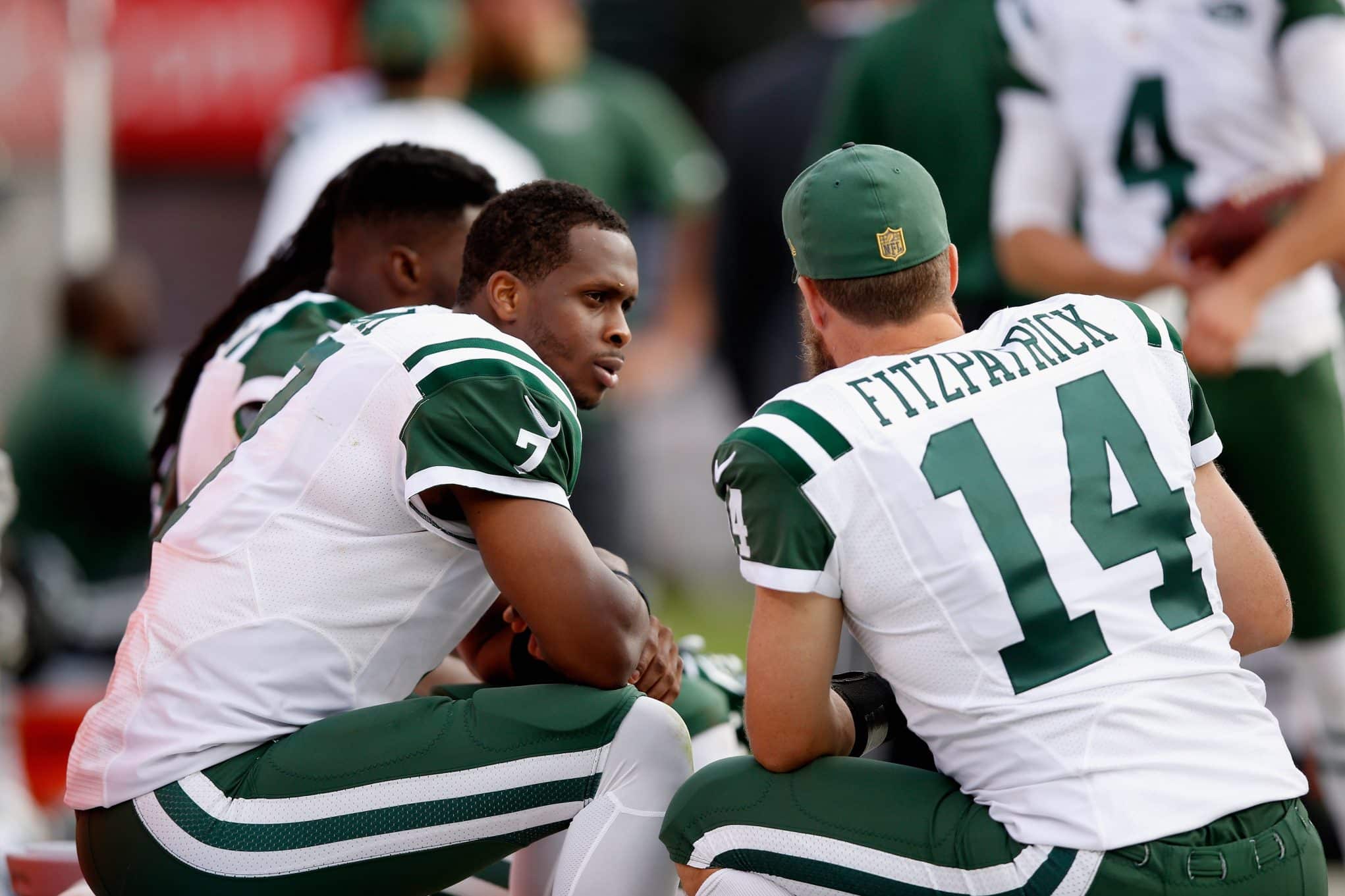 Eventually, however, once the Jets' relatively good fortunes took a turn for the worse, so did Smith's feelings. It appeared he'd return to familiar territory when contract talks between Fitzpatrick and management stalled, as the plan was for Smith to go in as the 2016 starter. That plan went out the window in July, as Fitzpatrick was brought back on a one-year deal.
While admitting he was "pissed" about the late return of Fitzpatrick, Smith kept his composure until a late September loss to Kansas City. In a 24-3 shellacking, Fitzpatrick threw six interceptions, all but one of which ended each of the Jets' final five possessions of the afternoon.
"I'm still pissed off," he told Bleacher Report's Tyler Dunne. "(My opportunity's) going to come. I'm way too talented."
Smith eventually was able to end his Jets career on a somewhat positive note. With the Jets at 1-5, he was granted the start in an October home game against Baltimore. Late in the first quarter, Smith found Quincy Enunwa for a 69-yard scoring hookup, changing momentum in a game the Jets would eventually win 24-16 after trailing 10-0 in the early going.
That, however, would be the last scoring throw of Smith's career in green. Sacked by Ravens defensive end Matt Judon on the next offensive possession, Smith suffered a torn ACL and was subsequently placed on injured reserve. Both he and Fitzpatrick departed the Jets in the offseason, serving as backups in stable quarterbacks situations.
Fitzpatrick went to back up Jameis Winston in Tampa Bay, while Smith would serve as the contingency plan for Eli Manning with the New York area's other gridiron squad: the New York Giants.
Prior to the Jets and Giants' annual preseason showdown in August, Smith again took the professional road. He forwent any notions of revenge against his former team. He chose instead to focus on the green friendships he continued to nurture, and his competition for the backup job with veteran Josh Johnson, a showdown he'd eventually win.
"You always want to go out there and prove yourself. But, nothing extra added towards them, though," Smith said. "Quincy Enunwa and I, we're still good friends. I reached out to him when he got injured. (Ex-defensive lineman Muhammad Wilkerson), we always Snapchat each other, we always talk and check on each other. So, a lot of the guys on the team and even guys who aren't there anymore, we keep in touch."
With many expecting big things from the 2017 Giants, no one expected Smith to see the field, especially with Manning holding a starting streak that exceeded 200 consecutive games during the season. The team failed to live up to expectations in extravagantly awful fashion, as they endured a year showcasing silliness on and off the field. Questions circulated about Manning's starting status and his streak, but many presumed the team would eventually give a shot to rookie quarterback Davis Webb, their third-round selection.
Then came Week 13.
With the Giants at 2-9 and eliminated from playoff contention, the Giants' leadership triumvirate, consisting of head coach Ben McAdoo, general manager Jerry Reese, and principal owner John Mara floated the idea of sitting Manning for the second half of the team's upcoming game in Oakland. When the idea was brought to Manning, he instead insisted that Smith play the whole game, refusing to partake in a preseason-like atmosphere.
Through no fault of his own, and without throwing a pass, Smith became public enemy number one in New York, or at least sharing it with Giants management. Social media was ruthless, and one deranged fan even threatened death to Smith's father.
Smith, however, remained dignified.
Grateful for the opportunity, Smith swiftly brushed off criticism towards him and simply went to work, while giving his supposed competition his due.
"(I) didn't throw a party or anything. Just went to work. Got into the classroom, started watching Oakland and just preparing," Smith said when asked about his initial reaction to starting in blue. "I'm not here to talk about anyone else's future. That's not my place. Like I said, Eli has done a lot of great things for this organization. I think he deserves the utmost respect because of that and that's the standard."
In the thankless role of first non-Manning starting quarterback the Giants had since 2004, Smith again put up passable numbers. He did lose two fumbles, but threw for 212 yards and a touchdown in what became a 24-17 loss to the Raiders.
Frustration was still there, as Smith publicly stated he should've gotten further opportunities after Oakland. Rumors circulated that McAdoo, who was fired alongside Reese after the Oakland game, agreed.
"I respect the heck out of Coach McAdoo. I think he did something maybe not a lot of people would have," Smith said after Manning was reinserted into the starting role. "He gave me an opportunity and I respect it, I appreciate it. As far as sympathy or something like that, I'm not looking for it. I don't need any sympathy. I'm built for all of this. I'm built for everything that's going to come my way and I know that all of these tests and these trials are preparing me for something greater. So I look at adversity as something that can be positive. I'm thankful for the adversity and I look forward to it."
With his departure to Los Angeles, Smith gets an opportunity to leave the past behind, to create a new opportunity for himself. Despite what he says, franchise quarterbacking is probably out of the question. But this new destination could create a new opportunity for Smith, who will turn 28 in October: that of becoming a reliable veteran backup.
Recent history has made backup quarterback one of the most crucial positions in football.
Entire seasons have been saved or lost when a starter goes down with an injury, and the backup quarterback could make or break the year. The Green Bay Packers, for example, discovered this the hard way over the past season, with the inexperienced Brett Hundley failing to make up for the October loss of Aaron Rodgers, dooming the Pack to a 7-9 record and first playoff miss in nearly a decade.
On the other hand, the Philadelphia Eagles didn't lose a step when the young face of the franchise, Carson Wentz, went down in December. Armed with veteran Nick Foles as a contingency plan, the Eagles did anything but fold, embarking on a run to their first championship. Foles himself took home Super Bowl MVP honors, a perfect ending to one of the most remarkable stories in the game's history.
It's obviously asking a lot for Smith to duplicate Foles's miracle run. But with the burden of New York behind him, he finally has a chance to breathe again.
There won't be much pressure on Smith, as, like Manning before him, Rivers holds a lengthy starting streak, currently at 192 games and counting. Should he hold off Cardale Jones for the understudy position, Smith can establish himself as a veteran backup and mentor, much like fellow second-rounders Kellen Clemens and Chad Henne have in recent years.
"To some people, it may never be enough and to others it will be," Smith said after his lone Giants start. "That's not my job to focus on that. My job is to get better as a player, focus on my game and how I can improve."
Smith's New York/New Jersey career ends with him being the answer to several trivia questions, ones that will keep his name on the lips of football fans throughout the tri-state area. After the roller coaster ride this area took him on, getting out the area, and out of the spotlight, was truly the best move he could've made.
Unless otherwise noted, all quotes obtained firsthand.
Follow Geoff Magliocchetti on TWITTER