The New York Giants starting offensive line will look vastly different in 2018 than it did in 2017.
New York Giants Opening Day starters from a season ago guard Justin Pugh and center Weston Richburg have left via free agency and signed with the Arizona Cardinals and San Francisco 49ers, and guard D.J. Fluker who started six games last season signed with the Seattle Seahawks.
General manager Dave Gettleman, who made an emphasis to rebuild the offensive line when he was hired, has made some key additions to the line this offseason in signing the best left tackle in free agency in Nate Solder and guard Patrick Omameh.
You can expect Gettleman to make more additions to the line in the draft or a possible trade. The line is still a work in progress but, right now, Giants fans should be pleased with what he's done so far.
Here's a look at the current projected starting offensive line for the Giants.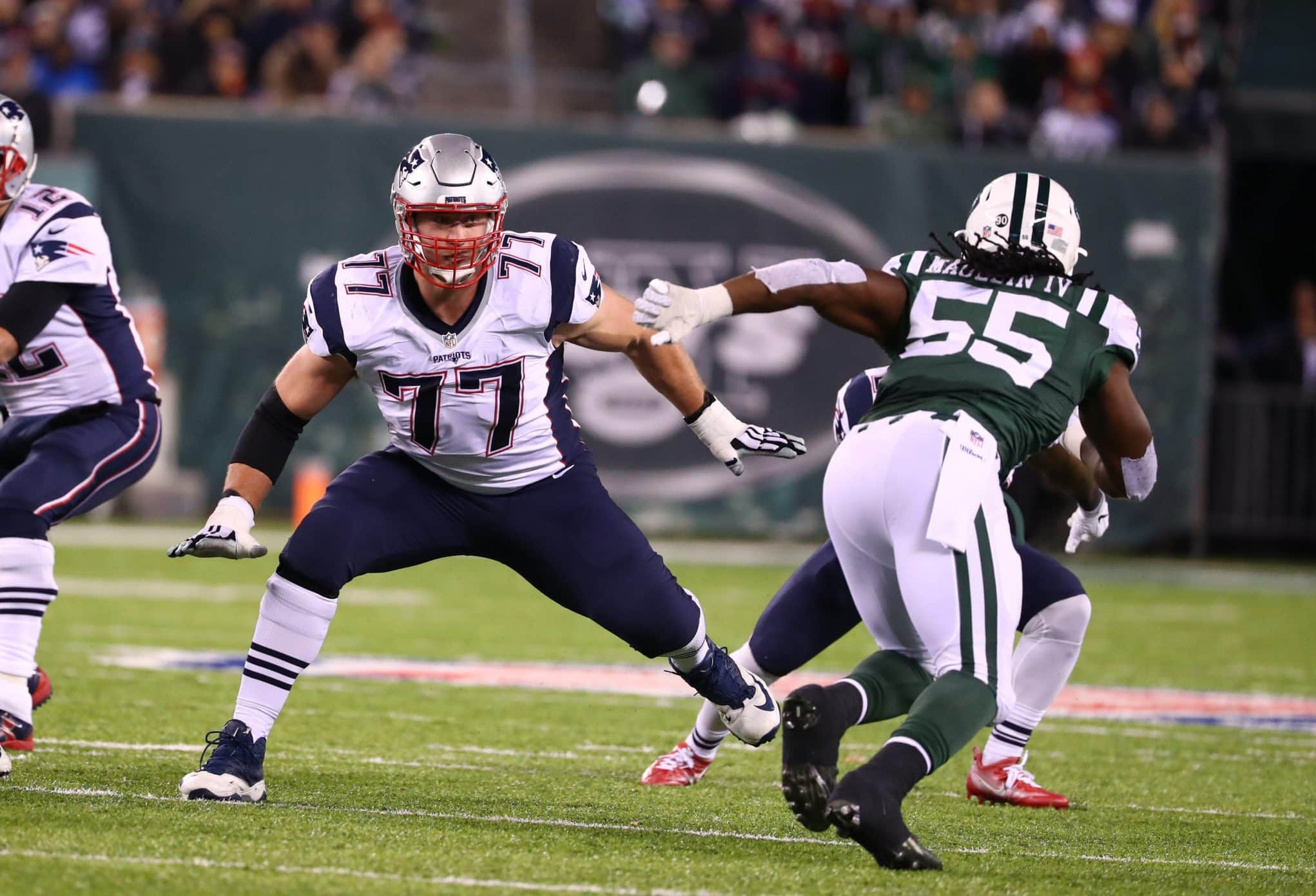 Left tackle: Nate Solder:
Despite never being voted to the Pro Bowl, Solder is one of the best left tackles in the NFL. He would never admit it publicly, but Eli Manning did not feel confident about Ereck Flowers protecting his blind side.
Solder spent the last seven seasons protecting Tom Brady's blind side, and is one of the major reasons the New England Patriots have appeared in three of the last four Super Bowls and won two of them. The addition of Solder alone makes the line better than it was a season ago and will give Manning confidence that he'll have time to find and connect with his receivers downfield.
Left guard: Patrick Omameh 
After going undrafted in the 2013 draft, the 6-foot-4, 305 pound Omameh bounced around the league in his first two seasons spending stints with the 49ers, Buccaneers, and Bears before signing with the Jaguars in 2016.
He started 13 games for the Jaguars last season at left guard and was a primary reason they had the number one rushing attack in the league. The 28-year-old Omameh is a strong and versatile lineman that can play both guard positions which is something the Giants desperately needed with the departure of Pugh and Fluker.
Center: Brett Jones
Injuries to the offensive line thrust Jones into the starting lineup where he started 13 games last season. The Giants were impressed with his play and due to this, Richburg became expendable.
With the experience he gained last season, the Giants are confident he can have an even better 2018 as a full-time starter at center.
Right guard: John Jerry
Jerry was in jeopardy of being cut if he had not agreed to restructure his contract. While this is a position the Giants would like to upgrade, one of the positives you can say about Jerry is that he hasn't missed a game in the last two seasons.
John Jerry's contract was re-worked, per source. Jerry is now only signed through 2018 (instead of 2019) and his base salary for 2018 has been reduced to $1.075M (had been $3.05M). Cap hit is now $3.6M (had been $4.125M).

— Dan Duggan (@DDuggan21) March 21, 2018
He could be pushed for the starting role by Jon Halapio or a rookie the Giants may draft. However, right now, it looks as though Jerry will be that guy.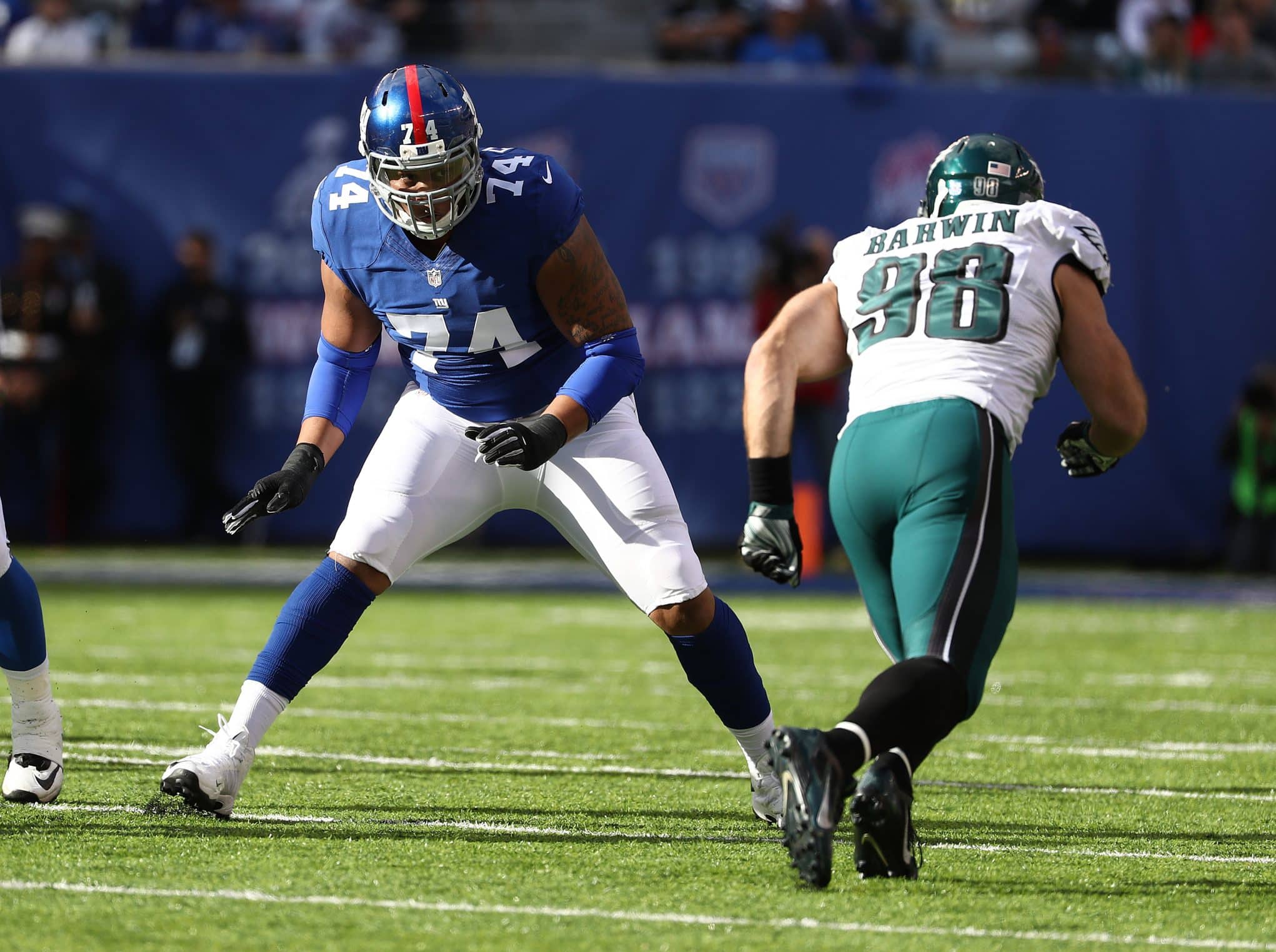 Right tackle: Ereck Flowers
The Giants will try to salvage the final season of Flowers' contract by moving him to right tackle. Based on the fact that he'll likely see less elite pass rushers because they're generally lined up on the other side, Flowers' experiment at right tackle should go better than it did on the opposite side.
If he continues to struggle against edge rushers, the Giants will use tight ends Evan Engram and Rhett Ellison to help him in pass protection.
Overview:
The left side of the line is improved from a season ago and is stable, but the right side of the line is still very shaky. This is why Notre Dame guard Quenton Nelson remains an option for the Giants with the second pick in the draft because they can have him or Omameh play right guard.
The picture isn't fully set but, right now, it looks pretty good. The New York Giants are well on their way to putting out a far better offensive line than last year's putrid effort.