Opening Day is here! What better way to celebrate than with a primer deep diving into the New York Mets' 2018 season?
Lock and load people, because baseball returns tomorrow. For the first time in 50 years, all 30 teams will be in action on March 29, the earliest Opening Day in MLB history, including our beloved New York Mets.
2018 brings a sense of renewed optimism to a team that suffered devastating setbacks a year prior. As we permanently cast 2017 into the abyss of forgotten seasons, there is a lot to look forward to in the coming days.
Though they lacked the typical, "sexy" offseason acquisition, the Mets made crucial moves to improve their roster and shore up their depth. Think of it like Herman Boone's "awfully skinny" offensive playbook in Remember the Titans. "It's like Novocaine. Just give it time. Always works."
As we prepare ourselves for 162 games of bliss (hopefully), there is a lot to go over. So rather than wasting your time, let's dive right in.
Key Additions
Jay Bruce – 1B/OF

Mickey Callaway – Manager

Todd Frazier – 3B

Adrian Gonzalez – 1B

Jose Reyes – 2B/SS/3B

Anthony Swarzak – RP

Jason Vargas – SP
The cataclysm that was the 2017 season wound up altering the club's organizational strategy in more ways than one. For starters, they underwent a regime change, bringing in a younger, more modern manager in Mickey Callaway. Callaway is a significant departure from the Mets' former skipper, Terry Collins, and has sought to infuse efficiency and a winning mindset into this team. Pitching coaches landing managerial gigs are not out of the ordinary, but less likely than you'd expect. His background stewarding one of the best starting rotations in baseball over the last five seasons means he's well equipped to handle the Mets' greatest strength, their starting rotation.
The Mets picked up Jay Bruce at the 2016 trade deadline and added him to an already crowded outfield situation. What made matters worse is that his post-deadline numbers in 2016 didn't exactly justify the move either (.219/.294/.391). The Texas native bounced back nicely in 2017, slashing a line of .256/.321/.520 and accumulating 29 home runs and 75 RBIs. With free agency looming and the Mets out of contention, the team made the correct call to jettison him to Cleveland where he partook in a brief playoff run. Bruce returned to the Mets this offseason on a three-year, $39 million deal. The deal was polarizing amongst the fans as some praise the legitimate bat and multi-positional depth of Bruce, while others are afraid of shifting Michael Conforto to CF on a permanent basis and trotting out the same crop of players that found themselves out of the race early on in 2017.
The fact of the matter is that Jay Bruce is a proven major league slugger capable of launching well over 30 home runs in any given year. He will provide some important protection in the lineup for Yoenis Cespedes and serves as a nice insurance policy in case the Adrian Gonzalez/Dominic Smith experiment doesn't work out.
After hitting another snag in his recovery this offseason, I think it is safe to say we've pretty much seen the last of David Wright. I hope to one day see him in a major league game again, but I remain skeptical of that ever happening. With all of that taken into consideration, signing Todd Frazier to be the everyday third baseman is one of the savvier moves Sandy Alderson has made. Frazier brings an above average glove to an infield that struggled defensively last season. The Toddfather brings even more power to a lineup that already boasts a few sluggers and has launched at least 27 home runs in each of the last four seasons. At two years, $17 million, Frazier's contract allows the Mets to remain financially flexible over the next few seasons. The only real knock on Frazier is that he gets on base at a less than ideal rate and strikes out in roughly one-fourth of his at-bats. However, his leadership, power, and defense give him an upside that outweighs the negatives.
There's not much to say about Adrian Gonzalez other than that he is without a doubt over the hill as a ballplayer. The Amazins' brought him for two reasons: to light a fire under Dominic Smith and to squeeze out any baseball he may have left in him. The first part worked admirably. The lack of organizational confidence in him and signing Gonzalez motivated Smith to rigorously train in the offseason and slim down significantly. But because of a lingering quad injury, we will have to wait to see if Smith is ready to live up to his potential as a former first-round selection. For now, we are left with Gonzalez as our starting first baseman which is a bit disconcerting given the low expectations surrounding him.
What makes matters worse is that there were and are still several affordable options on the free agent market that could easily come in and outperform A-Gon. All we can do at the moment is stick it out and hope that Gonzalez has an unexpected resurgence.
Anthony Swarzak endeared himself to Mets fans immediately and it wasn't just because of his Seinfeld fandom. The right-handed reliever emerged as a preeminent reliever last season after a relatively pedestrian career. His performance with both the Chicago White Sox and Milwaukee Brewers in 2017 motivated the Mets to bring in Swarzak on a two-year, $14 million contract. Considering this team's bullpen struggles over the last few seasons, any relief help is welcomed especially when you can add a marquee arm.
It's always good to see a familiar face back in orange and blue and for Jose Reyes, his career trajectory may allow him to finish as a Met. Not many were too thrilled with the return of Reyes amidst the domestic violence incident he was involved in that resulted in a 51-game suspension and his eventual exit from the Colorado Rockies. He's not the Jose Reyes that once garnered a $100 million contract but, in purely a baseball sense, he does have value. He will provide important depth for this club with his ability to play second, third, and short. As for his bat, it seemed like he was close to being done during the first half of last season but performed nicely in the second half to bring his 2017 slash line up to .245/.315/.413. Hopefully, he won't see too much time, as that would equate to starters being hurt, but he should be a useful piece when Rosario, Cabrera, or Frazier need a day off.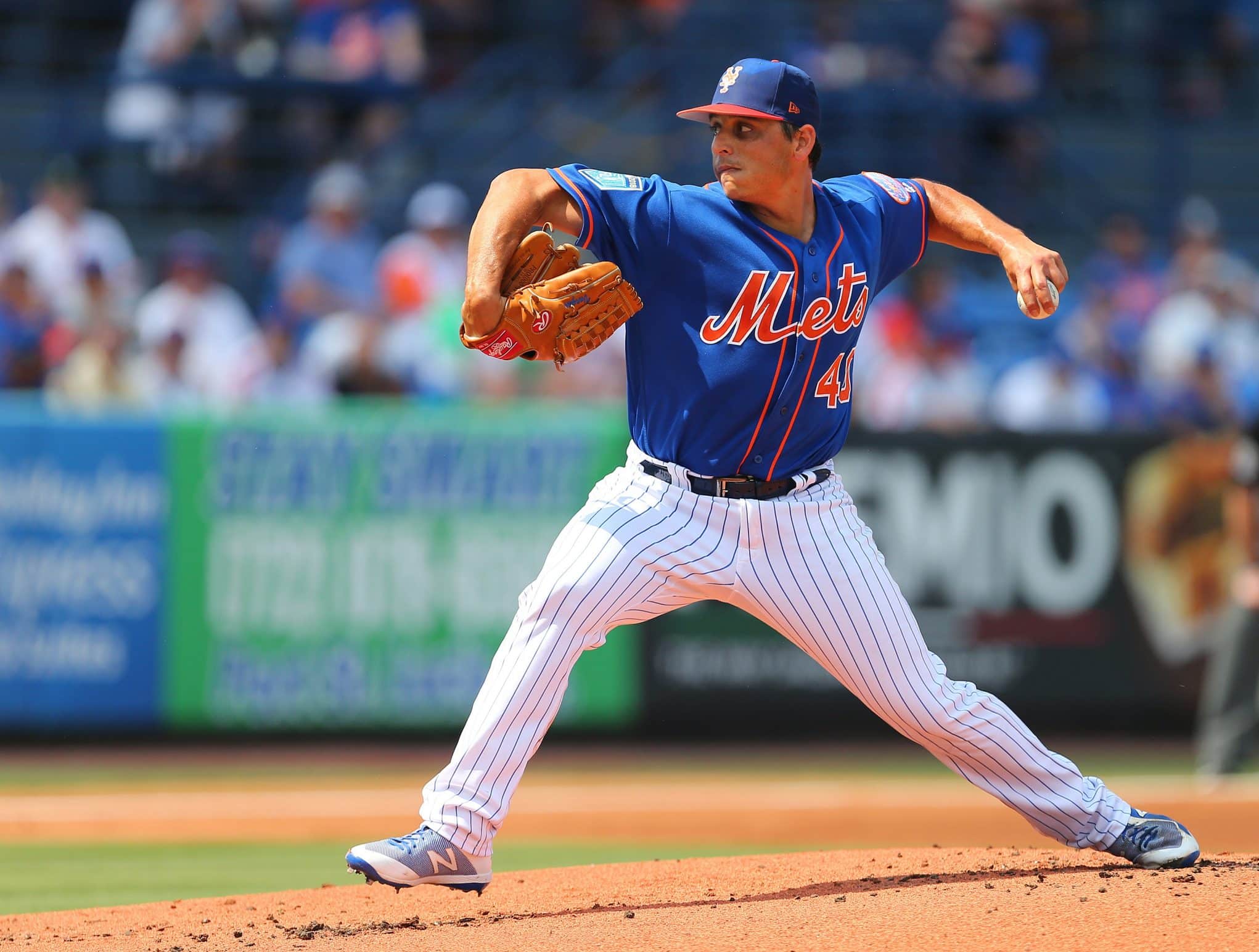 Jason Vargas signed up for his second tour of duty with the Mets this offseason on a two-year, $16 million pact. In a perfect world, he slots in at this team's four or five starter and allows one of the other peripheral pitchers to serve as depth. Unfortunately, we will have to wait to see if he can build on his strong year in Kansas City last year, as he recently underwent surgery on his non-throwing hand after being struck by a line drive. The good news is that the wait shouldn't be too long, as he threw a bullpen session on Sunday. But for now, Vargas will start the year on the disabled list.
Key Subtractions
Lucas Duda – 1B

Neil Walker – 2B

Addison Reed – RP

Curtis Granderson – OF
All four of these players were shipped off at the trade deadline last season as the Mets were evidently out of contention. Duda found himself in Tampa Bay, Walker in Milwaukee, Reed in Boston, and Granderson landed with the NL pennant-winning Los Angeles Dodgers. As impending free agents in 2017, all four of these players find themselves on new teams entering 2018. Walker is wearing the iconic Yankee pinstripes. Lucas Duda defected to the team that crushed his World Series dreams in 2015, the Kansas City Royals. Addison Reed is a Minnesota Twin. And Curtis Granderson jumped the border up north to play for the Blue Jays. Given their first base woes, Duda will be sorely missed. Other than that, the Mets are well prepared to move on from the other three. Walker would have only muddled the infield logjam even further. Granderson is past his prime and would have been a fifth outfielder for the Mets at best. And the Amazins' offset Reed's departure by bringing in Anthony Swarzak.
The Starting Rotation
Noah Syndergaard

Jacob deGrom

Steven Matz

Matt Harvey

Seth Lugo
Once upon a time, there was a pitching staff so talented that it was believed that any one of them could be a number one starter. It feels like forever since the days of the "five aces", but the truth of the matter is that was only a short time ago.
Jacob deGrom has lived up to his potential and become a marquee starter in the major leagues, which is ironic because he never found himself on any top prospect lists. Noah Syndergaard is one healthy season away from achieving elite status, and possibly a spot in the Marvel Cinematic Universe if Chris Hemsworth gives up his role as Thor.
With only 41 starts under Steven Matz's belt, we still don't know a whole lot about the left-hander, other than his propensity to land on the disabled list. The flashes of talent are there, but for now, we will have to wait and see if he can maintain his health.
If you haven't already, I encourage you to check out Michael Baumann's piece about Matt Harvey on The Ringer. It does a great job of pulling together all aspects of Matt Harvey's career — injuries, scandals, and immense potential. Only a few seasons ago, The Dark Knight was the ace of this staff. But Tommy John and thoracic outlet syndrome has robbed him of a good portion of his natural talent and now it is up to Harvey to approach pitching from a more cerebral perspective. 2018 is a contract year for Harvey and if he wants to receive any semblance of the mega-deal he was once worth in free agency, he will have to step up and provide quality innings for this ball club. He may not light up the radar gun with an electric fastball like the way he used to, but Harvey still can effectively get major league batters out. Like many other players on this roster, it all comes down staying healthy and putting his past behind him.
Seth Lugo remains a placeholder on the major league staff until Jason Vargas is ready to return. Unless Matz or Harvey open with serious struggles, Lugo's ticket to Vegas is already booked. Thanks to a partially torn UCL, Lugo has had his talents hampered over the past two seasons but has still managed to impress us all with his curveball's record-setting spin rate.
With Rafael Montero set to undergo Tommy John surgery and sit out the 2018 season, that leaves Zack Wheeler and Robert Gsellman waiting in the wings. Wheeler was relegated to Triple-A after a tough spring and Gsellman finds himself as low man on the totem pole after struggling in 2017.
The Lineup
Brandon Nimmo – CF

Yoenis Cespedes – LF

Jay Bruce – RF

Todd Frazier – 3B

Asdrubal Cabrera – 2B

Adrian Gonzalez – 1B

Travis d'Arnaud – C

Amed Rosario – SS

Pitcher
Brandon Nimmo occupies the leadoff spot and center field until Michael Conforto is ready to return. Nimmo will be interesting to watch. The former first-round pick was a bit of an afterthought and the subject of trade talks during the winter. A strong showing this spring coupled with noticeable improvement last season has many of us wondering what Nimmo's ceiling is as an everyday major leaguer.
You may be surprised to see Cespedes in the two-hole, but it is representative of Mickey Callaway's more modern approach under the notion that your best hitter should bat second. Cespedes, Bruce, and Frazier will come together to form a formidable 2-3-4 that just might combine to launch over 100 home runs this season.
Asdrubal Cabrera may have lost a few steps defensively, but he still brings a serviceable, switch-hitting bat to the Mets lineup. Unless Callaway decides to slot Conforto into the middle of the order, Cabrera is likely to sit in the five-hole for most of the season. Gonzalez, on the other hand, may have limited job security as this team's six-hitter. Even though he started to show signs of life at the end of the spring, there isn't much hope for A-Gon to recapture his old form offensively. Travis d'Arnaud and Kevin Plawecki are set to platoon this season based on whoever has the hot bat, and a strong showing for either one could land them batting sixth.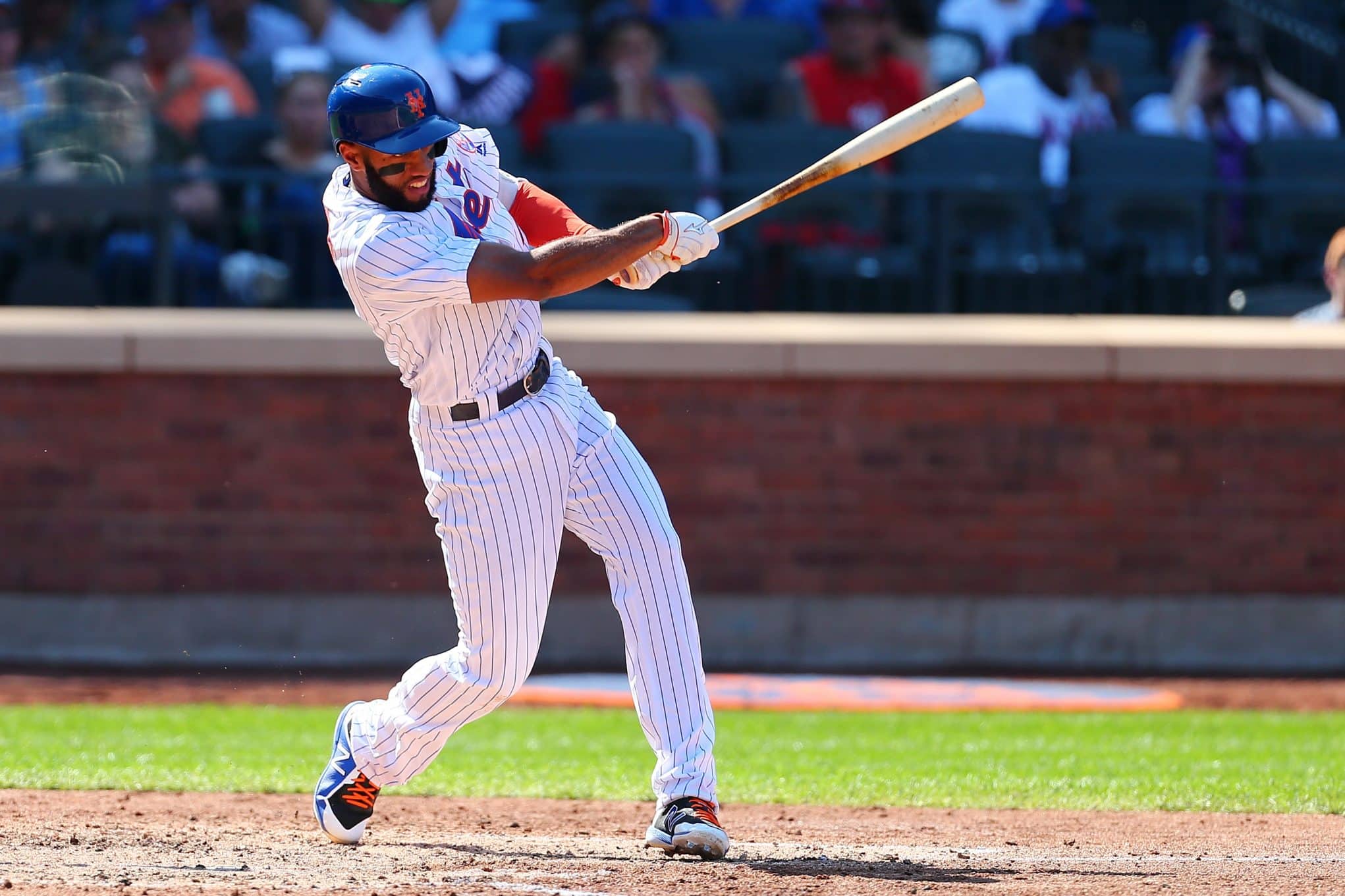 Amed Rosario will start the year at the bottom of the order, but if he can come to life early, Mickey Callaway may choose to bring his speed to the top of the lineup. Last September, Rosario was named the fastest shortstop in the majors based on Statcast data. That could come in handy when it's time to create RBI opportunities for Cespedes, Bruce, and Frazier.
Bench
Juan Lagares – OF

Jose Reyes – INF

Wilmer Flores – INF

Phillip Evans – UTIL

Kevin Plawecki – C
The common theme of the Mets' bench entering Opening Day is versatility. With the exception of Kevin Plawecki (who can handle first base if necessary), every player on the bench plays multiple positions. Juan Lagares will see a lot of time as a late-game defensive replacement and probably will start in center field when facing left-handed pitchers. Given his ability to crush lefties, Wilmer Flores will also find his way into the lineup quite often, including spelling Adrian Gonzalez at first base against left-handed starters. Reyes profiles as this club's primary utility man at the moment, filling in all around the infield to provide rest for the starters. Evans also will operate in a utility role, but his days may be numbered until Jason Vargas comes back, when the Mets will probably switch to a four-man bench.
Bullpen
Jeurys Familia

Anthony Swarzak

Jerry Blevins

AJ Ramos

Paul Sewald

Jacob Rhame

Robert Gsellman
Always a point of contention for the Mets down the stretch, the bullpen seems to be in better shape than that of recent memory. Acquiring Anthony Swarzak was a much-needed addition, providing another premium arm for late-inning situations. Jerry Blevins has been spectacular as a lefty specialist in his time with the Mets and with 99 career saves under his belt, AJ Ramos provides Mickey Callaway with an alternative at closer.
Paul Sewald and Jacob Rhame are both intriguing young arms who could pitch their way into crucial roles this season. Robert Gsellman profiles as the team's primary long-relief option and should see his way into a few spot starts over the course of the season. A lot will hinge on whether Jeurys Familia can return to All-Star form in 2018. The electric Mets closer missed the beginning of 2017 while serving a domestic violence suspension and then went on the disabled list after undergoing surgery to remove an arterial blockage. If the Mets are to compete in 2018, they will need their bulldog of closer to be lights out down the stretch.
Young Guys To Watch
Amed Rosario – SS

Brandon Nimmo – OF

Jacob Rhame – RP

Phillip Evans – 3B

Luis Guillorme – 2B/SS
All eyes remain on Amed Rosario based on the phenom status he acquired as a prospect in this organization over the last few seasons. His first taste of major league action didn't go as planned, but we still saw flashes of his offensive potential and watched in awe of his defensive prowess. The major league learning curve is different for every prospect, but the quicker Rosario acclimates to this level, the more serious this team becomes about competing.
After being selected 13th overall in the 2011 MLB Draft, many were ready to label Brandon Nimmo as a bust. This past offseason, many fans roared in disgust when Sandy Alderson expressed an unwillingness to include the Wyoming native in trade talks for Andrew McCutchen. But Nimmo has started to come around and become a point of hope for Mets fans. From 2016 to 2017, he exhibited a much-improved sense of plate discipline, raising his OBP by over 40 points. Backed by a strong showing this spring, many Mets fans are excited to see Nimmo lead off on Opening Day. With Michael Conforto most likely a few weeks away, the early part of this season will give us a good look at the kind of player Nimmo can be and whether he warrants a decent amount of playing time.
Jacob Rhame and Phillip Evans both overcame some pretty overwhelming odds to find their way onto the Opening Day roster. Rhame, a former sixth-round pick by the Dodgers, is a flamethrowing right-hander acquired in the Curtis Granderson trade last season. Rhame saw limited action in 2017, struggling to the tune of a 9.00 ERA, but has looked comfortable and confident this spring. The 25-year-old reliever has the chance to pitch his way into becoming an integral part of this bullpen in 2018.
Evans brings versatility to the Mets bench, with the ability to play the infield, outfield, and serve as an emergency catcher. In 19 games with the Mets in 2017, Evans batted .303 and is a former 15th round selection of the club. As the 25th man, he may not be guaranteed a long stay in the majors but should provide Mickey Callaway with a good amount of flexibility in his time with the big club.
Last on the list is middle infielder Luis Guillorme. Currently ranked as the Mets' 11th best prospect, Guillorme is an excellent defender and should land in the major leagues by September at the latest. Many scouts remain skeptical of whether he has a future as a big leaguer, but after batting .283 with a .376 OBP in Double-A last season, the case can be made for Guillorme's future. If anything were to pull Asdrubal Cabrera off second base, the Mets still have Jose Reyes, Wilmer Flores, and Gavin Cecchini to slot in there. But given his strong defensive abilities, there is a scenario where Guillorme can find himself in the Mets' lineup.
How will the Mets fare in the division?
Challenging the Washington Nationals for the NL East crown would be a tough task for anyone, let alone the Mets. The Nats still boast one of the best starting rotations in baseball, not to mention a formidable one-two punch. With all that being said, the Mets seem earmarked to land second in the division when it is all said and done.
As of right now, this club profiles as an 84-86 win team, but they do have a higher ceiling than many would expect. A year ago, basically the same roster was seen as a legitimate World Series threat. Obviously, 2017 diminished that sentiment, but a resurgence could be in order. With the Miami Marlins in full tank mode and the Atlanta Braves focused on progressing their rebuild and developing their young talent, the Mets really only have to worry about the Philadelphia Phillies behind them.
The Phillies made some interesting moves this offseason, bringing in Jake Arrieta and Carlos Santana, to expedite their rebuild. Coupled with a few interesting young players like J.P. Crawford, Rhys Hoskins, and Scott Kingery (who batted .411 in Spring and just received a $24 million extension without any major league at-bats), the Mets have to keep a close eye on their rivals down in Philadelphia.
Playoffs? Playoffs? Playoffs?
Is a postseason appearance possible? Yes. But is it likely? Probably not.
Unseating the Nationals at the top of the NL East is highly improbable, which makes their best route in by way of the Wild Card. The problem is that the National League has seen its second-tier teams improve significantly this offseason. The Cardinals' acquisition of Marcell Ozuna was a strong step towards regrouping and becoming a playoff team once again. The Brewers may have completed their overhaul with the signing of Lorenzo Cain and acquisition of Christian Yelich. Both the Giants and Padres made a flurry of moves to get better and the Rockies and Diamondbacks are already playoff teams. Projecting 84 to 86 wins, the Mets will not be able to waltz into the playoffs unscathed. They will have to scratch and claw to gain entry to the promised land and chances are it would be for the second Wild Card at best. If the Amazins' remain healthy, then they will certainly remain in the mix all the way through September, but every baseball team needs a little bit of luck when it comes to a pennant race.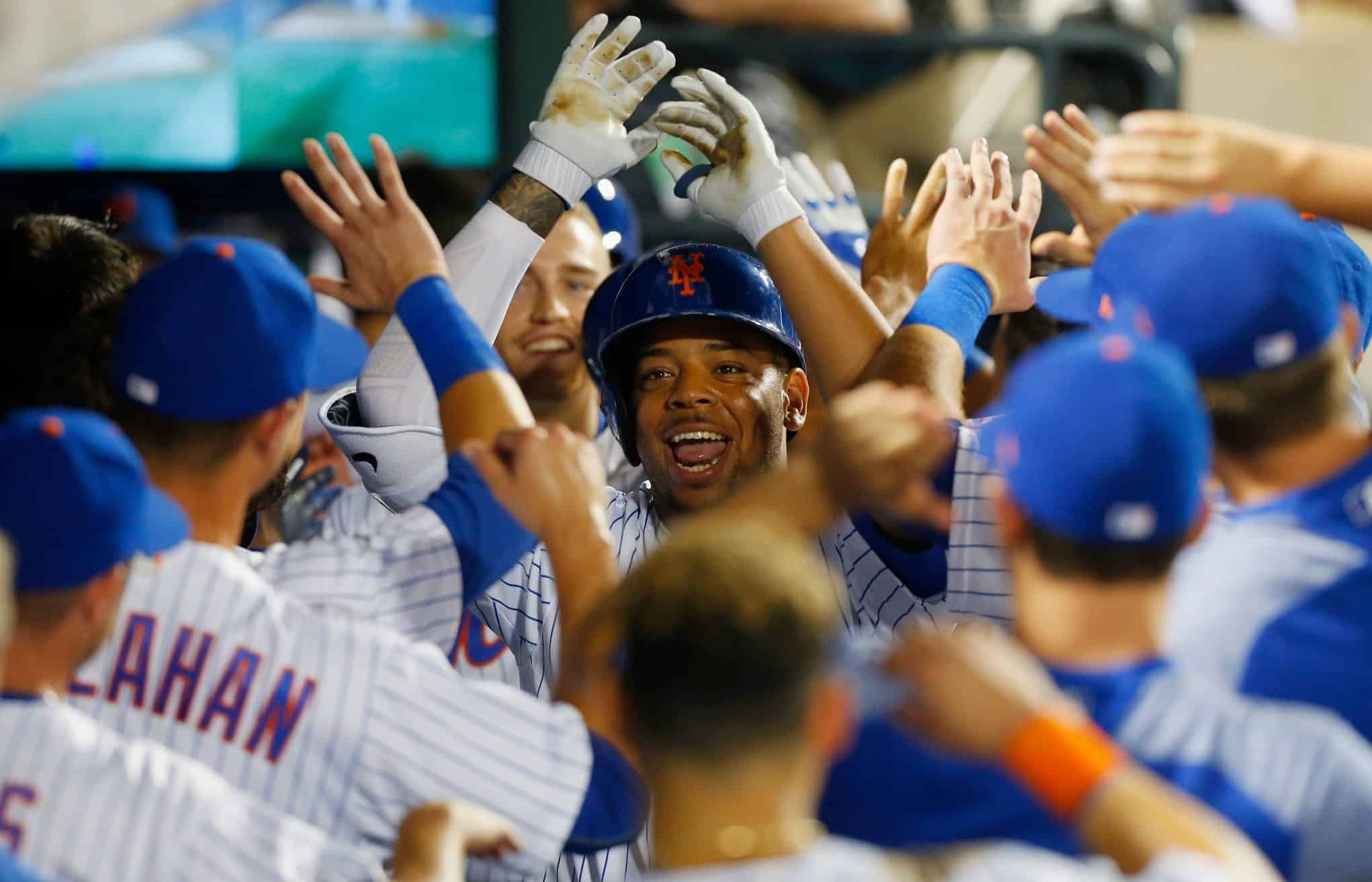 Final Word
The Mets are a talented team with a lot to be optimistic about in 2018. What 2017 taught us is that even the most talented baseball clubs can be derailed by injury and the Amazins' fate this year is tied to their health. Changes on the coaching and training staffs will make this club seem very different than it was a year ago, but in a good way.
Dethroning the Nationals at the top of the NL East may be a long shot, but the Mets still have a good chance to battle for a Wild Card even in an extremely deep National League.
If you made it this far, how about going a little further reading this piece I wrote about Michael Conforto earlier this week.
Staff Picks
Team Record: 86-76

NL East Standings: 1. Washington 2. New York 3. Philadelphia 4. Atlanta 5. Miami

How far will the Mets go? Get in as a Wild Card team, make it to the NLDS where they lose to the Dodgers.

Team MVP: Todd Frazier

Best Pitcher: Noah Syndergaard

Team ROY: Phil Evans
Record: 85-77

Division Finish: Second

How far will the Mets go? Eliminated in the Divisional Playoffs.

Team MVP: Yoenis Cespedes

Best Pitcher: Noah Syndergaard

Team ROY: Amed Rosario

It's all about health this season for the Mets. If they stay healthy, they'll go far.
Team Record: 89-73

Division Finish: Second

How far will the Mets go? Lose in the NLDS.

Team MVP: Michael Conforto

Best Pitcher: Jacob deGrom

Team ROY: Amed Rosario
Team Record: 84-78
Division Finish: Third

Team MVP: Jay Bruce

Best Pitcher: Noah Syndergaard

Team ROY: Jacob Rhame
The Mets on paper have a team that can compete with just about anyone. However, paper never won any championships. Until the Mets prove they can stay relatively healthy for a full season, this team is good enough to stay in contention, but not quite strong enough to snag a playoff spot in what's looking like a deep National League.
Team Record: 87-75

Division Finish: 2nd in the NL East (2nd Wild Card)
Right now, on paper, the Washington Nationals have the better lineup and the better bullpen, so that should be enough for them to win this division. With that being said, New York's rotation, when healthy, is one of the best in the game. When you look at how they stack up with the other perceived Wild Card contenders, that should be enough for New York to get into a one-game playoff.
How far you think the Mets will go? Win Wild Card Game, lose in NLDS to Dodgers

Team MVP: Michael Conforto
While it may seem like a crazy pick since Conforto won't be with the Mets to start the season, he is one of the best, if not the best all-around hitter in their lineup. Since it is tough to rely on Yoenis Cespedes to stay healthy and there's not a trendy infield candidate for this honor, Conforto's presence in the lineup can give the Mets an extra boost to their offense that is needed compared to when Juan Lagares or Brandon Nimmo are in the outfield with Cespedes and Jay Bruce.
Best Pitcher: Jacob deGrom
This season, I have deGrom as my Cy Young winner because out of the Mets pitchers, he is the most likely to stay healthy and consistent for the duration of the season. With a strong bullpen this season, deGrom should be able to get a career-high for wins in a season. He hasn't had more than 15 wins in any season, but I would expect that to change this year now that he can hand the ball to AJ Ramos and Jeurys Familia for the final two innings if he can finish seven innings on a given night.
While Chris Flexen is ranked higher on Mets prospects lists in terms of starting pitchers, Oswalt is one of those pitchers that doesn't have the high 90s velocity on his fastball, but he has good movement on that pitch as well as his secondary pitches. With Double-A Binghamton last year, he was 12-5 with a 2.42 ERA and he had a 1.64 ERA over the final nine starts of the year. If Oswalt has success in Triple-A Las Vegas, which isn't easy by any means, he could be one of those pitchers that gets a call-up due to injury since he's on the 40-man roster. He won't get much attention behind Zach Wheeler to start, but he is one of those pitchers that can have success flying under the radar.
Whew. Did you stay the whole time? The New York Mets have some big-time talent in preparation for a pretty big season. So naturally, a big preview is perfect.
Opening Day for the Mets kicks off at 1:10 p.m. ET on Thursday against the St. Louis Cardinals at Citi Field. So, let's play ball.