Thanks to their disastrous 2017 season, the New York Giants are now in a position of power with the second pick in the NFL Draft.
New York Giants general manager Dave Gettleman is making the most of having the second overall pick in the 2018 NFL Draft. Nobody can get a read on him or on which direction he'll go with the pick.
Only a fool would reveal what direction they plan to go with the draft a month away, and just like a great poker player, Gettleman has his poker face on. The other 31 general managers have no idea what he's holding in his hand or how he'll play it.
He's shown this offseason that he'll make bold, aggressive moves, as he did in trading for Alec Ogletree and trading away  Jason Pierre-Paul. He's also shown that he can stay put, as he did in committing to 37-year-old Eli Manning as his quarterback.
All of this makes Gettleman the most interesting GM in the league. You can't help but wonder if he's deliberately throwing mixed signals on what the Giants will do with the second pick.
For the past month, there's been a wide range of speculation.
Initial reports were that the Giants weren't high on any of the top four quarterback prospects in this year's draft (Sam Darnold, Josh Rosen, Baker Mayfield, Josh Allen) and that they would take Penn State running back Saquon Barkley if the Browns didn't take him with the first pick.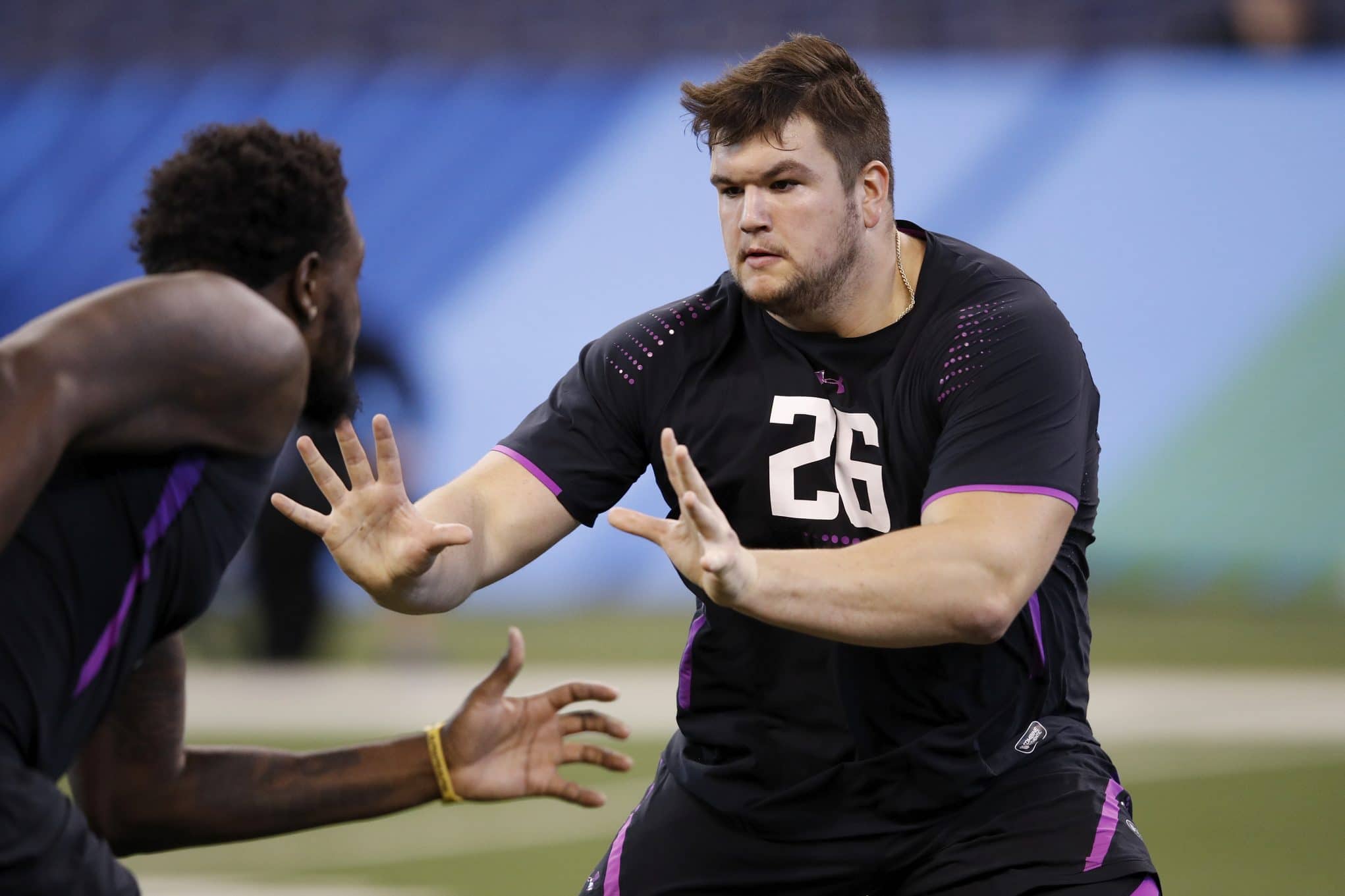 Then as the NFL combine was approaching, Notre Dame guard Quenton Nelson began to emerge as the favorite to be taken by the Giants.
With the Giants trading away JPP this week, North Carolina State's Bradley Chubb has emerged as a candidate for the Giants because there is now a need for an outside linebacker in James Bettcher's 3-4 scheme.
There's also been speculation that the Giants may look to trade down in the draft and acquire more picks that can help the franchise long term. Then last week on ESPN's First Take, former New York Giants defensive lineman Chris Canty said he wouldn't rule out the Giants trying to trade up to number one so that they could take Sam Darnold.
Apparently the Giants only have eyes for one quarterback and @ChrisCanty99 thinks it's Sam Darnold. pic.twitter.com/EtQKgudPli

— First Take (@FirstTake) March 23, 2018
Remember, Gettleman is a disciple of former Giants general manager Ernie Accorsi, who made the biggest trade in Giants history in 2004 when he acquired Eli Manning in a blockbuster deal with the San Diego Chargers.
Accorsi traded away Philip Rivers and three draft picks to get Manning because he believed he was the best player for the franchise. If Gettleman feels this way about Darnold, the Giants trading up one spot to make sure Gettleman gets his guy is a possibility.
But right now, nobody knows who Gettleman's guy is and that's why there's so much speculation on what the Giants will do.
All of the scenarios above make sense because they fit a need the Giants have.
At some point, they will have to address the quarterback position since Manning is 37 and Davis Webb has yet to take a single snap in the NFL.
Barkley would give them a dynamic three-down running back the team hasn't had since Tiki Barber.
Then there's Nelson, who would help stabilize the offensive line and Chubb, who would give them a dynamic, explosive edge rusher.
But at the same time, all of these rumors and speculation could just be bluffs by Gettleman to throw other general managers off on what his true intentions are.
Gettleman is a shrewd operator and, rest assured, he won't reveal his hand until the time is right.
Giants fans should not be worried that there's so much speculation surrounding what the Giants will do. In fact, they should be encouraged because Gettleman has the rest of the league right where he wants them.