Saying goodbye to Jason Pierre-Paul not only leaves the New York Giants with a void on defense, but it brings to an end a run of elite pass-rushers that has lasted for more than 30 years.
In a surprise move Thursday, the New York Giants traded their best pass rusher, Jason Pierre-Paul, to the Tampa Bay Buccaneers.
The teams will swap fourth-round draft picks and in return, the Giants will also receive a third-round pick, giving the Giants two third-rounders in April's NFL Draft.
In trading JPP the Giants save $2.5 million this season but will have $15 million in dead money against the salary cap. But they'll clear $19.5 million from the cap in 2019 and $17.5 million from the cap in 2020.
The trade brings an end to an era in more ways than one.
He was the last defensive starter left from the 2011 squad that defeated the New England Patriots in Super Bowl 46, 21-17. More notably, however, trading Pierre-Paul breaks the link of homegrown elite pass rushers.
It all began with Lawrence Taylor—and, believe it or not, there's a link connecting LT with JPP.
Lawrence Taylor
Taylor, who is recognized as the greatest defensive player in NFL history, began his career with the Giants in 1981.
Before he showed up, the Giants hadn't made the playoffs since 1963. Not only would they make the postseason in Taylor's rookie season, but he was named both Defensive Rookie of the Year and Defensive Player of the Year after unofficially recording 9.5 sacks.
He would also lead the Giants to the playoffs in 1984 and 1985, before leading Big Blue to its first-ever Super Bowl title in 1986, a season in which he was named NFL MVP and recorded a career-high 20.5 sacks.
Four years later he would help the Giants hoist their second Lombardi Trophy in Super Bowl 25, where the Giants defeated the Bills 20-19.
In his final season in 1993, he helped the Giants to an 11-5 record and a playoff berth before being defeated by the 49ers in the Divisional round.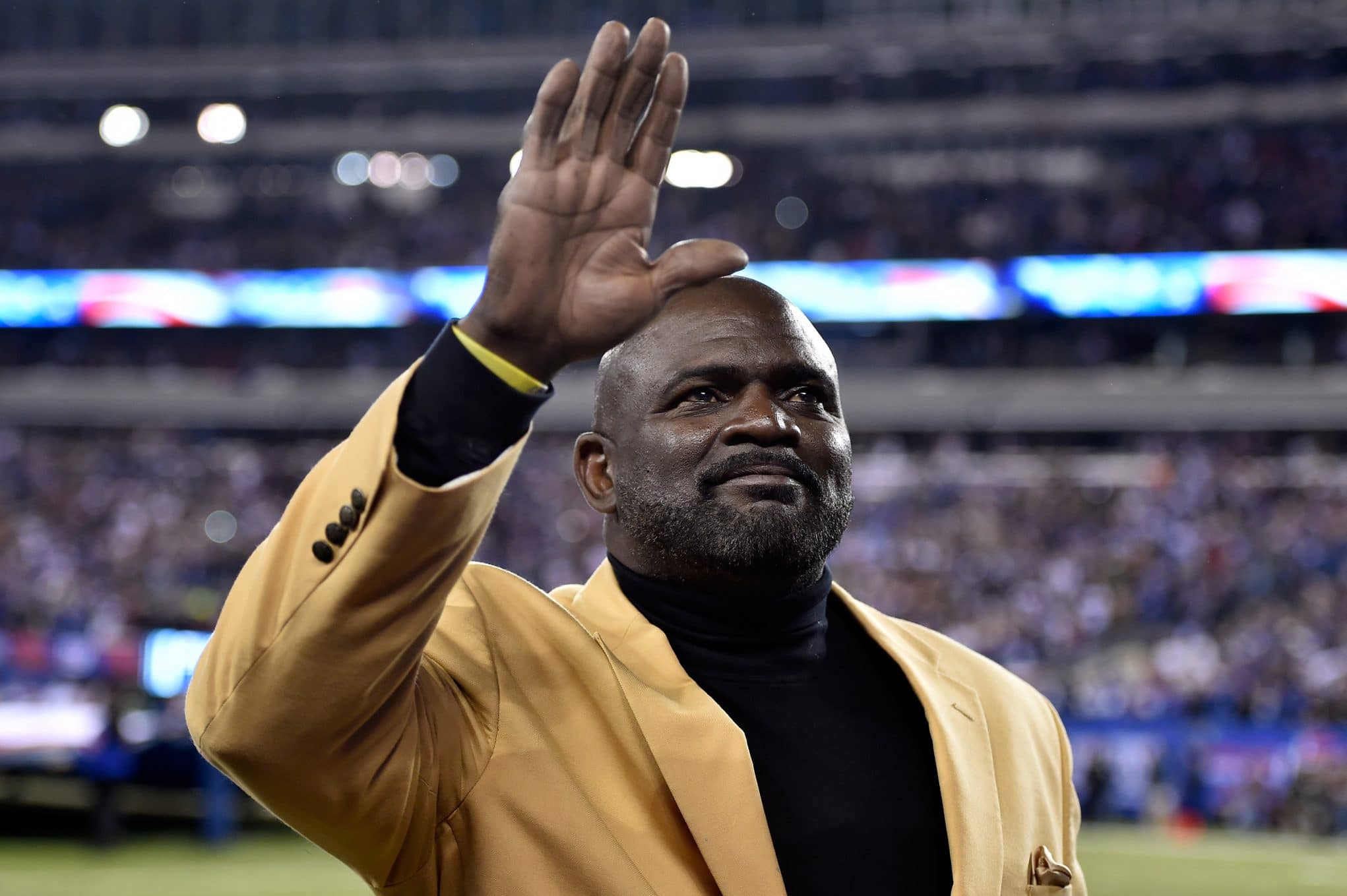 LT literally changed the game. Never before had offenses had to gameplan for a defender the way they had to prepare for him. Former Washington Redskins head coach Joe Gibbs used double tight end formations to help tackles try and block LT, no matter which side he lined up on.
At the time of his retirement, his 132.5 sacks were the most in NFL history and he was also the only player to be named Defensive Player of the Year three times. He was inducted into the Pro Football Hall of Fame in 1999.
Michael Strahan
In 1993, as LT's career was winding down, the Giants drafted defensive end Michael Strahan in the second round (40th overall) out of Texas Southern. Although he played sparingly as a rookie, playing with and being in the presence of LT had a positive effect on Strahan, who would become a Hall of Famer as well.
His sack total would go up in each of the following two seasons, and after a disappointing 1996 season, Strahan bounced back with 14 sacks and his first Pro Bowl selection in 1997, helping the Giants win the NFC East.
He would go on to make the Pro Bowl in five of the next six seasons. His best season, both of this stretch and his career, came in 2001 when he set the NFL's single-season sack record with 22.5, a mark which still stands to this day. He was also named Defensive Player of the Year.
Strahan's most fulfilling season came in his last, 2007 when he broke the Giants all-time career sack record and led them to an improbable victory in Super Bowl 42 over the then-18-0 New England Patriots 17-14.
Throughout the Giants run to the Super Bowl, Strahan was the vocal leader with the "Stomp You Out" rallying cry before every game. His 141.5 sacks are sixth-most in NFL history.
Osi Umenyiora and Justin Tuck
As Strahan was entering the back nine of his NFL career, the Giants would draft two defensive ends that would become elite pass rushers: Osi Umenyiora out of Troy in the second round of the 2003 draft (56th overall), and Notre Dame's Justin Tuck in the third round (74th overall) in 2005.
Just as the case was with Strahan, Umenyiora played sparingly as a rookie in 2003, starting just one game, recording 20 tackles and one sack. He would begin to have a big impact on the franchise the following season when his tackles total went up to 58 and his sack total to seven.
In 2005, when he led the team with 14.5 sacks and helped the Giants win the NFC East for the first time in five years, he would also join Strahan in Honolulu as he made his first Pro Bowl.
He made the Pro Bowl again in 2007 as he was the lone Giant from the Super Bowl team that was voted in. In Big Blue's Week 4 victory over the Philadelphia Eagles (16-3), he set a single-game franchise record with six sacks.
His strip sacks were making him one of the best and effective defensive ends in the league. But he tore the ACL in his left knee in a 2008 preseason game against the New York Jets and was lost for the season.
He recorded seven sacks in 2009 and 11.5 sacks in 2010, showing that he was still an elite pass rusher. Osi, Tuck and JPP would spearhead a Giants pass rush in 2011 that would lead them to the franchise's fourth Lombardi trophy.
He would leave the Giants via free agency following the 2012 season to play for the Atlanta Falcons, but in his 10 years with Big Blue, he established himself as one of the best defensive players in Giants history, and his 75 sacks are fourth-most in team history.
Tuck's career got off to an even slower start, appearing in just 20 games and recording just one sack over his first two seasons. But he emerged as a force and a nightmare for offensive linemen in 2007, recording 10 sacks as he moved around the line.
His best moment of that season came on the biggest stage in Super Bowl 42 when he sacked Tom Brady twice and forced a fumble.
In 2008, with Strahan retired and Umenyiora lost for the season, the Giants needed Tuck more than ever, and he stepped up and had arguably the best season of his career. He had a career-high 12 sacks, registered 67 tackles and helped the Giants win the NFC East. He was also named first-team All-Pro and was named to his first Pro Bowl.
During this time he also became the team's vocal leader, taking on the responsibility that used to be Strahan's before he retired.
Following a 2009 campaign that was below his standard, Tuck rebounded in 2010 with 11.5 sacks and was named to his second Pro Bowl team.
Then, of course, he helped the Giants win another Super Bowl over the Patriots where he once again sacked Brady twice, forced an intentional grounding penalty that resulted in a safety and gave an emotional pregame speech that inspired the team.
Tuck would depart following the 2013 season but was, without a doubt, one of the team's best players and leaders. His 60.5 career sacks as a Giant are sixth-most in the history of the franchise.
Jason Pierre-Paul
As Umenyiora and Tuck were established veterans on the Giants defensive line, general manager Jerry Reese added some youth to the line as he selected Jason Pierre-Paul in the first round of the 2010 draft (15th overall).
He managed four and a half sacks as a reserve in his first season. But with Tuck and Umenyiora battling injuries in 2011, he had one of the best seasons ever by a Giants defensive player.
He recorded career-highs in tackles with 86 and sacks with 16.5. He also made one of the biggest plays of the season when he blocked a Dan Bailey game-tying field goal attempt in the final seconds of the Giants 37-34 victory over the Dallas Cowboys in Week 14.
Without JPP's performance in 2011, there's no way the Giants would have made the playoffs, much less the Super Bowl.
The following season he would once again be named to the Pro Bowl, but in 2013, back issues limited to just 11 games in which he recorded just two sacks.
In 2014 he had the second-best season of his career, finishing with 12.5 sacks and 77 tackles. JPP was in the prime of his career and was on his way towards earning a huge contract.
But then his infamous fireworks accident on July 4, 2015 happened, drastically impacting his life and career.
He showed resiliency in coming back from that devastating injury, in which he lost parts of his right hand, and recorded 16 sacks in his two and a half seasons after his accident.
But with his right hand compromised and the Giants switching to a 3-4 defense, JPP became expendable.
Thank You, JPP!
– 8 seasons
– 2X Pro Bowler
– 2011 First-Team All-Pro
– Super Bowl XLVI Champion pic.twitter.com/mBLvxj4vRK

— New York Giants (@Giants) March 22, 2018
Despite his career not being what it should have been if not for his accident, he's still one of the best pass rushers in Giants history with 58 career sacks.
The combination of LT, Strahan, Osi, Tuck and JPP registered for a combined 467.5 sacks, 23 Pro Bowl selections, and gave many quarterbacks and offensive coordinators sleepless nights as they tried—mainly in vain—to prepare for them.
Perhaps the Giants will draft their next great pass rusher in this year's draft. North Carolina State defensive end Bradley Chubb could be the guy they take with the second pick in the draft.
The irony of that, of course, would be that the last time the Giants took a pass rusher with the second pick in the draft it was LT back in 1981.
So perhaps Chubb will start the new link and era of great Giants pass rushers. But he—or whomever the Giants draft this year—will have a tall order ahead of them to live up to the reputation of the great pass rushers that came before them.