Long Island's Tim Parker is in a contant NY state of mind with the New York Red Bulls. 
Growing up in Hicksville on Long Island, Red Bulls defender Tim Parker was well aware that the local hero was Grammy Award winning musician Billy Joel. In fact, there are lyrics in many of the Piano Man's hits that bring pride to the community and that has made Parker a huge fan.
"Yeah big time," said Parker. "It's funny because some of his songs have local Hicksville watering spots so It's been kind of funny to hear some of those songs."
So now that Parker has made it big time in Major League Soccer, is he the second most famous graduate from Hicksville High School?
"Technically (Joel) didn't graduate," chuckled Parker.
Parker may technically be right about that because Joel did come up one credit short of graduating in 1967 when he overslept for an English exam. But in 1992, Joel finally received that degree after sending in samples of his work to the school in order to make up that one credit.
So I re-phrased the question to Parker … Is he the second most famous person to "attend" Hicksville High School?
"I don't know … maybe," said Parker, who is now the local "Big Shot" after the Red Bulls acquired him on March 2nd from the Vancouver Whitecaps in exchange for midfielder Felipe, an international roster spot for 2018 and $500,000 in Targeted Allocation Money over two years.
After three seasons in Vancouver, Parker certainly loved his days with the Whitecaps but there's no doubt he was thrilled to be moving back east closer to the Village Green.
"I was really happy," said Parker. "To get the opportunity to come home for me meant a lot. It was good to know that it was a club that really wanted me and it was close to my heart because it's my hometown."
A hometown in which Parker grew up a fan of the Yankees, Giants, and Rangers but played soccer as a child because that's what so many kids did in his community. There wasn't any one team or player that inspired him to play. It was just the thing to do on Long Island.
"To be honest, I just started playing at a young age because it was one of the first sports you could play on Long Island," said Parker. "Since that time I started playing, I just fell in love with the game and really enjoyed it."
Parker was a two-time team captain at Hicksville High School and once scored the game-winning goal in the Nassau County Championships on his way to Nassau County Player of the Year honors. He went on to a brilliant career at St. John's University and then was taken 13th overall by Vancouver in the 2015 MLS SuperDraft.
Already a veteran of three MLS seasons, Parker is a perfect fit for the Red Bulls who have made a commitment to youth with homegrown players like Tyler Adams, Sean Davis, and Ben Mines. At 25 years old, Parker blends in well to a Red Bulls roster that has a mix of youth and experience.
"I know they have a lot of good young players and I wanted to just come in and kind of be one of those young players," said Parker who has twice been called up to the United States National Team. "I've been in the league a couple of years now but I still consider myself a young guy on the team. I'm still learning every day."
After his arrival, Parker assumed center back duties on the Red Bulls back line and is part of the last line of defense in front of goalkeeper Luis Robles. Parker is excited about playing in front of the Red Bulls captain and one of the best keepers in MLS history.
"It's great," said Parker. "I think I summed him up pretty good when I played my first game against Tijuana. He set the standard pretty high for himself. He's a great goalkeeper and he does a lot."
Parker was referring to a brilliant performance that Robles turned in during the quarterfinals of the CONCACAF Champions League against Tijuana. Parker and the Red Bulls are now through to the semifinals against Chivas with leg one on Monday April 2 in Mexico and leg two on Tuesday April 10 at Red Bull Arena. It's a pretty significant accomplishment for the franchise and Parker is now a big part of it.
No pressure, Tim!
"We're excited," said Parker. "Sometimes it's a little bit of a tough transition to switch your mind from the league to the cup. I think we're just trying to take advantage of every opportunity and every game that we have right now and keep this kind of run of form and momentum that we have going."
Parker made his Red Bulls MLS debut in this past Saturday's1-0 loss at Real Salt Lake. This Saturday night, Parker and company are back home in Harrison to host Minnesota United FC at Red Bull Arena. It's a chance for the Red Bulls to go 2-0 this season on their spectacular home pitch and get back to their recent winning ways.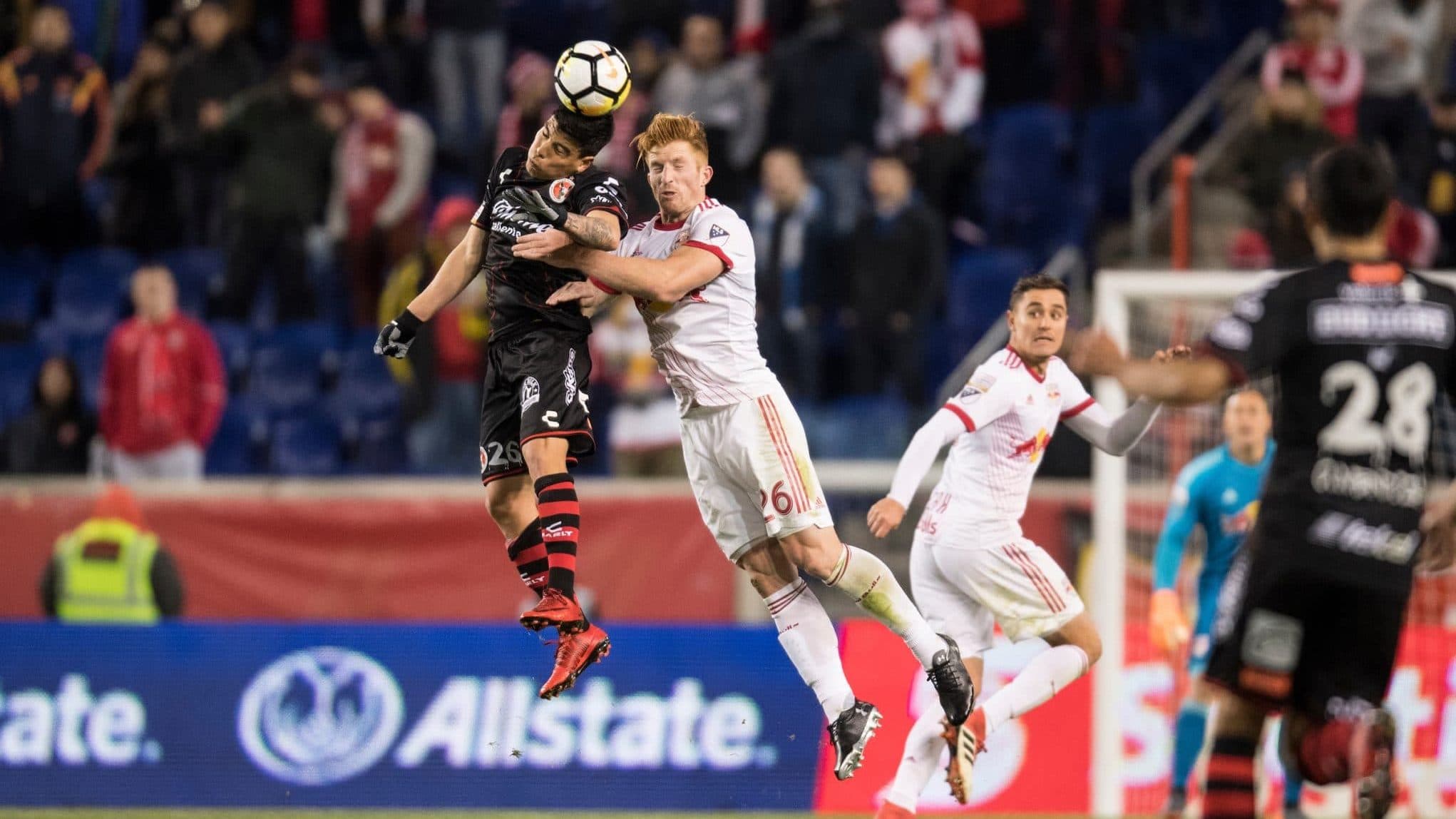 "I think we do have to make a statement about playing at Red Bull Arena," said Parker. "I think we want to make that place hard (for other teams) to play against us there so. We definitely have a statement game to make."
Perhaps a little slice of Long Island will be on hand to cheer on Parker and the Red Bulls. As our area hopes to finally turn the page on the bad weather, Parker is looking forward to family and friends (maybe even Brenda and Eddie) making the trip across the George Washington Bridge to see him in action.
"I'm sure once the snow stops coming and the weather gets a little bit better, they'll have a plan for some kind of bus and tailgate situation to go to a game," said Parker. "There's definitely going to be some new season ticket holders I think for sure."
Tim Parker has played soccer all around the world but there's nothing like being home in front of family and friends where everybody loves him. He's an important piece of the puzzle for the Red Bulls who continue to follow their blueprint in building an MLS Cup Championship team. When that happens, Parker would certainly bring that trophy home to Hicksville for all to see and celebrate.
That would be some scene at an Italian restaurant.