It'll take a few years to fully analyze Thursday morning's trade between the Giants and Buccaneers. But in the immediate aftermath, Jason Pierre-Paul, the main component of that trade, is a clear winner.
The Tampa Bay Buccaneers didn't need to do any plundering to find hidden gold. They bartered with the New York Giants instead.
Defensive end Jason Pierre-Paul is headed to Tampa via trade, ending the lineman's eight-year tenure in blue. The trade assists the Giants' future, as they obtain two mid-round picks in this spring's draft and open up some cap space with long-term deals potentially coming for stars like Odell Beckham Jr. and/or Landon Collins. The move also strengthens Tampa Bay's front seven, bolstering a defense in need of a reboot.
But perhaps, most importantly, the party benefitting the most from this trade is Pierre-Paul himself.
Pierre-Paul was part of the Giants' 2017 offseason of opulence, a transactional period of ignoring real problems and indulging in shiny weapons, old and new. The team felt really lucky on St. Patrick's Day, bestowing a four-year, $62 million new deal to Pierre-Paul, who was previously franchise tagged.
It's easy to see how Pierre-Paul earned a deal like that. Since entering the league in 2010, he has defined toughness and perseverance, playing a brand of smash-mouth football that has defined the Giants' defensive triumphs. It'd be Pierre-Paul who'd always get the locker room, and the fans, pumped with big words and social media posts full of hype, leading the Giants community into Sundays with a head of steam.
No one can ever question Pierre-Paul's toughness, either.
Forever cursed with the aftermath of a careless decision in July 2015, one that cost him his right index finger, Pierre-Paul still managed to play half of the 2015 season, before returning with a vengeance the year after.
Few will forget, for example, his three-sack, one touchdown day in Cleveland. Taunting Eagles fans, who undoubtedly reminded Pierre-Paul of the aftermath of the fireworks accident, were swiftly silenced when they visited East Rutherford, as a blocked Pierre-Paul field goal turned the tide of a rare blue triumph over the Eagles.
Like so many of his teammates, however, Pierre-Paul was swallowed up by the monstrous cesspool of the 2017 Giants season.
While Pierre-Paul led the team with 8.5 sacks, it still proved to be one of the toughest seasons of his career. The year began with some lofty expectations from Pierre-Paul himself, who used the word "undefeated" when talking about his team's potential.
"I feel like no spot is weak," Pierre-Paul reported to Newsday's Brian Heyman. "I feel like with the players that we have, as long as we all work together, we'll be undefeated. Nobody can defeat you when you all are working together."
As every Giant fan knows by this point, the team did not go undefeated.
Pierre-Paul did what he could as his teammates dropped like flies, be it from suspension or injury. A de facto elder statesman, the enhanced leadership duties seemed to take a toll on him. Big tackles weren't as easy to come by, big stops few and far between. By the end of the year, Pro Football Focus had ranked him 43rd among defensive ends.
"You just got to fight through it and motivate yourself to keep on going," Pierre-Paul said of his leadership role in December. "Let other players see that you're going and hopefully they will rally around you and keep on rallying around the ball."
After the Giants' season finale victory over the Washington Redskins, a team Pierre-Paul routinely terrorized throughout his career, the lineman was on board with whatever changes new general manager Dave Gettleman was ready to make.
"Whatever he does, I'm behind him," Pierre-Paul said after the Giants' 18-10 win. "I'll be ready to play football next year."
There's no doubt of that latter part. Even with Pierre-Paul's career at a potential crossroad, no one can doubt his toughness. It's simply a case of New York no longer being the best place for him anymore.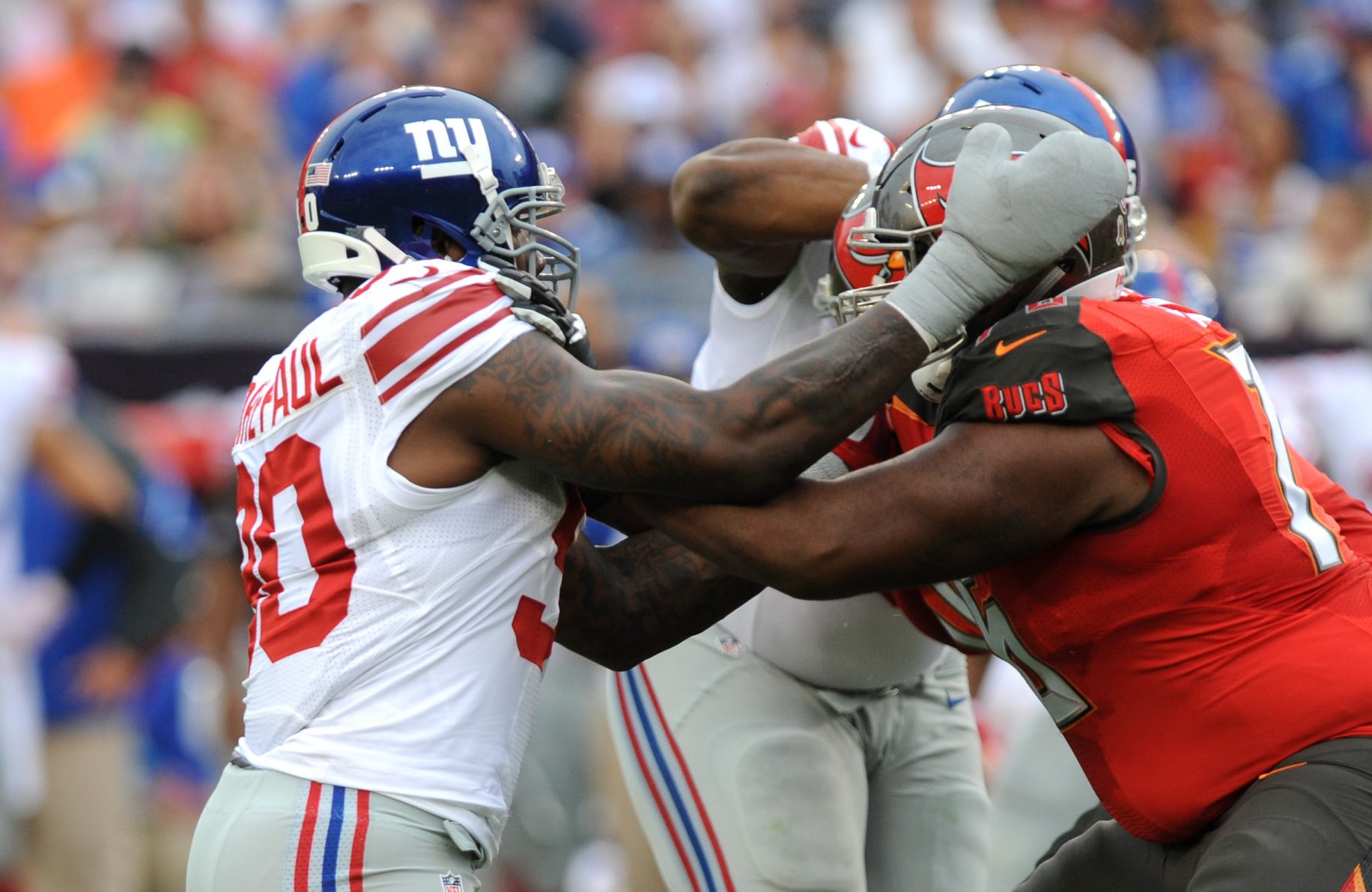 Pierre-Paul needed a place where he can be held accountable, a place where unbiased views would dominate the landscape. He wasn't getting that in New York.
Legions of fans took to social media after the trade to share their favorite Pierre-Paul memories, the most popular being the blocked field goal in Dallas that set the Giants off on a Super Bowl run in 2011.
That season undoubtedly goes down as one of the most dominant in Giants history, a season that ended with 16.5 sacks and a Pro Bowl nod, despite his name not even being on the ballot.
Pierre-Paul, while extremely productive, was never able to truly match those numbers, but 2011 perhaps still caused Giants fans—and maybe even management—to look at him through rose-colored glasses.
That's why Tampa is the perfect place for him.
At first glance, there are no Giant connections to Tampa Bay, other than the fact that they're set to square off at MetLife Stadium this fall. An outside source, Pierre-Paul can showcase his leadership skills, whipping a woebegone Buccaneers defense, one that ranked near the bottom in almost all major categories last season, into shape.
It's a unit filled with young, strong talent, one that veteran defensive tackle Gerald McCoy can't work with alone. Tampa Bay has the names, the youth, to succeed in a future NFL. All they need is a leader, someone who has been there before. Pierre-Paul, one of the few players on the new Tampa roster to see playoff action, can be that guy.
Despite the potential strange new world, the potential awkwardness of a new home, Pierre-Paul does have a word to describe Tampa: home.
It was in Tampa that Pierre-Paul first formally introduced himself to professional football. Not as a member of the Giants, but a member of the University of South Florida Bulls.
A transfer from Fort Scott Community College, Pierre-Paul's one year with the Bulls came in the midst of USF football's emergence, back when the school was introducing itself to prime time as well. In the 2009 season, Pierre-Paul picked up 16.5 tackles for a loss, good for second in the Big East, and returned an interception for a touchdown during a trip to Syracuse, undoubtedly a home of some of his future fans.
Ironically enough, the Buccaneers are in a similar spot.
The Bucs are trying to reintroduce themselves to the national football conversation. Now at a decade, their active playoff drought is second to only Cleveland for the longest in the league, and they haven't won a playoff game since their lone Super Bowl in 2003. This can be a fresh start for all sides, a chance to return to respectability.
It'll take years to analyze, especially with the Giants' return being third-and-fourth-round selections, but this trade is going to forever haunt or help Gettleman. To come in and trade one of the most beloved names in recent team history is a gutsy move, especially for two names that potentially won't make an immediate impact.
But, for now, it's clear the trade has one winner: Jason Pierre-Paul.
Follow Follow Geoff Magliocchetti on Twitter on TWITTER