Jason Pierre-Paul may be bound for Tampa, but the departing defensive lineman made some unforgettable memories in New York Giants' blue.
The New York Giants have bid farewell to several familiar faces this offseason, including cornerback Dominique Rodgers-Cromartie and offensive lineman Justin Pugh. Defensive end Jason Pierre-Paul's departure, however, may be the biggest blow Big Blue has dealt their fans yet.
JPP, the longest-tenured Giant other than quarterback Eli Manning or long snapper Zak DeOssie, was traded on Thursday morning to Tampa Bay, in exchange for two mid-round draft picks.
Pierre-Paul will undoubtedly go down as one of the more popular defensive talents in team history. Arriving in New York as a first-round selection out of South Florida in 2010, Pierre-Paul terrorized offenses throughout the league and played a big part in the Giants' fourth Super Bowl run in 2012.
Relive some of the best moments of his Giants career below, capping off a career that could one day be commemorated in MetLife Stadium's Ring of Honor.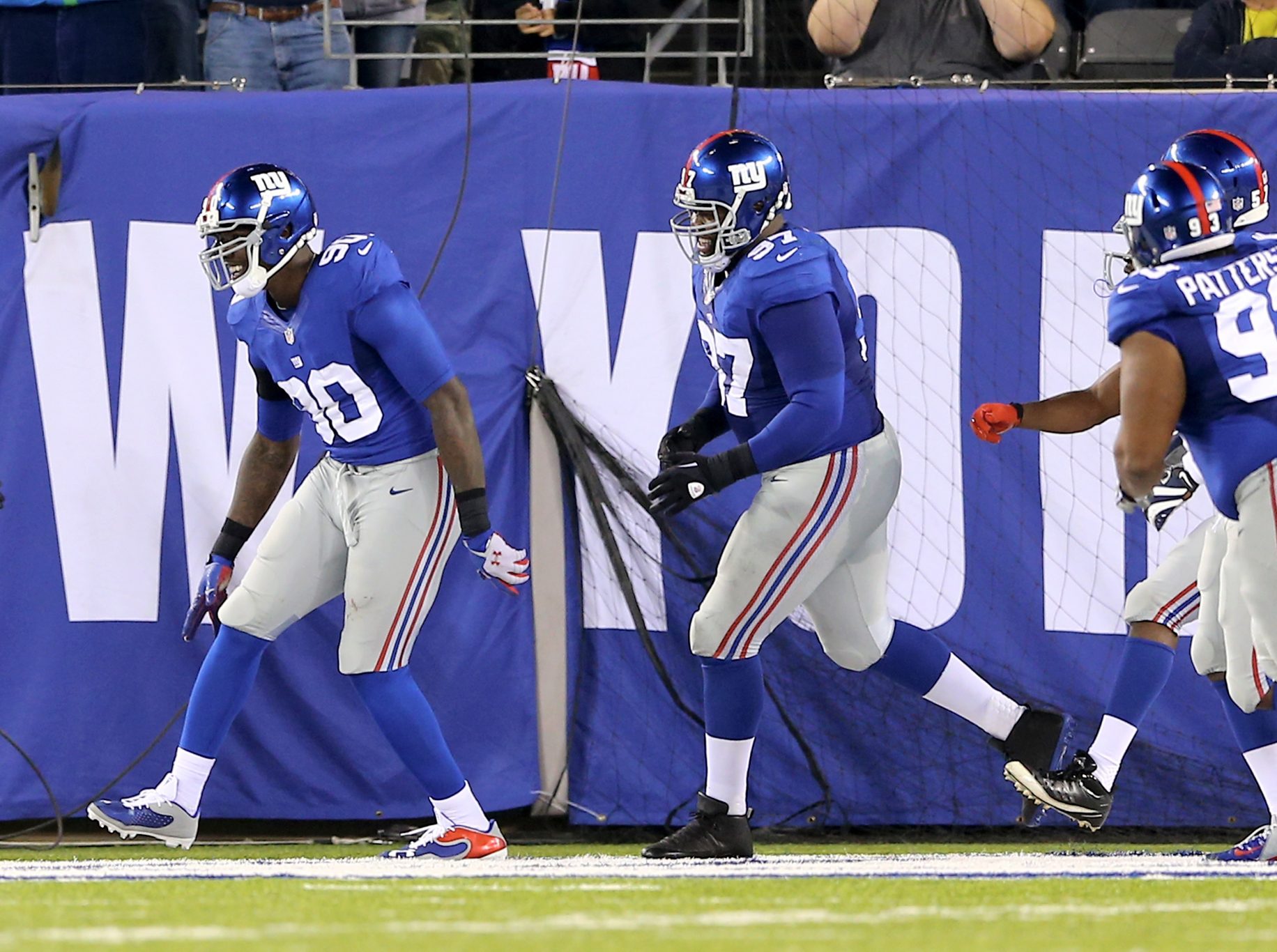 5. Pack in the New York Groove
Pierre-Paul had just two tackles in a more memorable Giants-Packers showdown, their 37-20 upset victory in the NFC Divisional playoff en route to the Super Bowl in 2012. When Green Bay visited East Rutherford in 2013, however, Pierre-Paul sent the MetLife Stadium faithful home happy.
With the Packers embarking a game-tying drive in the fourth quarter, Pierre-Paul instead dealt a punishing blow, swiftly swiping a Scott Tolzien pass away before rambling 24 yards for a touchdown, the sealing score in a 27-13 Giants win.
4. The Beginning
No one was more excited to hear the news of Pierre-Paul's Giant departure than Big Blue's NFC East brethren, who were terrorized by the USF product over the past eight seasons. The Washington Redskins were the first of the Giants' rival trio to fully experience the wrath of Pierre-Paul, as they made their first visit to MetLife Stadium (then known as New Meadowlands Stadium) in 2010.
Pierre-Paul cleared his throat the week before, earning two sacks in the Giants' 24-20 home win over Jacksonville. But against Washington, Pierre-Paul officially introduced himself to the NFL world. He once again picked up a pair of sacks, with longtime Giants nemesis Donovan McNabb being the victim, and also recovered a Chris Cooley fumble en route to a 31-7 Giants victory.
For his Giants career, Pierre-Paul tallied 12.5 sacks against the Redskins, his highest against any team.
3. Texas Hold 'Em
Pierre-Paul always had a strained relationship with the Dallas Cowboys and their fans. Watching his play over the years, it quickly becomes obvious why they were never a truly healthy couple.
In the early days of AT&T Stadium, the Giants enjoyed plenty of success at Jerry Jones' billion-dollar Arlington palace. Pierre-Paul was a big part of that prosperity, and it was, appropriately, against the Cowboys that he scored the first touchdown of his career. In the 2012 visit to North Texas, the Giants jumped out to a 23-0 lead, and that scoring spree was capped off by a Pierre-Paul takeaway, taking a Tony Romo interception back 28 yards for a score.
That exciting score was not the first points of Pierre-Paul's career. More on that a few spots down.
2. Cleveland Rocked
Limited in the 2015 season due to an infamous fireworks accident, Pierre-Paul returned to the Giants at full strength in 2016. In the team's late November visit to Cleveland, Pierre-Paul dethroned LeBron James for a day, taking over the city in horrifying fashion in perhaps the best individual performance of his career.
Pierre-Paul sacked Browns quarterback Josh McCown three times, including twice in the fourth quarter, where he put the finishing touches on a 27-13 Giants win. With New York clinging to an eight-point lead, Pierre-Paul put momentum firmly on the Giants' side with a 43-yard fumble return for a touchdown, the third score of his career. He victimized McCown one more time on Cleveland's final possession, forcing a fumble that landed directly into the hands of Kerry Wynn.
1) Block Party at Jerry World
It could be a stretch, but if this play doesn't go down, there may not be a fourth Vince Lombardi Trophy greeting visitors at Quest Diagnostics Training Center's entrance today.
The Giants and Cowboys, like they so often have in the past decade, met for a Sunday night showdown of enormous importance. The Giants were clinging to their playoff lives, while the Cowboys were the NFC East front-runners. Pierre-Paul, in the midst of a 16.5 sack season, got the game off to a roaring start, as he sacked Romo in the end zone to earn the first points of his career and give the Giants a 2-0 lead.
Despite the game turning into an offensive showcase shortly after, Pierre-Paul continued to make his prescience felt. He indirectly created more Giants points, as he forced a Felix Jones fumble deep in Dallas territory to set up a Lawrence Tynes field goal, and picked up another sack that forced another Dallas punt.
It was on special teams, however, that Pierre-Paul set up a New York title run.
The Giants fought back from a late two-score deficit, earning a 37-34 lead in the dying stages. However, they almost became victims of Romo fourth-quarter magic, setting up rookie kicker Dan Bailey for a 47-yard field goal for the tie.
In the end, though, Pierre-Paul's block up the middle caused the kick to fall harmlessly to the Arlington turf, giving the Giants the much-needed victory.
After that famous block, the Giants won two of their three remaining regular-season games, including a regular-season finale rematch with the Cowboys, to earn the NFC East title. Just over a month later, they were Super Bowl champions.
Follow Follow Geoff Magliocchetti on Twitter on TWITTER