The New York Giants inked running back Jonathan Stewart on a two-year deal Tuesday afternoon. Contrary to what some believe, it was a shrewd move.
Signing a 30-year-old halfback isn't going to excite a fanbase. But considering what Jonathan Stewart can provide for the New York Giants, he's a shrewd gamble to take.
Tuesday afternoon, the Giants agreed on a two-year, $6.9 million deal to bring Stewart to East Rutherford. They announced the signing via Twitter Tuesday night.
Welcome to Big Blue, Jonathan Stewart! #NYGiants sign the veteran RB.

DETAILS: https://t.co/G7KkA9l7xK pic.twitter.com/JRUXJkVI7z

— New York Giants (@Giants) March 14, 2018
At first glance, adding a 30-year old running back who doesn't have the greatest track record when it comes to his health sounds like a bad idea. You don't exactly envision giving a back with those two liabilities 20-to-25 carries a game. At the same time, Stewart played in 15 games in 2017, which was the most appearances he made in a single season since 2011. The veteran also isn't likely to be heavily relied on to lead the team's running game.
With Orleans Darkwa likely departing in free agency after Stewart's signing, the Giants, for the moment at least, are going to feature second-year back Wayne Gallman in the backfield. Last season, Gallman ran for just 476 yards but averaged a healthy 4.3 yards per carry with a shaky offensive line in front of him.
He was the Giants' quickest back and showcased the ability to thread the needle. With the signing of New England Patriots' left tackle Nate Solder and potential drafting of Notre Dame guard Quentin Nelson (who the Giants are fond of), Big Blue will have a more stable line to run behind, and it may only improve as free agency goes on. This will significantly benefit Gallman and Stewart.
Last season, Stewart split downs with rookie Christian McCaffrey in the backfield and averaged a career-low 3.4 yards per carry. That gives the impression that he may not be a force for the Giants. But the veteran can be utilized in short-yardage situations, including third downs and goal-line scenarios. He's a power back who can pick up gritty yards when needed. Rushing for six touchdowns last season—more than any halfback on the Giants—he proved he can still punch it in at the goal line.
Look at the contracts that have been handed out to running backs this offseason.
Dion Lewis was given a four-year deal from the Tennessee Titans. While he is quick, the former New England Patriot cannot push the pile and is basically an expanded version of Gallman. Isaiah Crowell and Carlos Hyde each inked three-year deals.
One name linked at will to the Giants was Minnesota Vikings' back Jerick McKinnon based on now-head coach Pat Shurmur being his offensive coordinator last season. And while the four-year back can roll out as a receiver and be relied on to carry the ball 15 times a game, McKinnon is not worth the four-year, $30 million deal he received from the San Francisco 49ers. The Giants need help up front more.
In comparison, Stewart's deal looks like a bargain signing by general manager Dave Gettleman.
A viable argument could've been made for Darkwa being the better option to serve as a premier back, considering he's a younger version of Stewart (power back, doesn't go down easily). At the same time, free agency in the NFL is the fastest-moving period in sports and perhaps the Giants were of the belief that they needed to ensure signing a back before it was too late? That Stewart was willing to commit while Darkwa wasn't?
Many are also arguing that drafting Stewart limits what the Giants can do with the number two overall pick in the NFL Draft, an argument that doesn't make any sense.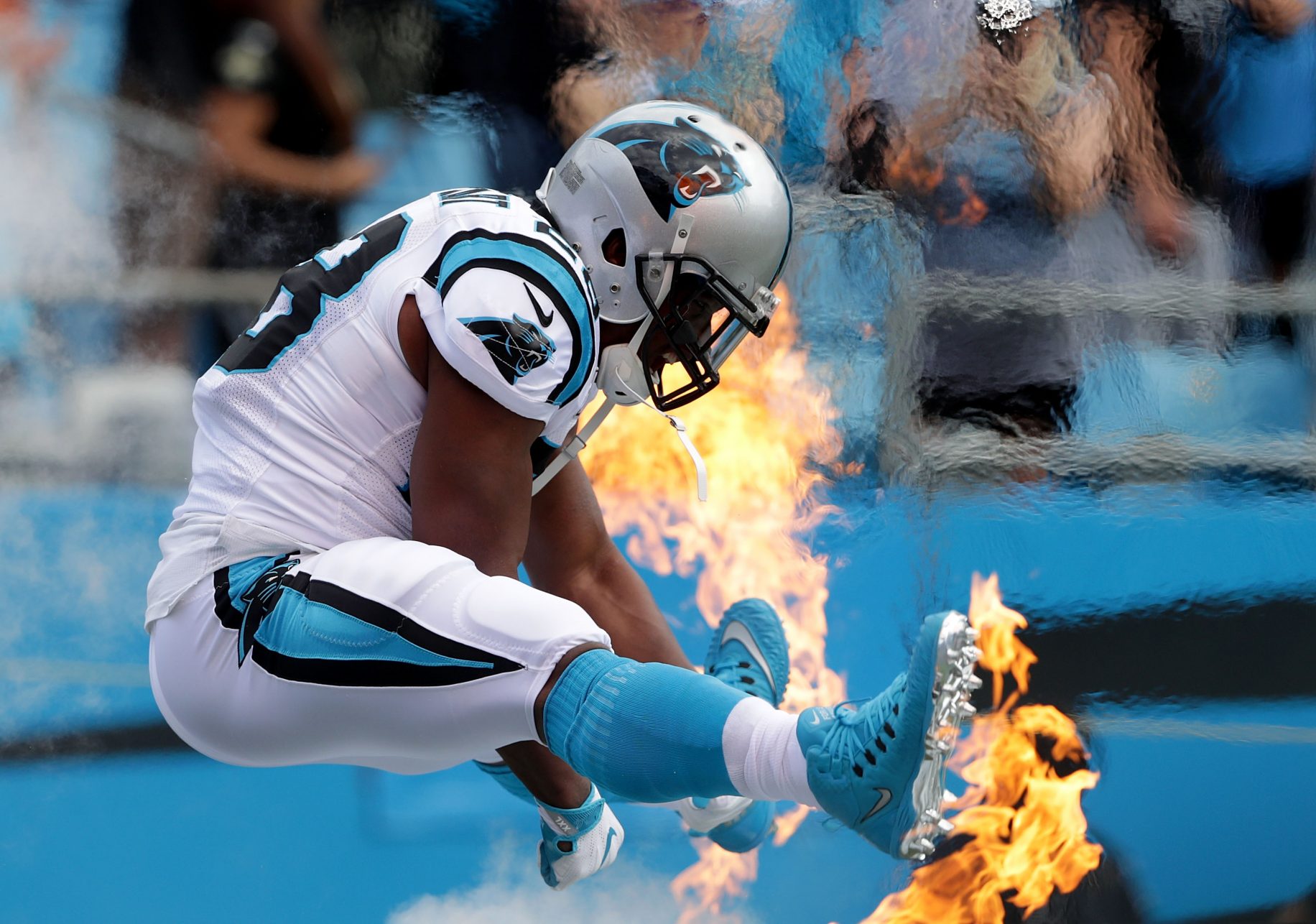 Stewart isn't going to be getting the ball 20 times a game and isn't part of any long-term plans for the Giants. He was brought in to provide depth, as well as a veteran and power presence. Many teams and players covet or speak fondly of Penn State running back Saquon Barkley based on his stellar quickness, ability to shed tackles with ease and pose a versatile threat. If the Cleveland Browns don't take him with the number one pick, are Gettleman and the Giants going to be thinking they can't draft Barkley because they signed Stewart?
If they want Barkley, they'll take him at two and go with three halfbacks (Barkley, Gallman, and Stewart).
Stewart isn't going to turn back the clock to 2009 or even make the Pro Bowl this season, but his signing makes sense for a Giants' team looking to bolster their offensive line first and then fill in the holes elsewhere on their offense.
With a passing attack featuring Eli Manning, Odell Beckham Jr., Sterling Shepard, Evan Engram, Roger Lewis and a now-respectable offensive line, a potent running game isn't going to make or break the Giants' offense.
Stewart is essentially on a one-year deal with the Giants, as only $2.9 million of his deal is guaranteed. If Stewart plays well, they can bring him back for 2019 and if he doesn't, they part ways at year's end. Either way, the signing is a shrewd transaction for Gettleman and company; its a no-risk move.