Despite a less than stellar season from the Brooklyn Nets this year, their future is bright. Here's a breakdown of the current crew.
The Brooklyn Nets have had an underwhelming season this year. They sit in 13th place in the Eastern Conference with a 21-47 record. They are also in a unique position because they do not have their 2018 first round draft pick, which was sent to Cleveland from Boston in the unexpected Kyrie Irving trade.
Basically, they have nothing to gain this season through tanking, yet their roster is weak enough to find themselves in the same position as aggressively tanking teams like Orlando, Atlanta, and Sacramento. However, this does not at all mean that the season was unsuccessful. The Nets have used this year to test young talent in coach Kenny Atkinson's fast-paced system, which they have quite a bit of.
Brooklyn is reaching a crossroads. Although the negative effects of the Brooklyn-Boston trade from 2013 (aka The Worst Trade in NBA History) is still haunting them, general manager Sean Marks and Atkinson have actually done really well acquiring and developing young talent, given the awful circumstances they were put in. Brooklyn needs to make decisions on who is going to remain a part of team's future.
Their current pieces are favorable moving forward for different reasons, and some have value in different ways. To me, their talent can be broken into a few groups: The Must-Haves, Future Trade Assets, Future Role Players, and Non-Assets. First off, and most importantly, these are the players that need to be prioritized moving forward.
The Must-Haves:
In my eyes, this group is made up of Caris LeVert, Jarrett Allen, and Rondae Hollis-Jefferson.
LeVert is one of the NBA's most underrated and under-the-radar players. With extended absences from starters D'Angelo Russell and Jeremy Lin, LeVert has seen his opportunity with the Nets increase heavily. He has proven to the city and organization that he has the makings of a fantastic NBA-level guard. He is a 6-foot-7 quick playmaker with great vision and feel for the game. While he wasn't a blue-chip draftee coming out of his four seasons at the University of Michigan, he has a constant progression to his game that mimics how Kawhi Leonard became a star. Improvement year in and year out will see his game blossom, as he has all the pieces needed to become an elite playmaking guard that can score from any spot on the court, penetrate defenses, effectively dish to shooters or bigs, and defend any guard or smaller wings.
In today's NBA climate of offense that revolves around a guard killing defenses in the pick and roll, LeVert has a really high ceiling to become an impactful starter in Brooklyn for a minimum of six or seven more years. As a second-year player, he is older than most at 23, but the way he progresses almost on a game-to-game basis signals he will have a long and valuable prime.
One of these games that showcased LeVert's upside came against the very competitive Los Angeles Clippers, in which he scored 27 points on 11-for-19 shooting, including 5-for-7 from three-point range, along with five boards and five assists. He also had two steals, a block, and only two turnovers in just 29 minutes. LeVert is on a Team Option for two more years and in 2020 will only make a little over $2 million. Once it's time for an extension, the Nets can break the bank for this stud.
Rondae Hollis-Jefferson is another great piece to have moving forward. While he plays a lot of small forward for right now, he makes perfect sense moving forward as a small-ball 4, and in extreme circumstances, he could even play as a small-ball 5 a la Draymond Green or P.J. Tucker. Rondae isn't a great three-point shooter, but is quite competent scoring inside the arc. He's shooting 47 percent from the floor this year, including 50 percent on shots between 10-16 feet, and taking less than one three-pointer a game. His defense, strength, and athleticism are solid and he makes sense as a "glue guy" for a team like this.
Per 36 minutes, he is averaging three assists, which indicate he can keep the ball moving and excel in Atkinson's uptempo system once he is instated as a permanent starter. His ceiling isn't as high as LeVert's, but he is only making $2.47 million next season. The Nets will hopefully be able to extend him for a reasonable contract once he is eligible.
Jarrett Allen is the Nets' rookie center who was drafted in 2017 with the 22nd pick. He has shown awesome flashes this year as a rim protector and rim runner. He has the style of solid bigs like DeAndre Jordan, Clint Capela, and Tristan Thompson (pre-2018) as a center that deters shots at the rim on defense while also remaining at least average switching out to the perimeter. This type of defensive versatility is a must to be an effective big in the modern NBA. Throughout this season, he has proven he has such a high ceiling as a center. Since Christmas through 31 games, he has started 17 games and averaged 10 points and six rebounds on 65 percent shooting from the field. Per 36 minutes in his last 20 games, Allen has averaged 19 PPG, 11 RPG, 2 APG, and 1.6 BPG, and he's only 19 years old.
The Nets found one of the steals of the draft in 2017, and it's already paying off. He is signed on a rookie-scale contract until the 2020-2021 season, in which he'll make $3.9 million, practically an NBA minimum wage. He has really high upside and a good chemistry with Caris LeVert. Allen, RHJ, and LeVert make up a young, offensive and defensive-minded core, which can take them far moving forward.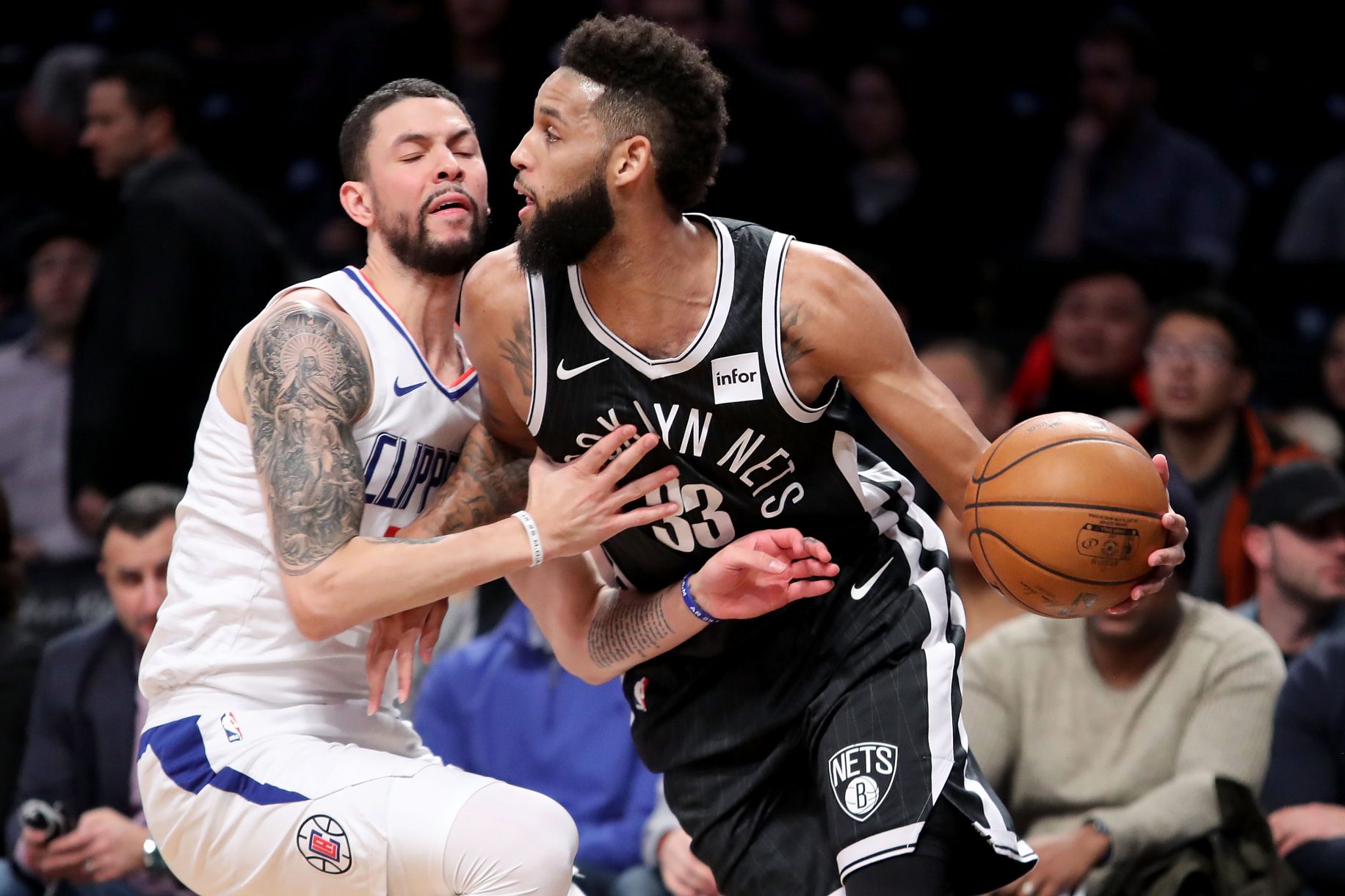 Future Role Players:
The special thing about this Brooklyn Nets roster is how much young potential there is, which they've managed to find without a whole bunch of draft picks that were lost to the Paul Pierce-Kevin Garnett trade. While these players don't quite have the upside of LeVert or Allen, they will round out a potential nine or 10-man rotation once the Nets are ready for the playoffs a few years from now. In this group, I thought Joe Harris, Allen Crabbe, Jeremy Lin, and D'Angelo Russell made the most sense, with Russell being the hardest to think about in terms of a future with Brooklyn.
Russell has had ups and downs over his career. Through his three seasons in the NBA, he has averaged 14.6 PPG on 41 percent FG and 34 percent on three-point shooting, and that's not great. This year, he's averaging a solid 4.8 assists, but this overstates his playmaking ability. Per the awesome cleaningtheglass.com, Russell is in the 42nd percentile in assist-to-usage ratio and 33rd percentile for turnover rate, which is really underwhelming.
Russell also doesn't have much defensive upside. He is awful at defense, and shouldn't be a starter moving forward because of it. For now, he can't guard other guards, and especially can not be put on wings. He could be great off the bench to hit buckets and penetrate a defense in a Lou Williams-esque role. As he's only 21, there is much room to improve, and if he really works on his game, he could be a nice piece with LeVert to stretch the floor off the ball or lead the bench.
Allen Crabbe is an intriguing piece as well. As a knockdown shooter with about average defense, he is valuable, even with his pricey contract. While there are downsides with his streaky shooting and playmaking, he is a good off-ball option that doesn't kill you on defense. In the 2016-17 season with Portland, he was super efficient, shooting 44 percent behind the arc and an effective field goal percentage of 57 percent.
However, with increased usage in Brooklyn combined with less-imposing offensive teammates, he has seen a dip in shooting, specifically from three which is at 36 percent right now on seven attempts per game. The shooting potential is there, though, and this season is a low-end aberration that won't continue. He is 25, but if he stays in Brooklyn, he should be effective for 5-7 more years at least.
Joe Harris has been a pleasant surprise for Brooklyn. He has been touted as a three-point specialist, but has improved his game to such a degree that he's even a effective playmaker, floor spacer, and defender. He should be a fantastic bench or starting option depending on the circumstance, and this year he's getting 10 ppg on an unreal 40.4 percent beyond the arc. Combine that with his one turnover per game, Harris can be a solid piece on a playoff team as a secondary or tertiary ball handler, similar to players like Cleveland's George Hill. He is 26 and making $1.7 million this year. He can be a nice, reasonably priced rotation player for several years if they keep him.
Jeremy Lin was also tougher to gauge as a permanent Brooklyn piece due to injury. He's older than everyone else here, but he is an underrated point guard. He has high IQ and playmaking instincts, and he can also shoot and run pick and rolls as he did in Charlotte and Houston. I see Lin as the veteran of this younger core, and he really is a smart player. He's signed through 2019, when he will make $12 million. His next contract could be a bit pricey as well, but he will be 30 by then, and most likely won't command too much money from most teams.
Trade Assets:
Another way the Nets are sitting in a nice position moving forward is through the potential to make trades. They have great players to move to other teams in exchange for either other pieces that make sense moving forward, or picks for future drafts. Either way, Spencer Dinwiddie and DeMarre Carroll could be very valuable on the trade market.
Dinwiddie has become a Brooklyn phenomenon this year. Once Russell and Lin were injured, Dinwiddie was thrown into the starter role and completely turned his career around. His great playmaking talent has been on full display all year, and his defense was a pleasant surprise. He is a superb facilitator.
Per the great cleaningtheglass.com once again, Dinwiddie's advanced stats are fantastic. With poor offensive teammates, he still managed to be in the 94th percentile of both assist percentage and assist-to-turnover ratio, along with the 89th percentile in turnover rate. His scoring is not efficient, but with a better team around him, he would surely have better shooting percentages. As a 6-foot-6, 24 year-old point guard that can play solid defense and run an offense, I could see several teams trying to get him from Brooklyn this offseason. While it was tough to choose between him and LeVert, keeping both would be less ideal than capitalizing off one of them, and receiving pieces for the other.
DeMarre Carroll is another interesting trade piece. Brooklyn has benefited from his great play this year, but keeping him may be expensive. He's already 31, meaning he has almost no long-term value for a rebuilding franchise that is looking ahead several years.
This year has been a nice revival for him, averaging splits of 13.5 points, 6.6 rebounds, and two assists in less than 30 minutes per game. His field goal percentage is at 41 percent this year, but his 36 percent three-point shooting is a down year for him. If he was given 20-28 minutes on a contending team, he could have really strong value, and Brooklyn needs to explore what they could get for him in the offseason.
Non-Assets:
As with any team, there are players that will not make an impact moving forward as part of the future. Jahlil Okafor, Quincy Acy, Dante Cunningham, Timofey Mozgov, and Nik Stauskas will most likely not be a part of the Nets rotation down the line.
Starting with Okafor, does this need any explaining? His value has declined since the moment he dribbled an NBA basketball, and now holds just about no value to any team. As a ground-bound big that doesn't shoot, pass, or defend, he is not viable in the current NBA.
Nik Stauskas came with Okafor in the trade with Philly that sent Booker to the 76ers. He has had upside, but now in his fifth year, it seems unlikely he can be a rotation piece on any NBA team. He is not a good defender and has never shot above 40 percent from the floor for a season.
Quincy Acy, now in his eighth year, has had a really down season. He's shooting a career-worst 33 percent from the floor. While he is a solid hustle guy, his skill set isn't rounded out enough to be a viable option for success in the modern NBA. While he has attempted to add a three-point stroke to his arsenal, he is not accurate enough to warrant minutes on a playoff team. He's a nice player, but not something the high-paced Nets need in the future.
Dante Cunningham is one of the harder pieces to quantify. In New Orleans, he was effective as one of few floor spacers, but his age is concerning for Brooklyn. He very well might stay on the team, but predicting the 30 year-old has impactful minutes down the line seems unlikely. Fortunately, he is making less than $2 million and can stretch the floor.
Timofey Mozgov is quite possibly the most overpaid player ever. It seems virtually a lock for him to either move on from Brooklyn, or have no meaningful impact if he sticks around. He is owed another ghastly $32 million over the NEXT two seasons after this year's $15 million. Moving that salary will be difficult, but a somewhat bright spot for Brooklyn is that it's ONLY two more years. Once the Mozgov contract behemoth is off the books, they can re-sign the pieces they'll need like Jarrett Allen.
Whew! There's the breakdown of who to keep and who it's okay to move on from. What better thing to talk about as the Nets aren't playoff-bound this season.
*All per-game stats from www.basketball-reference.com
**All percentile stats from www.cleaningtheglass.com