Newly acquired New York Giants linebacker Alec Ogletree spoke with his new local media on Thursday afternoon, addressing his past, present, and future with the team.
In December 2014, Alec Ogletree was public enemy number one in East Rutherford, New Jersey. Fast forward to the present day, the leaders of East Rutherford's beloved New York Giants have given him a new label entirely.
"(Ogletree) gives us our defensive quarterback," general manager Dave Gettleman said earlier this week. "He was a two-time captain with the Rams, voted on by his teammates. He's a leader, and that's very important to us."
Acquired from Los Angeles on March 7 in exchange for their fourth and sixth round picks in this spring's upcoming draft, Ogletree became the first major addition of the Gettleman era. He spoke with the New York media via a conference call on Thursday afternoon.
"It's going to be a good thing," Ogletree said of Gettleman's comments. "I'm excited to get there and get to work and get with those guys and be the quarterback of the defense. I've done it for two years now and hopefully can continue to do it this year and just try and get guys going and ready to play."
Prior to the trade, Ogletree, who previously spent the entirety of his career with the Rams organization, was only a villain to Giants fans.
In the dying stages of the 2014 season, the Giants ventured to the Edward Jones Dome for what became their final showdown against the "St. Louis" Rams. Late in the second quarter, a short catch-and-run by Odell Beckham Jr. was stopped by Ogletree, who drove the superstar receiver out of bounds, throwing him down well past the barrier.
Pouring fuel on an already fiery game, Ogletree knockdown Beckham when he attempted to get up, igniting a brawl that spread to the Giants sidelines. Three players were subsequently ejected, missing the remainder of a 37-27 Giants victory. Beckham earned the last laugh, tallying 148 yards and two scores.
Ogletree dispelled any notions of lingering grudges between him and his new teammate.
"That happened three, four years ago and we've seen each other since then and there's never been any bad blood," he said of the incident. "It's football and it happened. We were playing against each other and we wish it didn't happen the way it did."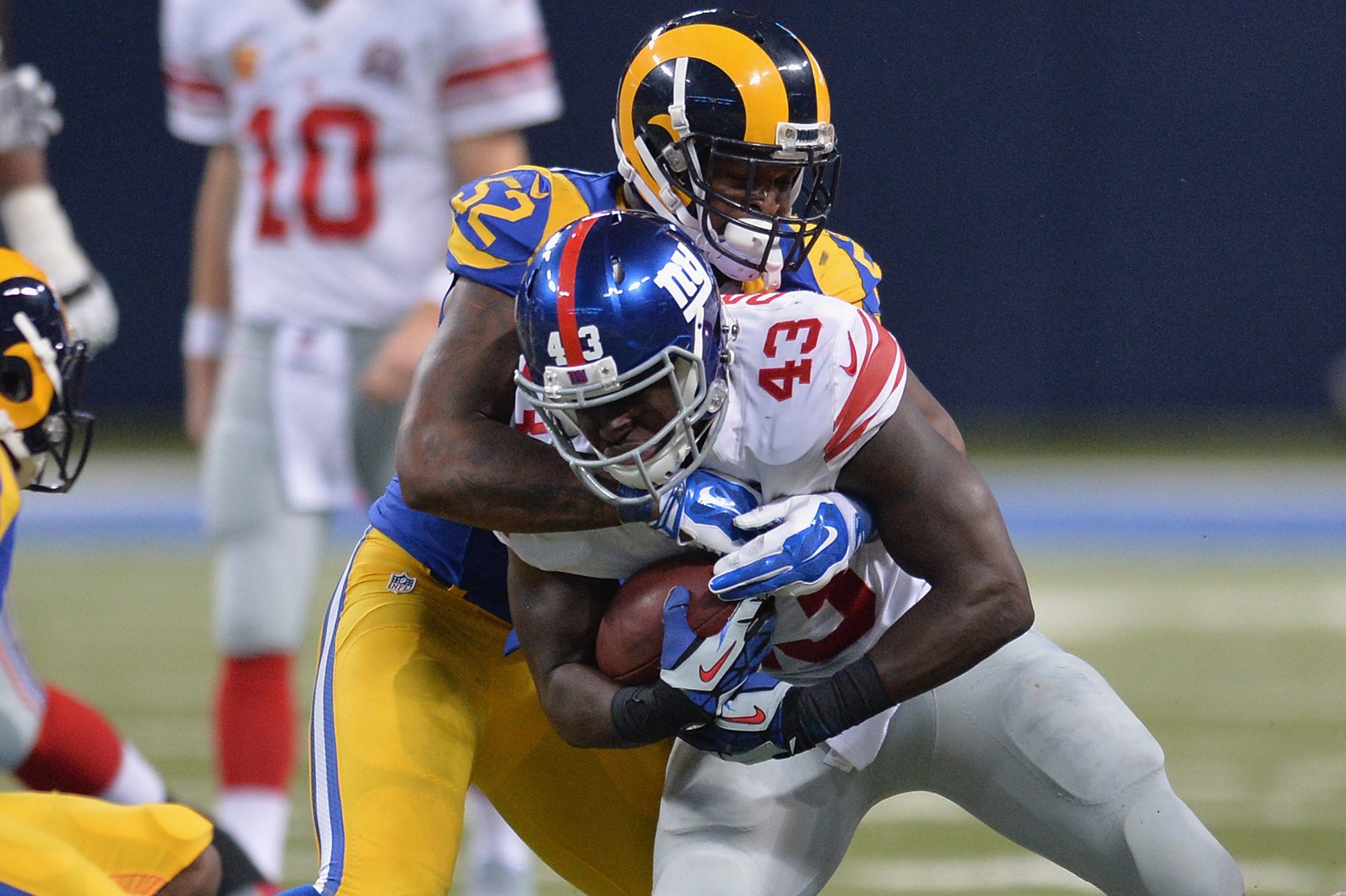 In fact, Ogletree mentioned that Beckham was one of the first to welcome him to the Tri-State area.
"Honestly he was one of the first guys to call me to welcome me to the team," Ogletree explained. "I didn't know who it was and I was like, 'Who is this?' He actually sent me a video of the fight  and he was like, 'We're going after it every day at practice,' And I was like, 'Oh, yeah.' So it was all good."
Traded from the NFC West champion Rams to the renovating Giants, Ogletree was drafted by the St. Louis incarnation in 2013 and joined the team in the move to Los Angeles three years later. He earned All-Pro honors in 2016, picking up a career-high 136 tackles and forcing 11 fumbles.
"I was definitely surprised. But it happened for a reason," Ogletree said of the trade. "You can't go back on it, it makes things different, but I definitely enjoyed the ride that I had with the Rams and I'm now looking forward to getting started with the Giants."
Now fully entrenched in the New York culture, Ogletree has already gotten to work in making the Giants better.
On his Twitter account, Ogletree went from linebacker to salesman, pitching the Giants to former NFC West foe Tyrann Mathieu. Like Ogletree, Mathieu's accomplished tenure with an NFC West squad came to an end this month, as Mathieu was released by the Arizona Cardinals. The pair also squared off at the college level in the famed Southeastern Conference, where Mathieu played for Louisiana State.
@Mathieu_Era come to the big apple bro!!! It's going to be lit bro I promise!!! #1 defense

— Alec ogletree (@MROGLETREE52) March 15, 2018
"I think he would have a big impact," Ogletree said of Mathieu. "Of course being in the division with him and just seeing his body of work, playing (against) him in college … I know the type of football player he is and I definitely think he brings a lot to the table for sure."
Ogletree had similar praises for another ex-Cardinals defensive mastermind, as he praised James Bettcher, his new defensive coordinator.
"He's the type of guy that knows how to use his players to get guys to play and I'm just an extension of him," Ogletree said. "When we get on the same page and get to work together it's definitely going to be a good thing. I've seen some of his work, of course he was in the same division as me and those guys had a great defense and we're definitely looking to bring that to New York."
Geoff Magliocchetti is on Twitter @GeoffMags5490