Injuries have filled a majority of NBA headlines this season, and the Brooklyn Nets have not been spared. A look at how this can be credited to the team's little success.
It started in game one. Point guard Jeremy Lin ruptured his left patellar tendon just 25 minutes into the 2017-2018 season. Any hope for the playoffs died then and there and the Brooklyn Nets were set to spend the rest of the year carrying the headstone.
Now 20-43, and 13th in the Eastern Conference, this team can blame the injury bug for spoiling a once promising year.
D'Angelo Russell. Allen Crabbe. DeMarre Carroll.
Those three players tacked onto an already promising young core of Lin, Rondae Hollis-Jefferson and Caris LeVert were bound to make noise in the Eastern Conference.
As long as you understand that 'making noise' in this context means breaking the 30-win mark through 82 games.
Brooklyn has long been lackluster among the bottom teams of the NBA, mostly due to their infamous blockbuster deal with Boston in 2013.
The Nets shipped out multiple-first round picks in exchange for 'win-now' talent. It set them back for years, but can no longer be the excuse for failure.
These days, overall health and stamina is to blame for the woes of an underachieved team in desperate need for (any) success.
To start the 2017-2018 season, they truly got a taste. Making the blow dealt by injury all the more fatal.
D'Angelo Russell led the team to a 5-8 record in absence of Lin, until he too, fell to injury. Arthroscopic knee surgery would sideline him for months, and a total of 33 games.
However, even then, things kept moving for the Nets. They recorded an 11-22 record in absence of two starting guards.
Hollis-Jefferson established himself as a candidate for the NBA's Most Improved Player award, and Spencer Dinwiddie a legitimate starting point guard.
---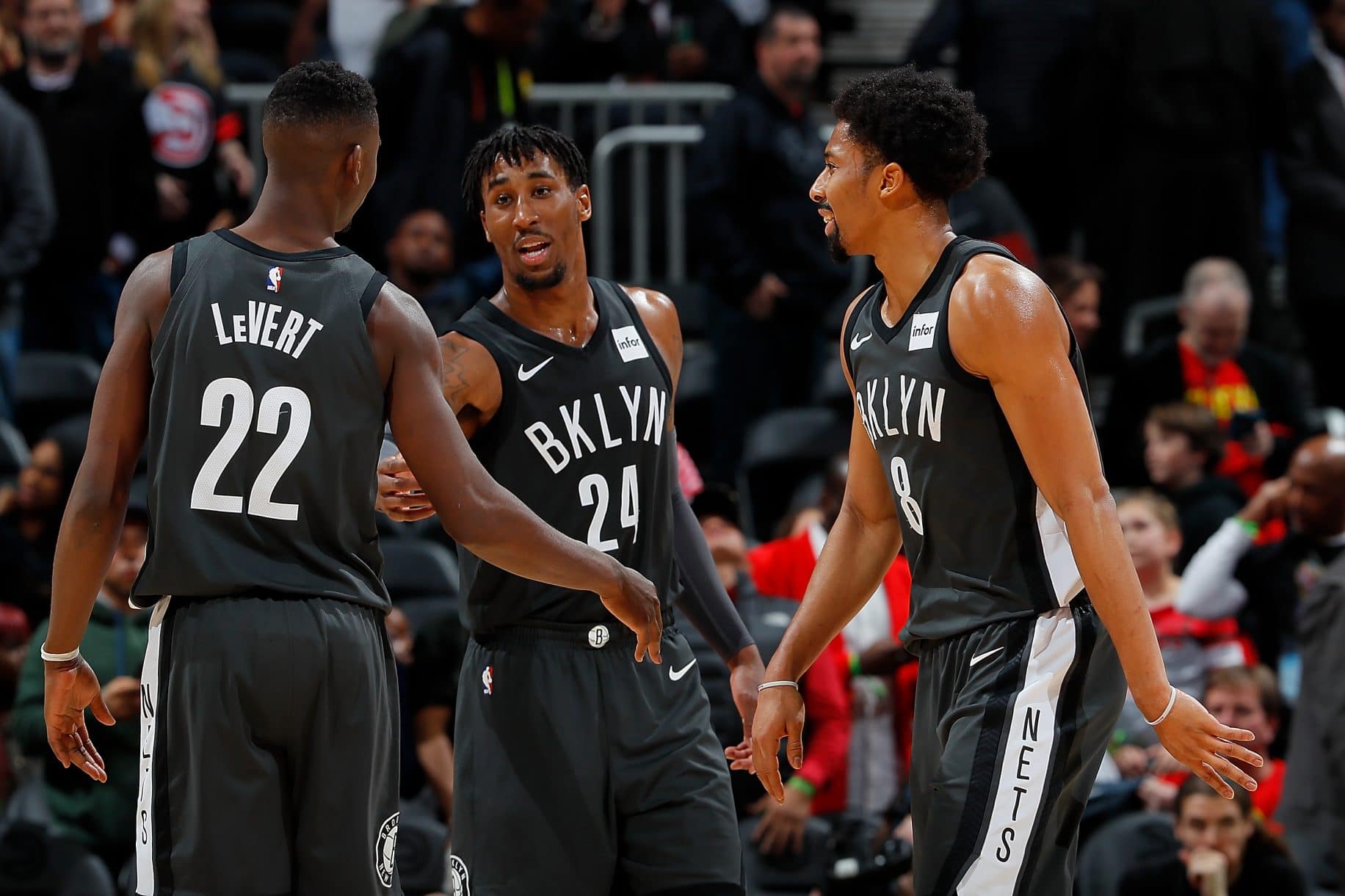 ---
The Nets put resiliency on a platform league-wide, hoping their "Brooklyn Grit" would keep them afloat. Instead, they were rewarded with even more injury, and at the worst point in time.
Guard D'Angelo Russell made his return against the Miami Heat on January 19th.
Four games later, Brooklyn's trusty Rondae Hollis-Jefferson went down with a groin injury. He missed 11 straight games, and backup guard Caris LeVert missed eight of his own in that span with a knee injury.
The Brooklyn Nets went 1-10 in that 11 game period, and then both Hollis-Jefferson and LeVert made their returns. The result? A commanding 104-87 win over the Chicago Bulls.
This snapped a nine-game losing streak and resulted in Brooklyn matching their 2016-2017 win total of 20 games. They needed the win more than ever, and an up in morale was noticeable the next night.
Against a recently upgraded Cavaliers team, the Nets put up 123 points in a close, yet losing effort. Things looked better for the Brooklyn offense, as they scored 120 or more points for just the fourth time this season.
All this in credit to each piece of the Nets' talent being present and healthy minus Lin.
So, what's to make of this? Let's look at that numbers.
The Nets young trio of Russell, Hollis-Jefferson, and LeVert have played just 16 games together. In those games, the team is 7-9.
Not too bad for the NBA's worst team in 2016-2017.
It's a small sample size, but it's all we have. On an 82-game scale, that translates to 36 regular season wins, should they all play together.
Even then, Brooklyn has surprised at times this year, so there's no fault in saying this team could have hit a 40-win season in good health.
Today, that would have them finishing in the Eastern playoff bracket assuredly. Sound familiar?
A healthy Brooklyn Nets team very well may have fulfilled Jeremy Lin's prophecy of a playoff appearance.
Their inability to mesh, and grow together, served as the biggest hindrance to the Nets' success as a basketball club.
---
Thanks to the injury bug, you'll have to wait out the jury's verdict on this team's true potential.
All we can do is watch this team closely these last 19 games. My guess is as good as yours, but I'd expect to see them put an exclamation point on a season in which they were truly robbed.