Free agency and the NFL Draft offer the New York Giants multiple paths to rebuilding their offensive line.
It's no secret that the New York Giants are focusing heavily on upgrading its offensive line this offseason.
NFL Draft analyst Chad Forbes reported a couple weeks ago that the Giants would go "all-in" to sign free agent offensive lineman Andrew Norwell. Going as far as to make the Carolina Panthers All-Pro guard the highest paid guard in NFL history.
Spoke w/ Giants source on Andrew Norwell… Said Giants prepared make Norwell highest paid Guard NFL History. And if new Agent Drew Rosenhaus takes Norwell elsewhere (49ers) it would create friction in relationship. Assumes Panthers don't Tag Norwell… But Giants are SERIOUS.

— Chad Forbes (@NFLDraftBites) February 14, 2018
Spotrac projects Norwell to land a five-year, $58.9 million deal, with an average annual value of $11.7 million.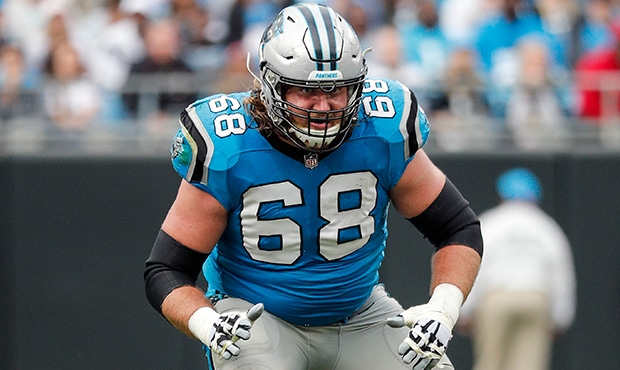 If the price for Norwell is too high for the Giants and he decides to sign elsewhere, the G-Men have a backup plan in place and his name is Ryan Jensen of the Baltimore Ravens.
According to NFL Draft analyst Tony Pauline, Jensen has become the Giants' second option to sign at guard, instead of re-signing interior lineman Justin Pugh or D.J. Fluker.
"We also reported from the Senior Bowl that the Giants are expected to make a concerted effort to sign guard Andrew Norwell. If they can't sign the pricey free agent, Ryan Jensen will be a less-expensive contingency plan," Pauline states.
Jensen is coming off a career season, where he moved from guard to center for the Ravens.
The five-year pro out of Colorado State-Pueblo received a 74.9 grade from Pro Football Focus for the 2017 season, the highest ranking he received from PFF in his career.
Jensen played in and out of the starting lineup his first four years with the Ravens, before becoming the full-time starter for the team in 2017, starting every game for Baltimore at center.
As a full-time starter, Jensen ranked sixth in the NFL in pass-blocking efficiency by PFF, scoring a 98.4 rating.
The interesting thing with Jensen is that his best season in the NFL is coming at center, but both guard and center are both positions that are still up in the air for the Giants. Jensen having the flexibility to play both positions would benefit the Giants.
Pauline reports that the Giants are expected to lose last year's starting center Weston Richburg in free agency.
Richburg started the first four games of the season for the Giants before being sidelined the rest of the year with a concussion. Brett Jones, who started in place of Richburg the rest of the season played well in his absence and is a low-cost signing for the Giants at the center position.
Another free agent interior lineman that the Giants might be reportedly interested in is Minnesota Vikings lineman Joe Berger.
Berger was expected to retire at the end of this past season, but according to NFL Network's Tom Pelissero, Berger has decided to play another season and is ready to hit the free agent market with a return to the Vikings on the table or a potential reunion with Pat Shurmur by signing with the Giants.
After mulling retirement last year, veteran G/C Joe Berger is now exploring free agency, source said. Return to #Vikings or rejoining Pat Shurmur with #Giants are possibilities.

— Tom Pelissero (@TomPelissero) February 28, 2018
The 13-year pro out of Michigan Tech started every game for the Vikings the last three seasons, splitting time between guard and center.
Like Jensen, Berger would give the Giants flexibility with being able to play center or guard.
Other intriguing interior linemen that will be available for the Giants to target in free agency are Josh Sitton, Matt Slauson, Josh Kline and John Sullivan.
Nick Easton is another name that the Giants could pursue as a restricted free agent.
Easton started 12 games for the Vikings at left guard in 2017 and was playing well before fracturing his right ankle in Week 16 against the Green Bay Packers and finishing the season on injured reserve.
He is another player with ties with Shurmur from playing with the Vikings and a player that can give the Giants flexibility inside with being able to play both guard and center.
The Giants did re-sign John Greco last week, giving them depth inside.
It will be interesting to see how Giants try to upgrade their offensive line.
They could go all out to sign Norwell, or try to sign a mid-level player in Jensen, Berger or Easton.
The Giants could still bring back Pugh.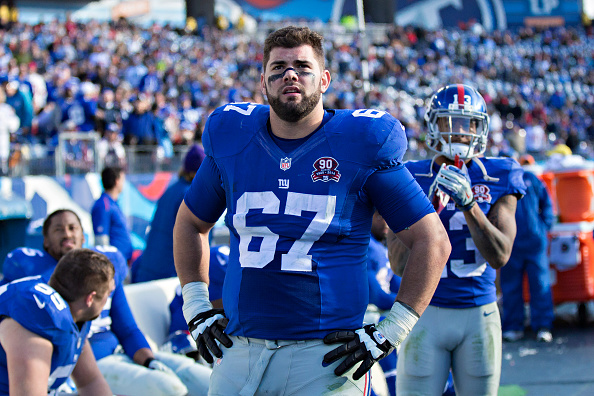 Giants general manager Dave Gettleman had high praise for Pugh during his press conference at the NFL Combine in Indianapolis on Tuesday.
"He's a versatile and smart football player," Gettleman said of Pugh. "We're still in the evaluation process of what moves we're going to make on the offensive line. We'll see how everything plays out."
From free agency to the NFL Draft, the Giants will have the opportunity to make the moves they need to upgrade their offensive line. We just have to wait and see which moves Gettleman will make to attempt to rebuild the Giants' offensive line.
Follow Steven Bassin on Twitter @SBassin_Sports