After retiring from soccer, former New York Cosmos defender Carlos Mendes focuses his attention on family and his academy.
When you're a professional athlete, there are times when you're spending a lot of time at practice, at games and on the road.
In the case of Carlos Mendes, a 15-year professional soccer career didn't leave him a lot of family time or the chance to focus on other endeavors. In fact, during a five year run with the New York Cosmos that closed his career, Mendes did a lot of traveling, especially in the off-season when the storied club continued its tradition of playing games in other countries.
But near the end of this past season, Mendes announced his retirement as a player and that meant the chance to write the next chapter of his life. Like any athlete that calls it a career, it's been both rewarding and an adjustment.
"It's been great," said Mendes who captained the Cosmos to three North American Soccer League titles and four championship final appearances. "It's kind of weird watching all the guys go back to pre-season…friends and teammates starting up with new clubs."
While not playing professional soccer anymore takes a little getting used to, having the opportunity to spend more time with his family has been extra special for Carlos. He's enjoying his newfound extended time with his wife Jillian and his sons James and John Carlos. James is going to be three in May while John Carlos is a new arrival and his six weeks old.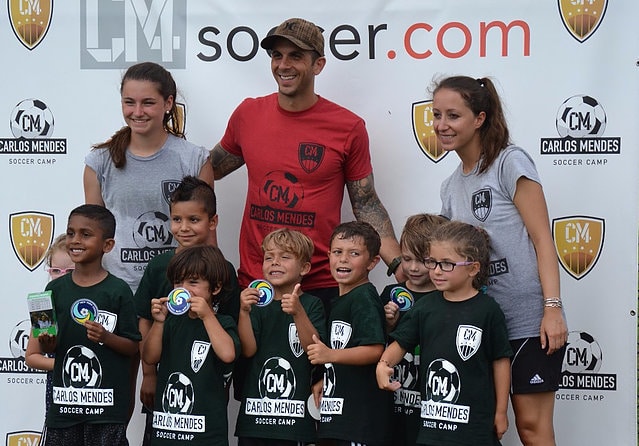 There are days when he misses being on the pitch, but spending more time with his family has been very rewarding.
"It's definitely different but at the same time I'm enjoying the family and being home and not traveling," said Mendes. "It's an adjustment but I'm excited for it and happy for the time with the family."
Retirement has also afforded Mendes to focus on a huge project with his brother Robbie. In 2015, Carlos and his brother started the "CM4 Carlos Mendes Soccer Academy", a series of local camps and clinics at his alma mater Wheatley High School in Mineola on Long Island. Carlos would hold the camps and clinics when his busy schedule allowed for it, but now that he's done playing, the academy is expanding towards being a year-round venture at multiple venues.
"We started as a training company doing local camps and clinics at the high school where I grew up," said Mendes who began his professional career with the Long Island Rough Riders in 2002. "We've kind of slowly every year increased it and ramped it up a bit. Obviously, now that I'm done (playing), the next phase that we'd like to take it to the next level."
Mendes and his brother are joined by academy director Michael Filippi in providing an avenue for young players to learn the fundamentals of soccer while also having fun at the same time. For Mendes, it's an opportunity to stay involved with the game that he loves and to share his experiences with young players.
"Yeah absolutely and also to try and give back to the community and the place that gave so much to me," said Mendes. "For me, the most important thing is to have fun. If you're not enjoying it and not having fun, you're not going to develop or learn. And also to show the dedication and the hard work…practicing and enjoying what you do and be passionate about it. If we can get that across in our coaching and in our clinics and camps and influence them, that's the most important thing."
Mendes' professional career ended with a loss to the San Francisco Deltas in the NASL Championship Final as the Cosmos were looking for their third straight title and fourth in five years since their reboot in 2013. Mendes was the first player that the Cosmos signed when they returned to the pitch and now he is left wondering if his former team will ever play again.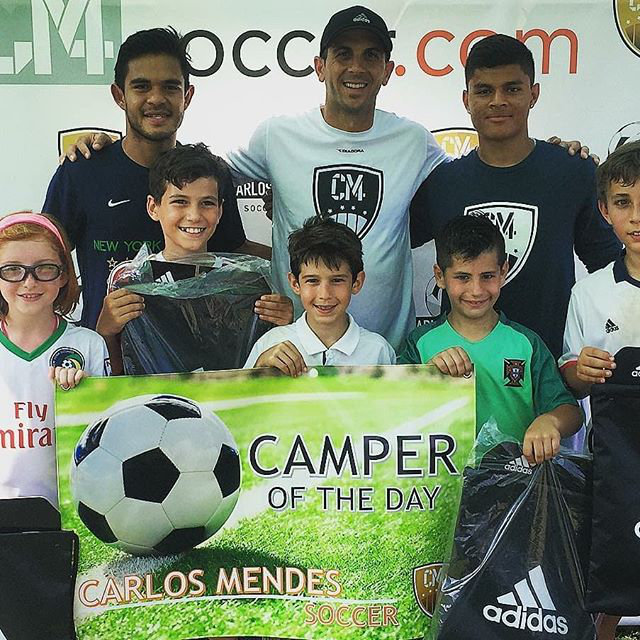 The United States Soccer Federation did not grant the NASL Division Two status for 2018 and that has led to a lawsuit filed by the league against the governing body of soccer in America. On Friday, an appeals court denied the NASL's request for an injunction that would restore the Division Two status while the lawsuit plays out. The decision could be the death penalty for the league and the Cosmos.
Needless to say, it's a tough time for anyone who was associated with the league and the most famous soccer franchise in North American history.
"I'm very disappointed in the decision and it's unfortunate," said Mendes. "I believe ultimately what's best for soccer in America is to have competitive leagues throughout. I hope there is a way forward."
Mendes has looked on as head coach Giovanni Savarese left the Cosmos to take the head coaching job with the Portland Timbers of Major League Soccer. Former teammates Jimmy Maurer, Kyle Zobeck, Eric Calvillo and Andres Flores have also moved on to MLS while other teammates have found new teams in other leagues including the USL as well as with teams in other countries.
The NASL had hoped to start the 2018-19 season in August, but now that doesn't look possible.
"It's heartbreaking for me," said Mendes, a three-time NASL "Best XI" selection. "Things don't look good from how I see it. I really hope for the New York Cosmos and for the NASL that they can turn this around and somehow figure it out and kind of just get things back on the right track. It's so sad to sit back and see guys signing elsewhere and not being able to wait and see what's going to happen. It's been tough but I'm not giving up hope that there will be a club and a league bigger and better in the future."
One thing that is set in stone as far as the Cosmos are concerned is that they will field a "B" team in the NPSL this season while they wait to find out what is happening with the NASL. Cosmos B will need a coaching staff so could that mean a return to the green and white for Mendes?
Maybe.
"If there is (an opportunity) we'll see if they reach out," said Mendes who has coaching aspirations. "I haven't heard much to be honest. I've had some opportunities come up and some things I'm considering so we will have to see. If I can be with the club in any way moving forward…if it's Cosmos B, hopefully, it's a good fit."
Mendes and Savarese grew very close during their time together with the Cosmos and they continue to stay in touch. To take that a step further, Mendes has coaching aspirations and who better than Gio to get advice on that from?
"Oh yeah absolutely," said Mendes. "I'll always been in touch with Coach Gio. We're very close and it goes beyond playing now. I'm going to be picking his brain and asking his opinion on different situations and different things that come up. I was so happy for him because (Portland) is a great club and it's a great job."
Carlos could pick his former coach's brain in person on March 10 when Savarese makes his MLS coaching debut against Mendes' former club the New York Red Bulls at Red Bull Arena. If all goes well, Carlos will be in the building that night.
When you live in #newyork and its pouring rain ☔ but you're day dreaming of better days ? pic.twitter.com/Unj4APyKwl

— Carlos Mendes Soccer (@cm4soccer) February 24, 2018
"That's an exciting game," said Mendes. "I'm going to try and I hope to get there. That would be great. It's going to be a lot of fun. I'm looking forward to it."
In the meantime, Mendes is focusing on his academy's next camp which will be during spring break in April while also continuing to conduct training and clinics with youth clubs. There will also be three camps coming up this summer as Mendes continues to grow the academy.
"We're going to try and do all year round and more camps and go indoors," said Mendes. "On the other side of things, we want to do supplemental training and growing and expanding that way and just trying to connect with more clubs. If we do a good job and people are happy with us with we provide then that will take care of itself."
After a brilliant career, Carlos Mendes continues to be involved with the game that he loves thanks to his academy. He's giving back to the community while also getting the chance to spend more time with his family. It would be great to see him involved with the Cosmos down the road if things work out because he meant so much to the franchise.
How much?
Not long after his first son James was born, Carlos scored two goals in a game. Even Carlos will tell you that he's not known for his goal-scoring prowess, but there was so much excitement in the building that day because he found the back of the net twice. As the Cosmos' PA announcer, I got caught up in the excitement too because after the second goal I said "Cosmos goal scored by number four Cosmos Mendes!"
I don't know how many people in the stadium heard it or caught onto it, but it drew quite a chuckle in the press box. Thinking about it a few years later I think that sounds right …
Cosmos Mendes. Along with Giovanni Savarese, Carlos was the Cosmos.