NFL non-quarterback free agent options including Kyle Fuller for the team with all the money to spend in the world, the New York Jets.
There are other positions on the football field other than quarterback. Right?
Yes.
Admittedly, it's tough these days. So much comes flying from a Kirk Cousins-NFL Draft perspective in the league that allows the field general to get away with everything but murder on the football field—dinking-and-dunking, rub patterns, touch football in the pocket—that it's hard to remember 21 non-QB spots actually exist.
Coming in with a boatload of salary cap space this offseason, the New York Jets are just one entity in constant need of such a reminder. While it's true that the NFL Draft will always serve as the bloodline of the Top 51 payroll, free agency is the tool that sets it all up.
The big number of the moment is $73,196,618 and this juicy cap space number doesn't even account for the impending cuts of Muhammad Wilkerson and Matt Forte. Obviously enough, Mike Maccagnan is about to enjoy his second large spending offseason over the last four offseasons as Jets general manager (2015 represented his infamous "aggressive rebuild" resulting in poor value across many positions).
Here are the top non-quarterback free agent value options for the New York Jets while the elephant in the room—the organization making it known that they'd love to snag Kirk Cousins—remains in the corner for now.
The big question of the offseason at the corner spot revolves around Morris Claiborne. Will he be back? Claiborne is an unrestricted free agent after holding down a solid No. 1 spot with the Jets this past season. He'll demand big bucks.
Kyle Fuller can be had at a possible value with the return of Claiborne.
Drafted 14th overall in 2014, Fuller immediately paid dividends his rookie season. He started 14 games and picked off four passes while breaking up 10 plays. In 2015, he took a bit of a step back prior to missing the entire 2016 season due to arthroscopic surgery on his knee. Twenty-seventeen saw Fuller comeback in a solid fashion.
Fuller is absolutely not a No. 1 corner. An argument can be made he shouldn't be a No. 2 on a good defense. But kicking the tires on this ultra-talented kid as a possible No. 2 or nickel corner could fetch great value.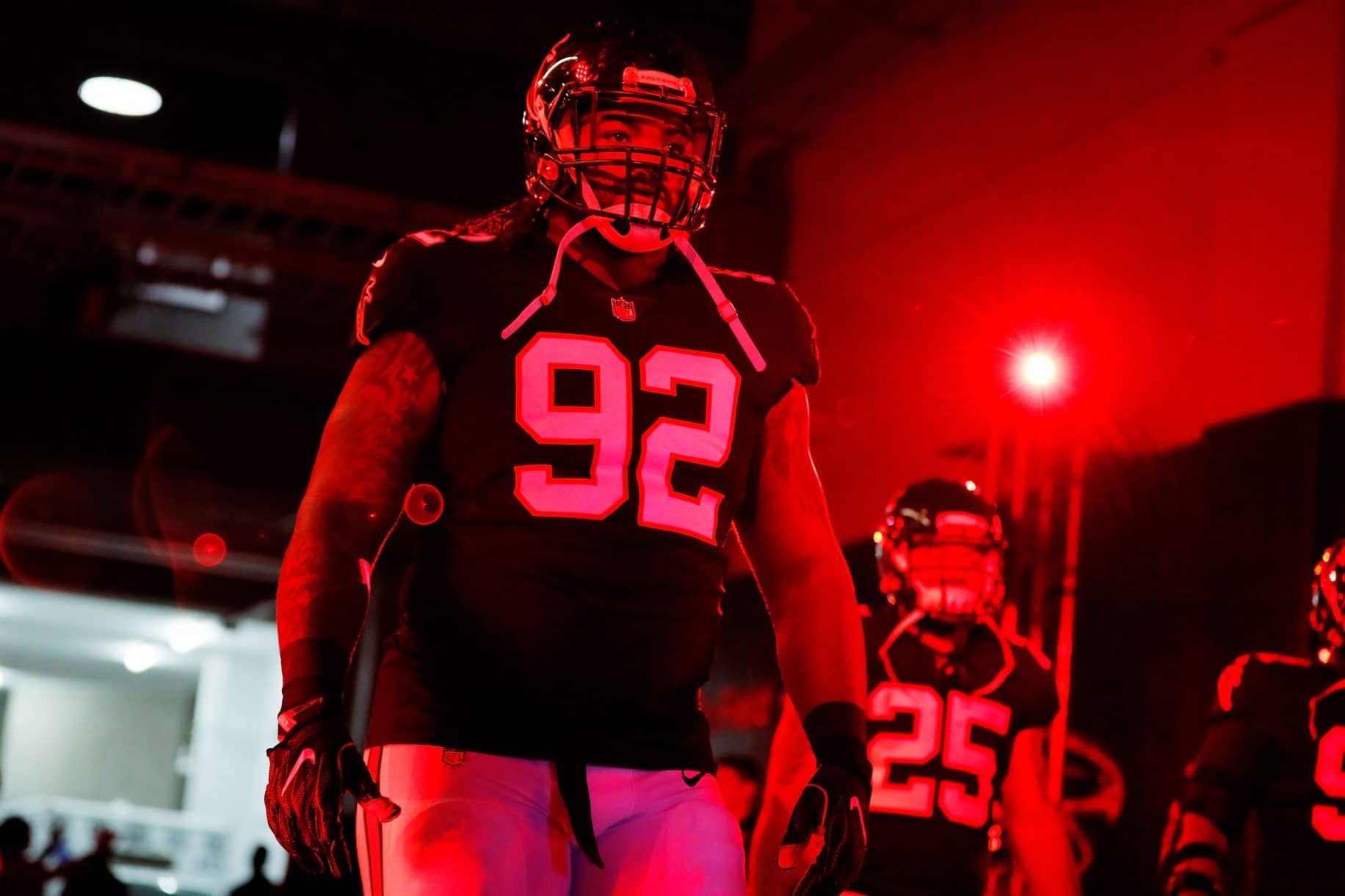 Surprisingly, Dontari Poe, a man who's extremely comfortable playing the 3-4 nose tackle, may come as a free agent value this offseason.
Poe, 27, enjoyed a good season with the Atlanta Falcons in 2017 after representing one of the most beastly interior defensive linemen in the game with the Kansas City Chiefs for five seasons (two Pro Bowls). Wherever he goes, the run defense immediately improves.
During the Falcons Super Bowl season, Dan Quinn's defense finished 17th in the league in run defense. A grand total of 104.5 rushing yards were relented on a per game basis. With Poe in 2017, Atlanta improved its run defense to the ninth ranking.
He'll be costly. Make no mistake about that. But Poe represents value. At 27-years of age, he'll most likely outproduce his deal and represent the best replacement for the long-lost Damon Harrison.
I absolutely love this kid. Twenty-seven-year-old Brock Coyle will never be confused with Ray Lewis or Brian Urlacher. He's simply a necessary football player on an NFL 53-man roster.
Coyle is a special teams dream and could act as that third inside linebacker to Darron Lee and the re-signed Demario Davis (the other defensive man who must be re-signed in conjunction with Claiborne).
As an undrafted free agent in 2014, Coyle signed on with the Seattle Seahawks and stuck for three years prior to signing a one-year deal with the San Francisco 49ers last offseason. Coyle started 10 games for the Niners a season ago, registering 36 tackles and 0.5 sacks.
He'll cost virtually nothing while serving as a nice depth linebacker and special teams nut.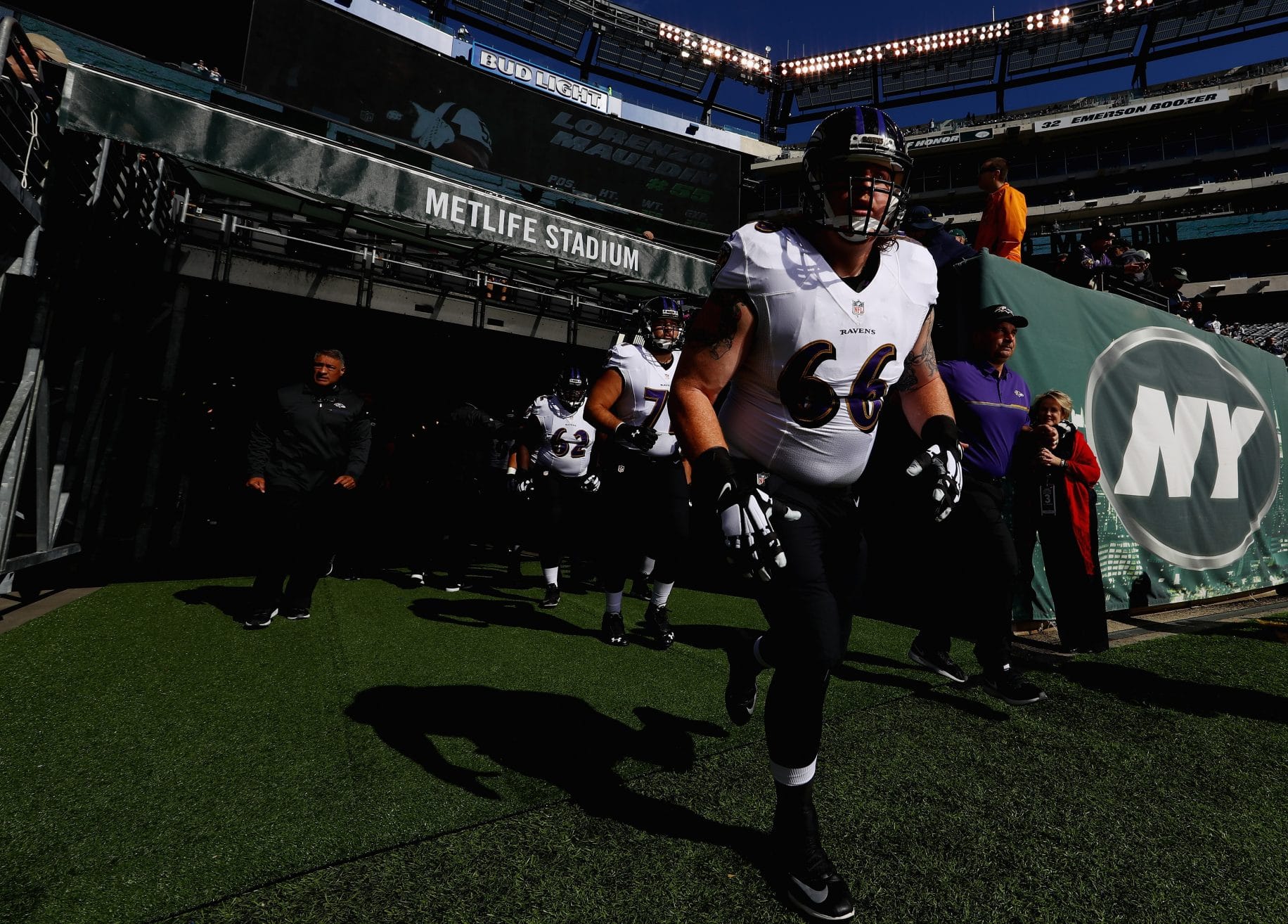 Wesley Johnson is an unrestricted free agent. Wesley Johnson should remain as such until one of the other 31 NFL franchises scoop him up.
Josh McCown and Bryce Petty seemingly faced more free-runners a season ago than any QB in the land and the center is always the man making those line calls. It's not always his fault, but he's the leader of the most important five-man unit in football.
Ryan Jensen is a player.
Jensen, 26, is a sixth-round veteran who's paid his dues and centered all 16 games for the Baltimore Ravens a season ago. A possible Jensen signing wouldn't mean the end of the center search—as another could be snagged via the NFL Draft or free agency—Jensen brings talent and overall depth to the depth chart.
Value can't come any fiercer for a guy who virtually hasn't played in two seasons. In fact, Tyler Eifert has seen three of his five professional seasons wiped out due to injury.
Eifert, still 27, is a free agent possessing much talent yet little durability.
Of a possible 80 games, Eifert has only participated in 39. That's incredible. Yet when he does play, he's a vertical threat seam-killer.
We don't know if he'll stay healthy. What we do know is he'll definitely come on the cheap and if the New York Jets can't scoop him up for a lower-risk one or two-year deal, whoever mans the QB position may have a gem of a tight end on his ends. That is … if he stays healthy.