Trading for Matt Martin could be one of the best or worst moves New York Islanders general manager Garth Snow could do at the trade deadline. Here are both scoops.

With the New York Islanders rumored interest in Matt Martin heating up the last couple of weeks, here's a breakdown of two perspectives on why Snow's biggest move at the deadline could be netting his former grinder—or staying far, far away.
A Matt Martin return to #Isles could be "business as usual," says former linemate Cal Clutterbuck.https://t.co/oOXTRMDQFz
(@lukefoxjukebox) pic.twitter.com/bZLp5YAnLB

— Sportsnet (@Sportsnet) February 22, 2018
John Fiorino takes you through a reunion with Don Cherry's "best fourth line in hockey", and Matt Di Giacomo will see you out, playing devil's advocate.
The Islanders Should Trade For Matt Martin
Adding Martin brings elements to the lineup that have been missing since he left in the summer of 2016. His on-ice performance might even take a backseat to what he brings to the team's morale.
Martin would be reunited with his former team which he led onto the ice virtually every night. According to hockey-reference.com, Martin played in 438 games in his seven years with New York, equating to 81 percent of its games. At the end of his time with the Isles, Martin accumulated 88 points with a nearly even split of 42 goals and 46 assists.
What he brings though is something much more than points. Yes, ultimately points win games, but Martin is an intimidating force. When he, Casey Cizikas and Cal Clutterbuck were on a line together, they were a fast, hard-hitting line that generated offense. Martin and Clutterbuck were dubbed the bash brothers for their constant checking. The whole line was known as the E=MC² due to their energetic style of play. Breaking it up originally was bad, the players not being on the same team is even worse.
When Clutterbuck and Martin were both on the Islanders, between just the two of them they registered 2,007 hits from 2013-14 to 2015-16. That statistic doesn't include Cizikas, who also contributed. According to nhl.com, before the Islanders' game with Toronto on Thursday, the Isles are averaging just under 22 hits per game. While they are 11 in the league in that statistic, hitting and speed are a big part of New York's style of play. Only recently, with the emergence of rookie forward, Ross Johnston, are the Islanders starting to play more physical.
Focusing more on on-ice impact, Martin can improve the Islanders defensive statistics. One of the main issues with the Isles' defense in the 2017-18 campaign is that they are letting too many shots through. According to ownthepuck.blogspot.com, a website for comparing advanced analytics, Martin can have a direct impact on shot suppression.
All categories are broken into a one-10 scale and statistics are taken from the previous season. Since rookies are not recorded, Martin could not be compared with Tanner Fritz or Johnston. However, he could be compared with Jason Chimera.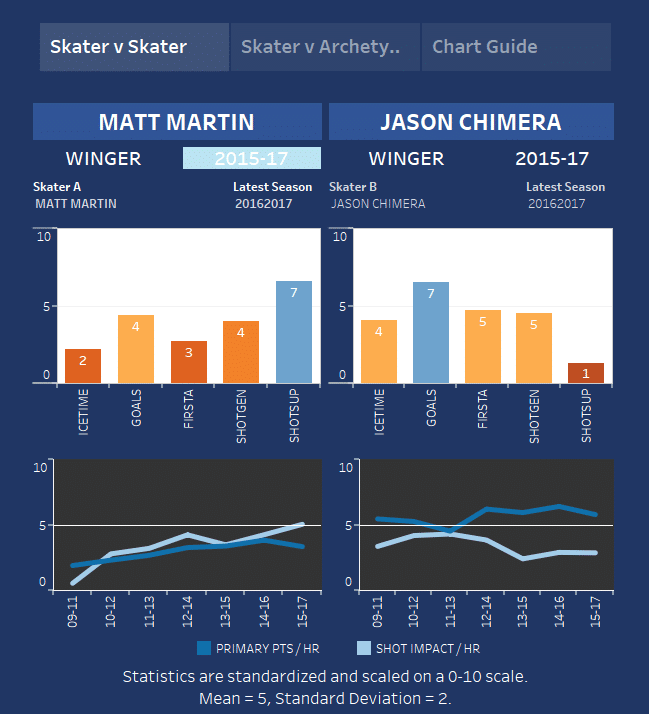 Looking at this graphic shows that Martin's defensive capabilities are worth investing in. For Chimera, last season he tied his career high in goals (20) for the third time and finished with a respectable 33 points. In the 2017-18 season, however, he is currently on track to register his worst full season ever. With his offensive categories clearly dipping, he must rely on his defense to keep him in the lineup.
Nonetheless, as a minus player on a struggling third line, his defensive categories have failed to save him. Simply put, Martin outweighs Chimera in value. So, what would the lineup look like?
Assuming no roster players are exchanged in the transaction that would bring Martin back to the Islanders, the top-six would remain as is with Anthony Beauvillier on Mathew Barzal's left. The third line would be Andrew Ladd, Brock Nelson and Johnston. The "best fourth line ever" is resurrected once again with Martin, Cizikas and Clutterbuck. As a result, Fritz would be sent down and once Chimera comes back from his injury, he would be waived.
I'm sure three grinders isn't appealing to everyone but look at who's there. Johnston has seemed to be better in each game he plays. The rookie notched his first NHL goal against the Minnesota Wild in Brooklyn on Monday. If he can bring those grinding skills to the third line, perhaps he can bring a jump to Nelson and Ladd, who have also both struggled this year.
In the event Johnston isn't ready for the third line, Clutterbuck can play there. That would leave Martin and Johnston working together on the fourth line. Then, we can finally see what Clutterbuck's wrister can do on a line that's main priority is scoring.
Trading for Martin gives the Islanders options. He is a fantastic locker room presence and plays with passion every night. In addition, he is a more suitable defensive candidate than Chimera, and he can help the Islanders physically and defensively. The ball is in your court Snow, get it done.
The Islanders Should Steer Clear of Matt Martin
In 2016, Matt Martin signed a two-year, $2.5 million contract with the Toronto Maple Leafs. It was from then on, the ship had sailed for the possibility of a reunion. Had these rumors started breaking out about this time last year, then it would have been a no-brainer type of deal.
However, it is now 2018 and a certain Ross Johnston has been lights out at what he does for the Islanders. The 24-year-old grinder has five points through his first 10 NHL games ever. What he's brought to the table for the Islanders was unprecedented, but very much welcomed by the team.
It's heartbreaking because realistically if Martin has chosen to stay then the chemistry between him Cizikas and Clutterbuck would never have been disrupted and he wouldn't be nearly out of a job with the Maple Leafs. Alas, it didn't pan out as such and as a result, that's where Martin finds himself.
Matt Martin was a strong lockerroom presence and is an inspirational philanthropist off the ice with the Matt Martin foundation. He still has a home on Long Island and spends most of his offseason there until he has to report to camp. Heck, even during the 2016 offseason he was reported to be still skating with some of the Islanders until a week before the Leafs camp started.
In an alternate universe where Martin took Snow's extension, things worked out that way. But this isn't that roster, and Johnston has taken over Martin's job. Even so, as John pointed out, Chimera is in the midst of the worst season of his career marking another grinder who isn't panning out quite as intended for the Islanders.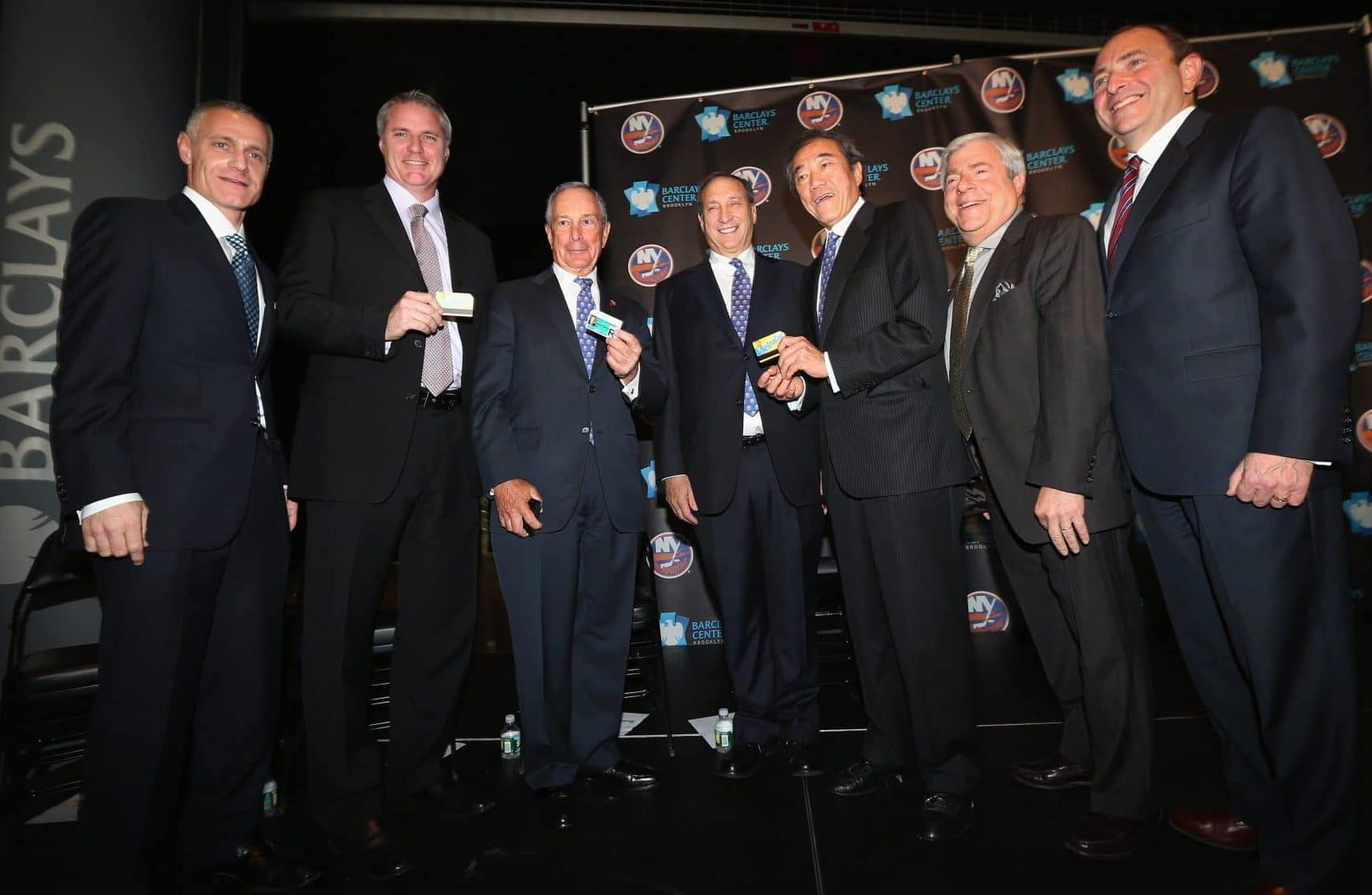 While Martin would be a fantastic addition to morale, there is just simply no room for him on the roster. The only scenario where consideration for the deal comes into place is if the Islanders make the decision to waive Chimera.
Towards the beginning of the season, the vibe was that Chimera needed more time to turn around. But with 58 games played and just two goals and nine assists, the Islanders patience seems to be running thin. Chimera has been scratched since the Islanders loss to the Blue Jackets on February 13, and the Isles are 2-1-1 in his absence with two back-to-back shutouts.
Should Snow actually place Chimera on waivers and acquire Martin for a low-end draft pick or prospect only then would it start to make sense. But then arises the issue of having Johnston on a team which also has the rotating player cycles of Alan Quine, Shane Prince and Tanner Fritz.
Johnston has proven in a small sample that there's an argument to give him a chance. Obviously, at only 10 games, it's not enough to justify any long-term consideration. If the Islanders double back on their investment in Johnston after 40 games, perhaps then can the Martin conversation be revisited.
For the time being, the notion of re-acquiring Martin makes absolutely no sense and seems like a poor use of the Islanders draft picks. Their primary concerns should be with the top-four defensemen to begin with and while Snow has also been linked to goalies as well (all several locations the Isles need to improve on) including Robin Lehner.
It's those areas that need Snow's full attention, now. With the team expected to sign Josh Bailey to a long-term contract at a reported $5 million annual value, it's a good start for what should be a busy couple of months for Snow once the season winds down.
Time will tell for the Isles and Matt Martin's fate at this year's trade deadline.