Forward Michael Beasley is worth more to the New York Knicks than he will be to other teams in the league and he's carved out a niche in orange and blue.
One of the few bright spots in another discouraging season for the New York Knicks is the play of forward Michael Beasley. And while he may garner some interest from other teams on the free agent market this summer, Beasley is worth more to the Knicks than he will be to any other organization that expresses interest in him.
As the Knicks prepare for the post All-Star break stretch of the season, they're realistically out of playoff contention. Currently 23-36 and playing without star big man Kristaps Porzingis due to a torn ACL, their backs are against the wall. For Beasley, the situation at hand offers him the chance to prove that he can be relied on to serve as a consistent go-to scoring outlet.
This season, Beasley has contributed a great deal to the Knicks' offensive attack. Averaging 12.9 points per game on 50.3 percent shooting from the field and 38.5 percent from beyond the arc in 20.8 minutes a night, the former number two overall pick has been productive. He's also posted three 30-point games. Beasley's standout performance came in a December 21st win versus the Boston Celtics, where he finished the night with 32 points and 12 rebounds in just 25 minutes.
When management signed Beasley to a veteran's minimum deal, it was unclear if he would even have a prominent role in Hornacek's rotation based on their crowded frontline (Lance Thomas, Doug McDermott, Porzingis, Kyle O'Quinn, Willy Hernangomez and Joakim Noah). Fast forward four months and Beasley is now heavily relied on by head coach Jeff Hornacek.
Ever since Porzingis went down, Beasley has answered the call. In their first four games without the big man, Beasley has averaged 18.8 points and nine rebounds per game. He's stepped up and been an offensive focal point alongside shooting guard Tim Hardaway Jr.
Beasley is capable of creating his own shot, playing with an attacking mindset and running the fastbreak. He's fearless. And that overall makeup has contributed to his successful 2017-18 campaign. It's crucial that Beasley continues to play at this level going forward if he aspires to finally rake in the big bucks or a contract with a team of his choosing.
Over the duration of his ten-year career, Beasley has been a part of six different franchises (the Miami Heat twice as well as the Minnesota Timberwolves, Phoneix Suns, Houston Rockets, Milwaukee Bucks and Knicks). While the offensive talent is there with the forward, Beasley's inconsistency on that end of the floor and underwhelming defense over his career have prevented him from sticking with a team. At the same time, his defensive woes are well-documented and a given, while he's come into his own as a spark plug off the bench and a viable starting candidate offensively if injury presents itself.
Porzingis is expected to be out for a full year and if he misses such time, the Knicks will need a starting power forward to begin the season. After producing in Porzingis' place and off the bench, why can't Beasley fill that void for the first half of the season or however long it takes for Porzingis to recover?
Beasley has been categorized as a bust, a journeyman and, by some, a player who you don't want on your team. Fortunately for Beasley's sake, he's proving otherwise this season putting forth arguably the best year of his career since his first season with the Timberwolves back in the 2010-11 season.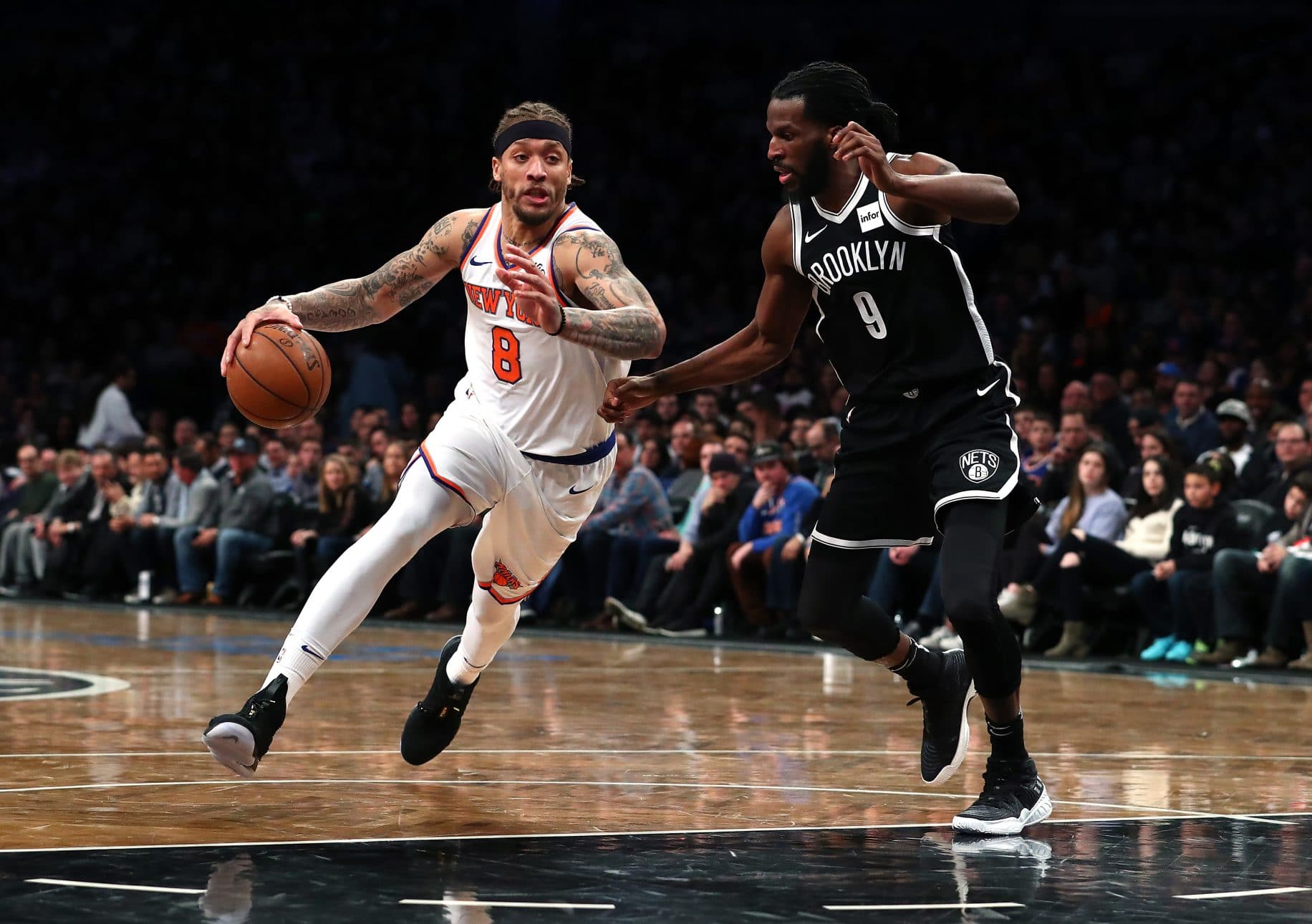 Now yes, a contending team or one looking for scoring could look to Beasley as a fit on their roster and rightfully so. But Beasley has struggled to find a niche and/or progress his game with five other teams. The Knicks are the first ones to take a risk on him and have it pay off in a big way. It's also important to take into account that given the state of the Knicks and how they're a lottery team, the case could be made that Beasley is putting up empty numbers.
Is he a good fit for the Knicks? Yes, he gives them a scoring punch off the bench that they haven't had even as far back as J.R. Smith. Beasley is also familiar with the Knicks' team at hand which makes him the logical man to fill the void created by Porzingis' absence. Can he go elsewhere and have a positive impact on a team's offense? Possibly, but can you truly convince yourself that Beasley will go elsewhere and be as productive as he's been with the Knicks?
There aren't many teams that would likely feel comfortable inserting Beasley into their starting lineup after just one successful season in New York. Sure, he's been a steal for the Knicks, but it's mostly been because of opportunity presenting itself as the season progressed. Plus, management likely won't be shopping for a big fish in free agency, instead opting to keep things simple and routine. Keeping Beasley would be doing as such.
The Knicks have brought out the best in Beasley. It'll be hard for another team to present a situation where he can have such a profound impact.