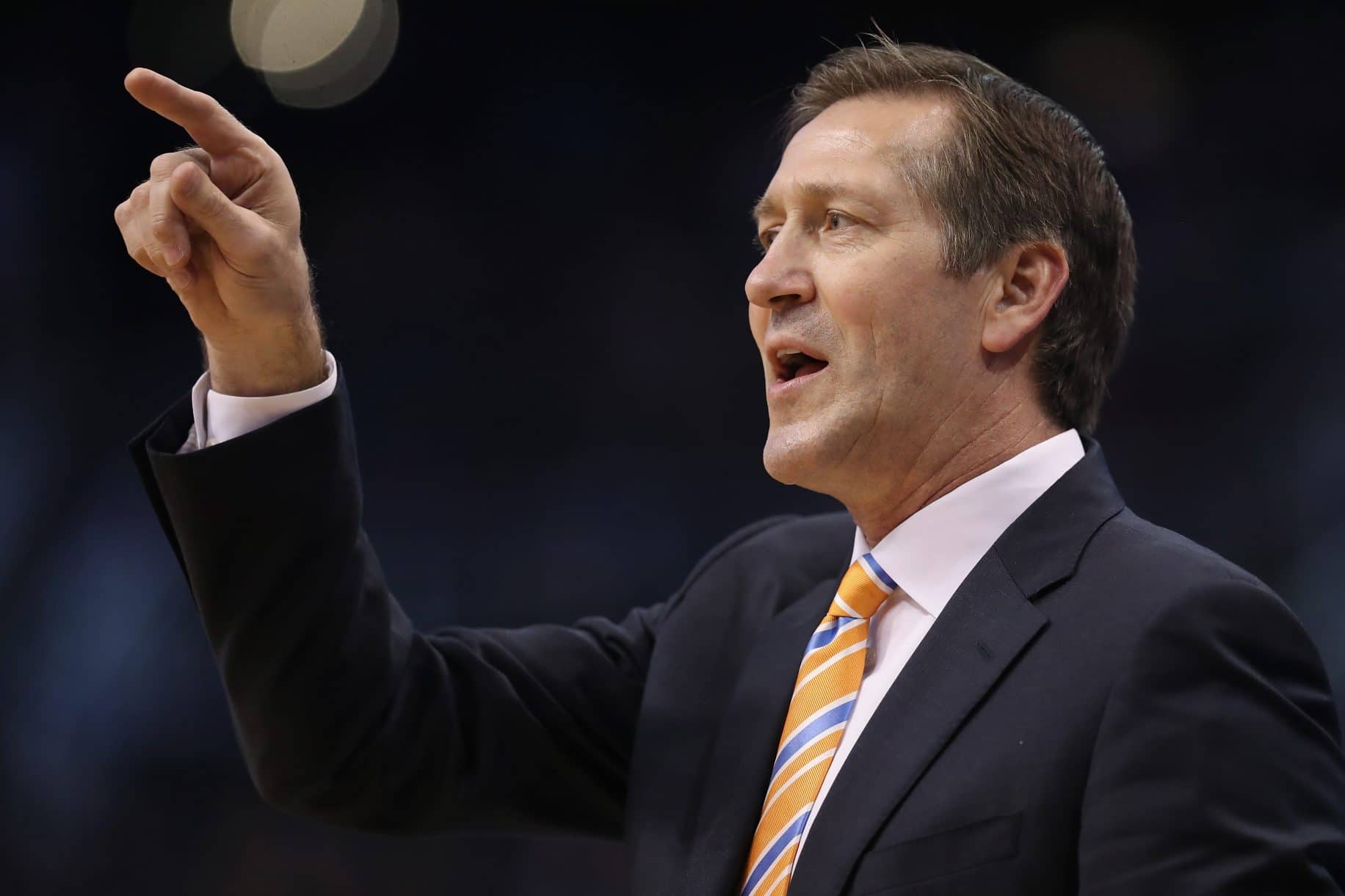 Second-year New York Knicks head coach Jeff Hornacek is coaching for his job, but this is not what the team needs. Steve Mills and Scott Perry must get together with Hornacek and embrace the tank.
You can't blame him. Jeff Hornacek is really feeling the heat. A coach who was hired by former New York Knicks president of basketball operations Phil Jackson is looking at a 50-loss season for the second year in a row.
Hornacek has come under scrutiny this season, for everything from the team's defense to playing veterans like Jarrett Jack heavy minutes as well as late-game execution and rotations.
Hornacek may escape this season without being fired. If he does, it should be because he sticks to the plan management laid out prior to the season.
The Knicks hot start in November may have been somewhat crippling for Hornacek. After a home-heavy schedule, the Knicks entered into a Christmas day matchup with the Philadelphia 76ers with 17 wins and fans thinking about the playoffs.
But truth be told, playoffs were never really the barometer of success for these Knicks. Back in January, Hornacek told Marc Berman of the New York Post that playoff talk was coming from the players, but that management and the coaching staff were still in lock step with the "bigger picture in mind". Hornacek went on to say,
 "But Scott, Steve, we're still on the same page, giving our young guys opportunities. We're still trying to win games. We want to establish where we have an identity defensively [that] we're going to get after it all the time. We're building toward that and it's great to have that support."
The problem is, they're not on the same page. Hornacek isn't currently giving the young guys enough opportunities. Frank Ntilikina was drafted with the eighth pick in last year's draft, and at some point, the organization needs to see more of him, whether it's at the point guard position or playing off the ball with Emmanuel Mudiay in the backcourt.
Yet, in a dreadful loss to the Washington Wizards, it was the veteran, Jack getting major minutes at the point guard position, not Ntilikina.  Jack played 28 minutes and Ntilikina played just 11 minutes in a blowout loss.
After Kristaps Porzingis tore his ACL, Hornacek made mention of changes to the rotation and giving the younger guys more opportunities. But, one would beg to ask the question, why now? Wasn't this plan all season?
To add to the confusion, Mudiay was second fiddle to Jack, playing 21 minutes and Trey Burke did not see the floor for the entire game.
In addition to the team's fast start, at least part of the reason for this mixup in philosophy can be attributed to Hornacek being hired by Jackson, who is no longer with the team.
In a recent article in the New York Times, Harvey Araton writes about the Knicks organization, often repeating mistakes made by previous regimes.
"No one can say at this point what Ntilikina, or Mudiay, will become. But the fact that Ntilikina already must wonder about his position and even his future in New York speaks to a more vexing issue, the pattern of one failed Knicks regime influencing the next one."
Araton goes on to say,
"After months of organizational dysfunction, Jackson needed to go. But consider that his dismissal, soon after last June's draft, was the equivalent of allowing a doomed man at the edge of a plank to dictate the direction of the ship."
But there is a way to fix this. If management is truly in support of Hornacek, they need to do more than just support him publicly. Either give Hornacek an extension or let him go after this season.
The Knicks will struggle to be relevant next year, with Porzingis looking at a 10-to-12-month recovery timetable.
The plan all along, from day one, was to develop the young players, build a defensive identity, and build a strong culture sustained by playing hard every night. After 59 games, it's hard to make an argument that the Knicks have accomplished any of those goals.
Simply put, Mills, Perry, and Hornacek need to get together and get back on the same page for the rest of the season. This means more minutes for players like Ntilikina, Mudiay, Burke, Luke Kornet, Daymean Dotson, and Isaiah Hicks.
The organization's focus must turn towards talent evaluation. With an eye towards the draft, Hornacek's goals for the rest of the season need to include developing young players and giving them opportunities to show the organization and fans whether they are a part of the long-term plans or not.
The Knicks will need Hornacek to embrace a true rebuild or find someone who will. One thing is for certain, things will get worse before they get better. Yet, featuring veteran players in a lost season gets the Knicks no closer towards eventually playing meaningful basketball games in April, and maybe one day, in June.