Enes Kanter is one of the most divisive players in the NBA, with opinions on his value all over the map. We take a look at which side is right, and how what the New York Knicks decide to do with him will play a huge role in building this team moving forward.
"…He's the hero Gotham deserves, but not the one it needs right now. So we'll hunt him. Because he can take it. Because he's not our hero. He's a silent guardian. A watchful protector. A Dark Knight."
Is Enes Kanter really that different than Batman?
Both are hunted by The Man, both got into it with the Joker, and both are lightning rods for public opinion. Is he a menace…or a hero? Half the fan base can't get him out of town fast enough, and the other half feels like he's been the only consistently good part of yet another season from hell.
Could they both be right?
Rare air
Can you blame his supporters, really?
Even if you're in the anti-Kanter camp, you'd have to admit that it's not hard to build a case for the big guy as a valuable piece of both the New York Knicks' present and future.
If you want to go the traditional route, you can point out that Kanter is one of only two players in the league (along with Clint Capela, who plays with two future Hall of Fame guards) to average 14 points, 10 rebounds and three offensive rebounds per game while also shooting 60 percent from the field.
Are advanced stats your thing? Kanter is one of only four players to sport a 64 true shooting percentage while keeping up a usage rate of at least 21, meaning he's one of the most efficient high-volume scorers in the league. The others? Kevin Durant, Steph Curry, and Karl-Anthony Towns, arguably three of the top six assets in basketball.
Can you win with Kanter? It would appear so. In the games he's played this season with a healthy Kristaps Porzingis and Tim Hardaway Jr., the Knicks are a .500 team despite not having ample talent elsewhere on the roster. Just two years ago, he played 21 minutes a night for a conference finalist.
And then there's all the other stuff…he's a model teammate, his coaches seem to love him, he plays hurt, and of course, won't back down from any fight. It's easy to argue that every NBA team needs a guy like Enes Kanter if it wants to be successful.
It's also easy to argue the exact opposite.
Haters gonna' hate
The easy place to start is with his defense.
As the Knicks nominal center who also happens to be an extremely large human, you would think that Kanter could establish a baseline level of defensive competence by merely standing up straight and putting his arms high in the air.
Except he can't. Despite being 6-foot-11, Kanter's arms are quite short for his body size. His wingspan during the pre-draft process was measured at just 7-foot-1, which is comparable to Al Horford and slightly longer than Frank Kaminsky (and far less than Porzingis' 7-foot-6).
Unsurprisingly, this affects his ability to block shots against other, equally tall humans. According to CleaningtheGlass.com, Kanter blocks just one percent of field goals attempted against him, which is in the bottom third of the league among big men. By comparison, Porzingis blocks nearly four percent of opponents' shots, which is among the best in the NBA.
Well, just because he doesn't block shots doesn't mean he can't negatively effect shots, right?
In Kanter's case, it does. When the Knicks center defends an attempt, opponents are hitting 52 percent of those shots. That number is fourth worst among 99 players who defend at least 10 field goal attempts per game, below only noted turnstiles Nikola Jokic, Kevin Love and Nikola Vucevic and 20-year-old guard Jamal Murray.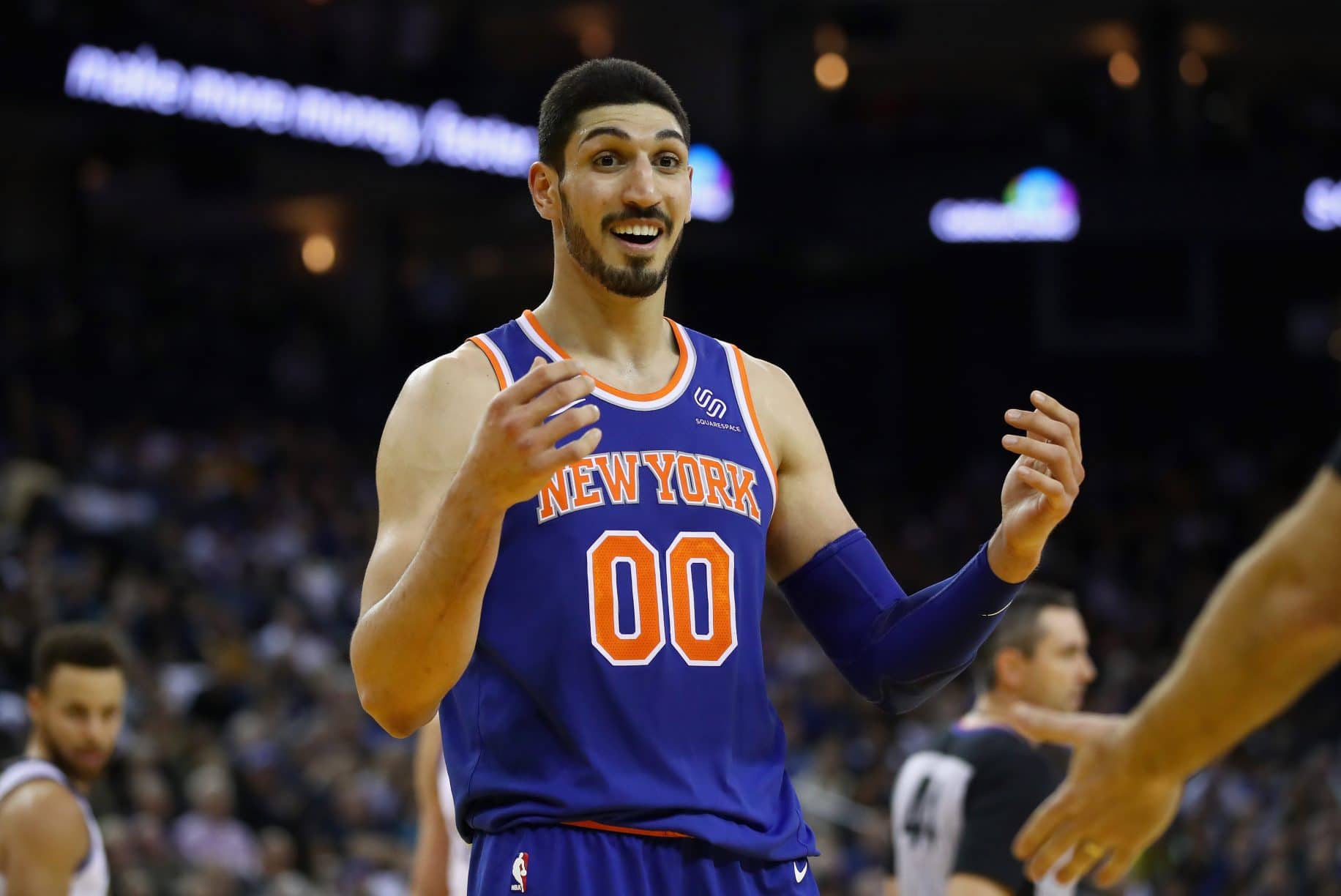 When added to Kanter's well-known ability to struggle to defend in space, one would think his deficiencies result in his team struggling on defense when he's on the court.
One would be right. Looking at advanced lineup data from CleaningtheGlass.com, we see that the Knicks give up 5.5 more points per 100 possessions when Kanter is on the floor, which ranks in the 12th percentile of the league. That's actually an improvement on his two-and-a-half seasons in OKC, where he was in the third, eighth and ninth percentile, respectively.
It gets worse. During the 788 possessions Kanter has been on the court without Porzingis, the Knicks have given up a Rucker Park League-worthy 121.4 points per 100 possessions. Not only is that over 10 points worse than the league-worst Suns, but it ranks in the bottom percent of all NBA five-man units.
It can't be all his fault, can it? Jarrett Jack is a sieve on the perimeter, so some of this has to be on him, right? Not according to the numbers. When Jack plays without Kanter, the team has a near-elite 103.6 defensive rating. When it's the other way around? 110.9 – in other words, worse than Phoenix.
There's no way around it: hard as he might try when he's out there, Enes Kanter remains one of the most detrimental defensive players in the league.
Worth the price?
So what.
No one's perfect, and just because Kanter isn't Dikembe Mutombo in the post doesn't mean he can't be a big part of a successful team.
Or does it?
If it was merely a question of roster construction, the answer might very well be in Kanter's favor. Theoretically, if he played with a group of strong defensive guards and wings and also alongside someone who could make up for his lack of rim protection, it's not impossible to fathom a team hiding Kanter's shortcomings enough to be a respectable defensive unit.
This is part of what made the partnership with Kristaps so exciting. Sure enough, through KP's last game on February 6th, the Knicks were 17th in the league in defensive efficiency. It was easy to imagine Frank Ntilikina taking Jack's place in the starting lineup next year, New York adding one more defensive-minded wing (Mikal Bridges, anyone?) and all of the sudden being a top 10 unit even with Kanter playing a significant role.
There's just a couple of problems with that logic. For starters, the injury to our unicorn savior changed everything.
When he returns, it's safe to assume KP will be spending more time at the five so as to put less pressure on his surgically repaired knee moving forward. Given the numbers for when Porzingis mans the middle, this is probably something the Knicks would have been moving towards regardless.
Would the Knicks suffer without Kanter's ability to chew the offensive glass and be a reliable option in the post? Yes and no. Via CleaningtheGlass.com, the Knicks outscore teams by 1.4 more points per 100 possessions when Kanter is on the court, which is solid, but nowhere near enough to justify what he gives up on the other end, especially with the KP-at-center option looming.
His limited offensive impact shouldn't be a complete shock since, for all he does on that end, spacing the floor isn't one of them. For his career, Kanter has just 32 made threes.
Still, wouldn't it be ideal if Kanter could be something of a nominal starter, save KP some early pounding in the paint, but only top out at 15, maybe 20 minutes a night max?
Given his current annual salary, that's about a million bucks a minute. Kanter's player option for next season is for $18.6 million, and given the NBA's current financial climate, he's a near lock to pick it up. How much of a pay cut can the team reasonably expect him to take after that deal runs out? Would he sign for $12 million annually? $10 million? Even less?
Anything is possible, but even for the self-professed Mr. Knick, loving the Big Apple only goes so far.
Moving on
Rather than bending over backward to accommodate an imperfect player, perhaps the Knicks should consider two equally intriguing alternatives.
Option A: Let Kanter expire. Yes, you'd be losing him for nothing, but if you can make up 75 percent of his production on offense, plug the holes he causes on defense, and do so at a fraction of the cost, would that be the worst roster-building strategy?
A serviceable replacement wouldn't exactly be hard to find. Jordan Bell, Deyonta Davis, Montrezl Harrell, Richaun Holmes and old friend Willy Hernangomez have all been picked in the second round over the last three years, while Daniel Theis and Cristiano Felicio were undrafted. Just last summer, Dewayne Dedmon – who shoots threes and can defend a bit on the perimeter – signed a two-year deal with Atlanta for $14 million total. Dedmon, Holmes, Davis, Ekpe Udoh, and Jarell Martin are all set to hit the market in 2019 and will come far cheaper than Kanter.
Option B: Utilize Kanter for the value he truly has: as an expiring contract.
There are plenty of teams out there who could easily talk themselves into Contract Year Enes Kanter, and just as many looking to offload salary in advance of the summer of 2019 when several stars will be hitting the market.
The Knicks figured to be one of the teams making pitches to Klay, Kawhi, and company in 16-and-a-half months, but Kristaps' injury may have changed those plans. Is any big-time free agent really going to join a team coming off yet another 50-loss season?
(If you don't think the Knicks are going to struggle immensely in KP's absence, you might want to tune into a game these days. It's…not pretty).
If New York isn't going to be a player in the market, they can at least take advantage of teams looking to shed salary.
Would, say, the Washington Wizards want to exchange Ian Mahinmi's albatross of a contract and a lightly protected first-round pick straight up for Kanter? If Boogie Cousins bolts for LA or Dallas, might New Orleans want to swap a future pick plus Solomon Hill and Alexis Ajina for the Turkish delight? Milwaukee is more complicated because of the protected pick they owe to Phoenix via the Eric Bledsoe deal, but a Kanter for John Henson/Matthew Dellavedova/future first deal would make a lot of sense.
All are options that could be on the table. All New York has to do is ask. For their trouble, the Knicks could potentially go into July of 2020 – the summer KP turns just 25 – with over $50 million in cap room. There have been worse ideas throughout the franchise's history.
Despite the sound logic, the big guy would be missed. He hasn't always made fans around the league, but he sure seems to like calling New York home.
So let's all enjoy this wrestling heel of a player while we still can. In a season that has gone wrong in just about every way one can, there are worse things to look forward to.