The New York Knicks need Frank Ntilikina to play with consistency in order for him to become their franchise point guard.
Frank Ntilikina has the potential to grow into a well-rounded point guard for the New York Knicks. But his inconsistent play is hurting his growth into becoming that caliber of a player.
This season, Ntilikina has impressed with his intriguing skill set. Finding his teammates in all of the right places and playing with a pass-first mentality, he has showcased an ability to run an offense at the NBA level. Playing tight on-ball defense and pick-pocketing opposing players, Ntilikina has also shown a willingness to compete on the defensive end. The Frenchman is averaging 5.3 points, 3.4 assists, 2.3 rebounds and 1.1 steals per game in 20.7 minutes a night. At the same time, while he's shown some promise, Ntilikina's heroics have been hot and cold.
Over his last five games, he hasn't really done anything with the minutes he is getting.
| Date/Opponent | MIN | PTS | REB | AST | STL | TO | PF |
| --- | --- | --- | --- | --- | --- | --- | --- |
| 1/25 @ DEN | 19 | 3 | 1 | 3 | 1 | 0 | 2 |
| 1/23 @ GS | 19 | 6 | 2 | 1 | 0 | 1 | 3 |
| 1/21 @ LAL | 18 | 7 | 0 | 3 | 0 | 1 | 1 |
| 1/19 @ UTAH | 5 | 0 | 0 | 0 | 0 | 2 | 1 |
| 1/17 @ MEM | 20 | 0 | 3 | 7 | 1 | 3 | 1 |
That makes it hard to say that he's deserving of more playing time—or that he should start over Jarrett Jack.
But if the Knicks want the most out of their rookie point guard they need to have him playing more often, to work his issues out on the court.
Averaging just 3.6 points per game on 30.5 percent shooting in January, Ntilikina has shown signs of regression in terms of putting the ball in the cup. He is also averaging just 0.4 steals per game in the 18.8 minutes a night he's played in January.
Ntilikina (19) is a part of a young and talented Knicks' core. Alongside the point guard, the Knicks have Kristaps Porzingis (22), Tim Hardaway Jr. (25), Willy Hernangomez (23) and Enes Kanter (25) in the fold. The case could be made that Ntilikina is the most important player to the well-being of that group down the road.
With go-to scorers (Porzingis, Hardaway) in place and potentially cap space to go out and sign a big name center (DeAndre Jordan? DeMarcus Cousins?) if trades to create cap space are made, then having a lead guard who can get others the ball is crucial. Given the confidence they showed in him over the offseason, the Knicks need Ntilikina to be that guy.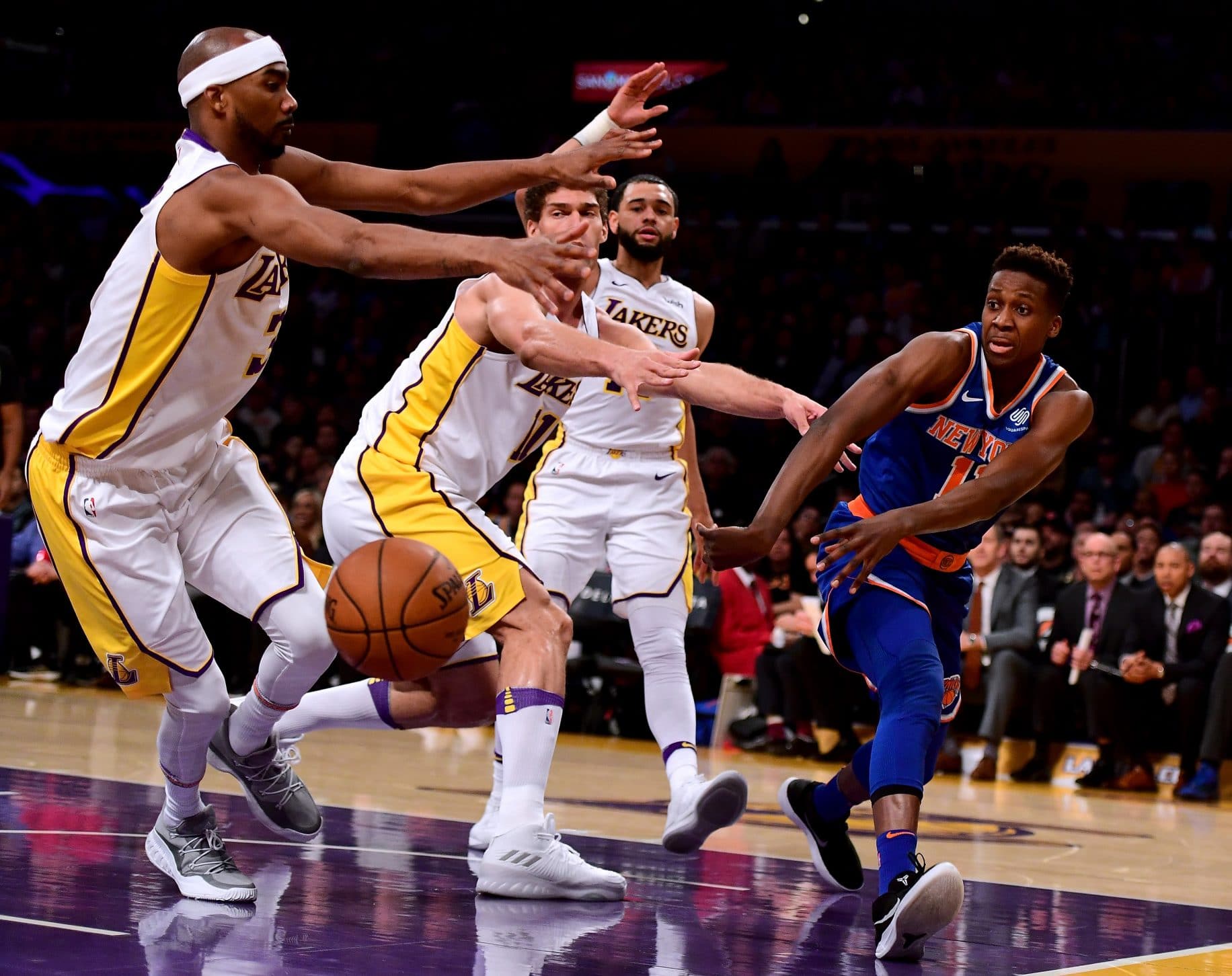 The Knicks drafted Ntilikina to be their point guard of the future. Management took a big risk passing on the likes of college standouts Dennis Smith Jr., Malik Monk and Donovan Mitchell to select Ntilikina — who was a bit of an unknown going into the NBA draft based on him playing overseas and not in college. And while Phil Jackson was the individual who ultimately decided to draft Ntilikina, president Steve Mills and now-general manager Scott Perry have supported the team's decision to go forth with drafting the 19-year-old, so they have to go forward with making him a centerpiece of their franchise.
As the Feb. 8 trade deadline nears, the Knicks may become sellers, being that they're rapidly falling out of the playoff picture at 21-28. If and when they opt to do so and veterans are shipped out of town, minutes and opportunity will present itself; Ntilikina needs to be apart of those promotions. For the meantime, he needs to be allocated a consistent amount of minutes.
For the first time since Nate Robinson back in the late 2000s (yeah, that long ago), the Knicks are of the mindset that their potential starting point guard of the future, or, at the very least, lead man in the backcourt, is on their roster in Ntilikina. In the 2010-11 season, the Knicks started off with Raymond Felton running the point, but Chauncey Billups finished the year. The ensuing season, they began with Toney Douglas, but finished with Jeremy Lin and Baron Davis. The next two seasons, they went back to Felton. The two seasons after that, they went with Jose Calderon and rolled with Derrick Rose last year. This season, Jarrett Jack has started the majority of games at the point, while Ntilikina backs him up.
Ntilikina can grow into being the Knicks' franchise point guard, but if he aspires to hold such a role, he needs to play with more consistency and Hornacek has to grant him more playing time.