The New York Knicks should roll with Emmanuel Mudiay and Frank Ntilikina in their starting backcourt.
The New York Knicks are in the midst of an eight-game losing streak, are playing without Kristaps Porzingis and are bound to be in position to potentially have a top-five pick in this year's NBA Draft; it's time for them to run some experiments with their youth. Challenge number one: Go with a backcourt tandem of Emmanuel Mudiay and Frank Ntilikina.
Last week, the Knicks made a trade on deadline day which netted them Mudiay. And while the Denver Nuggets' point guard was underwhelming in Mile High, he is a risk worth taking for the Knicks based on his intriguing skill set.
Whether it be attacking the rack, playing contested on-ball defense or utilizing his raw quickness, Mudiay has the potential to grow into a franchise point guard. The Knicks are doing Mudiay and themselves no favors by continuing to bring him off the bench.
In the three games Mudiay has played with the Knicks, he's averaged 9.7 points, five assists, three rebounds and a steal per game in 23 minutes a night off the bench. Mudiay's most impressive performance came in his Knicks debut on Feb. 11, where he finished with 14 points and 10 assists versus the Indiana Pacers.
The 21-year-old guard is best suited starting going forward if the Knicks want to truly assess his game and potential to be a significant part of their future. The same goes for Ntilikina.
Ntilikina began his rookie campaign showing signs of promise, but has been inconsistent as of late. Averaging just 5.2 points, 3.2 assists, two rebounds and 0.9 steals per game in 20.1 minutes a night, the Frenchman has struggled to make a profound impact. Those struggles were likely part of management's motive in trading for Mudiay.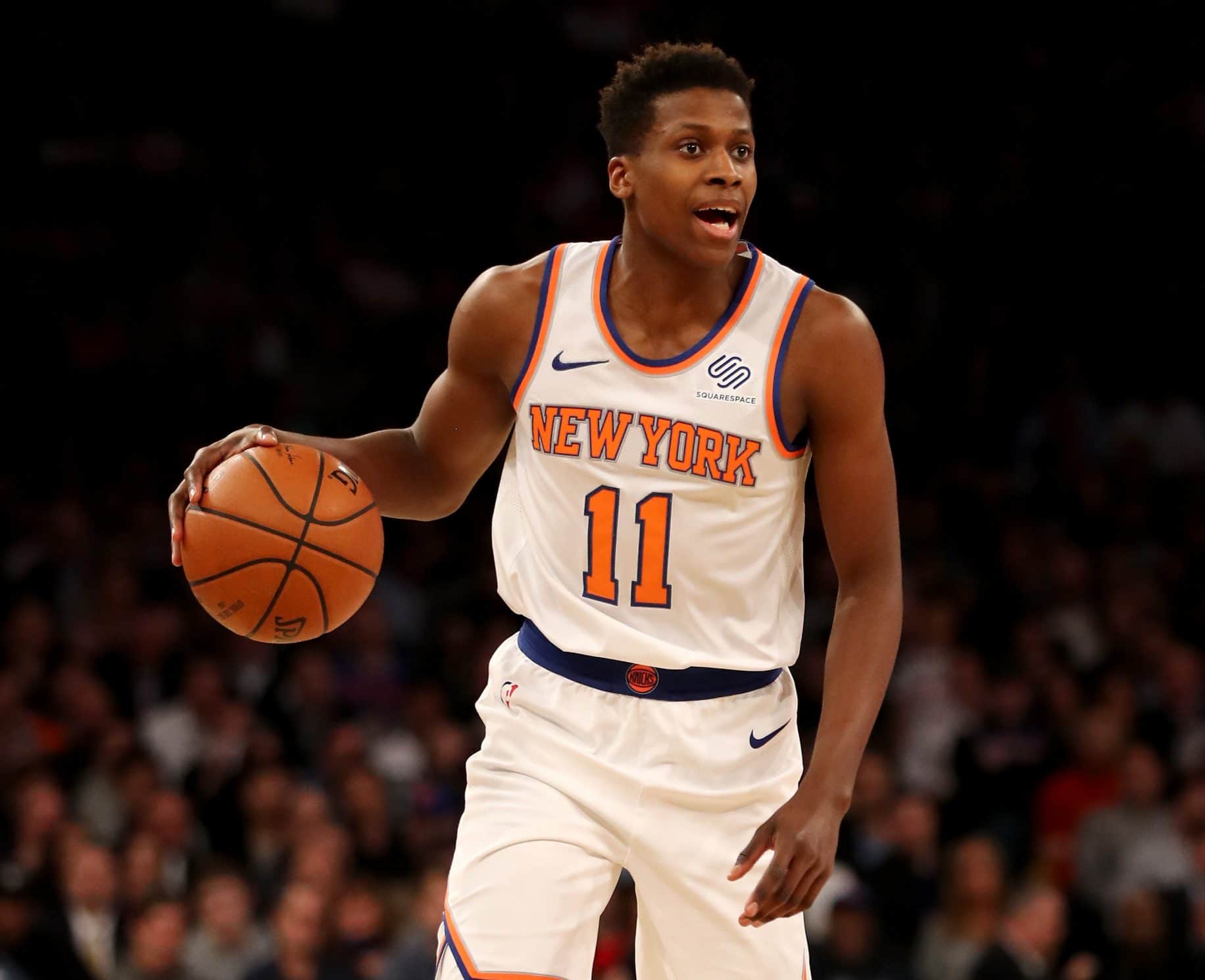 At the same time, the only way he's going to improve or shore up his weaknesses is by Jeff Hornacek granting him more playing time. And in what is a lost season, starting Ntilikina does the Knicks no harm.
Now yes, Mudiay and Ntilikina each play the same position (point guard), but they're both 6-foot-5 and capable of playing the off-guard. They're big guards who hold their own on the defensive end and have the ability to handle the rock.
For the majority of this season, head coach Jeff Hornacek has gone with veteran Jarrett Jack as the team's starting point guard. And while the 34-year-old guard is averaging 5.8 assists per game, his underwhelming defensive play and passive mentality on the offensive end slow the Knicks down. Currently 23-36, the Knicks probably aren't going to the playoffs. And with that conclusion becoming increasingly inevitable, it's time for Hornacek and the Knicks to give their youth the chance to showcase itself. Continuing to play Jarrett Jack isn't helping Mudiay and Ntilikina's growth.
According to Stefan Bondy of the New York Daily News, Hornacek appears ready to make a rotational change after the NBA All-Star break.
"It's probably all three of those young guys (playing more) — Frank, Emmanuel and Trey — and we'll slide a couple of them in the two-guard spot," the coach said. "Whether it's Trey and Emmanuel or some combination of those guys – Emmanuel and Frank, as well."
Plus, Hornacek featured a two and even three point guard set in his starting lineup when he was the head coach of the Phoenix Suns. With Goran Dragic, Eric Bledsoe and, at times, Isaiah Thomas, Hornacek was comfortable with having multiple ball-dominant point guards on the floor at once. Why can't he try to do the same with Mudiay and Ntilikina?
Such a lineup change would result in Courtney Lee losing a starting gig, but given where intentions lie in the organization, veterans such as the 32-year-old shooting guard may be shopped this offseason in an attempt to get as young as possible. And even if he's playing just 20 minutes a night or serving as the team's sixth man, Lee can still provide the Knicks with a three-point shooting threat and a defensive presence.
The Knicks took a risk selecting Ntilikina over Dennis Smith Jr., Donovan Mitchell and other college standouts. They acquired Mudiay to try and catch lighting in a bottle and also to push the 19-year-old to improve his game.
How do you get both Mudiay and Ntilikina to improve? Start them side-by-side.