The New York Knicks are gambling on former lottery pick Emmanuel Mudiay, but it's a shrewd bet to make, one that could pay off handsomely.
The New York Knicks appeared destined to be sellers as the NBA trade deadline neared, given that they were 23-32 going into Thursday afternoon. Instead, they executed a deal to acquire Denver Nuggets point guard Emmanuel Mudiay. And it's a risk worth taking for the Knicks.
Thursday afternoon, ESPN's Adrian Wojnarowski broke the news that the Knicks has acquired Mudiay and a future second-round pick in a three-team deal with the Nuggets and Dallas Mavericks. In this trade, the Knicks surrendered forward Doug McDermott and a 2018 second-round pick.
Denver, New York and Dallas agreed on a three-way deal, league sources tell ESPN. Mudiay to Knicks; Devin Harris to Denver and Doug McDermott to Dallas.

— Adrian Wojnarowski (@wojespn) February 8, 2018
New York will send Denver a future second-round pick in the trade, league sources tell ESPN. https://t.co/b13B7AHI4T

— Adrian Wojnarowski (@wojespn) February 8, 2018
While McDermott provided head coach Jeff Hornacek with three-point shooting off the bench (McDermott was shooting 38.7 percent from beyond the arc with the Knicks), the forward was beginning to fall out of the team's rotation. Plus, it was unlikely that president Steve Mills and general manager Scott Perry were going to re-sign the Creighton product after this season. And to essentiality swap him for Mudiay is a great gamble for the Knicks.
The 21-year-old Mudiay has endured an up and down career thus far. Selected seventh overall by the Nuggets in the 2015 NBA Draft, many viewed the 6-foot-5 guard as a potential franchise player. In his rookie year, he didn't quite play up to those expectations but was still productive.
Averaging 12.8 points, 5.5 assists and 3.4 rebounds per game, he showcased an ability to get to the hoop and find the open man in his rookie campaign. The ensuing year, he missed time due to injury and began to lose minutes as a result of the rise of Gary Harris and Jamal Murray. Averaging 11.0 points, 3.9 assists and 3.2 rebounds per game in just 25.6 minutes a night, Mudiay saw his role in Mike Malone's rotation slowly diminish in the 55 games he appeared in (41 of which were starts).
This season, he's playing just 17.9 minutes a night and averaging career-lows in points (8.5), assists (2.9), rebounds (2.2) and steals (0.5) per game; he's struggled to progress his game. With the Knicks, Mudiay gets a clean slate and the chance to grow into being the team's permanent point guard going forward.
Mudiay manned an inconsistent role in Denver, but with the Knicks, he could easily come in and be their starting point guard from the get-go.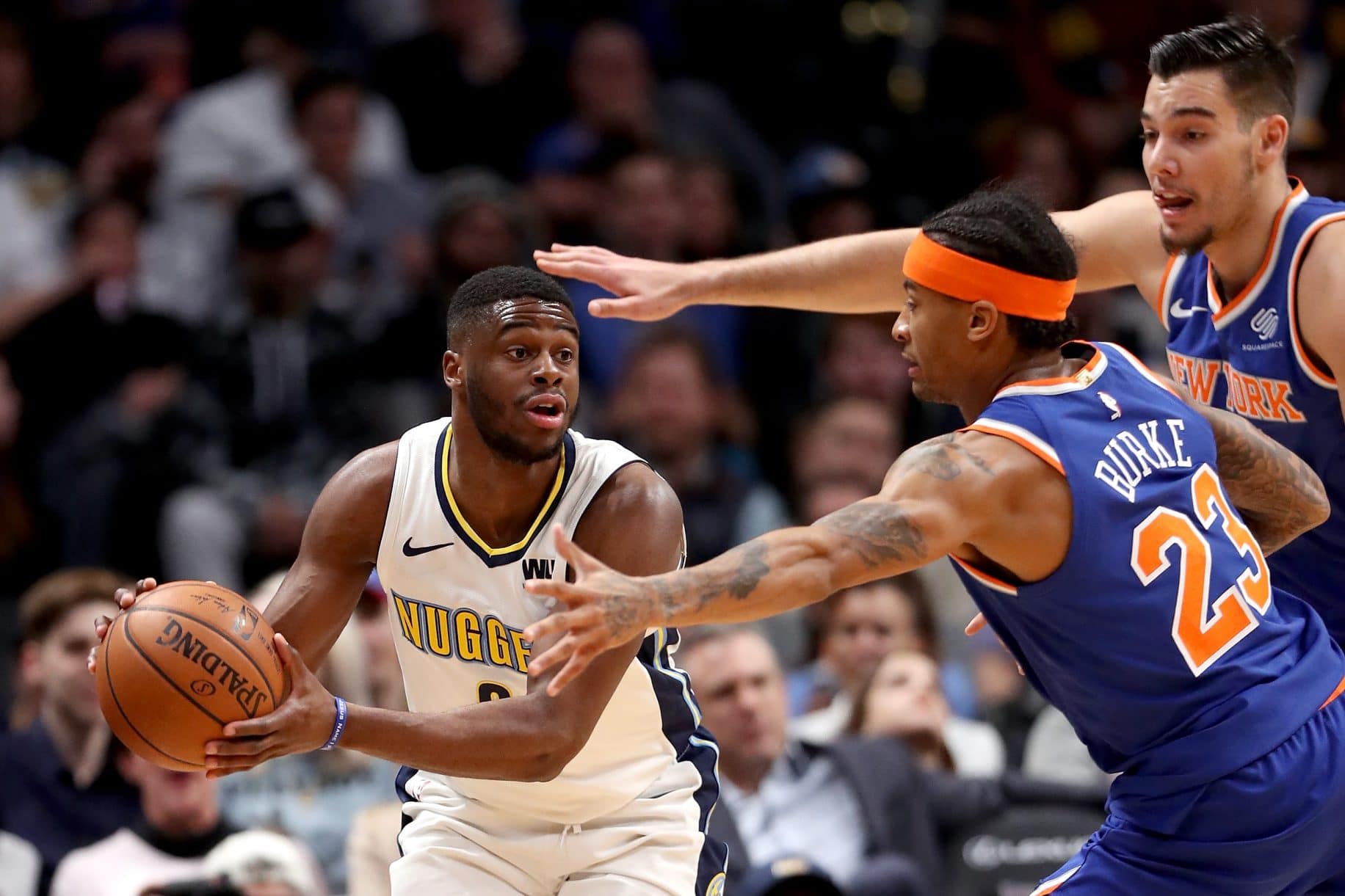 Yes, Mudiay's arrival creates a bit of a point guard logjam with Jarrett Jack, Frank Ntilikina, and Trey Burke, but there are a lot of factors to take into account with this situation. First off, it's unknown whether the Knicks are going to even hold onto Jack, being that they now have four point guards under contract and Jack being the oldest of the bunch, in theory, makes him the most likely to go.
Ntilikina played well throughout the first half of the season but has been inconsistent as of late. Averaging just 5.2 points, 3.3 assists and 2.1 rebounds per game in 20 minutes a night, he's been an underwhelming product. And the 19-year-old rookie hasn't yet shown that he's capable of manning a starting role or one where he plays a significant amount of minutes.
Burke has arguably been the Knicks' most productive lead guard, offensively. Averaging 8.5 points per game in just 14.2 minutes a night, he's come off the bench and forced the issue with his scoring prowess. At the same time, management may be of the mindset that he is better suited coming off the bench rather than starting. Doing so would give the Knicks a spark plug off the bench.
It was just three years ago that the Knicks and their fanbase pondered over drafting Mudiay. While he was a bit of an unknown being that he played in China, Mudiay was regarded as an athletic point guard who could get to the rim and play good on-ball defense. So far in his career, he's done just that but in spurts. Luckily for Mudiay, the Knicks could be just the chance he needs to jumpstart his career.
Now would it be realistic to expect Mudiay to turn a corner and become John Wall overnight? No, of course not, that would be utterly asinine. At the same time, the talent is there with Mudiay and with Kristaps Porzingis potentially gone for a full year with a torn ACL, many players will have the chance to step up and produce. And based on the timing of this trade, the Knicks clearly think Mudiay can grow into a well-rounded and reliable lead guard.
Ntilikina has disappointed and hit a rookie wall. Competition brings out the best in players and perhaps Mudiay's arrival pushes Ntilikina to play with more aggression and efficiency. The same goes for the Junior point guard. While it may make sense to start him from day one, it's certainly not a given that Mudiay gets the starting nod from Hornacek in his Knicks' debut.
In fact, former Knicks forward and Nuggets scouting director, Jared Jeffries, told the New York Post that Mudiay (a career 37.5 percent shooter from the field and 32.8 percent shooter from beyond the arc) has to improve his ability to finish at the rim, as Marc Berman notes.
"He's not a bad shooter — he's a bad finisher,'' Jeffries said. "That's why his field-goal percentage is a big focus. If he becomes a better finisher — something very possible — his whole game transforms. Take out his layups, he's not a bad shooter. If he'd finish at a 60 percent clip, he'd be 48 [percent] from the floor."
Many will argue that the Knicks should've sold off their veteran assets after falling out of the playoff picture and losing Porzingis for the year, but this trade is a potential no-risk, high-reward transaction for the Knicks. And while a logjam may exist if someone isn't released or demoted, it's better to have such a pileup at point guard. Having youthful talent and competition at the position that's the driving force of the NBA (point guard) only quickens and further modernizes a team.
Mudiay adds intrigue along with athleticism and youth on both ends for Hornacek and the Knicks to experiment with; he's a risk worth taking.