Luke Kornet is the newest player in the Knicks frontcourt and despite going undrafted, recent circumstances have given him an opportunity to succeed.
The New York Knicks see something in the 22-year old out of Vanderbilt University. Luke Kornet comes from NBA pedigree. His father, Frank, also attended Vanderbilt University and played 89 career games in the NBA for the Milwaukee Bucks.
While at Vanderbilt, Kornet garnered attention around the SEC as a stretch big man that could protect the rim. He was voted First-team All-SEC in 2017 and SEC All-Defensive Team in 2016 and 2017. College success doesn't always translate to the pros, but the Knicks decided they liked what they saw in him. Although Kornet went undrafted in the 2017 NBA Draft, New York decided to sign him to a valuable two-way contract this past June. The value of the contract has nothing to do with money.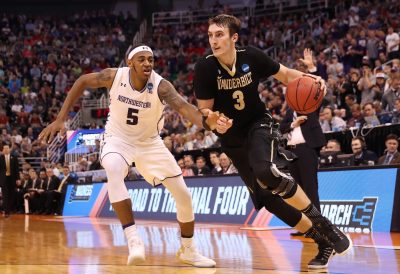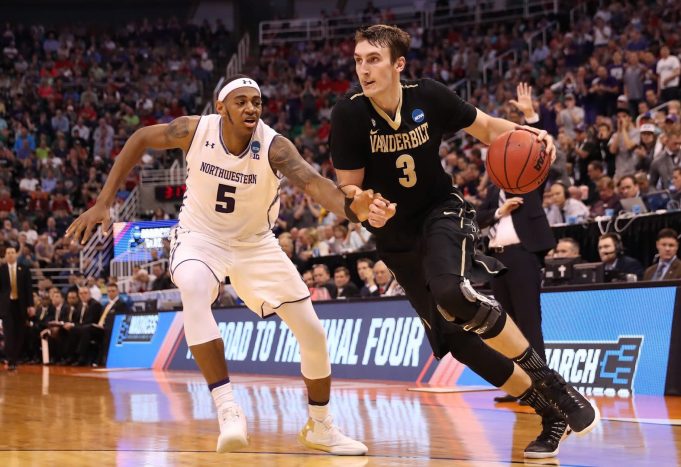 In 2017, the NBA changed the rules regarding roster spots. Each team's available roster spots increased from 15 to 17, but the caveat was that two of those roster spots must be reserved for two-way players. This new type of contract stipulates that each team can sign players who are free to go back and forth between the G-League and their NBA team. Two-way players can only be on the NBA roster for a maximum of 45 days.
Two-way contracts allow for teams to develop players at the G-League level without fear of another team swooping in and signing that player to an NBA contract. It also gives teams flexibility in their roster if they have to deal with injuries.
Not long ago the Knicks frontcourt was a tough nut to crack. Willy Hernangomez was coming off of a year in which he was named to the NBA All-Rookie Team. Many expected to see the young Spaniard become a focal point of the offense, but he couldn't manage to get off the bench. He was stuck on the outside of a frontcourt rotation that included Kristaps Porzingis, Enes Kanter, Kyle O'Quinn, and Michael Beasley. Kornet was a mere afterthought left to hone his skills in the Westchester County Center.
But Kornet seems to have found his opportunity with the unfortunate injury to Porzingis and the subsequent trade deadline deal that sent Hernangomez to Charlotte. Hernangomez was seeking more minutes and although the injury to KP should have freed up an opportunity for Hernangomez, the Knicks dealt him all the same.
Why would the Knicks trade a big man with seemingly so much upside? They did it because he's a dying breed. He has a nice inside post game, but he can't stretch the defense with an outside shot and his defense is suspect. Clearly, the Knicks felt they had something better up their sleeve.
Before getting called up, Kornet played in 33 games for the Westchester Knicks. His numbers paint him as a stretch big man that is becoming so valuable in today's game. He's averaging 15.9 points per game and 1.5 blocks per game for Westchester, but there's one stat that should really catch your eye. He is shooting 44 percent from deep on just under six attempts per game.
Teams are valuing outside shooting and rim protection much more as coaches and executives are focusing less on positions and more on individual talent. The prototypical NBA center has long been a fixture in the paint and not long ago the thought of a center taking threes was unheard of.
In his NBA debut, Kornet cashed in for a double-double, shot 3-for-7 from deep, and added four blocks. No need to overreact to those numbers because he's sure to have some growing pains along the way. He was held scoreless in his next two games and didn't get off the bench in a gut-wrenching loss Wednesday night to the Wizards. Regardless, the Knicks are likely to let the younger guys gain valuable experience after the All-Star Break. His opportunities are going to come in spurts so he's going to need to pounce on any chance he gets to impress the coaching staff.
Obviously, a successful college career doesn't ensure NBA success. Countless college stars have failed in the NBA. Obviously, great G-League stats don't guarantee NBA success. Trey Burke was stuffing the stat sheet for the Westchester Knicks and he's looking like the odd man out in a crowded Knicks backcourt. Little is certain for Kornet, but there is no doubt that he has an opportunity in front of him. The only thing he can do now is attempt make the most of it.