The New Jersey Devils currently hold the first wild-card position. With the NHL trade deadline, just nine days out it will be interesting to see what they do at the deadline.
The New Jersey Devils currently sit in a spot that most people didn't expect. With just nine days until the NHL trade deadline, the Devils are in a 'buyers' spot. In the past few seasons, they have been sellers, so its a nice change of pace for them to have a chance to go for it and make the playoffs.
I fully expect the Devils to make some type of trade but if they don't, there probably was not an offer that general manager Ray Shero liked enough to pull the trigger. If Shero and the Devils make a big splash, don't expect them to move their first-round pick.
Let's take a look at the top five players the Devils can target prior to the deadline on February 26.
This is a last resort for the Devils if Cory Schneider's injury is going to take even longer than expected. Lehner (26) is 12-21-8 with a 2.90 goals against average, and a .911 save percentage. I'm not saying the Devils necessarily need a goalie today, and Keith Kinkaid has done a nice job, but this is a nice piece in an emergency situation. This is a deal that won't get done until closer to deadline day. Lehner would simply be a one-year rental for New Jersey's playoff run this season.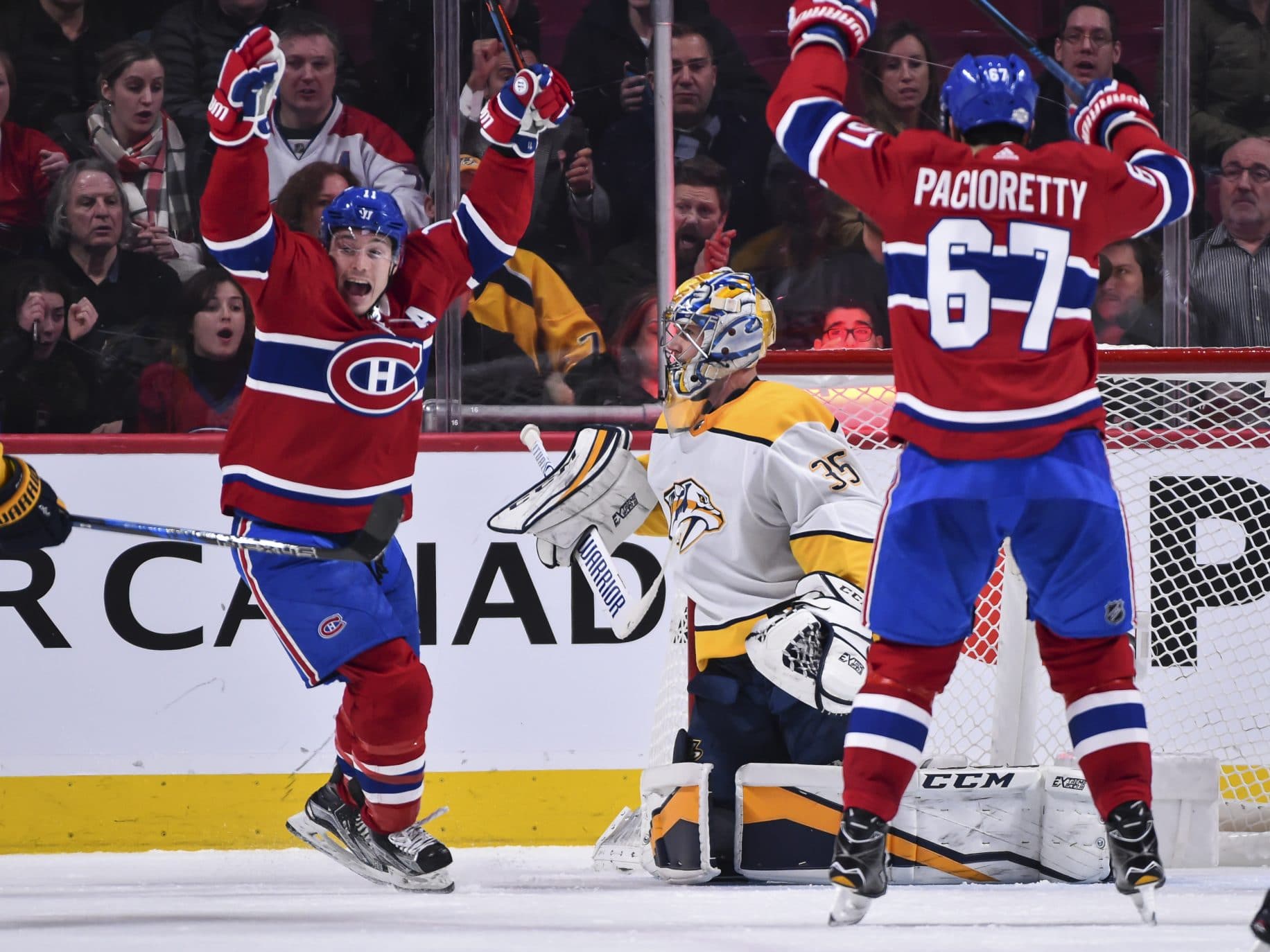 4. Montreal Canadiens Forwards
The Montreal Canadiens are one of those teams that are strung by the salary cap, so their players may be for sale at a premium. They are also 12 points out of a playoff spot so they will clearly be sellers at the deadline. Bob Mackenzie of TSN also said that "everything and anything" is possible for the Habs.
The three players the Devils should go after are Alex Galchenyuk, Brendan Gallagher, and Max Pacioretty. I don't expect a deal to be one-for-one like Taylor Hall for Adam Larsson, but these are three players who can help the Devils make the playoffs both now and later. All three of these players are also on long-term deals so the price could be a little higher, but also well worth it.
The first player the Devils can go after is Alex Galchenyuk. Galchenyuk (24) has 12 goals and 21 assists this season for 33 points. He is under contract through 2019 for $4.9 million per season. That is a pretty team-friendly deal for the Devils, especially considering how much cap space they have. Galchenyuk is a left winger that can play center. The Devils need more help on the right side but this could be a nice move for the Devils to make.
The next Canadiens player the Devils could go after is Brendan Gallagher. Gallagher (25) has similar numbers to Galchenyuk, just reversed. Gallagher has 21 goals and 12 assists this season. Gallagher seems like the best decision for the Devils. Gallagher is a right winger, a position the Devils need the most help at, and he is signed through 2020 only making $3.75 million per year.
Finally, the last player the Devils could pursue is Max Pacioretty. Pacioretty (29) has been a star in the NHL for a long time, but the price will probably be too hefty for the Devils to bite. If the price is right, Pacioretty is another left winger that could add to the Devils depth. This is the least likely move for the Devils to make because they control the other two guys for longer, but if the club believes they want to go for it now, Pacioretty is their guy.
Also, all of these players have had at least 28 games of playoff experience.
We go back to Buffalo and take a look at Sam Reinhart. Reinhart was the second overall pick in the 2014 NHL Entry Draft. Reinhart (22) is an RFA after this season, and he has a lot to prove. In 58 games this season, Reinhart has posted 13 goals and 16 assists. If the Devils decide this is a route that they want to go, they could potentially get a top five-caliber talent for a reasonable price. I'm assuming the Sabres are probably looking for a mid to high-level prospect and a second or third round pick, which could be just enough for Shero to pull off the deal.
2. LW Thomas Vanek, Vancouver Canucks
It's hard to tell whether or not the Devils will be in the rental business for a forward this season. This was supposed to be a 'rebuilding' season for New Jersey so they may not necessarily be in the market for an expiring forward, but if they are, Vanek could be the guy. Vanek (34) is a player with 64 games of playoff experience. In those 64 games, he has 20 goals and 14 assists. He could be a huge veteran presence down the stretch and if this team makes the playoffs. In this season, Vanek has 16 goals and 23 assists for 39 points.
Mike Hoffman has been rumored to be traded to the Devils for quite some time now. Hoffman was a crucial player for the Senators down the stretch last season with six goals and five assists in 19 games. This is another player that can be a nice fit for the Devils, but the price could potentially be too much. Since his inception into the league, Hoffman has basically posted at least 50 points per season. Hoffman is also under contract until 2019-20. If it's going to cost some package with Miles Wood, I'm not sure if I would make the deal as the Devils. Other than that, anything is on the table.
It's an exciting time to be a Devils fan. With them being potentially on their way to the playoffs, now is the time to make a trade deadline move count. Will they do it? Stay tuned.