New Jersey Devils great Patrik Elias joins Schwartz on Sports to discuss the retiring of his number 26 at the Prudential Center. 
It is the highest honor that a team can bestow upon a player.
Only the best of the best can get their number retired by a sports franchise and in the case of the New Jersey Devils, only four players can say that their numbers have been raised to the rafters at the Prudential Center.
That is until next Saturday.
On Saturday night Feb. 24, former Devils center Patrik Elias will become the fifth player in franchise history to have his number retired when No. 26 heads to the rafters at "The Rock" before the Devils take on the Islanders. Elias will join former teammates Martin Brodeur (30), Scott Stevens (4), Ken Daneyko (3), and Scott Niedermayer (27) in this special fraternity and becomes the first forward in franchise history to have his number retired.
"I'm just so appreciative of everything and I'm looking forward to it," said Elias during our phone conversation for my "Schwartz On Sports" podcast on Elite Sports Radio. "This is going to be a great night…a great honor for me and for my family."
Elias was the Devils second-round pick in 1994 and played in just 16 games during his final NHL season in 2015-2016 due to a right knee injury. He had hoped to play one more season, but needed to undergo surgery and announced his retirement on March 31 of last season. Elias skated with the Devils during warmups of their April 8th home game against the Islanders and was honored during a pre-game ceremony in which he took a ceremonial face-off.
Elias, who helped lead the Devils to a pair of Stanley Cup titles in 2000 and 2003, is the franchise's all-time leader with 408 goals, 617 assists, and 1025 points. During a 20-year career that covered 1,240 games, Elias helped the Devils to 666 wins and holds the franchise for most points in a season with 96 along with the most hat tricks in a career with eight.
"It's not easy to put up those numbers," said Elias who will turn 42 on April 13. "I was lucky enough to play a long time and do that for one team only and that's the one thing that I'm the most proud of."
It's appropriate that his number is being retired before a game against the Islanders because he has played more games (91) and has scored more points (86) against the Devils' Metropolitan Division rivals than against any other opponent.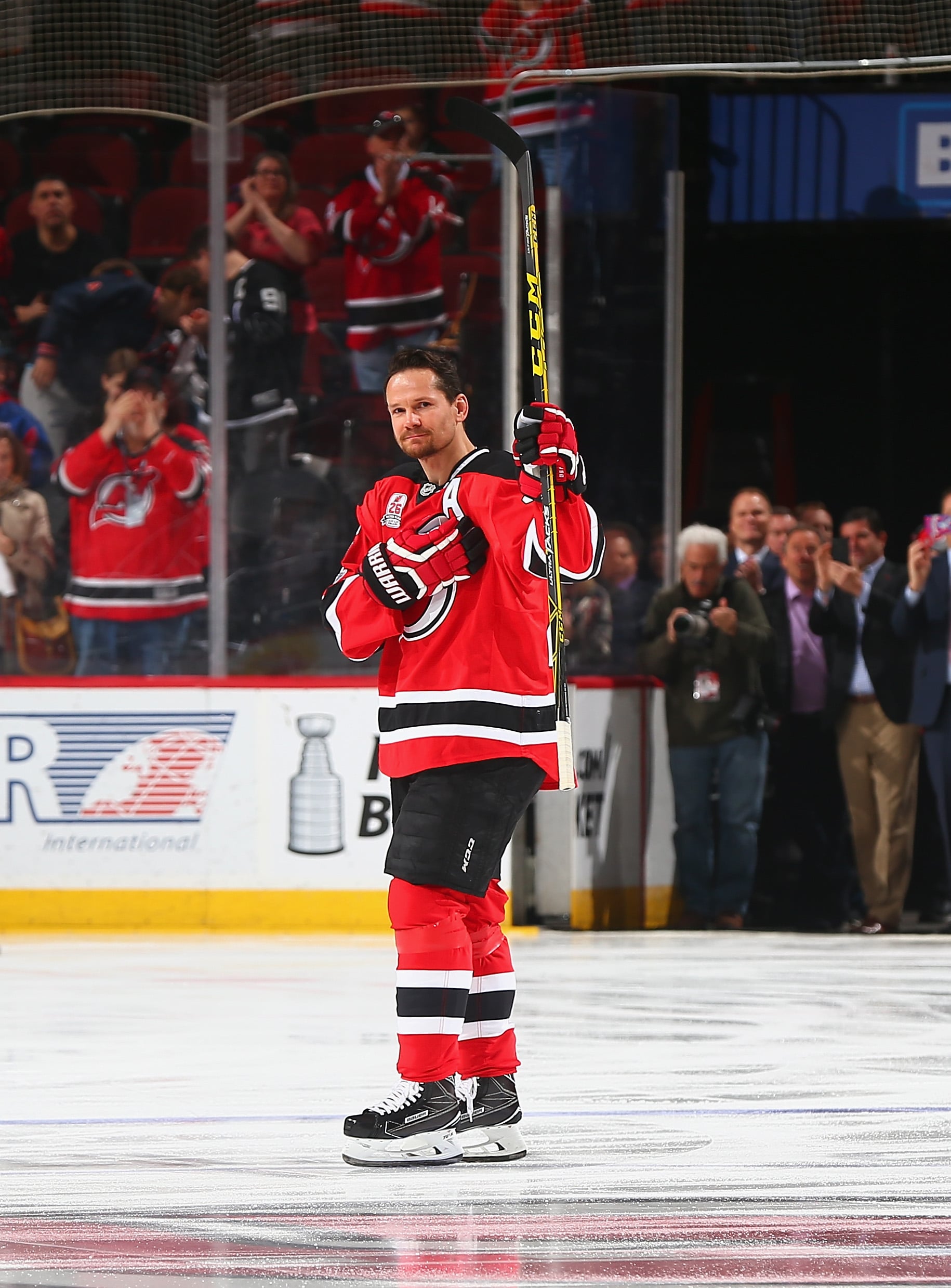 Elias enjoyed the rivalries all those years with the Islanders and the Devils and what it was like to be in a market with three teams.
"I always loved to play against the tri-state area teams," said Elias. "It's very unique obviously. There's a lot of people in this area but still they get to watch three teams in the National Hockey League in this area on a nightly basis. If you're lucky, you get the playoff rounds against each other."
These special ceremonies have been good luck for the Devils on the ice as they have a 4-0 record on prior jersey retirement nights. It would certainly be two huge points for the Devils who currently hold the second wild-card spot in the Eastern Conference.
Patrik Elias enjoyed a wonderful NHL career with the Devils and he'll take his rightful spot in the Prudential Center rafters next Saturday on a night when the Devils organization and fans will be able to reminisce and celebrate so many great memories.