The New York Islanders billboard was 100 percent fan-funded through GoFundMe and took just over an hour to raise the full amount necessary to keep the billboard up for about four weeks.
Things have gone from bad to worse in Isles country.
The once-hopeful New York Islanders were a potent offensive team that only had to straighten out their defensive kinks to compete. Now, they're a one-dimensional team whose over-reliance on a high octane offense can bail them out only occasionally. In the NHL's toughest division, that doesn't cut it — and the standings have made that perfectly clear.
Only a single point separates the Islanders from the cellar of the Metropolitan division and a loss against their rival New York Rangers on Thursday could prove disastrous for a team that continues to unravel at its loose seams.
Jon Ledecky and Scott Malkin have given general manager Garth Snow a vote of confidence, and there seem to be no changes on the horizon. As the Islanders continue down the corkscrew slide that is the Eastern Conference, Doug Weight is rapidly running out of ways to say that his team needs to start competing.
So, naturally, the fans came up with their own solution — one that will sound awfully familiar to New York Jets fans.
After meeting the goal of $2,725 in just about an hour's time, Isles fans paid to rent a billboard just around the corner from the Barclays Center.
In fact, so much money has been raised that a second billboard is now in the works, and despite the original intention of donating the excess proceeds to Anders Lee's Kancer Jam, the forward has respectfully declined any donation.
The excess funds will be donated to the American Cancer Society.
Austin Vogelsberg's concept art paints the picture perfectly for what fans have in mind: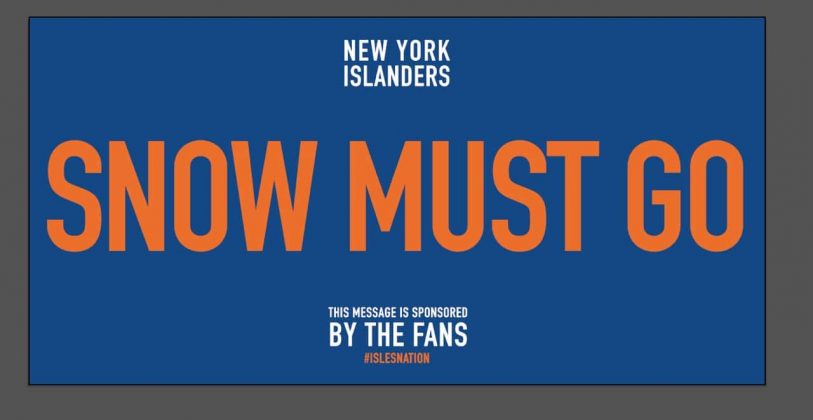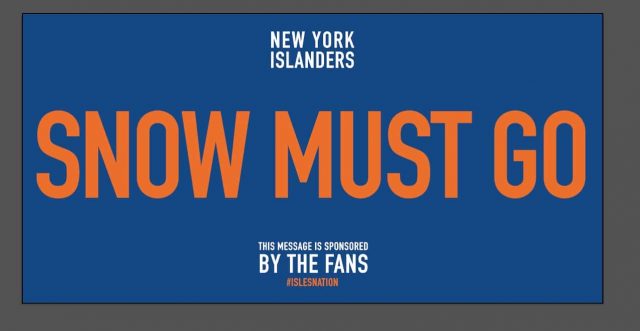 The campaign's message reads as follows:
It's time to send a clear message to Islanders owners Jon Ledecky and Scott Malkin. Fans will no longer tolerate the culture of losing surrounding this franchise. Help us send a message and tell ownership that "SNOW MUST GO" on a poster board within a half mile of the Barclays Center.
The month of February is winding down, and there are just 24 games left to play until the season's conclusion. This is make or break time, do or die, sink or swim, etc. The Islanders are in a generational season; either John Tavares re-signs and the push continues, or he goes elsewhere and the organization is forced to pick up the pieces and move on.
Either way, it's clear that fans do not want Garth Snow making any decisions — good or bad.