New York Islanders star Anders Lee joins Schwartz on Sports to discuss his team and the second annual Kancer Jam.
When the New York Islanders host the Minnesota Wild on Monday, Feb. 19 at Barclays Center, there will be two huge points on the line for the Isles as they battle for an Eastern Conference playoff spot. But after the game, there will be a battle that has a much bigger meaning than the results of a hockey game.
For the second consecutive year, Islanders winger Anders Lee will be hosting "Kancer Jam", a tournament with 32 teams playing "Kan Jam" that will help raise money for children who are battling cancer. Each team will have two players plus an Islanders player and will play in at least three games. Then, the best teams will advance to a single elimination tournament to determine a champion.
"We're really looking forward to having another year of our Kancer Jam," said Lee during a phone conversation for my "Schwartz On Sports podcast. "And the end of the day we crown a champion and we raise money for kids with cancer."
All of the details on how you can sign up and help raise money can be found here: Jam Kancer in the Kan.
The event takes place right after the Islanders game that day against Minnesota on the Brooklyn Nets practice court at Barclays Center. Lee is joined by his teammates for an afternoon of fun as everyone gets an opportunity to raise money for a worthy cause while also showing off their frisbee skills in the popular game of "Kan Jam".
Well … almost everybody.
"For the most part, everyone can throw a frisbee," said Lee who leads the Islanders with 29 goals this season. "I can't speak for everyone on the Islanders. I've seen some guys throw some frisbees that you'd be surprised that they're in the NHL."
That answer begged for a follow-up question. So who's the best Kan Jam player on the Islanders and who's the worst? That opened up the door for Lee to be both complementary and politically correct.
"The ringer is definitely (Josh Bailey)," said Lee. "He plays all the time in the summer and I think it might be his go-to game in the off-season. Just so everyone shows up, I'm not going to sell anyone out because they all have to be there. If you want to see who's the worse, you have to come."
And just like last year, a lot of fans will come to help raise money and to have an opportunity to meet the players and have a fun-filled afternoon. The fans get to enjoy food and drink while also hanging out with the players. For Lee, it's special to be able to host this even with all of his teammates.
"It says a lot about our locker room and the kind of guys that we have and the character that we have," said Lee, the former Notre Dame star that the Islanders selected in the 6th round of the 2009 NHL Draft. "It's a good bonding experience for us as well."
As of Monday, over $415,000 has been raised by the "Kancer In The Kan" initiative and the goal for this year is for Lee's event next Monday to raise $100,000. So far, a little over $51,000 has been pledged and there's still time for more teams to join the tournament. If last year's event was any indication, fans that take part this year will have a terrific and rewarding experience.
"It was awesome," said Lee of last year's "Kancer Jam". "It was two and a half hours of great fun. The tournament was going on but in-between games and sets you're talking with the fans and hanging out with them. At the end of the day, it is for a good cause so it makes it that more special."
During the interview, also had a chance to talk with Anders about the current season. With 60 points, the Islanders sit just outside of a playoff position in the Eastern Conference. They trail the Carolina Hurricanes by one point for the 2nd wild card spot and they're just two points behind the New Jersey Devils for the top wild-card berth.
The Islanders have been inconsistent lately, but with 25 games left in the regular season starting with Tuesday night's home against Columbus, there's still plenty of time to get on a roll and cruise into the Stanley Cup Playoffs.
"We gotta get it going and we gotta get it going right now," said Lee who is fourth on the Islanders this season with 45 points. "I think a lot of it has to do with our connectivity and our defensive zone play. We're spending too much time in our own end."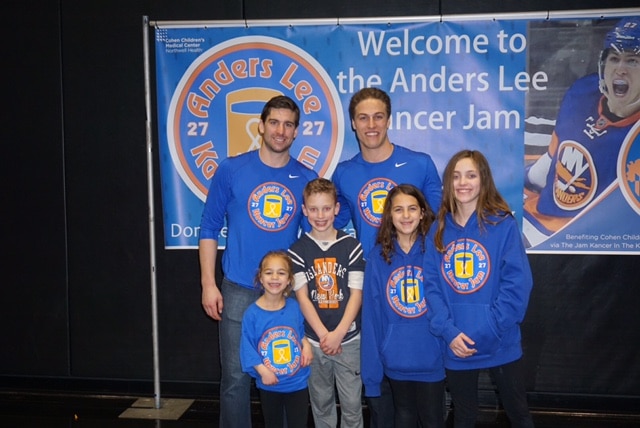 While the Islanders are focused on making the playoffs, they're also keeping their fingers crossed that captain John Tavares is still an Islander next season. Tavares is a free agent after this season and while he has said all along that he hopes to stay with Islanders, nothing is for certain until he puts pen to paper on a new contract.
So far, it's been business as usual for the Islanders and that won't change until Tavares makes a decision.
"Johnny hasn't acted any differently," said Lee. "He's continued to be the leader that he is. It's out of our control. Johnny has always said that he wants to be here. He loves the Islanders and he loves the group of guys. I know he wants to win a (Stanley) Cup here. I'm not going to worry about it until something bad happens."
Well, something good that has happened recently that could play a role in any decision that Tavares makes is the fact that the Islanders now know their future in terms of where they will play their home games. The Islanders will be returning to Long Island as a new arena will be built next to Belmont Park that is expected to open for the 2021-2022 season.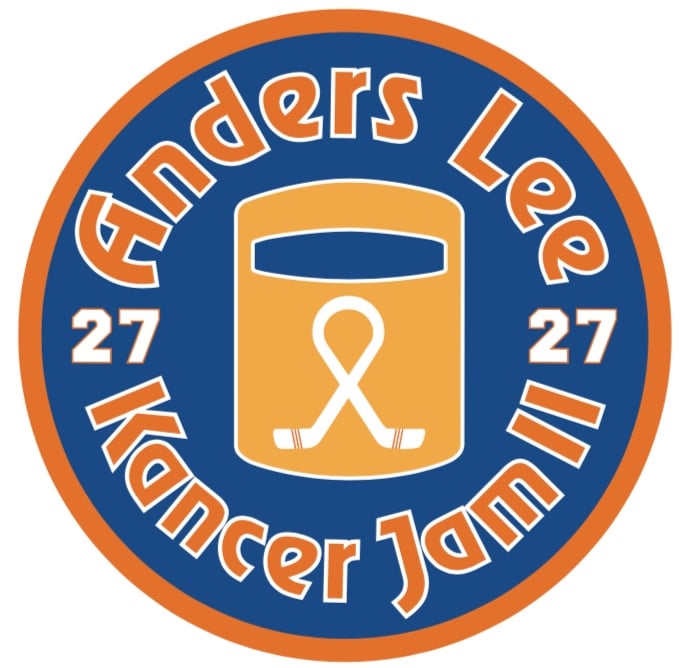 But for the next seasons after this one, the Islanders will are an early and limited return to Nassau County with home games split between Barclays Center and Nassau Coliseum, the team's former long-time home that has been renovated and is now called "NYCB Live, home of the Nassau Veterans Memorial Coliseum."
"I think it's awesome," said Lee. "I can't wait. It's where my career started and had some wonderful memories there. It's a special place. It's our barn and that's where the Islanders have all their history."
Being a big part of the community has also been important to the Islanders over the years and Anders Lee's "Kancer Jam" event next Monday will be no different. The fans are certainly hoping for a festive event after a big Islanders win over Minnesota, but the real winners at the end of the day will be kids who are battling cancer.
Every dollar raised is so important and there are still some spots left for more teams to join.