Even though Jeff Hornacek was dealt a bad hand, it's clear that the New York Knicks should move forward without him.
H
e was hired by
Phil Jackson
and handcuffed to the Triangle Offense when he arrived, but he survived a regime change following Jackson's dubious exit. He had to deal with the somewhat contentious departure of
Carmelo Anthony
, the face of the franchise. He was the guy left standing amid the rubble after the two big egos were out of town. But he was given something special in
Kristaps Porzingi
s.
With the recent injury to Porzingis, the New York Knicks future is uncertain. Even before the 22-year-old from Latvia went down with a torn ACL, the front office's plan may not have included current head coach Jeff Hornacek. It's not necessarily Hornacek's fault. He's been dealt an odd, if not a downright bad hand.
That being said, Hornacek is clearly not the guy who should be in charge as the Knicks move forward with this rebuild.
The Good:
It would be foolish to bash Hornacek without highlighting some of the positives that he's brought to the Knicks. For starters, he's done a pretty good job with the development of Porzingis.
Prior to the knee injury, KP was having a career year and was even named an All-Star for the first time in his career. The Unicorn is averaging a career-high 22.7 points-per-game this year which is a 4.9 point improvement in his career average. He also took a major step forward defensively this season and was leading the league in blocks with 2.4 per game when his season ended. There is certainly room for KP to grow even further, but up to this point, Hornacek has done an excellent job at developing the team's crown jewel.
Additionally, the Knicks were fighting for a playoff spot, and in serious contention before a slew of injuries and a brutal road schedule slowed New York down. On December 16th, the Knicks beat the Thunder in convincing fashion to move to 16-13 on the season. They stood as the six seed among a log-jam of Eastern Conference teams. They were the beneficiaries of a soft schedule, but nonetheless, they were outplaying most everyone's expectations.
Unfortunately, the injury bug and an increasingly difficult schedule have become too much for Hornacek and his squad to withstand. Porzingis had missed seven games with injury this season, and it's clear that they were a different team without him. The Knicks only managed to win one game without their star. Second-leading scorer Tim Hardaway Jr. Has also missed significant time this year. He missed over a month this season from December into January.
It's not fair to say that Hornacek has done a terrible job with the Knicks this season. He's provided plenty of positives and was put into a precarious situation. Despite the numerous positives that Hornacek has brought, they don't outweigh the negatives.
The Bad:
This team can't close out games. They are downright brutal down the stretch of games. Even Porzingis spoke out about the Knicks' inability to close out games, albeit without throwing his coach under the bus. It's important to have realistic expectations with a young team. It's not fair to expect that they're always going to come through down the stretch. That's part of the trial by fire that all young teams must endure.
The problem with Hornacek's Knicks is that there has been little to no improvement at closing out games. Per Elias Sports Bureau, the Knicks have lost five games since January 1st after leading by five or more in the fourth quarter. That is not a good look for a team and it is an awful look for a coach. There's no denying it, the late-game execution has been seriously lacking under Hornacek's tutelage.
Rotations are one of the main concerns with Hornacek. It's a tough element of the game for any NBA coach to manage, let alone one that is trying to win while simultaneously developing the team's young talent. The problem with Hornacek is that he's had a couple players openly questioning his decision-making this season.
The promising young Spaniard, Willy Hernangomez was dealt on Wednesday in exchange for Johnny O'Bryant and two future second-round picks. The main reason for Hernangomez's desire to skip town was his frustration with his playing time or lack thereof.
Enes Kanter was notably vocal earlier this season in voicing his frustration at not being part of the late-game rotation. Earlier this season, Kanter told Marc Berman of the New York Post: "What'd he say? I have no idea why. I guess it's a little weird. I have no idea. I look at the coach. He looks at me. OK? I'll sit on the bench." It's not out of the ordinary for a player to want to play in crunchtime situations, but it is a little strange that Kanter would be calling out his coach in such a public fashion.
Finally, and this is somewhat subjective, but the Knicks have no identity under Hornacek. Is this a team with a strong defensive mindset that is willing to grind out games? No. Are they a run and gun team that constantly try to push the pace and get out in transition? Despite Hornacek's best efforts, they aren't. Earlier this season, one could make the case that they identified as the MSG Knicks because of their ability to win at home. With a current home record of 16-11, that distinction is quite the reach.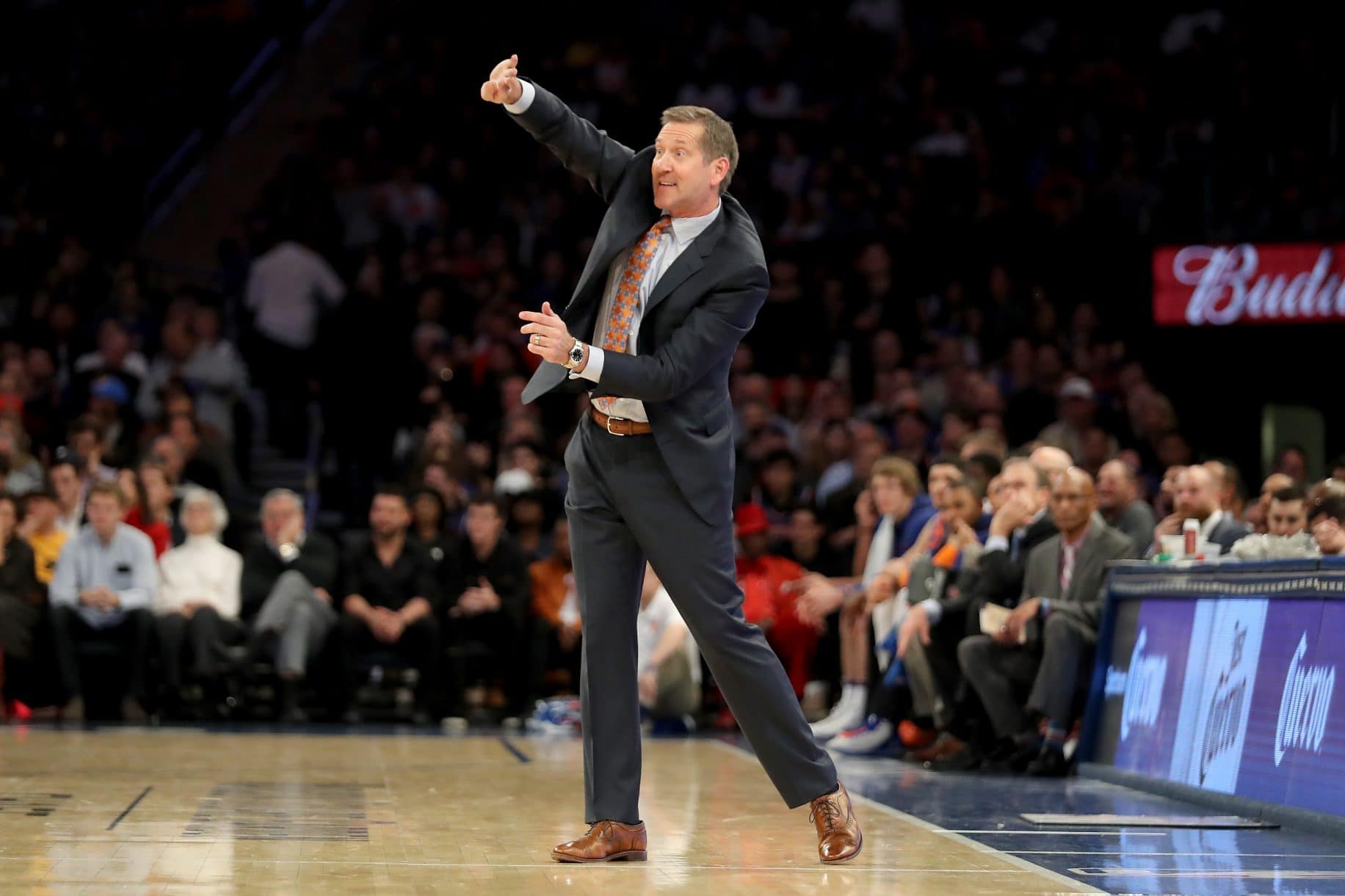 The Ugly:
There has to be some ugly here and look no further than the Joakim Noah situation. All parties involved look silly, and it wasn't Hornacek who signed Noah to one of the worst contracts in the NBA, but Hornacek could have handled this debacle better. It may not have been easy, but there had to be some way to avoid the mess that the Knicks find themselves in with the former Defensive Player of the Year.
Aside from Noah, for which Hornacek is only partially responsible, there is certainly more ugliness to come. As mentioned earlier, the Knicks are only 1-6 in games without Porzingis and they will need to finish the final 26 games of their season without their All-Star. Expectations are low.
As it stands, Jeff Hornacek should not be back on the sidelines next season, but he has earned the right to finish out the season. It's likely to get ugly in the final two months and the Knicks are likely to fall further in the standings (and higher in the draft). If Hornacek can manage to develop some kind of identity, he may be able to save his job.
Unfortunately, things are going to get much worse before they get better. It doesn't look like Hornacek will survive the ensuing chaos.