The New York Giants are faced with a number of options as they look to solve their Saquon Barkley conundrum.
D
rowning beneath academic textbooks in the height of assignment season, it proved impossible to escape a University exemplum when evaluating the prospect of Saquon Barkley becoming a
New York Giants
running back.
The mesmeric Penn State running back marks a luxury option and one of the dazzling headliners in the 2018 NFL Draft. In an accomplished class, he gleams as the most gifted commodity.
For Big Blue, he represents the extra drink on a student night out. The one that perhaps isn't needed, but the one that teases the potential to transform satisfaction into Super Bowl-winning euphoria. The one that may only provide short-term gain, but the one that boasts a dangerously irresistible impact.
On their mission to not only respond to an atrocious 2017 but also mount a playoff challenge, do the Giants desperately need Barkley?
History would suggest no.
Championship victories certainly aren't reliant on a star running back in a notoriously pass-first NFL.
Nonetheless, the Philadelphia Eagles may well have proposed an adequate counter in that respect after earning the ultimate reward for their bullish and multi-faceted rushing attack.
It wasn't so long ago there was a fixation on the Giants bolstering their running game after a sorry 2016 in the backfield.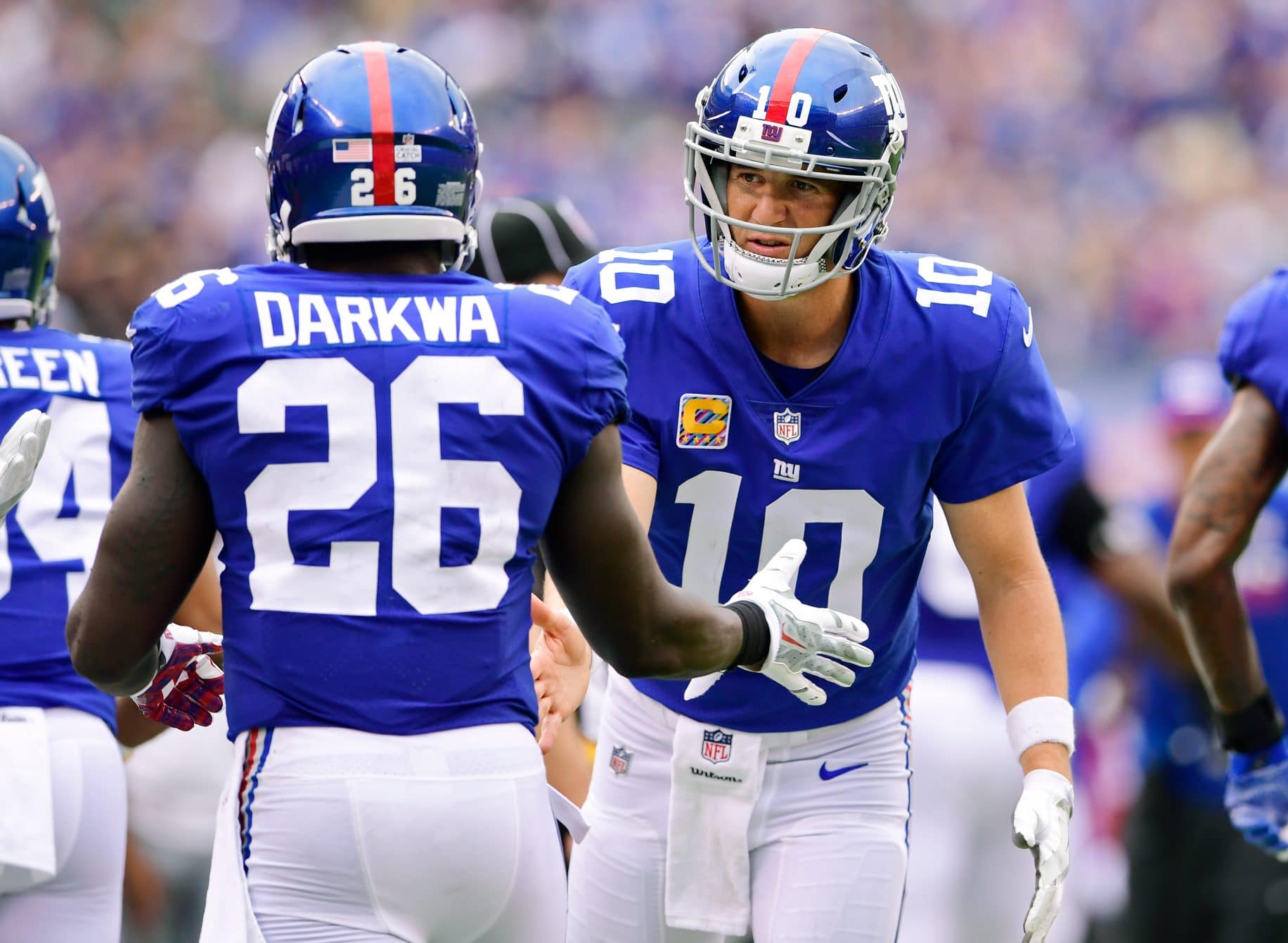 A career year from Orleans Darkwa and encouraging early signs from rookie Wayne Gallman last season combined in diverting the focus to more glaring weaknesses elsewhere on the team.
Besides quarterback Eli Manning's struggle connecting with his depleted receiving corps, the attention naturally circled back to a much-bemoaned offensive line in East Rutherford.
Darkwa pounded for 751 rushing yards and five touchdowns to fuel consideration over what kind of figures he could rack up with elite blocking ahead of him. The 25-year-old doesn't possess Barkley's explosiveness or agility through tight avenues, but is arguably worth re-signing purely on the basis of his potential playing behind revamped protection.
It can be argued Dave Gettleman's well-publicized intention to address the Giants' offensive line bodes well with or without Barkley.
The Giants must enter the draft with the belief that they won't have ownership of the second overall pick for years to come. With that in mind, turning to Josh Rosen or Sam Darnold may be the more logical approach to coincide with so-called 'quarterback whisperer' Pat Shurmur beginning his reign. It remains to be seen how justified the Giants' faith in third-round pick Davis Webb is.
Darkwa's status as an unrestricted free agent leaves his future slightly uncertain, whilst veteran back Shane Vereen finds himself in a similar position. The possibility of losing at least one of the pair hints towards the Giants addressing their running game in some capacity.
Whilst being the obvious frontrunner, Barkley does find himself part of a stacked pool of running backs set to make the transition to the pro level this year.
San Diego State back Rashaad Penny is another exciting talent in this year's draft, having mustered more all-purpose yards than Barkley in college football last season. Though he doesn't match Barkley's dynamism, Penny is a powerful runner capable of being a worthwhile addition to any offense.
Georgia duo Nick Chubb and Sony Michel serve as further evidence of the running back depth that beckons for the Giants.
Free agency poses as another possible route to pursue, with the Minnesota Vikings' Jerick McKinnon and the Eagles' LeGarrette Blount surfacing as attractive potential alternatives.
Providing promises to strengthen the offensive line are fulfilled, there would be plenty pleased to see the Giants take Barkley at with the second pick.
NFL Network analyst Daniel Jeremiah whet the appetite in December by comparing the 21-year-old to one of the best the league has seen in his position.
"He's the best RB prospect I've seen since Adrian Peterson. Peterson's power and violence are on another level, but Barkley's combination of lateral quickness, top speed and elusiveness is off the charts," he wrote on NFL.com.
If Gettleman and Shurmur follow through with plans to stick by Manning, Barkley's presence would lift enormous pressure off the 37-year-old's shoulders.
Overlooking the kid promises to be a tough feat, but the New York Giants can still enjoy a productive draft without turning to superhuman running back Saquon Barkley.