Brook Lopez's loyalty and monumental play during his nine seasons with the Brooklyn Nets make the debate whether to retire his number 11 an easy decision. 
B
rook Lopez
is arguably the greatest big man to wear a
Brooklyn Nets
uniform. And obviously, after nine seasons,
Lopez was dealt to the Los Angeles Lakers
last June in exchange for
D'Angelo Russell
and
Timofey Mozgov
.
Despite this bitter end to a Brooklyn career, Lopez's number 11 is a no-brainer when it comes to retirement within the Nets organization.
Lopez was drafted by the New Jersey Nets with the 10th overall pick in the 2008 NBA draft and left the Nets as their all-time leading scorer with 10,444 points. The big man is also the Nets all-time leader in blocks with 972 total blocks.
Despite leading the Nets franchise in certain stats, Lopez's loyalty is a huge reason why he is arguably the greatest.
During his nine seasons as a Net, Lopez rarely witnessed anything consistently. He piled up a total of nine coaches and three general managers, putting him at a disadvantage to really connect with personnel.
Throughout Lopez's time as a Net, he never got the chance to win. He was never surrounded with key assets to help him.
In his first four seasons, Lopez put up eye-opening numbers but did not come close to winning. Due to the lack of winning, there was a chance he could take his talents to a winning team. On Jul. 11, 2012, Lopez re-signed with the Nets on a four-year, $61 million deal.
During the 2012-2013 season, Lopez was selected as an Eastern Conference NBA All-Star for the first time in his career. His play in December played a huge role in his all-star selection as he recorded three straight 20-point performances and posted a 35-point performance leading the Nets to a stunning win over the Cleveland Cavaliers. That year, Lopez also led the Nets to a long-awaited playoff berth.
The 2013-2014 season was not a memorable season for the big man. In December, the Nets announced Lopez suffered a season-ending foot injury which would require surgery. This was the beginning of Lopez's injury troubles.
During the 2014-2015 season, the Nets big man returned from his foot injury in November. In his first game back, he scored 18 points and helped the Nets to a victory over the Oklahoma City Thunder. He struggled with small injuries throughout the season which gave Mason Plumlee and Kevin Garnett more minutes at the center position. At the end of another disappointing Nets season, he opted out of his contract and tested free agency.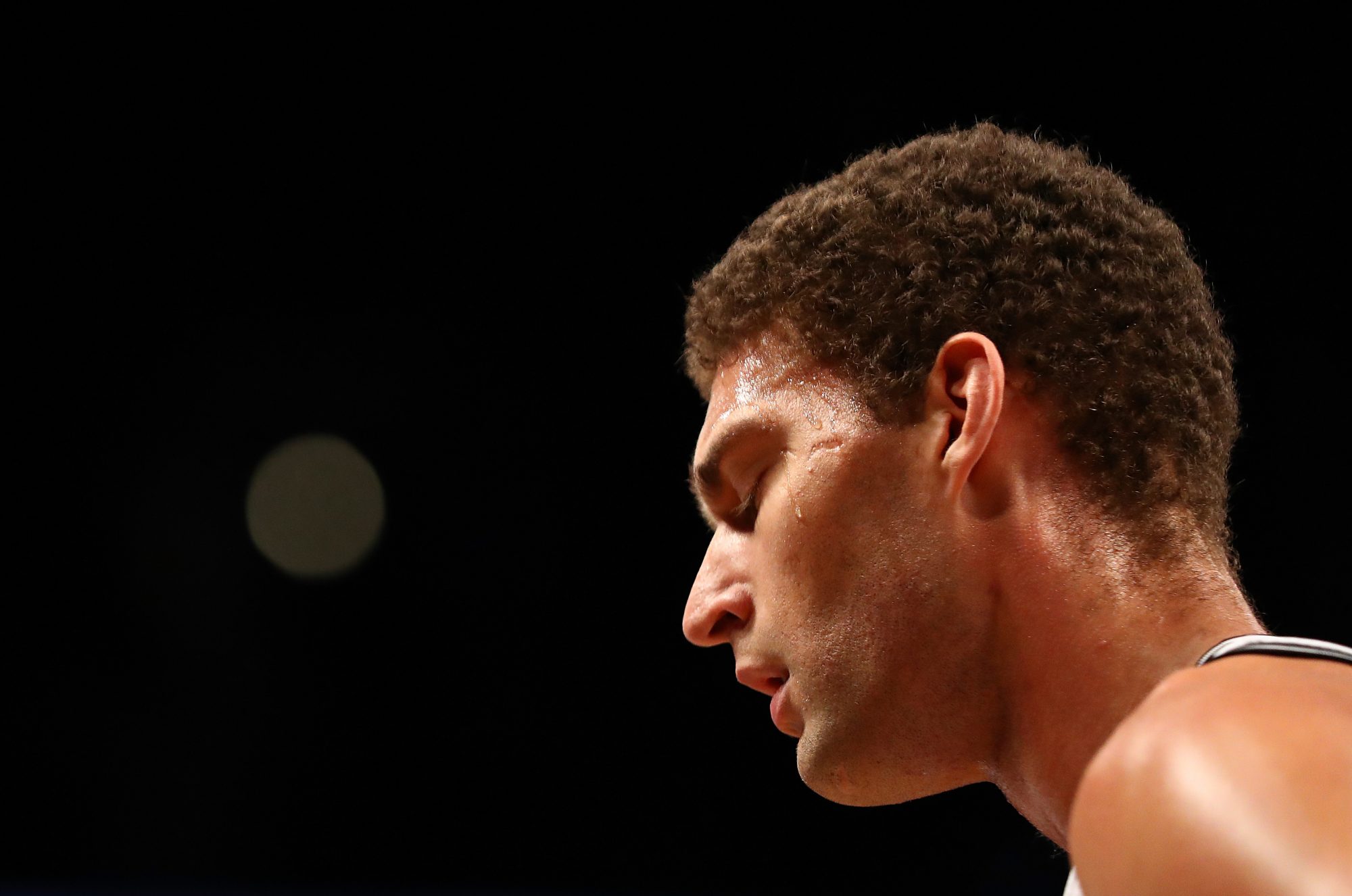 Lopez did not test the free agent market long. After a month as a free agent, he re-signed with the Nets, agreeing to a three-year deal. The Nets enjoyed a promising season at first, but in the end, another overall disappointing season. Lopez recorded multiple 20-point performances and was named Eastern Conference player of the week three times.
In Lopez's last season as a Net, he became the Nets all-time points leader passing Buck Williams long-held record. The big man also became the Nets all-time blocks leader late in the season. Lopez ended the season with handfuls of 20-point performances and his name finally cemented in elite Nets company.
Lopez returned to the Barclays Center this past Friday but this time wearing purple and gold. When Lopez was announced as a Lakers starter, the Barclays Center crowd gave Lopez a standing ovation and cheers. According to Tom Dowd of NBA.com, this moment for Lopez was a moment he had always dreamed of.
"It was great," said Lopez. "It was such an awesome moment. That's the kind of stuff you dream about as a kid. To see that kind of support from both Laker and Nets fans, it's really awe-inspiring. It's such a fantastic moment. I'd like to thank them. I can't thank them enough for their continued support."
Before the start of the second quarter, the Brooklyn Nets presented a tribute video in honor of Lopez.
"It was fantastic," said Lopez, who appreciated the inclusion of a shot of him dunking over twin brother Robin. "So great to see, especially some of those rookie year, second-year pictures and videos. I couldn't believe it had been that long. It doesn't feel like it's been that long at all."
The 7-foot big man lit up the Barclays Center in his return. Lopez had a series of highlight plays and displayed a new trick to his old team; three-point shooting. Lopez went 3-for-5 from three-point range. Lopez ended his night scoring 19 points shooting 8-for-13 from the field.
While it's true that the guy's time in Brooklyn didn't bring warm and fuzzy feelings, a lot of it was out of his control. The numbers he put up coupled with the loyalty and overall grit displayed should equate to Brook Lopez's number 11 hanging up in the rafters alongside 52, 32, 25, 23, 5, and 3.