The New York Giants won't be represented in the Pro Football Hall of Fame class of 2018, but Big Blue has plenty of worthy candidates for the future.
On Saturday night, eight men were voted into the Pro Football Hall of Fame: Terrell Owens, Randy Moss, Ray Lewis, Brian Dawkins, Brian Urlacher, Robert Brazile, Jerry Kramer and Bobby Beathard.
All of these men deserved entry into Canton's hallowed halls, but unfortunately for fans of the New York Giants, it was another year where no Giants were voted in. Fans might be wondering if they'll have to wait five years after Eli Manning retires for the next Giant to be enshrined.
But the wait shouldn't be that long, as there are several former Giants worthy of Hall of Fame consideration—and ultimately inclusion.
Young served as the Giants' general manager from 1979 to 1997. Prior to his arrival, the Giants were the equivalent to today's Cleveland Browns, having missed the playoffs for 17 consecutive seasons from 1964-1980.
He is the man responsible for drafting Phil Simms, Lawrence Taylor, Leonard Marshall, Carl Banks and Mark Bavaro. Those players were the core of the Giants and key reasons the Giants won both Super Bowl 21 and 25. He's also the man responsible for hiring Bill Belichick and Bill Parcells (twice), naming the latter head coach in 1983.
Without Young's contributions and vision, the Giants would not be viewed as an elite franchise today.
He died in 2001, but his posthumous induction into the Hall of Fame is long overdue.
Walls is seen more as a Dallas Cowboy than a New York Giant, as he spent nine of his 13 NFL seasons in Dallas. But he won his lone Super Bowl as a member of the 1990 New York Giants.
He signed with the Giants before the 1990 season began and wound up leading the team with six interceptions. He also made a game-saving tackle on Buffalo running back Thurman Thomas on the Bills' final drive of Super Bowl 25.
Team Walls!!
Thanks for all of your love and support but we will not make the HOF this year. Let's start the 2019 campaign ASAP! Y'all really came through for ya boy! Amazing support and love!

— Everson Walls (@Walls_24) February 3, 2018
He's getting closer to gaining entry into the Hall of Fame, as he was one of the 15 finalists this year. His 57 interceptions are tied for 13th-most in NFL history. He has more interceptions than Hall of Famers Deion Sanders, Darrell Green and Aeneas Williams.
Barber played with the Giants from 1997-06 and is the team's all-time leading rusher with 10,449 yards. He struggled with fumbling the ball for the first half of his career, but he was one of the most versatile running backs of his era.
Over the last five seasons of his career, he averaged 1,528 yards a season, and his 2,390 all-purpose yards in 2005 was the 16th-most in a single season in NFL history.
He's fallen out of favor with Giants fans for some of his post-career comments, but you can't deny that he's an all-time great Giant and worthy of Hall of Fame consideration.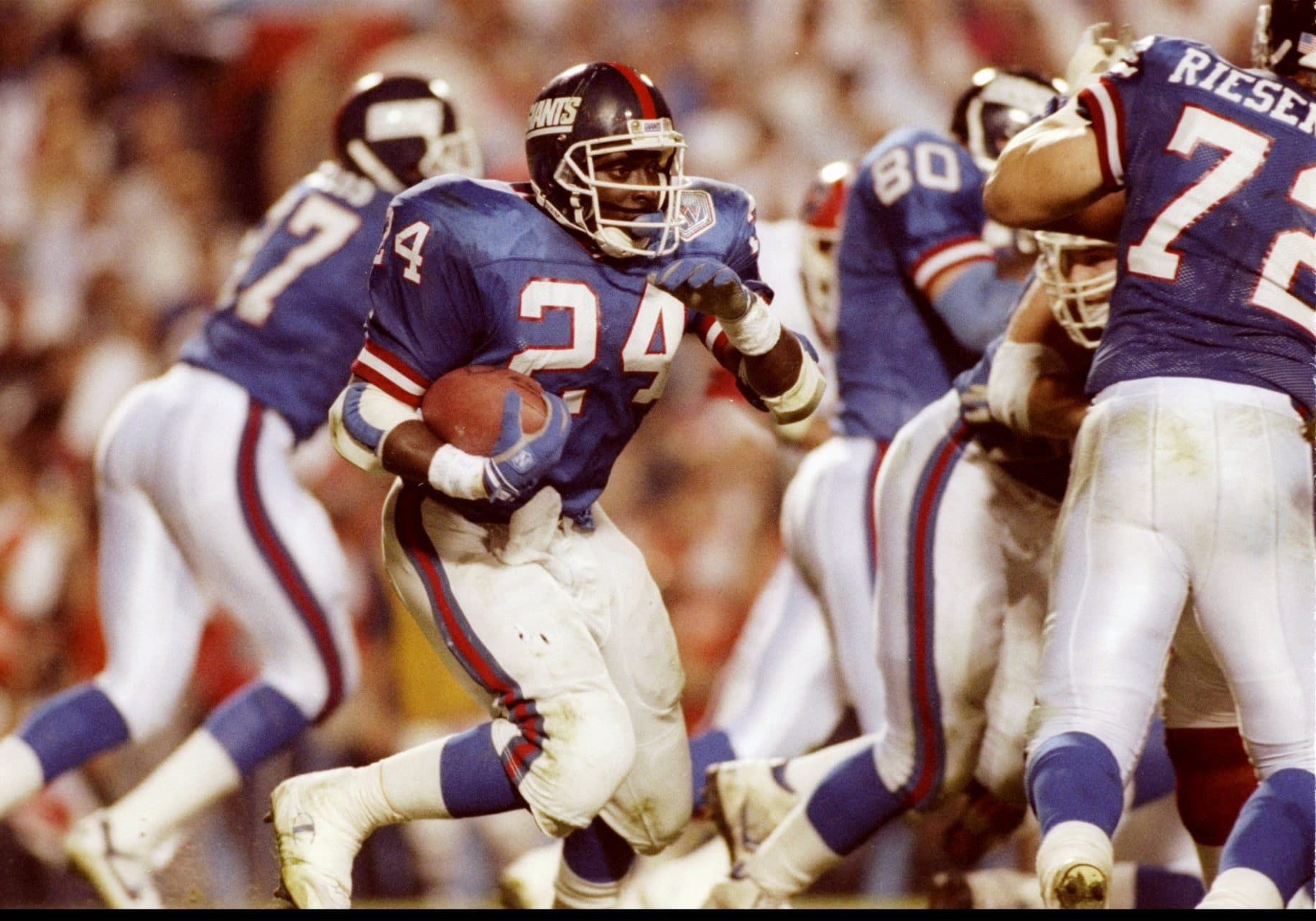 After spending his first 7 1/2 seasons with the St. Louis Cardinals, the Giants traded for Anderson halfway thru the 1986 season. He'd spend the rest of his career with Big Blue until he retired following the 1992 season.
He's the only Giant to score a touchdown in both of the team's Super Bowl wins (21 and 25), and he was named MVP after his 21-carry, 102-yard, one-touchdown performance in Super Bowl 25.
Anderson ranks 28th on the NFL's all-time yardage list (10,273) and is tied for 18th in rushing touchdowns (81), which more trips to the end zone than Hall of Famers Tony Dorsett and Earl Campbell made.
Simms played for the Giants from 1979- 1993 and was one of the most underrated quarterbacks of his era. He never played with a top-tier receiver and had to play in the swirling winds at Giants stadium.
At the time of his retirement, his 33,462 yards were the 11th-most in NFL history.
But what Simms is most remembered for his performance in Super Bowl 21, when he completed 22-of-25 passes for 268 yards and three touchdowns en route to being named Super Bowl MVP. His 88 percent completion percentage is still a Super Bowl record.
His 199 passing touchdowns are more than Hall of Famers Troy Aikman, Ken Stabler, Bob Griese and Joe Namath.
When you look at what these players did on the field and, in Young's case, his contribution off the field, you can see why they're all worthy of serious consideration—and one day, hopefully, enshrinement—in the Pro Football Hall of Fame.